Updated:
Zagreb Croatia – Zagreb, the capital city of Croatia, is a place which is definitely worth a visit for a day or two.
Its cute streets, quirky traditions and lovely restaurants make it a perfect city to get lost in for a day, before continuing to the coastline and those famous beaches.
In Zagreb more than anywhere else on this trip, we stumbled upon things everywhere.
There was something around every corner – the city really felt alive and vibrant.
Just walking around the Dolac market early in the morning, buying some fresh fruits and freshly baked pastries and sitting down to watch the action flow past.
It was a fun, cultural experience.
This was where the locals went to buy their food – this was where they met friends – where they bought flowers for their loved ones – where old women sold Croatian lace.
A perfect place to start the day in Zagreb and get a feel for the city.
According To Legend…Zagreb
What we liked the most about Zagreb were all of its traditions and legendary stories.
More often than not descriptions for places in Zagreb – in the guide book – would begin with "According to legend…"
Everything in Zagreb had a myth, legend and a story – and while we thought it was "cute", the locals took these legends very seriously.
The firing of the 12pm cannon, for example: every day they fire a cannon from a tower on top of a hill, but nobody knows why or when this tradition began.
The fact that they fire off a cannon with a souring loud noise every day for no specific reason is hilarious.
They don't even know how it started – but "according to legend…"
Zagreb Religious Culture
The Stone Gate is another example – today the stone gate, which separates the upper and lower town, serves as a chapel.
People come here to light candles and pray in front of a painting of St Mary and Jesus which was saved in 1731 after a fire burnt everything down.
Whether you're religious or not you can feel that the vibe here is very special: holy, some would say – emotional, is what I would call it.
No matter what time of the day you walk past, the small tunnel will be filled with locals in all ages; kids, teenagers, elders.
They all come here, light a candle, pray in front of the miracle painting or by the seats in the corner or leave some flowers by the altar.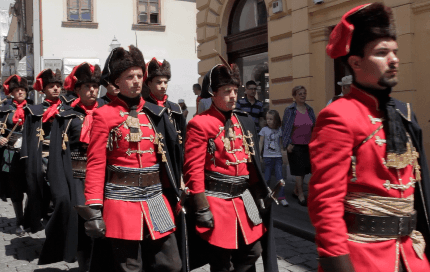 Croatian Traditions
Traditions also seem very important to the people.
The first thing that happened when we checked in to the hostel was to be brought a plate of "assorted" local shots to try, as that is the custom when having guests.
There were the "girl shots" and "men shots", but it didn't really matter as long as you drank it.
When we later took the tram into town the first thing we saw was a big group of guys and girls in their early 20's fully dressed in folk dresses singing traditional folk songs, together with a crowd who knew every word in the lyrics and sang along.
The changing of the guard in Zagreb is another example of tradition taken to the next level.
Their dedication and flamboyant outfits makes London's changing of the guard look lame.
It goes on for two hours (!) and they walk around the whole center of town, stopping at squares, correcting their hats and capes, drumming their drums while they pass the crowds on their horses.
The "French Kissing"
I've never walked through a city and seen so many couples feeling each other up and practically undressing each other in public!
Everywhere in parks and on squares, there were couples kissing – they were lying or sitting on top of each other, guys with their t-shirts off and arms and hands everywhere.
I don't know why this was, but it was so funny, and while we felt a little embarrassed when sitting close – nobody else seemed to care at all!
Europe's Most Scenic Views on A Train Journey
Zagreb Croatia VIDEO
In Zagreb more than anywhere else on this trip, we stumbled upon things everywhere.
There was something around every corner – the city really felt alive and vibrant.
Just walking around the Dolac market early in the morning, buying some fresh fruits and freshly baked pastries and sitting down to watch the action flow past – was a fun, cultural experience.
After having shown our tickets and passports countless of times on the same train, we arrived in Zagreb, Croatia and ended the week there.
Most people tend to head straight to the coastline when coming to Croatia, but we decided to go to the capital.
I know we might say this often, but this place was AWESOME!
The first impression wasn't too nice, with really intimidating police officers and rundown buildings as a view from the train window.
But once we got off the train and entered the city, all of that changed very soon.
The first person we spoke to broke up in a big smile and said hello to us in German (for some reason?), the first thing that happened when we arrived at the hostel was to get a welcome Rakia shot and Croatian homemade cookies.
Split Excursions Every Traveler Will Love
Zagreb has the cutest streets
Strangest traditions and the cultural people made the city feel so vibrant and alive.
Besides, beer for 1 Euro and a restaurant meal with salad and dessert for 4 Euro wasn't too bad either.
The biggest thing I've realized is that to find a place to live cheaply, you don't have to go all the way to Asia or South America – Europe has them too.
I knew eastern Europe was cheap, but it's a different thing to know it than to see it for yourself.
Best Way To See The Adriatic Coast
After the short stay at a apartment in Manchester we set off for the 3 hour flight with Jet2.
We had finally arrived in Dubrovnik, Croatia– and we lost two hours via the pesky time difference.
We were pretty tired (it was midnight, after all!), so all the boyfriend and I managed to do when we got to our serviced apartments was put our backpacks down, flump onto the bed and well… fall asleep.
I'm happy to tell you that despite the heat, we got a great night's sleep and fully recharged, we were up and out by 9am the next day.
First stop, breakfast
We managed to find ourselves a couple of delicious – and rather addictive – bez kofeina (decaf) coffees and delicious pastries from one of the city's many, many pekarna (bakeries).
We didn't know this before we went, but it's worth noting that Croatian cafés don't serve food (not even peanuts or olives!), so you'll only be able to get a drink in the form of coffee and alcohol.
Luckily for us, the café we chose were absolutely fine with us accompanying their coffee with a pastry from the bakery next door.
We spent the afternoon taking in some of the city's sights, including the Church of St. Blaise, the Cathedral and Franciscan Monastery (and yes, in hindsight it did indeed turn into a bit of a religious pilgrimage!).
My particular favorite of the day, the Franciscan Monastery's courtyard and Roman-Gothic-style buildings actually revered as masterpieces of Dubrovnik architecture.
The first evening after a beautifully fresh seafood dinner down at the harbor, we were walking through the city when we came across the main square – a hive of activity with busy outdoor cafés and lots of happy customers.
The next day was much of the same: pootling around the city's sandy-coloured streets à pied, seeing the sights, eating, drinking, and taking it very easy indeed.
That evening, we hit upon another absolute gem – this time called Café Buza (or 'hole in the wall') – down an alleyway along the city's main western wall.
While the front door is pretty nondescript, it's possibly the coolest bar you'll ever have the pleasure of setting foot in.
Built into the cliff face and Dubrovnik's city wall, you can step out onto the railing-free cliff-side terrace, and even dive into the waters below if you're taken with the urge for a midnight swim.
This was a perfect spot to take in the sunset (another Karlovacko in hand) and spend the evening making new friends with Croatians, French, British and Irish alike.
Could tonight have possibly topped the night before?
I do believe it could.
The next day, we got up late enough to miss the cruelest temperatures and took a trip out to Lokrum Island.
The ferry only takes about 15 minutes from the Old Harbour and the return trip costs just 50 Kuna (£6).
Here, we were able to walk off our suds-induced haze through the botanical gardens and around the monastery ruins.
Before long, we were aching for a swim, and were lucky enough to discover yet another hidden treasure – this time, an incredible concealed bay lapped by crystal-clear seawater. (I couldn't tell you for certain how to get there again!)
We decided that we weren't ready to leave the island that evening, so decided to stock up on picnic provisions and beach games from the beachfront shops ready to while away the evening and camp out right there on our secret beach – it was beautiful.
The rest of the week continued much like this, gradually taking in the sights, island hopping as we felt like it (and paying willing fishermen to take us out to and pick us up from less-visited islands), eating freshly caught fish and drinking Croatian beer.
I would highly recommend a trip out here to anyone who wants to relax and travel at their own pace in one of the most beautifully-maintained environments they've ever visited.
Hvar
Croatia has everything it takes to be the perfect destination for an island getaway; the country boasts the most stunning coastlines with crystal clear waters, sunny warm weather, beautiful lush islands and a great culture.
Hvar is the most popular island in the Adriatic among young travelers, who are drawn to its vibrant night scene.
However, without an extensive tourist infrastructure the island has kept to its roots and offers an authentic Croatian island experience.
Croatia is also one of the cheapest summer destinations in Europe, which makes it the perfect summer holiday for young backpackers.
Places to Visit in Croatia
Croatia looks like it may be the next big thing in European travel – the beautiful country has history, recreational facilities and plenty of nature but has not yet been overrun by tourists – here are the top Croatian locations to visit.
Dubrovnik, Croatia
Dubrovnik may not be the first destination that springs to mind when you think of a short city break, but it's certainly worthy of your consideration, especially if you enjoy adding a touch of culture and history to your holiday.
The city's old center is a UNESCO World Heritage Site and you shouldn't leave before you've taken a walk along the centuries-old city walls.
There are buildings in all manner of architectural styles in the old district, including churches of Gothic, Renaissance and Baroque design.
Although Dubrovnik has its own beach, it's well worth taking a day trip to one of the unspoiled islands just off the coast.
The Elafite archipelago is one popular spot for an excursion, while nature lovers will enjoy discovering the untouched beauty of the isles in the Mljet National Park.
Foodies, meanwhile, will relish the chance to sample some of the local delicacies – such as smoked ham, grilled sardines and zelena menestra, a smoked meat and cabbage stew.
These dishes, and many more, will be available from the small taverns that dot Dubrovnik's streets, where you can wash down your meal with one of the locally-produced wines.
"The Pearl of the Adriatic" and one of the country's most famous cities, Dubrovnik is a fortified city with winding narrow cobbled lanes perched on a cliff top overlooking the sea.
The city is rich with Baroque and Renaissance architecture in its pedestrian-only Old City.
There are sidewalk cafes, elegant restaurants, all the tourist amenities you could ask for and the city is framed by the green mountains (Dinaric Alps) behind the city and the white sand beaches below.
Hvar
Take a ferry ride out to the UNESCO island of Hvar, one of 1,000 Croatian islands.
It is considered the Mediterranean's best preserved ancient Greek landscape with rural beauty in the islands olive groves, fruit orchards, vineyards and farms.
Hvar town is a quaint town on the edge of a bay, the rest of the island has a number of small villages like Starigrad and Jelsa.
Split
The Roman remains in Split have put it on the map but it also has the longest coastline of any Croatian city with the Riva promenade running along the water front.
The magnificent Roman UNESCO Diocletian's Palace is a unique and well preserved architectural masterpiece used for shops, restaurants and luxury apartments.
The pine forest in the Peninsula Park adds green to the city.
Visit the underground caverns, the St. Domnius Cathedral and see the Grugr Ninski Statue.
Historic harbor town of Trogir is a popular day trip from Split with Venetian buildings and palaces and a 13th century island fortress.
Zagreb
Zagreb Croatia looks like many of the beautiful Western European cities with many medieval buildings but with an Eastern twist.
Zagreb is the country's largest city it is located on the slopes of the Medvednica Mountains and the Sava River snakes through the city.
The city has a rich cultural life with historic theaters, a cathedral and impressive museums.
The city has urban parks, pedestrian streets and a deep and interesting history.
Plitvice Lakes National Park
For natural beauty visit this untouched paradise which has 16 lakes and lush forests, it is located near the Bosnia Herzegovina border in the mountain karst area.
The cacophony of colors, green trees, bright blue lakes and the many colored leaves make this a nature lover's dream.
There are a number of animals like the brown bear, lynx and wolf as well as a variety of birds including owls and eagles.
See the many waterfalls, prehistoric caves and flora and fauna as you follow the marked paths through the park.