Updated:
The Phoenix is one of the most loved mythical creatures, it is wise, strong and powerful – and it rises from the ashes.
For that very reason, Warsaw has the nickname of the Phoenix City: because it has also risen from the ashes.
Before the invasion of Poland 30% of Warsaw's population (over 400 000 people) were Jewish, there were over 400 Synagogues and the people lived in harmony together.
During WWII the Jews were forced into ghettos, crammed into 2.4% of the space of Warsaw, and already before the Nazis started deporting Jews to death camps and concentration camps, 100 000 Jews had died from starvation and disease.
Despite the many hours of history lessons in school and exams about WWII, I learned far more about the situation and what really happened there by spending a few days in Warsaw than watching a travel movie!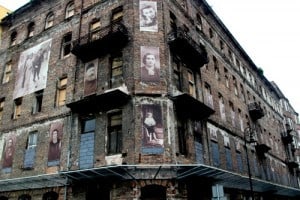 Warsaw Poland Travel Video- The Phoenix City
Most attractions in Warsaw have to do with the WWII, and naturally we started discussing and talking with each other about what happened then and what is still happening today.
Experiencing things like this, awakening discussions and thoughts, is the part of travel where you learn more about yourself, other people and life in general.
In some awkward way, being reminded of what other people had to go through, how terrible their lives ended – makes you appreciate being alive, and it brings you right to the present moment.
But Warsaw did not have the "eery vibe" of the hurtful past, and in contrast to Sarajevo, there were no bullet holes in the buildings.
Warsaw had started again from the beginning, rebuilt the city for the new era, and rebuilt the Old Town to make it look exactly like it did before the war.
The famous shopping street was buzzing with life. Do We Travel to Escape Reality?
But it's not like they have put their backs against the past ignoring what happened:
Monuments, statues, museums and the Jewish cemetery tell the story of the dark ages of Warsaw, and gives the visitor a sober reminder.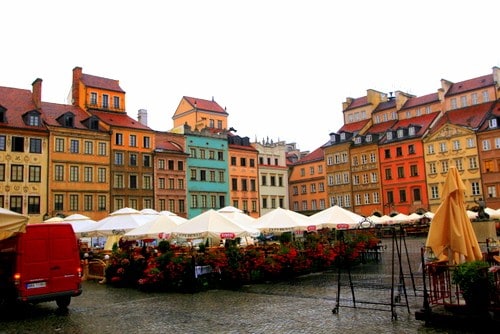 Our day in Warsaw was a grey and rainy one, which probably didn't bring out the best and most beautiful side of the city, but the friendly, slightly shy people and the hearty Polish food warmed us up and really made our time in Poland wonderful.
Hearty Polish Food of Warsaw The Phoenix City
One of the best parts of visiting foreign lands is experiencing the amazing variety of food, and Warsaw is an emerging destination for foodies.
It has a particularly eclectic collection of international cuisine, with the local people able to enjoy a fantastic array of Indian, Vietnamese and Chinese restaurants.
However, visitors shouldn't miss the opportunity to sample the rich diversity of traditional Polish cuisine.
Anyone who comes to Warsaw needs to bring their appetite.
Meals in Poland tend to be enormous, and consist largely of various meats and breads.
Sauerkraut is everywhere as are spices like dill, marjoram and pepper.
Locals typically eat the main meal of the day around two in the afternoon or later.
Visitors can indulge in this tradition to enjoy the full effect of the Polish culture.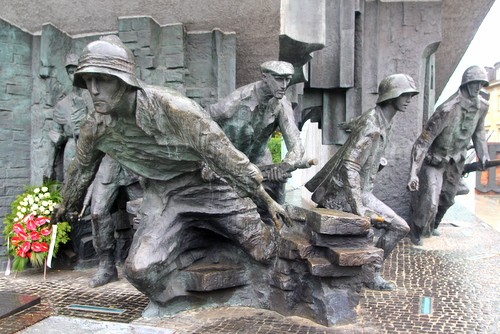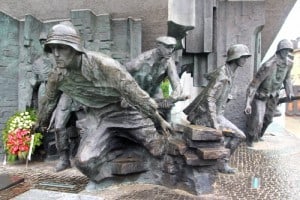 Plus, it's inadvisable to eat such a heavy meal before retiring for the night.
The people of Warsaw begin their day with a hearty breakfast that includes sausages, cold cuts known as wędliny and a variety of pastries and bread.
Fruits and vegetables, both fresh and pickled, and several cheeses are available.
Diners may also enjoy an egg dish.
These may be hard boiled, scrambled or prepared as an omelet.
With such a substantial breakfast, it's easy to see why the people of Warsaw often wait until two o'clock or after for their next meal.
Nonetheless, many Poles enjoy a second breakfast around mid-morning.
This is typically a soup like the yogurt and beetroot Chłodnik litewski or the pea soup known as Grochówka.
The main meal of the day, called dinner, may be served anytime after two o'clock, but usually no later than five.
Dinner begins with soup, perhaps a bouillon or a tomato based soup.
Entrees usually include several meats.
Beef, veal, pork and poultry are all popular.
Eskalopki z cielęciny, essentially veal in a blanket, is a tasty choice.
Another frequently seen dish is Golonka w piwie.
This delicious pork knuckle may be prepared with beer sauce, but is always served with a generous helping of horseradish.
Of course, many different sausages are presented since the Polish people love to claim that they invented sausage centuries ago.
Visitors should look for kielbasa in varieties like white sausage, country sausage and kabanos.
During their stay in Warsaw, visitors should make a point of sampling bigos, known as the Polish hunter's stew.
Its main ingredient is always cabbage, but there are endless variations on the dish.
Mushrooms, onion and sausage are typically included.
Another national dish that often makes an appearance at dinner is the pierogi or dumpling.
Pierogi may be filled with nearly anything from meat to fresh berries.
Be certain to sample these more than once.
Between seven and nine in the evening, Poles enjoy a light supper of sausage and bread.
Visitors may find that this meal is unnecessary after all the heavy dining earlier in the day.
Regardless, dining in Warsaw is truly a gourmand's delight, and not to be missed by the culinary traveler.
Warsaw Poland Travel Video
Most attractions in Warsaw have to do with the WWII, and the horrible things which happened there, but Warsaw did not have that "eery vibe" which can come from a hurtful past.
The city had started again from the beginning, rebuilt the city for the new era, and rebuilt the Old Town to make it look exactly like it did before the war.
For that very reason,
Warsaw has the nickname of the Phoenix City: because it has also risen from the ashes.
We hope you enjoy our Warsaw video, and stay tuned for at least 1 new video every week – Next stop Germany!
Warsaw was a sober reminder of what had happened during the WWII
It was an interesting stop on the trip, and just like in Sarajevo, it gave us insight and started many interesting conversations.
Being reminded of the cruelty done to these people made us really appreciate our life and inspired us to live it to the fullest.
But it was also a great example of how a city can turn things around again.
From having been completely destroyed they started over building the city, and rebuilt the old town to look the way it did before the war – stunning.
It truly lives up to its nickname "The Phoenix City"…
Guilt Of Gluttony In Krakow, Poland
There are a variety of places to eat in Krakow, catering to all types of tastes, as my friends and I discovered on a girly holiday there a few months ago.
One of the restaurants loved by all was 'Al Dente', a delicious Italian place in Krakow's Kazimierz district.
All their dishes are made with fresh ingredients and prepared by an Italian chef.
The pizzas are mouthwatering, but so beautifully crafted that you feel as if you're eating pretty healthily!
They also offer a number of traditional Sardinian meals and some beautiful wines, all at very reasonable prices, resulting in six rather tipsy women by the end of the meal.
The staff didn't seem to mind though and were very hospitable, even offering a coffee and drink on the house, which we happily accepted.
For a more Polish dining experience I would recommend 'Bohema'.
As a musician I especially loved this place, (why I travel) and we were lucky enough to catch one of their folk music concerts, which was such a thrill for the ears and eyes!
The restaurant is also in a cozy cellar, which is decorated with fancy furniture that really adds character to the place.
As for the food, it is scrumptious and inexpensive, I had the salmon with capers, which was well presented and very filling!
Some of my other friends sampled the Goulash and absolutely loved it, they did not stop talking about how well the meat and vegetables had been cooked.
It's also worth mentioning that this place is ideal for big groups as it is quite spacious and offers a good variety of Polish delights.
For a Krakow dining experience to write home about, I would highly recommend 'Momo', but be warned, if you are a meat fanatic this place is definitely not for you.
The restaurant prides itself on the fact that they don't use meat, fish or eggs.
However the menu still manages to be huge, offering dishes from all over the world!
I decided on the Southern Indian spinach pancake and some Tibetan dumplings, which was a bit ambitious but completely worth the guilt of gluttony!
I also had some carrot cake for desert, really pushing my stomach to the limits, but I was so overwhelmed by the food I couldn't help myself!
For lovers of all that is wholesome, this is the place for you.
After a great, and varied, week of eating I can confidently say that Krakow is an exciting adventure for the stomach and would highly recommend it!
For more info visit my destination Krakow.
(photo credits: RobotSkirts – jugglerpm – louis bennett)