Travel Towels are among the most bulky items to pack when traveling around the world, they take up too much space and take forever to dry.
So ever since I bought my first travel towel it's been much easier.
So what are the Best Travel Towels?
The major difference you will find from a normal towel is that they pack down so small, take up much less space in your backpack, and since I most often don't stay at one place for more than a few days I need my towels to be dry when I pack them down.
Travel towels are very quick drying. However, not all travel towels are the same – today I will go through 3 which I have tested.
McNett Micronet Advanced Microfiber
It's amazing how just a name can persuade people into buying an item, but this towel is great and I can understand why it's The Rick Steve's Choice.
It's exactly what you would ask from a travel towel – it absorbs really well, it takes up almost no space at all and it dries quickly.
It's not like a big bath towel, but certainly larger than most other travel towels, and you won't have to worry about the towel not wrapping the whole way around your waist – which often happens with other travel towels.
The only downside would be that it kind of sticks to your body when you dry yourself and the material isn't the softest. Two nice details is the snap loop on the towel and the storage bag to put it in.
Click Here to see your options for the McNett Micronet Advanced Microfiber comes in: Small (10″ x 20″) right up to X-Large (35″ x 62″), and you can choose between 3 colors.
Aquis Travel Towel
Aquis Travel Towel can absorb A LOT of water, although if drenched in water it can take some time for it to dry. It's also lightweight and has a little snap loop to hang it up (perfect so it doesn't blow away in the wind).
It is the towel that feels closest to a real towel, and unlike many other towels you can actually dry it in the drying machine – if you would ever need to.
Be careful though, as it can bleed in the first few washes! The sizes come in: M (15″ x 29″), L (19″ x 39″) and XL (29″ x 55″), and you can choose between 3 colors.
The XL size would be more like a bath towel and you can wrap yourself up in it, the L size is narrower but long (perfect for using at the gym), and the M is more like a hand towel.
Sea To Summit DryLite Towel
I've always had a good experience with Sea To Summit DryLite Towel brand, and the towel didn't disappoint me. This towel stands out from the rest because it's so soft on the skin, softer than the other ones.
It's lightweight, absorbs a lot of water and dries quickly.
Another good thing about these towels is that there are so many different sizes to choose between, so you can get the one which suits your needs the best.
The fabric is slick, not fluffy (terry), and the best way to dry it to simply pat on the skin.
Benefits
Soft and smooth on the skin
Made with 70% polyester and 30% nylon Microfiber and detailed with supreme suede linings
Highly efficient at both drying and absorbing water
Can be washed in the machine
Available in different colors, including Kiwi, Green and Berry
Soft brushed feeling when using it after a bath
You can use the Sea to Summit DryLite travel towel to wipe dishes when on a camping trip.
They are perfectly suited for your travel and are extremely light to pack. Since they are multipurpose towels, you won't have to pack 2 or 3 towels.
And the best part is that these towels are available in a whole range of different sizes which makes packing easier and hassle-free.
Sizes
Extra Small, (30cm x 60cm), Weight 37g
Small, (40cm x 80cm), Weight 62g
Medium, (50cm x 100cm), Weight 100g
Large, (60cm x 120cm), Weight 145g
Extra Large, (75cm x 150cm), Weight 200g
The Sea to Summit DryLite edition is available in different colors including cobalt blue, outback red and jade green. If you choose one of these quick dry towels in the small or medium sizes, they are great to use as a hair towel.
They are great microfiber towels for exercise and sports. Using a microfiber hair towel will be light on your hair when it's wet and more fragile.
They are great to bring when traveling.
Novy Travel Towel
We tried the Novy Travel Towel and found many great things about it. While microfiber towels are practical and pack very compactly, they are often a bit stiff and rough, especially after being air-dried. The Novy Towel is soft even when it is air dried. It can best be described as a terrycloth material.
This towel whisks away water easily and wrings out well. When traveling, it's essential the towel you bring air dries quickly. This one does. If you are bringing a travel towel with you while swimming, at the beach, hiking, backpacking, camping, road tripping, or traveling the world, it must serve many functions.
Sure, a great travel towel can serve as a pillow, a blanket, ground cover for the beach or for picnics, and as a wrap to keep you warm or protected from the elements.
The Novy Travel Towel does these things well and even more.
This is great for use as a swimsuit cover or after showering. No matter what your size, you can get a perfect fit without worrying about the towel coming undone.
There are 15 slits/holes running the length of the towel so that it can be secured to almost any size you need. Simply slide the bead/end (which is attached to a small elastic cord to ensure an even better fit) into one of the slits and pull it through.
The towel will stay in place. It's effortless and what's great is the towel stays in place.
What's also inventive is the 15 slits run along two sides of the towel making it easy to grab and secure, without having to find the right side.
This towel was designed by a surfer with the idea that one can change under this towel, right on the beach or parking lot if necessary. Again, practically everyone can get a great fit without worrying about the towel slipping off. The towel will stay in place.
Bring a carabiner along, and you can easily turn this travel towel into a tote bag for your gear. Easy-to-follow directions explain how to hook the carabiner through the reinforced corners and center holes on each side.
You can secure the carabiner to your backpack or carry it. It's also great for keeping belongings off the ground while camping, etc.
We aren't surfboard owners, so we weren't able to try this out, but the Novy Travel Towel seems to be easy to transform into a surfboard cover.
The directions demonstrate three simple steps – loop, cover, secure – which should enable the owner to easily transform this travel towel into a cover for a surfboard.
This unique travel towel measures approximately 31.5 inches x 53 inches. It is large enough for drying off after a shower. The Novy travel towel review isn't complete without a "cons" section.
While it was difficult to come up with a negative thing to say about this unique travel towel, our only wish would be that it came with a small pouch to carry it and keep it clean.
Having said this, we do appreciate conservation efforts and not using more resources having more things manufactured in factories. A simple fix for this minor criticism is to store and travel with this multipurpose travel towel in a gallon-sized Ziploc bag.
We will enjoy using this Novy Travel Towel for upcoming trips. In the meantime, we are keeping it in the car for "just in case" situations. It's practical and well-made and is sure to serve us well in many capacities for years to come.
Ice Mate Cool Towel
This Ice Mate Cool Towel SAVED ME the summer I spent in Tucson, AZ. Yes, it's a dry heat, but 100 degrees is 100 degrees, and it was hot morning, noon, and night. And we were outside a lot.
I am so very glad I remembered to pack it for my trip.
There are other brands of towels like this available but what makes this one different is that it is described as not being chemically treated. In the product description it also explained the 2-sided feature.
The mesh side is for fast cooling and the cloth side for soft drying. Meaning, it doesn't dry hard, like a car shammy would when dry. It is soft and comfortable and the perfect length.
While on my trip, I actually ordered this for the two friends I went to Tucson with because I felt guilty that I wasn't as hot as they were. And the funny part was that the couple we were staying with – Tucson natives – had never seen these towels.
I ordered them each one as well, and they loved them. Finally we would all enjoy some relief from the heat! Just put this cooling towel in water and place it around your neck. You won't believe how wonderful it works.
Another time I put it in ice water, and it was even better. A third way I tried was using regular tap water and putting the towel in the refrigerator. All offered cooling relief from the desert heat. I used this towel every single day.
Most of the time I wore it, rinsed it at night, and then instead of letting it dry, I just kept it wet in the refrigerator for the next day's adventure because I wanted it to be as cold as possible.
If I weren't using this in such extreme temperatures, it would not need refrigeration, but being it was 100+, every bit of coolness helped.
I recently bought one for my mother-in-law who is hot a lot of the time. This would make a great gift for people who work outside in the summer, wherever they live. I also could see sports teams using this, especially for those hot weekend soccer and Little League games.
This is great for hiking, camping, fishing, anywhere really. It is 40" by 8" and comes in three colors which is great if you are buying several for a family for each person to keep track of. It's even machine washable.
Chawel Hybrid Basic Towel
Until recently, I always brought towels from home when camping or using my RV. I never really thought of there being a better alternative.
I have seen travel and fast-drying towels before but hadn't realized how practical they could be when traveling. I tried one from Chawel Towel which is a 5-in-1 towel. I used it on two trips and have since been keeping it in my car for emergencies.
I suppose all towels can serve dual purposes: You can fold them up in place of a pillow or spread them out to use as a blanket. This one from ChaWel is that and more.
It is fast drying, lightweight and also cozy. It's unique in that you can change your clothes under it and also use it to line your sleeping bag while camping.
I enjoyed using it to keep warm in the evenings. My kids have enjoyed it in the car as a pillow too. The best way to describe it is that it's cozy like a blanket but absorbent like a towel. It makes a great gift for someone who hikes, camps, or RV's.
It is great to pack when you need each item to multi-task. It has its own small, drawstring bag to keep it clean which I really like. It also has an elastic loop for keeping it bound which I also used for hanging it to dry.
When you're in a pinch, you can wear it to change under – there is a hole for your head and the bottom is open. Their other styles of towels have armholes too but I didn't miss them when using this to change under.
It measures 36" x 58".
Northbound Train Microfiber Towel
These Northbound Train microfiber towels have been my kids' favorite travel towels and bath towels. I asked my 10 year old why he only wants to use this towel, and he said, "You just put it on a spot and the water is gone!"
My older son brings these microfiber travel towels for his Boy Scout campouts. He uses the larger ones for swimming and showering. They pack small for his backpacking trips and dry quickly while at camp.
He's even used them as an additional blanket covering on one campout when it was in the 40s overnight. I asked him why he likes bringing these towels with him, and he said "They are light and when I'm backpacking, every ounce counts."
He's had to carry 19 pounds in his backpack for an 18 mile hike over two days, so light towels are essential. He also said, "It absorbs your sweat."
I learned he's using the smaller microfiber towel (12″ x 36″) to wipe his neck and face when camping. It came in the Northbound Train towel set. They call it a Microfiber Sport Towel.
It would be great for hiking, yoga, exercising and working out, etc.
Benefits
Soft; it's not at all scratchy
Super absorbent
Dry quickly
Has a loop for hanging
Easy to pack, lightweight, compact
Antibacterial: This is an added bonus that I didn't realize when I ordered these towels.
These microfiber towels have a skin-safe zinc oxide coating which repels germs and prevents odors.
Small measures 12″ x 36″ and large is 30″ x 60″
Lifetime guarantee
Packs small
They are all-around easy-to-use towels. These have been our favorite microfiber towels.
I love them because they dry quickly hanging after a shower, especially in one of our bathrooms that is small.
They also dry fast in the dryer if I don't air-dry them.
Shandali Microfiber Travel Towel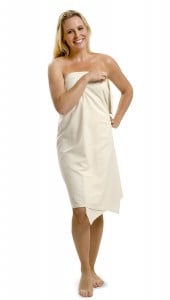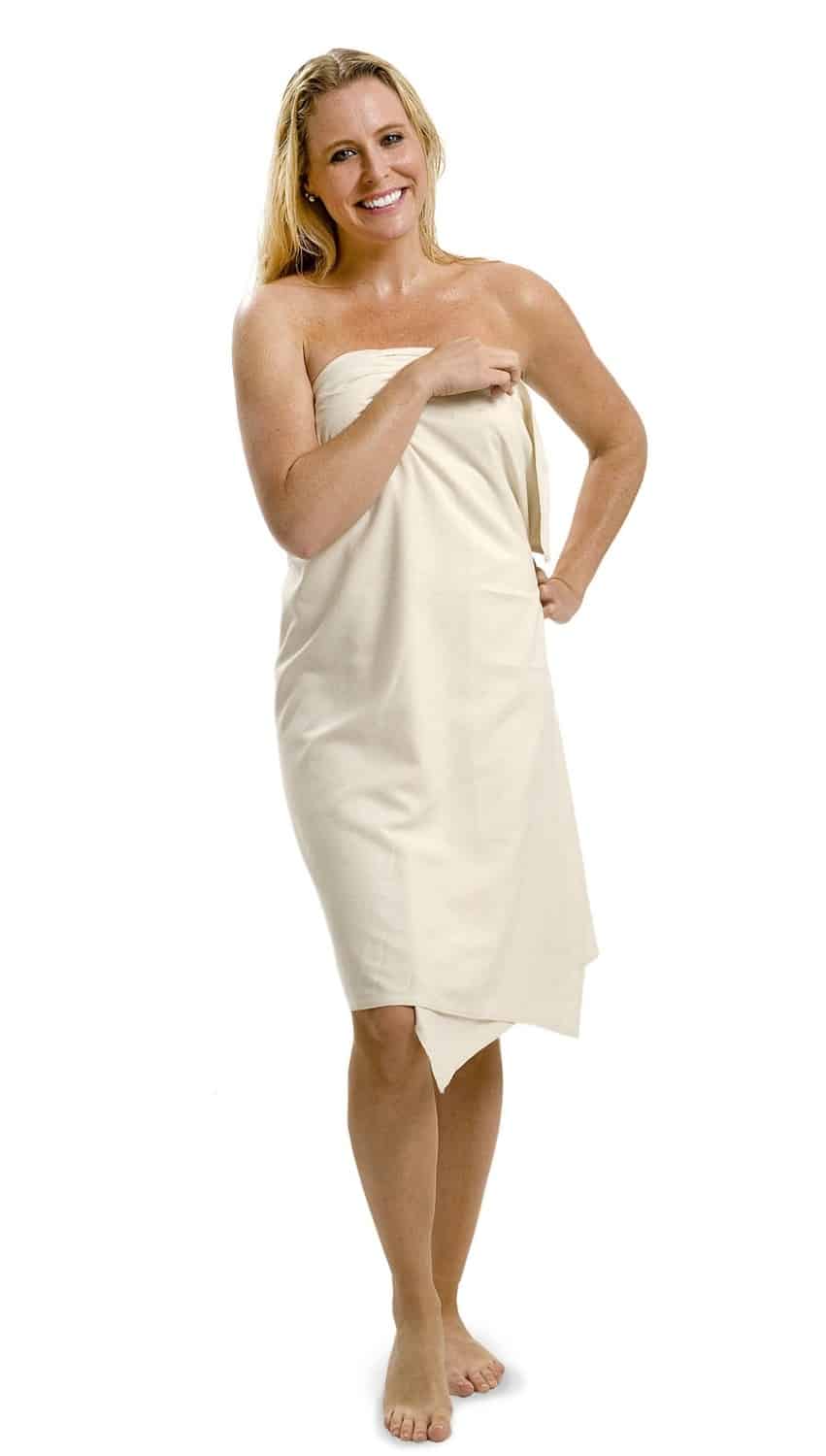 The Shandali microfiber towel has been rated as the best travel towel. Preferred by many for long or short distance travels, the towel is made of microfiber material which is soft like velvet and smooth like a baby's skin.
It dries quickly and absorbs water quickly. The Shandali UltraSport Travel Towel – #1 Rated Travel Towel, Sport Towel, Beach and Microfiber Towel. Super Absorbent!
Benefits
Loop for hanging.
It is a big towel but when you fold, it becomes compact and you can store it anywhere easily.
You can carry it around in your gym bag, your suitcase, a bag and even in a purse!
You can use the towel anywhere.
Comes in two sizes, small and medium.
It is lightweight and weighs just a few ounces.
The towel is coated with silver-ion antibacterial.
It offers protection against bacteria.
The silver-ions prohibit the formation of germs and bacteria on the towel.
Lightload Towels
With regards to space and the weight of towels, nothing can beat Lightload travel towel. You can store them anywhere, even in your back pocket when folded.
Once you unpack them, they turn out to be really big and have efficient water absorbing capability and you can use them anywhere you want to.
Benefits
Once unpacked, the Lightload travel towels expand to a large size, measuring 60 inches x 36 inches. Consider it a large beach towel.
Super water absorbent ability.
The towels are made with viscose fibers which can absorb up to 10 times the towel's weight.
Dries really fast.
You can re-pack it into its packing size and fit it into your back pocket.
Available in assorted colors.
Lightload towels are machine washable.
Lightload Travel Towels Three Pack are best used for camping, trekking and general travelling purpose and come in a three towel pack.
MyQuest Microfiber Towel
The MyQuest Microfiber towel is manufactured using fine quality microfiber material and is a fast drying towel. It is made with millions of micro-woven rings which are attached to the towel.
The micro-woven rings eradicate the largeness and bulkiness of traditional towels.
Benefits
Fast drying, smooth and extremely soft on the skin.
Can be used and stored anywhere easily.
The towel measures 30" x 60" and can be repacked in its own packing which measures 8" x 8"!
Antimicrobial treatment on the towel prevents bacteria from forming on the towel.
It also keeps the towel fresh and sterile all the time so you can it whenever you want.
Available in medium blue color.
The MyQuest Microfiber towels can be used for many things including as a hot yoga towel, a yoga mat and it is great when you finish a gruesome cardio workout.
It can absorb sweat really fast and dry off just as fast and doesn't give out any bad smell.
Buying Travel Towels
Travel towels are generally small in their sizes, so you most often have to go up a size larger than normally to get the size you want.
XL really isn't a plus sized beach towel, but a smaller one that just wraps around your body. Nearly all travel towels are made in some type of microfiber material, and that tends to stick to the skin.
This problem is hard to avoid. They starts smelling easier than normal towels, so make sure to clean them every so often.
If you pack the towel down when it's wet, it may get moldy or gross – like any other towel would.
Do you use travel towels? If so, what do you think of them, and do you have a favorite?