Updated:
Things To Do In Scotland – With over 20 million visitors per year, Scotland is a popular destination with visitors from all around the world, and with so many things to do in Scotland it comes as no surprise.
The capital city of Edinburgh is the most visited city in the UK outside of London.
With such a small country having such a vast number of visitors each year, it can be hard to escape the tourist trail and experience Scotland off the beaten track.
Things To Do In Scotland
As both a local girl, and a travel writer, I thought it would be useful to combine my knowledge of my home country and experiences as a traveler, and give you my top things to do in Scotland. England Travel Guide
Visit Stirling Castle
Every year, thousands of tourists visit Edinburgh Castle, and from the outside it is really a stunning sight, but trust me when I say the 14 GBP entry fee is really not worth it!
The inside of Edinburgh Castle is mediocre at best, and the fact that you can gain free and/or cheap entry to most of Scotland's other more beautiful castles is as good a reason as any to venture elsewhere.
Stirling Castle is only 31 miles from Edinburgh city center, and is simply stunning!
Remains were also found in Stirling Castle recently of an old Scottish Knight, and the Castle continues to provide much of an insight in the history of Scotland.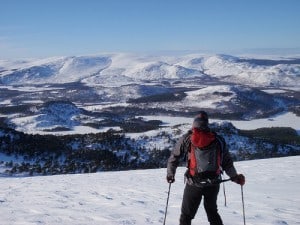 Go Skiing in the Cairngorms
Scotland is by no means a warm and sunny country!
In most cases this would be a huge downside, but what it does provide is some great opportunities during winter to do some skiing in the Cairngorm Mountains, and National Park.
Aside from just being a beautiful place to visit in the Scottish Highlands, and situated near to the picturesque town of Aviemore, the Cairngorm mountains also offer some black slopes for some of the most experienced skiers.
Eat some mince 'n' tatties!
One of the popular things to do in Scotland is to try out some local Haggis.
Internationally it is the one dish signified with Scottish culture, but in reality, most local people only eat Haggis on Burns Night (Robert Burns Night) or on a special occasion.
If you want to try a dish that Scottish people eat regularly then try some traditional mince 'n' tatties! Mince 'n' tatties is a dish that families in Scotland have eaten for hundreds of years.
It's basically just mince, potatoes (tatties), and gravy all mashed up.
It may be basic, but I literally don't know any Scottish people (apart from vegetarians) who don't have this in their top 3 meals of all time!
It's the kind of thing your granny or mum would serve you!
Visit the Tunnocks chocolate factory
Tunnocks is a company that has been around in Scotland since before war time, and I can honestly say they produce the best biscuits/cakes in the world!
Tunnocks tea cakes in particular are simply yum, and the wafer biscuits are also good too!
They are unique to Scotland, with one large chocolate factory based near Glasgow.
Waiting lists to get a tour of the chocolate factory are over a year long, so its unlikely you will get to do the tour if you are only here for a little while, but most shops in Scotland sell the biscuits so be sure to give them a try!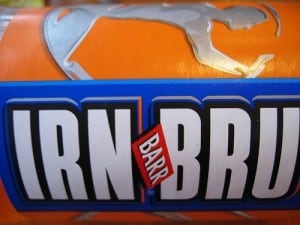 Drink some Irn Bru!
Like Tunnocks, Barr's Irn Bru has been around in Scotland for over 50 years!
For those who don't know, Irn Bru is the only soft drink (except from a beverage in Mexico) which outsells both Coke and Pepsi in its homeland.
It's something which is very unique to Scotland, and is regarded as Scotland's national (non-alcoholic) drink.
Most locals love it, and most tourists hate it, but it's something I definitely recommend you try, and that is unique to Scotland.
Visit the Isle of Skye
One of the things to do in Scotland that just can't be missed are the Scottish Highlands.
You can't come to Scotland and not take in the breathtaking scenery of the Scottish Highlands.
In particular, my favorite area of Scotland and offering some of the most beautiful scenery is the Isle of Skye.
To describe Skye would be an injustice to its beauty. The best thing I could say is just to see it for yourself.
Places to Visit in Scotland
Just a hop, skip and a jump from Bristol, after a night at one of the many Bristol Airport hotels and you will find yourself in Edinburgh to start your journey through some of the best places to visit in Scotland.
10 places to visit in Scotland
One of the many cathedrals and chapels of Edinburgh, particularly Rosslyn Chapel, made famous, perhaps mostly by The Da Vinci Code novel.
The Abbey and Palace of Holyroodhouse, a royal residence that is host to the Queen's Gallery which contains art from the Royal collection.
One of the top places to visit in Scotland for nature lovers is to walk up Arthur's Seat, an extinct volcano that offers a incredible panorama of the city from the summit.
When it comes to festivals, one of the very best places to visit in Scotland is Edinburgh, especially in the summer.
Home to over ten festivals during the summer, including the Fringe Festival, the International Festival, the Military Tattoo, and the Edinburgh International Film Festival to name just a few, Edinburgh is often called the city of festivals.
The Tall Ship, or the Glenlee, which was built in 1896 and is one of the only five Clydebuilt sailing ships left in the world that are afloat and restored.
It is now berthed at the Riverside museum which is part of Scotland's Museum of Transport and Travel.
You can explore the Tall Ship and of course the museum as well.
If you love animals and zoos, you'll love visiting places like the Edinburgh Zoo, particularly to watch the Penguin parade.
Take a walk along the Glasgow Green which was founded in 1450 by a royal grant and is home to Nelson's Memorial, The Peoples Palace and The Doulton Fountain which is the largest terracotta fountain in the world.
If you want several places to visit in Scotland in a short period of time, take a ride on the West Highland Railway, where you can go from Glasgow to Crianlarch and back.
One of the most beautiful train rides in the world, you'll see castles and meadows and the River Cylde, you'll pass under Erskine Bridge.
The train ride also takes you past Loch Lomond and Locklong.
A short day-trip from Glasgow, the Isle of Arran is often considered to be Scotland in Miniature and allows you to enjoy gardens, Brodick Bay, a castle and a variety of archaeological artifacts that are around the island.
This is one of the best places to visit in Scotland if you want to experience the essence of the country.
Visit the city of Stirling which is considered the spiritual home of Braveheart, you'll also want to check out the castle while you are there.
To make your return trip easier and less stressful, stay at one of the Edinburgh Airport hotels and get a good rest the last night before an early morning flight, but if you're sleeping at one of the Glasgow Airport hotels be sure to call ahead to ensure your reservation is completed correctly.
Quick Guide To Inverness, Uk
Known as the capital of the Scottish Highlands, Inverness is a lively city which has much to offer visitors and makes the perfect destination for a short break.
The city has a real 'buzz' about it with fabulous places to eat and drink, excellent shopping opportunities and a real sense of history.
Attractions in Inverness
Inverness Castle is a stunning building, which today functions as the Sheriff Court.
The sandstone structure was built in 1847, replacing an earlier building which was destroyed by the Jacobites in 1746.
Inverness Museum and Art Gallery has a wide range of exhibits including wildlife, Pictish stones and a display of weaponry.
Inverness Places to Visit
Inverness makes an excellent base for those who want to explore the Highlands as some of Scotland's most spectacular landscape is within easy reach.
Don't forget that no visit to the Scottish Highlands would be complete without an excursion to Loch Ness to search for 'Nessie' the Loch Ness Monster!
Inverness Restaurants and Night Life
Kitchen provides good quality, locally sourced food in stunning surroundings: the glass-fronted building has spectacular views over the river.
The Castle Tavern has a good selection of real ales and an outdoor terrace.
G's is a popular nightclub with a 3 am licence, playing commercial tunes on Friday and Saturday nights.
Inverness Accommodation
There is no sign of the twee tartan décor once synonymous with Highland hotels in the Rocpool Reserve Hotel, where rooms are named Hip, Chic, Decadent or Extra Decadent and come with their own coffee machines and hot tubs.
A previous winner of the title of Top Boutique Hotel at Scottish Hotel of the Year Awards, the Rocpool doesn't come cheap, but is well worth splashing out on for a real treat.
Those on a budget may want to investigate the Premier Inn, which is central and provides excellent value for money.
Getting To Scotland
Inverness airport is 8 miles east of Inverness, with excellent transport links into the city center.
The airport serves the main UK airports and an expanding number of international airports.
Flights from Inverness to Gatwick leave regularly making Inverness a convenient destination for those travelling from the South of England.
There is also a train station in the city center, with direct services to Edinburgh, Glasgow and London from the south and Aberdeen from the east.
It's also worth checking out the bus operators CityLink, Megabus, National Express and Stagecoach Bluebird that also do routes in and around Inverness.
Take a Tour of Bristol, UK's Most Beautiful Churches
Getting in touch with the history of a city is often times easiest when viewed through a stained glass window – if you're looking for an escape from the hustle and bustle of the High Street, then take a tour of Bristol, UK's most ancient and awe inspiring churches …
Bristol, UK St Mary Redcliffe Church
Described by Queen Elizabeth I as 'The fairest, goodliest, and most famous parish church in England', the gothic splendor of St Mary Redcliffe Church cannot be over stated.
The first church on this site was likely constructed during Saxon times, when Bristol first became a strategic port city.
As its name might suggest, the church is situated atop a red cliff above the River Avon.
In medieval times, its towering presence was a comfort to seafarers who said prayers to the Virgin Mary upon departure and gave thanks upon their safe return.
The present building is likely the fourth or fifth church that has been built on this site, and parts of the existing church date back to the early 12th century.
Temple Church
Unfortunately this once beautiful church (with a rather colorful past) was heavily bombed during World War II.
The ruins of Temple Church now stand in rather stark contrast the surrounding contemporary architecture.
However, Temple Church is probably best known for hosting the sensational 1778 exorcism of George Lukins, who was said to be possessed by 7 demons.
Nonetheless, a walk among the remaining walls allows visitors to take step back in time to the world of the Knights Templar who founded the church in the mid 12th century.
Bristol Cathedral
Open tours are given on Saturdays for those interested to learn a bit more of the history of Bristol Cathedral, which dates back to 1148 when Robert Fitzhardinge founded it as the Abbey of St. Augustine.
The impressive cathedral is most certainly worth a visit, if for no other reason than to hear its beautiful organ, originally built in 1685.
Pop in on any Tuesday during term time for a free lunchtime recital and a chance to hear the stunning acoustics of this grand Cathedral.
St James Priory
It was illegitimate grandson of William the Conqueror, Robert Fitzroy, who founded the Priory of St James in 1129.
Local legend has it that every 10th stone brought from Normandy to build the great Norman castle was set aside to build the Priory, making it Bristol's oldest building still in use today.
This modest priory has continuously served as a place of worship for nearly 900 years.
Church of England Mortuary Chapel
Located in the idyllic Arnos Vale Cemetery, this Grade II listed neoclassical chapel is certainly a peaceful place of rest on the cemetery grounds.
While wandering among graves may not be everyone's cup of tea, this gorgeous green expanse just outside of Bristol is a favorite among dog walkers, ramblers and history buffs alike.
While you're strolling past the many graves in a state of picturesque disrepair, don't miss the opulent Tomb of Raja Rammohun Roy.
And if you're looking for a hotel in Bristol this winter, consider a stay at the Holiday Inn Bristol Filton hotel for a convenient, great value accommodation option.
Scotland – Moody Weather & Amazing Scottish People
We knew Scotland would be beautiful even before we stepped off the plane – just from what we saw 2000 ft in the air was enough to know that this spontaneous trip would give us experiences of a lifetime.
We decided to leave the backpacks behind this time and travel with roller bags instead, just to see how we felt about it.
We don't like to see ourselves getting comfortable with only one way of travel, but want to try out different styles all the time.
Although we have been traveling mostly in a backpacker way I wouldn't mind experiencing a bit more of that luxury travel style, and although we are not the typical hikers we don't mind trying that out either.
The only thing is that we are just never prepared for it – although we have become better over the years, like don't go hiking in flip flops in the Austrian Alps anymore, we still looked like the odd ones out, and in Scotland, once again we were not prepared …
The Moody Weather
I have never seen such a moody weather anywhere else in the world.
The weather can change from sunny to rainy, windy to calm, freezing to warm – in a matter of hours!
Sometimes it seemed as though it did all that at the same time, and without any rain gear things got a little complicated… but I guess it's the weather that has contributed to the amazing nature in Scotland.
The Amazing Nature
The scenery in Scotland is simply breathtaking – the highlands is a dream landscape, with mountains, lochs and glens, and the vibrant autumn colors just made it even better.
The grey stone cottages along the roads just enhanced the scenery – these cottages were built for sitting in front of the fire, sipping tea and dipping short bread all day, the perfect situation for cozy Autumn luxury holidays.
But the one thing that struck me the most about Scotland, what changed my whole perspective on things – were the people we meet.
The Friendly People
I always used to believe that the way the people acted was a reflection on how the weather was – the people from northern Europe like Scandinavia are in general very quiet people whom are difficult to get to know.
You won't see them start conversations on the bus stop or street with strangers, you will notice that they prefer having an empty seat next to them on the bus etc.
During summertime, that changes a little, and the people become more outgoing.
So I used to think that it had to do with the weather.
But when I arrived in Scotland, I was proven to be terribly wrong – Scotland has the strangest weather in the world, mostly quite miserable – yet the people are among the warmest and friendliest I have ever met.
Nowhere else has it been so easy to meet people and strike up conversations with strangers.
No matter where you were, on the bus, walking down a street or in a supermarket, people from all ages would talk to you.
It's all in the little things.
In many ways Scotland reminded me of Vanuatu, where people laughed and smiled more, and where rather than giving you a strange look when talking to them, they actually tarted talking to you.
It will take some time to let all our impressions sink in, but I will write more about Scotland and our experiences – and I will be back, for sure.
Stirling Loch Lomond Scotland Travel VIDEO
When Rabbie's Tours offered to take us around Scotland for a few days we thought a 1 day tour to Stirling and Loch Lomond would be perfect.
The first stop was Stirling Castle, one of the most important castles in Scottish history.
You could actually visit the chamber and dining halls of the Royal family who used to live there.
We also made a quick stop over to check out Doune Castle where "Monty Python and the Holy Grail" was filmed!
Day Trip To Stirling & Loch Lomond Scotland
Squeezing as much as possible into a travel itinerary is not ideal, so if you want to see as much as possible of Scotland in a short period of time, it's best once you have arrived and after the right currency exchange rate has been checked to either rent your own car or go with a great tour company so they can take you to the best places.
So when Rabbie's Tours offered to take us around Scotland for a few days we thought a 1 day tour to Stirling and Loch Lomond would be perfect.
The Guide And The Tales
The tour began at 9 o clock in the morning, and after an amazing cup of mint hot chocolate from Chocolate Soup (thanks for the tip Anthony!) we met up outside their office on the Royal Mile.
The guide, Mac, dressed in kilt, t-shirt and calf high socks in tartan material wrapped with leather strings, was a charismatic guy who had such a strong passion for Scotland.
During the long drive passing stunning scenery on selected off the beaten track roads, we sat with our ears and eyes wide open and took in the scenery while listening to the crazy stories and tales of Scotland's history and the people who made it what it is today.
Mac shared the history behind the many famous thieves, and royalties who shaped Scotland, talked about how life used to be for the people in this land, and the reason why there are only 5 million Scots in Scotland and about 20 million around the rest of the world.
Scotland's history is brutal but so fascinating, we learned about everything from the most important events in the country's history to small details like how the word black mail and mailbox derives from historical events in Scotland.
The Route
The first stop was Stirling Castle, one of the most important castles in Scottish history.
You could actually visit the chamber and dining halls of the Royal family who used to live there.
We also made a quick stop over to check out Doune Castle where "Monty Python and the Holy Grail" was filmed!
If you have seen the movie, you would recognize the castle in the movie more than once, as they pretend the castle was several different castles when it was in reality just one castle, filmed from 3 different angles – you have to love their solutions to budget and convenience..!
We then drove through the Trossachs, often known as the "highlands in miniature" because of its beautiful scenery with mountains and glens.
The final stop was Inversnaid, a secluded little place north of Loch Lomond, Scotland's largest loch (lake).
We climbed up many narrow wooden stairs and walked through the green nature which is so distinct to Scotland, and a few minutes later we were facing a powerful, beautiful waterfall.
Usually waterfalls seem to disappoint me due to their weakness, and small size but this one (on the right —>) was actually one of the best I've ever seen.
We really enjoyed our tour with Rabbie's, the guide was amazing, he taught us so much more about Scottish history than we could have imagined – and it really was a great way to spend a day in Scotland.
Fort William Scotland Travel VIDEO
About a week ago we decided that it might be fun to take a trip to Scotland – it was a very spontaneous thing, which seems to be the way we do things these days.
We will be spending about 9 days exploring different parts of Scotland, from Edinburgh to Fort William, Glasgow and Stirling – but besides being a spontaneous trip, Scotland really is a place we can't wait to explore.
The highlands seem amazing, and there are so many places we want to see that it has been difficult trying to narrow it down and make it fit into our trip.
It seems to be very popular taking one of those Caledonian travel tours, and see a large part of Scotland in one day, or we might take one of those for a day as well – but in the meantime our our itinerary looks like this: Edinburgh, Fort Williams, Glasgow and Stirling.
Fort William is promoted as the adventure capital of the UK and the nature seems amazing, for some awesome mountain biking action & Boat Cruises so we can explore the beauty of the highlands from the water.
I've never thought of Scotland as a place to live, but now that we've been looking into it – it seems to have everything you could want:
Amazing scenery, adventure outdoor things like skiing, mountain biking and even surfing – plus Edinburgh seems like a great city.
We stayed in Fort William, known as the gateway to the Highlands and the adventure capital of UK.
Sitting at the foot of Ben Nevis, the highest mountain in UK, and at the head of Loch Linnhe, a sea loch, the beauty surrounding this town is unmistakable.
When asking the locals in Edinburgh what their favorite place in Scotland was, they all said with dreamy eyes that nothing beats the highlands.
Fort William Scotland Travel VIDEO
Fort William, Scotland – The Adventure Capital Of UK!
After three days in Edinburgh, with the most amazing summer weather and getting the most out of our press passes from VisitScotland, we headed further inland to one of the most beautiful parts of Scotland – the Highlands.
We stayed in Fort William Scotland, known as the gateway to the Highlands and the adventure capital of UK.
Sitting at the foot of Ben Nevis, the highest mountain in UK, and at the head of Loch Linnhe, a sea loch, the beauty surrounding this town is unmistakable.
When asking the locals in Edinburgh what their favorite place in Scotland was, they all said with dreamy eyes that nothing beats the highlands.
And then, finally, when it was right before my eyes, I could see why – the scenery spreading out far into the distance was absolutely stunning.
Muddy Mountain Biking
But walking down the main street in Fort William one thing became very clear to us: everyone else must have known something which we did not, as they were all fully equipped with enough gear and clothing to go mountaineering for days, ready to tackle any weather.
Sure enough the next day, the weather had switched. It was cold, rainy and windy, and the mountains were hiding behind the mist.
We were going on our first adventure: mountain biking.
The Ben Nevis range is world famous for its great mountain biking, and Nathan who loves mountain biking talked me into it.
We grabbed some bikes and when we arrived at the start of the mountain bike track the weather suddenly changed again. The mist was gone and the sun came out.
But many of the tracks were still muddy, and with no experience whatsoever I was up for quite a challenge.
At first I actually walked down with my bike (pretending to having biked down to Nathan) because I was so scared of the steep hill, but then I pulled myself together and decided that I was going to do this, falling and hurting myself or not (which I eventually did), I would not chicken out.
And like I've said before, if you try something you're scared of you might actually find that you like it.
Fast forward 10 minutes later and all I could say was WOW – it was so much fun, and the track was awesome.
With many hills going down and not so many going up, it was less challenging for the condition and more for the skills, but it was still hard not to look away from the windy road to appreciate the green forest and the river running next to you.
View From Aonach Mor
We finished the day by taking a gondola up to Anoach Mor, a big mountain with incredible views over Ben Nevis, the Great Glen and the Inner Hebrides.
While seeing the landscape from below is great, seeing it from above was definitely the best way to truly appreciate it.
The view you see is that of the first picture in this post.
Cruising The Loch
The next day we went on a cruise on Loch Linnhe with Crannog Cruises.
The morning started out windy, and the sun and clouds were fighting each other for attention.
It was quite spectacular to see the patches of sun and shadows playing over the smooth rolling hills around us, and with the sea being everything but calm, the little boat was up for a bumpy ride.
Having been in Fort William for only three days, I had quickly understood why everyone else had so much gear with them – the weather could change from one moment to the other, and we actually experienced three seasons in one day..!
Most Scenic Train Journey In The World?
We left Fort William with some awesome experiences, and took the West Highland Line to Glasgow, which was voted the most scenic train journey in the world on Wanderlust magazine. So, was it true?
To tell you the truth, the scenery was definitely one of the most beautiful I've ever seen, and since the Europe Train Challenge we have been on a lot of trains..!
Most of the time the landscape was very remote and it kept changing all the time, which made it very interesting.
This is a great way to spend a few days in the Highlands and I would love to go back and see more.
Exploring Edinburgh, Scotland Travel VIDEO
One of the reasons I love Europe so much is because of its amazing history, or more precisely how easy it is to experience part of European history even today.
In Europe, history is all around us, and Edinburgh was no exception:
The Auld Reekie (smokey city), like it was once called, was a city bursting with history. VisitScotland
The black stains on the buildings in the Old town marked the evidence of just how polluted the city once was, and the narrow closes (alleyways), leading the curious visitor into a labyrinth of small streets, are still there preserving the town's medieval layout.
Edinburgh is often referred to as the most haunted city in Europe, perhaps because around every corner there is a story to tell.
I don't think I have ever learned so much about a city's history through stories and tales as I have of Edinburgh.
And the fact that the city has preserved so much of its medieval architecture and style made it easy to imagine what it must have been like living back then. Attending the Edinburgh Fringe Festival is an unforgettable experience
Edinburgh Scotland History
Edinburgh is often referred to as the most haunted city in Europe, perhaps because around every corner there is a story to tell.
I don't think I have ever learned so much about a city's history through stories and tales as I have of Edinburgh, and the fact that the city has preserved so much of its medieval architecture and style made it easy to imagine what it must have been like living back then.
But Edinburgh brings the past even closer than that – in fact there are even streets and rooms that have remained untouched since then: a close called Mary King's Close.
Mary King's Close
Mary King's Close is a warren of underground streets and spaces, a place which has remained frozen in time since the 17th century when it was open to the skies and full of life.
It was amazing to see how everything was still there, how the narrow street where people used to trade their goods was still intact, how even the wooden toilet of one of the families who used to live there was still standing right where they had left it, some 300 years earlier.
The ceilings in the rooms were covered in plaster made of horse hair and the ashes of human bodies who died in the plague, and in Mary King's Close plague was so common that they had to quarantine the close, which is now the most haunted place in Scotland!
It gave you a very real impression of life in the days when people threw their waste out on the streets and had to walk barefoot in it themselves because they were too poor to afford shoes.
The Edinburgh you see today is a mixture of the best, it has the same cozy atmosphere, but cleaner and safer, and with some incredible green gardens and family villas to escape to as well.
We left Edinburgh with a fascination of the city's past, but so happy to be there in the 21st century..!
Our trip through Scotland was in general filled with stories from the past, of how Scotland came to be, of William Wallace, and the Scottish pride and shame.
The Scotts seemed to love their tales, and like the Scottish proverb goes "a good tale never tires in the telling".
It's been great to see so much of Scotland and get to know its history.
Next time I'm back in the UK I'd like to do the same with England, visit the "heart of England", indulge a bit and stay in one of those traditional thatched luxury Cotswold cottages and learn more about the stories and tales from England, which make it what it is today.
Staying In Edinburgh With Roomorama
After a busy week traveling around Scotland, we were exhausted and in need of a place where we could just sit back and relax.
It doesn't matter how cozy a hostel dorm is, if you're sharing a room with strangers you simply don't have the freedom to do whatever you want, when you want.
So instead of staying in Glasgow for the day, we hurried on to Edinburgh to enjoy the most of the apartment we had booked with Roomorama for 2 days.
It was the first time we had stayed in an apartment booked online via Roomorama, but they made the booking process easy, with many apartments to choose from and "checking in" to the apartment without a reception or someone to meet you was a breeze.
The apartment itself was amazing.
We stayed in Leith, a district in northern Edinburgh, with its own distinct character and once we had settled in – we felt at home right away:
The 2-bedroom apartment was luxurious and stylish but without losing that cozy touch – the kitchen had everything you could possibly need for cooking, and the living room was spacious and light with large sliding balcony doors in glass, a comfy couch and flat screen TV.
In the hallway there was even a workout area for those wanting to work out, but we took the opportunity to use the high speed WiFi to catch up on work while enjoying a nice glass of red wine instead.
Edinburgh is a fantastic city with so many amazing things to see and do, but for one night we allowed ourselves to do nothing at all, which is somewhat of a luxury when it comes to traveling the way we normally do.
It's amazing how great you feel after a good meal, a hot bath and a bed with plush pillows, and the next day we got up early, watched the sunrise and headed out on a new adventure to take a day tour to Stirling and Loch Lomond.
Europe Holiday Locations – The Winter Edition
Edinburgh, Scotland
Edinburgh is in our opinion one of the most beautiful cities in Europe, and while the weather might not always be the best with the cold winds and rain – there are so many things to see and do there in any type of weather so it doesn't really matter when you visit.
Some highlights on a trip to Edinburgh is to stroll around the narrow cobbled streets of the old town, visit Greyfriar's Kirk, check out Mary King's close and the Edinburgh castle.
But there are many more things to see and do, two good places to warm up in and escape the cold are the Camera Obscura and the Botanic Gardens – the first is both fun and interesting, with the oldest tourist attraction in the city.
The Botanic Gardens has a huge glass house area where you can explore flora and fauna from all over the world, from the desert in Australia to the Amazon jungle.
Scottish Holiday Experience
The travel industry has changed drastically in the last few decades, with higher standards of excellence and an increase of low-budget travel operators all competing for the best deals on the travel hypermarket.
Demand is up, and supply is struggling to match it.
But the simple fact remains: you can't put a price on luxury.
Of course, you'll have to number crunch and scout out the best location for the type of holiday you want – a romantic getaway, a family weekend, a retirement retreat – all of these come with very different criteria.
But when it comes to a base, even the most intrepid traveler, I'm sure, would be hard-pushed to turn down some luxurious extras.
If Scotland's your destination of choice, then whether you're planning a castle tour, hiking through the glens or sampling the urban nightlife, a luxury Scottish hotel might just be the perfect place to rest, retreat to, rejuvenate, ready for the next day's activities, as strenuous or as luxuriant as they might be.
And if you do decide that you can spare the extra pennies for the convenience of an on-site spa, pool, golf course or whatever else you decide is 'luxury' to you, then you'll want to make sure that the rest of your holiday matches up.
Because it's not just the hotel that should get a star rating.
Scottish Holiday Experience
Here are my picks for a five star Scottish holiday experience:
Island Living
Scotland's 'Misty Isle' of Skye prevails as one of its most visited places – the road to Elgol takes you to one of the most stunning views anywhere in Scotland; an uninterrupted panorama of the Cuillin Hills.
This is glorious rambling territory, just make sure you come weather-proofed! It's also great also for wildlife and hidden sandy beaches.
For something a little different, try the Orkney Islands instead.
Princes and Princesses
What's more luxurious than a taste of the regal?
Scotland boasts some of the finest castles in the world.
Edinburgh Castle is the bastion of medieval grandeur, and the birthplace of King James I.
Entering William Wallace territory, try Stirling Castle and look out onto the ancient battlefields.
The ruins of St Andrews Castle are also impressive, clinging to a rocky outcrop over a small sandy beach.
Scotland Festivals
There are festivals all year round, but for maximum luxury, forget the tent and hire a tipi, yurt or (promisingly) a 'cloudhouse' at the Wickerman Festival.
And for high-end culture, try the Edinburgh Film Festival in June or the Edinburgh International Book Festival in August.
For alternative chic, try the Hebridean Celtic Festival in July, or the wonderfully eccentric Stonehaven Fireball Festival.
Piping and drumming accompanies a procession of kilted fire-dancers, right to the water's edge where they hurl the flames into the sea.
I hope this helps you plan your next trip or your study abroad in Scotland!
Exploring The Best Of Scotland
Scotland is a destination that for many years was underrated by travelers, but is now climbing up the "popularity- ladder" of European destinations to visit.
Exploring The Best Of Scotland
The Scotts often praise and thank Mel Gibson for making both tourists as well as their own people interested in Scotland's heritage and history with the blockbuster movie "Brave heart".
In fact, when traveling in Scotland today, you will notice how proud the Scottish people are of their culture, traditions and nature, which are all three very different from neighboring England.
Scotland is one of those places which takes you a lot longer to explore than most other places.
There is something to see around every corner, from the beautiful highlands, to the islands and beaches to the beautiful towns and universities.
Two weeks is far from enough to see everything that Scotland has to offer – but it's enough to see a good bit of it and enjoy some of the highlights.
For us the best of Scotland was Edinburgh and up in the Highlands:
Edinburgh
Edinburgh is making a name for itself as one of the most beautiful cities in Europe – the old town, which sits on top of an extinct volcano, is very special.
The medieval architecture and closes (alleyways) are well preserved and there are tons of attractions, from ghost walks and Greyfriar's Bobby's graveyard, to royal buildings and viewpoints.
We recommend spending a few days in Edinburgh staying in one of the many Edinburgh cottages featured on: Scottish-cottages.co.uk – close to the Royal Botanic Garden, another place you must visit, to really get the best experience.
After spending some days in the beautiful city, you might want to see some of the nature and landscape that Scotland is so famous for.
The Highlands
The best way to see this area is to head into the Highlands for a couple of days, staying in traditional highland cottages like the ones you can find on: Scottish-cottages.co.uk and go for walks or drive around the area.
The highlands is a very popular place to go hiking, and while some people choose to spend several days hiking, you can base yourself in one place and take day hikes around the area.
Fort William is a good base for nature lovers, as you can also enjoy some mountain biking and in winter even some skiing.
There is also a pretty famous whiskey distillery and cruises that take you to see the highlands from the water.
Have fun in Scotland!
(photo credit: 1 – 1 – 3 – 1 – 2 – 3 – 4 – 5 – 1 – Victoria Reay – DaveBleasdale – timo_w2s – Full On Adventure – ILoveMyPiccolo)