Updated:
Visit Switzerland – To be honest with you, I never had much interest in visiting Switzerland.
I never really thought I would ever visit the country, sure I'd stop by if we happened to pass by, but not more than that really.
Well, life is full of surprises because last year we ended up moving there for a few months to work during the ski season, and Switzerland also turned out to be full of surprises.
You Visit Switzerland It's a fascinating country with a lot of history, culture and natural beauty.
I'll be honest and say that there were many things we didn't do and places we never went to, but here are our top 10 favorite things to do in Switzerland:
Top 10 Things To Do Next Time You Visit Switzerland
When You Visit Switzerland Go Hiking / Tramping
Switzerland has more than 48 300 km marked trails, and the nature is mind blowing.
The air is fresh, and you often find yourself alone with nature.
Hiking in Switzerland is easy, there are often restaurants and hotels along the way, so you can choose between camping in a hut, or staying over in a hotel.
And even if you're not the hiking type of person, there are so many different day hikes you can do.
Just going for walks in Switzerland is a beautiful experience, at all times of the year.
Even in winter time there are beautiful walks you can take up at the ski fields.
Enjoying the nature in Switzerland is the number one thing to do, one way or another. Europe's Most Scenic Views on A Train Journey
Adventure Time in Interlaken
Interlaken is like a big outdoor adventure park.
There is a lot to do for the adrenaline seeker: Sky diving over the Swiss glacier, water-ski etc.
It's a beautiful area, and is also really close to the highest train station in Europe which you can find at over 3,400 metres high.
A Day In Bern – The Capital
A beautiful city with a lot of history and old buildings.
It's nice to walk around and let the old city take you back a few hundred years.
All shops blend in so well in the old buildings, and some shops have been there for decades.
Another nice city for a day visit is Basel, with its stunning Town hall, bridge and cathedral.
Try The Local Delicacies
Switzerland might be a small country in size, but every region has kept their own specialties and cultural traditions close to their hearts.
Try out the local food specialties, they're different everywhere.
One thing the regions have in common when it comes to food is that the food is almost always covered by cheese.
Cheese equals Switzerland. But it's cheese of the best quality you can get.
A favorite is to just melt it all down in a pot (fondue) and dip bread in some bread – perfect!
Another specialty you can find all over Switzerland is their nut cakes.
There are special nut cakes for different areas of Switzerland.
Swiss Chocolate
No other chocolate in the world can compare to the one made here, it's amazing!
Maybe because of the great milk they produce here?
Anyways you will need to by and eat lots of this while You Visit ;Switzerland!
Go Watch Shopping
I'm not sure why watches are such a big and important thing in Switzerland, but everything and everyone is so punctual it's ridiculous.
Nothing or nobody arrive a minute later than planned, nor earlier.
Every second shop is a watch shop, and watches seems to have become part of the Swiss lifestyle.
The best Swiss watch brands don't even like to call themselves a watch business anymore, but a luxury business.
Visit The Old Villages
If you take the time to visit the Graubunden area you'll be amazed.
There are villages with houses dating back to the 13th century that people still live in!
They also speak an ancient language called Romanch, which has died out everywhere else but here, and they try their hardest to keep their old traditions as well.
Take a Beautiful Train Route
Traveling by train can look expensive at a first sight, but there are so many deals and offers you can get that you may end up with an amazing route cheaper than a one way ticket.
One example is their day passes where you can travel as much as you like, anywhere you want for a whole day.
Just ask the staff, read one of their many pamphlets or check out their website for deals!
There is the world famous Glacier Express route, but also countless of other beautiful routes.
Traveling by train is more than just a transport from point A to point B here, it's a destination in itself.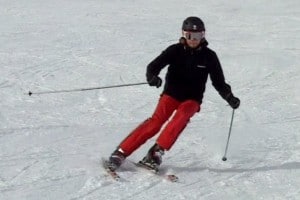 Switzerland Alpine Skiing
Yeah I know it's summertime at the moment, but I just have to mention two of the best things to do in Switzerland.
There aren't many places in the world where you can travel to at any season and have a great time.
In Switzerland, winter is just as much of a high season as summer is, and that for a good reason.
Few places in Europe has as good skiing as in Switzerland.
Many of the ski-fields are huge and often blend in with each other, meaning you can ski over to another ski resort.
Many people who go skiing in Switzerland don't actually go there for the skiing, but for the experience.
Sitting in the sun 2000 meters high up on the mountain overlooking the mountain tops with a nice hot chocolate is just as nice as skiing by itself. In spring time it gets so warm you can ski in bikini!
Go Sledging
This is a crazy sport.
Yes, sport.
They actually compete internationally with sledging.
Not bob sleding, but the wooden one!
In Bergün you can sledge down a 6 km long sledge run- – – watch that video – or a shorter but steeper run for the fear less one.
Sledge runs are everywhere around the ski areas, and a lot of fun.
Hope this inspires you to put Switzerland on your next trip, it's also not as expensive as you think!
>
Why Budget Travelers Must Visit Switzerland
We have traveled quite a bit in Switzerland, and even lived down there for a couple of months.
When "As We Travel" was founded back in 2010, we were living far up in the Swiss Alps in a tiny cute village called Scuol.
It's one of the most beautiful places I have ever been to …set right in a valley surrounded by high snowy mountains, the villages there were so secluded from the rest of the world that cars actually have to go on a train to reach the valley!
They speak their own language (Romansh), have their own culture, their own traditional cuisine, and – most importantly, nearly everyone we got to know there lived for the moment and enjoyed the simple things in life.
We thought that because it was so secluded and tricky to get to, that was the reason to why it was still so beautiful and such a relaxing place.


After the stress and fun we had in Barcelona – it was time for us to sit back and chill for a few days.
Vevey in Switzerland was perfect for this – amazing nature, clear blue water, wine, chocolate and best of all it was QUIET .
Every time we visit Switzerland, we fall more and more in love with the place – the lifestyle, the nature … for us everything is perfect in Switzerland.
We hope you enjoy our Vevey video, and stay tuned for at least 1 new video every week – Next stop Italy!
But once we left to see the rest of Switzerland, we realized that no matter where you went – the country was breathtakingly beautiful.
Vevey, where we decided to go this time around, was no exception.
Arriving at the train station, I instantly felt my body relaxing.
Since Paris, every train station had felt bigger and more chaotic than the previous one – boarding the trains had been like boarding a flight with bag scanners and everything.
But Vevey's station was small, quiet and simple – and the town was the same.
Everything here happened slower than normal, it almost felt as though it happened in slow motion:


The cars cruised rather than raced, the boats drove in circles rather than towards somewhere – even the many people working out seemed to do it in harmony, and it was so quiet that I for a moment thought that my ears were blocked.
Vevey is famous for three things: The vineyards surrounding the area, the invention of milk chocolate and being the place Charlie Chaplin called "home".
The vineyards, which date back to medieval times, are world famous for its great wine, and incredible views.


Perched on top of steep mountains, the view is priceless – and the wine, expensive…
It's easy to understand why people like Charlie Chaplin and Hemingway chose to live here, and easy to see why the milk chocolate was invented here, in a place full of inspiration and all about indulgence.
Many backpackers choose not to visit Switzerland because they think it will cost way too much to visit – big mistake!
Yeah it might cost more than some other places in Europe BUT trust me, it's worth it, if only just for a few days…If the nature alone is not enough reason to visit, than the variety of culture is.
What other country can you experience 4 languages (Italian, Swiss German, French and Romansh), making for such a great variety of local food and culture?

Things To Do In Geneva Switzerland
Things to do in Geneva Switzerland – Geneva is without a doubt one of Europe's finest cities – it's incredibly picturesque and it's one of the most important in terms of its place in the world.
Unfortunately Geneva is also one of Europe's priciest cities – which can often put people off from scheduling a short city break there.
However, Switzerland's third largest city, which sits around the sparkling shores of Europe's largest Alpine lake, has plenty to offer and you will find many great things to do in Geneva.
Below we've listed the best things to do in Geneva, the Swiss city of light:
United Nations HQ
Any trip to Geneva would not be complete without a visit to the United Nations headquarters.
Constructed between 1929 and 1936, the Palais des Nations became the United Nations headquarters in 1946.
The grounds contain a vast wooded park that overlooks the lake and can be regularly seen to be patrolled by peacocks that live on the grounds around Pregny gate.
Geneva is not only home to the UN, it often seems as if the whole of the world is situated here – the International Red Cross, International Labour Organization, World Health Organization.
You name it, they're all here!

The Lake Geneva
Geneva's lakefront has beautiful views of Mount Blanc on a clear day, making it one of the city's greatest assets.
The impressive fountain Jet d'eau reaches up to 450 feet in the air and is surrounded by beautiful floral displays and boats, and walking along the shore path by the lake on a beautiful day is one of the most enjoyable things to do in Geneva.

The Old Town
The picture-postcard Old Town, or Vielle Ville, contains some of the city's most notable attractions, including the Barbier-Mueller Museum, the Cathédrale St-Pierre and the Maison Tavel.
This area is also the main shopping area which is a pleasant district to explore with its terra cotta coloured cobblestones and stunning cathedral architecture.

Salève Cable Car
The Salève cable car is situated in the Haute Savoie, just over the French Border – this high alpine ridge has a stunning view of Mt. Blanc and the Lake Geneva area, as well as miles of walking trails.
Prices depend on the age of travelers and whether you want a single / return trip – but generally cost less than 10€.
Medical care is incredibly expensive in Switzerland, so whenever you travel to Geneva (or anywhere in Switzerland), make sure you are covered adequately with the right travel insurance policy by visiting Insure & Away, who have a wide range of single trip, annual multi trip & world travel insurance policies to suit any overseas trip.
Have you been? if so what did you think of the city?
Do you have any other tips of things to do in Geneva?
Our 5-Days In Switzerland
It is now official – we will be leaving Switzerland in three weeks.
The tickets are booked and some sort of travel plan has been made.
After I've finished cleaning a holiday apartment (a 3-hour-job that pays for both mine and Nathan's flight tickets
Gotta love the Swiss money!) we're off to Basel.
After that the plan is pretty loose, but that's the way we like it.
While making our way down to Milan we will go through some random towns and villages in Switzerland.
I think we'll just jump off wherever we feel like it, just follow our gut feelings and stop wherever looks nice – with the GOAL to see as much of Switzerland as we can in 5 days.
Does anyone have any ideas for quick train stop overs between Basel, Bern and Milan?
Our flight leaves in the morning from Milan.
Well, it's not actually Milan but a city about an hour away – AND that's the way Ryan Air does it – every… single… fu*kin… time!
When flying with Ryan Air, don't ever go by the name of the city they claim the airport is located, it's never right.
For example the airport in Stockholm is in a town over two hours away, and their Vienna Airport isn't in Vienna at all, it's not even in the right country…
If you've ever flown with Ryan Air you know it's barely worth it.
Paying almost nothing is tempting, but once you've done it, once you've been there and experienced a Ryan Air flight, you're hesitant if you'd ever want to do it again.
We have decided to take that risk.
We're aware that 80% of the people flying with Ryan Air can't handle the stress and the lack of oxygen among sweaty armpits all around you, and that they usually take their anger out on others.
But this time we payed extra for priority seating.
Oh yeah, we're doing it the luxurious way, so long 200-meter queue!
But to be sure that we get to this airport in time, we will have to stay the night in Milan.
I've heard nothing good about this place.
Apparently it was included on a list of the worst cities in Europe… but what the heck, a place is what you make it, right?
Taking the Glacier Express in Switzerland
We're starting to confuse the names of the places we're in now, talking about Lisbon but calling it Paris and so on – at least I still know what my name is..!
Countries This Week: Portugal, Spain, Switzerland
We started the week by catching up on some rest in Lisbon, Portugal – and it was well needed.
Being able to give yourself a day to work and do "nothing" was perfect.
I really loved what I saw in Portugal; the views, the people, the cafes, the pastries, the tiled buildings…I will definitely be back for more, but this time around we had to leave for an overnight train to Barcelona.
Barcelona is a city I have visited many times, and it's always fun to come back to a place a few years later and see it again with new eyes.
It has so much life and there is so much to do there that you really could stay here for weeks without being bored.
It's one of those cities that every day shows a new side of itself: chaotic, chic, dodgy, crazy party, beautiful and ugly – it's sort of everything at the same time, and one can choose how to look at it.
Two days later we left on another long day train to Geneva in Switzerland.
The next morning we carried on to Vevey, which was our main stop in Switzerland.
As soon as we arrived, I instantly felt my body relaxing.
Unlike many other cities, the train station was tiny and almost empty, the air was fresh and the pace in the town was so slow I almost felt as though everything was happening in slow motion.
The view over the lake and the rising hills and snowy mountains surrounding us was almost too much to take it – we were in true awe over this little place.
There is something special about small Swiss towns.
We've spent over 6 months (off and on) in Switzerland, and the more places we visit here the more we love the country.
Even the landscape changes drastically when you get close to the Swiss border.
It's too bad that travelers tend to avoid going here because of the prices, because it really is one of Europe's absolute most beautiful countries.
I noticed quite early in the Europe Train Challenge how I started living life at a faster pace because we were traveling at a faster pace.
I'm starting to deal with it better, but at times we have been grateful for making sure we updated our current travel insurance for this trip even though we are only traveling in Europe – you never know what could happen to your health.
So International Health Insurance is also something to consider.
I realize more now how important it is to give yourself time to just lay down and do nothing and think of nothing.
After two nice days in Vevey, we had gathered some energy to face the next amazing destination – one that I've longed to visit for so long … Venice.
Taking the Glacier Express in Switzerland
What better way to enjoy fantastic views of the Swiss Alps than by taking the Glacier Express?
This colorful train takes you through several small villages, across more than 200 bridges, through peaceful valleys and mountainous terrain on the way from Southern Switzerland through the Swiss Alps to the world famous resort, St. Moritz.


Described by The New York Times as "A slow ride, with reason" this is one trip you need to add to your travel bucket list.
Imagine this – vast sweeping snow fields, breathtaking views and spectacular white-capped mountains.
Board the Glacier Express in one of several villages- Zermatt, Visp, Brig or another village along the way.
You can enjoy the journey and return the same way later in the day, or, as many passengers do, spend the night in St. Moritz on Mount Matterhorn.


St. Mortiz, a lovely world renown resort, offers comfortable lodgings with panoramic views of the mountains just outside your window.
Be sure to book reservations for your train ride and reserve lunch for you and your family.
You can reserve a 3-course lunch or a luncheon special that is served by Glacier Express's experienced waiters.
They serve their guests with a special "ritual pour" that is incredibly fun and enjoyed by all.
Snacks and beverages are special amenities included in the price of your ticket too.


With tall windows on either side of the train, enjoy photographing the fantastic Swiss Alp mountain passes, the sheer snow covered walls that drop down to ravines, gorges and rivers below.
You will pass over 250 bridges, go through 90 tunnels, cross the beautiful Landmassar Viaduct and continue on up the mountain to St. Moritz.
Round trip, it takes 7 hours.
Tired of riding?
Get off and spend the night in one of the villages you see along the way.
Many visitors prefer to do this.
Zermatt, Visp and Brig are only a few villages that offer overnight accommodations to passengers.


You can board the Glacier Express in one of several pick up points, whatever fits your schedule best.
Reservations can be made online.
You'll return by 6 PM in plenty of time for dinner.
Guests are excited to see the wonderful views along the journey from Southern Switzerland through the Swiss Alps, through the Chedivide that crosses the source of the Rhine and Rhone Rivers.
Audio speakers keep passengers informed about each point of the journey.
Sledding In Switzerland Video
Hey everyone, hope you all had a great week!
This week is our last week in Scuol, so we have been very busy making the most of the winter sports which they offer around this part of Switzerland.
Yesterday we went skiing in St. Moritz, and a few days ago we went sledding down a 6km long sled run – about 2hrs train from here in a cute town called Bergün.
I uploaded a preview video a few days ago, but today you can watch the FULL 3.5min video of us zooming down the hill as fast as we can!
WOW it was so much fun, if your ever in Switzerland in Winter make sure you go to Bergün!
you might notice the serious look on my face – it was due to the fact that I was holding the video camera in one hand and trying to control the sled with the other while bumping up and down the ice track @ 50km/hr :p Also that is Sofia chasing me behind… and make sure you watch right to the end to find out what happens to my sledding :S)
Fun eh?
Tomorrow we are leaving for a 6 day train adventure around Switzerland, France and Italy before flying to Sweden – so look forward to reading and seeing heaps of great pics and info from those places.
Why Budget Travelers Must Visit Switzerland
Taking the Glacier Express in Switzerland
Basel Switzerland City Guide
Top 10 Things To Do Next Time You Visit Switzerland
What To Eat In Switzerland: 5 Foods Beyond Fondue
Hotel Tips Travel Pros Recommend and use all of the time.
Scuol, Switzerland
The last 5 months we have been hiding in a tiny village called Scuol in the middle of the Swiss alps, surrounded by forest and high mountains.
We made our decision to come here, just like we normally do – by a photo we saw online.
You know one of those photos where you go "WOW, let's pack our bags NOW".
And guess what, the photo wasn't photo shopped, it really looks like this:
When we arrived in Scuol, we didn't know how long we would manage to survive here.
With no job waiting for us, no knowledge of the language (German) whatsoever, and only 800 euro in our pockets, it might have looked like a really stupid idea to come and live in one of the most expensive countries in the world.
Well, I guess now that I think about it afterwords, it probably was… :p
But we figured that since everything always works out for the better, that what ever happens was meant to happen, and the fact that we're still here 5 months later says it all.
It's funny, the places we've enjoyed the most in our travels are the ones we barely even knew anything about before we arrived there.
A year ago we had never heard about this place, and a few months later we ended up living there.
It's an amazing place, one of those places where you can easily get stuck and not realize it until 10 years later, that you forgot to leave.
In fact, that's what has happened to many people here.
Many of them are born and raised here and have barely ever been outside the country, but everyone else (which is many) moved here – years ago.
The people we have gotten to know were SO surprised when we told them we were leaving.
It was like the only reason you'd possibly leave was because you for some reason HAD to, not because you wanted to.
And they all thought 'leaving', meant coming back next winter or in summer.
During our time here Nathan worked as a ski instructor.
I, who had barely ever skied before, have become a pretty damn good skier if you'll allow me to brag a little 😉
We've skied probably as many miles as we would normally have walked in Gothenburg altogether in 3 months, and we've walked as many miles as we would probably have driven in a year (not that I'm much of a driver, but you get the deal).
I guess we make up for all the Swiss chocolate we've been munching on every day..!


It's the only area left in the whole world where people still speak the pretty much extinct language 'Romanch' – the strangest language I've ever heard.
I'm going to miss it, and I'm going to miss all the people I've gotten to know.
I'm so glad I've had the chance to see this place from a close angle.
It is so much more than I ever thought Switzerland could be, it has a charm, a personality, that is very special and the people are so generous and helpful, without their help it would have been much harder finding work and for a lot harder for us to have been able to experience such an amazing time.
Swiss Punctuality Hacks and Swiss Watches From Switzerland
Swiss Punctuality Hacks- Does It Make Life Easier?
I used to always be the kind of girl who was late for everything.
The closer I was to the place, the later I got there, since I often left when I was supposed to be there.
I was a hopeless time optimist.
But do you know what the funny thing was?
It happened to always work out great.
How come?
Because everything and everyone else seemed to also always be late as well…I never really had to run for the bus, because I would assume that it was running five minutes late.
In fact, now as I think about it, I often expected the bus or tram to be a few minutes late, so I consciously left later.
All that however, belongs to the past.
When we moved to Switzerland, I soon realized that I needed to change this habit of thinking in order to make sure I GOT anywhere.


Everything here in Switzerland is precisely on time – every single time. I don't know why, but Swiss people definitely have a special connection with time.
You never have to wonder what the time is, since there are clocks at almost every corner and watch shops the whole way along the street.
If the bus is supposed to leave at 09.31 it doesn't wait a second longer, and it's not just the transport system which is like that, the people are too!
If you set a date at a certain time with someone he/she somehow gets it just right, and arrives not a minute late – or early.
At first it's a little frustrating for someone like me who is basically counting on delays, but since the buses only go once every hour I had to step my game up.
And now I find it incredibly nice.
I mean think of all time you've spent waiting for something to come or leave?
All those delays that just turned out to be longer and longer and longer.
Here, you know that when catching a train somewhere, everything is connected, and you never have to wait longer than 10 minutes for the next train.
Everything is calculated to the exact detail and creates such a flow in your travels.
If a bus is full you usually don't have to wait for long until they send in an extra bus.
A friend of mine is currently living in Rwanda, and she says that nobody there cares about the time.
The bus doesn't leave at any specific time, it simply leaves when it's full.
This means that you could wait from five minutes to an hour.
If you invite friends over at a certain time, they can either be two hours late or two hours early, and bring some friends along without warning.
If that would ever happen here, the Swiss people would probably have a mental freak-out!
However, she said that in the beginning it was a bit frustrating, but that she's now used to it and actually likes it – even prefers it.
On the other hand I think exactly the same but opposite, I prefer the Swiss way now.
So what does that mean?
Are we just different in our liking, or does it all in the end come down to us getting used to something?
Getting used to routines?