Updated:
Which are the top 10 best luxury safari camps in Africa – this is of course debate-able as its not always the most expensive which are the best, this all depends on what exactly you want from your safari.
Nevertheless here is a list of Africa's top ten most famous and unique Luxury camps, well worth a safari holiday.
Or Cape Town South Africa, Rwanda Safari Holiday and Traveling In East Africa Will Change Your Perspective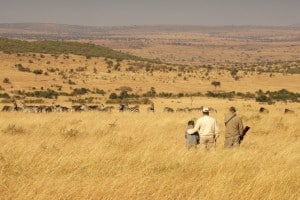 Best Luxury Safari Camps In Africa Safari
There are many places in Africa to experience the safaris of a lifetime, our favorites are Tanzania and Zanzibar.
Cottar's 1920s Camp, Maasai Mara, Kenya
This camp is furnished fully with antique campaign furniture and boasts some of the most romantic and spoiling tents in all of Africa.
Run by the Cottars, whose tales of ancestors explorations in Kenya are second to none, this family run friendly camp oozes class and glamour.
Famously used in numerous fashion shoots over the years, this camp is also based on a private concession with abundant game.
You'll never be bothered by the so-called crowds of the Maasai Mara.
Sand Rivers Selous, Selous, Southern Tanzania
This lodge is world famous, and it's hard to explain why.
The magic of it's location is very hard to put into words.
Set in a remote corner of the Selous with magnificent views of the Rufiji River complete with hippos, crocs and other game species, this lodge is ultra luxurious and offers a relaxing and homely atmosphere.
You feel like part of a gang. The guides here are sensational and their tracking is second to none.
The light here is almost ethereal which we think must be why the place seems so magical.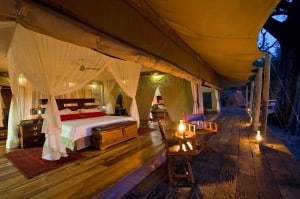 Zarafa, Okavango Delta, Botswana
Zarafa has just four tents, although it's hard to describe them as tents.
They come complete with roll top copper baths, sitting rooms and four poster beds.
The views of the lagoon mean that game viewing can take place from your veranda.
Set in the vast Selinda Reserve once again you are guaranteed not to see another soul when game viewing from this exclusive camp.
Chada Katavi, Katavi, Western Tanzania
This camp may not be the most luxurious compared to the others listed here but it's location is one of the most sensational in all of Africa.
Katavi National Park represents Africa fifty years ago, vast spaces without camps or tourists and with abundant game.
Here you will still see huge herds of elephant and buffalo, and predators around every corner.
Chada offers fly camping, walking and game drives so you can really explore the bush, and feel as if you're the first person to see it all.
Tswalu Kalahari, South Africa
This luxury lodge has been leading the way when it comes to desert camps for years.
The Kalahari forms such a major part of Africa and its black maned lions, vast red sand vistas and habituated meerkat families cannot disappoint.
Tswalu is modern and chic and the desert lifestyle here is romantic and incredibly rewarding.
San Camp, Makgadikgadi Pans, Botswana
Onto another desert camp – San Camp is all Moroccan tents and white flowing fabrics, furnished with Persian rugs and antique campaign furniture.
Set on the Makgadikgadi Pans this camp must feel as it feels to be on the moon.
This area is magical with doum palms springing from nowhere, the San bushmen as guides, quad bikes, horses, star gazing and meerkats to name but a few of the life changing experiences you'll have whilst staying here.
Saruni Samburu, Samburu, Northern Kenya
A large part of the charm of this luxury lodge is the charismatic local Samburu who run it.
They have the best sense of humor and look elegant and beautiful in their brightly colored shuka and beads.
The views from the lodge are breathtaking and you can often see elephants and other game below.
In fact the rock where Saruni is built is a favorite place for leopard.
The lodge itself is very spoiling and fits beautifully into its surroundings, the rooms are enormous with private verandas on which to while away the hours.
Wolwedans, Namibia
Wolwedans in Namibia is a vast private reserve, which has several accommodation options, each more luxurious than the first.
Here the emphasis is on desert life and the vast mountains range from purple to bright red.
Star gazing here is also second to none and one has never felt so remote as you feel here.
Londolozi Granite Suites, Sabi Sands, South Africa
The Granite Suites on Londolozi ooze exclusivity and boast some of the best wildlife viewing in the world.
Take all of them for a party, or just one for a private safari which is unrivaled in luxury or glamour.
Chinzombo, South Luangwa, Zambia
Chinzombo is the latest offering from professional safari operator Norman Carr and it does not disappoint.
This lodge is modern and very luxurious with stunning views of the South Luangwa, famous for being one of the best spots in Africa to see wild dog and leopard.
African Safari Wildlife Destinations
Your African Safari is always a great pleasure to see wild animals in their natural setting.
Africa being most popular continent in the world for wildlife safari, wildlife lovers head to Africa to have the best wildlife viewing experiences.
If you consider yourself an avid wildlife lover, consider exploring the following 5 best wildlife safari destinations in Africa:
Botswana Safaris
Botswana is blessed with some of the greatest wildlife and safari experiences in Africa.
It is the country with most number of elephants in the world.
The wildlife treasure of Botswana includes everything from abundant bird life to rhinos.
The Chobe National Park and the Makgadikgadi Pans are among the most popular wildlife safari destinations in Botswana.
In a nutshell, Botswana is truly an amazing destination to see wildlife in their natural setting.
Kenya Safaris
Kenya is the land of famous Maasai Mara game reserve where zebras and wildebeest migrate in millions with huge predators of Africa following their wake.
There are more than 40 nature reserves and national parks in this East African country.
Kenya is simply the perfect African safari destination with millions of pink flamingos, Amboseli elephant families and the red elephants of Tsavo.
Leopards and lions are simple part of landscapes in Kenya.
Zambia Safaris
Zambia is a destination with mesmerizing, remote wilderness full of an amazing diversity of wild animals.
Although it is a landlocked country, it has some wonderful rivers and also the world's biggest waterfall.
Some of the most known wildlife viewing locations can be found on safari in Zambia, including the Kafue, Liuwa, Lower Zambezi, and South Luangwa national parks.
Kasanka and Bangweulu Swamps are some specialist areas where only the most avid wildlife lovers dare to explore.
Tanzania Safaris
Zanzibar Tanzania Safaris are a destination where chimpanzees swing through the treetops, elephants roam along seasonal migration routes, Hippos push for space in muddy waterways, and wildebeest rush across the plains.
It is a wildlife treasure where you can expect to find some of the rare species of animals and birds in their own natural setting.
You can see wild lions padding in front of your vehicle at the Ngorongoro Crater.
You can also see water birds peck in the shallows around Rubondo Island, giraffes silhouetted against ancient baobab trees in Ruaha National Park, crocodiles in Selous Game Reserve.
Zimbabwe Safaris
Zimbabwe might not be as popular as many other safari destinations in Africa, but you can't leave it out as well.
After long violence, economic disaster and political ruins, this African country has been able to attract wildlife lovers from around the world.
The most popular wildlife viewing sight in Zimbabwe is enormous herds of elephant gathering at Hwange National Parks's numerous waterholes.
If wildlife is your thing, Africa is the place to be and the above-mentioned African countries are always the destinations that you can't miss out.
Plan your Africa trip today and make memories of lifetime.
TOP LUXURY SAFARI WILDLIFE ENCOUNTER
Luxury Safari Wildlife: Luxury safaris in Africa are usually mostly about wildlife.
This is unsurprising considering the extraordinary wildlife sights you can see while there.
Often it is people's desire to get a bit closer and really experience the feeling of being close to nature.
This can happen in several ways – elephant back safaris in Botswana and South Africa offer a chance to meet these gentle giants and explore the bush from their point of view.
Riding safaris which take place all over Africa also offer a similar option, your safari is very peaceful and game reacts naturally to your presence when on a horse.
Of course the mountain gorillas are very enticing.
Visit Rwanda or Uganda and trek the Volcanoes to come face to face with these heavily endangered human like mammals.
One can also track chimpanzees in Western Tanzania, collar lions in South Africa, track wild dog in Kenya.
All of this is blown out of the water when you come face-to-face with a family of habituated meerkats.
Luxury safari properties
Luxury safari properties San Camp, Jack's Camp and Camp Kalahari in Botswana, as well as Tswalu Kalahari in South Africa all offer the chance to get out of the vehicle and relax with habituated families of meerkats in the morning or evening.
To hang out with these adorable creatures as they forage, play and interact like a small family of humans is nothing short of mesmerizing.
If you are lucky the appointed sentry will also politely climb onto your head so that he might get a better view of the surrounding area and any danger that might be present.
It is the meerkats mannerisms and general demeanor that is so endearing and one cannot fail to be completely charmed by them.
They have very human characteristics as they tell each other off, play and seemingly help each other negotiate the African bush.
It is a most enjoyable morning or afternoon spent lying in the sunshine watching these family groups go about their business around you.
For anyone who appreciates awe-inspiring scenery, magnificent animals, and a real sense of peace and tranquility, then a visit to the Maasai Mara National Reserve is an absolute must.
Spanning an area of some 1,510 square kilometers in Southwestern Kenya, it's regularly touted as one of the most pristine nature reserves in the world.
With just over a four-hour transfer from the bustling metropolis of Nairobi, you will be given a chance to get up close and personal with some of the most majestic and beautiful animals on the planet.
Where to Stay in Maasai Mara
One of the great things about the Maasai Mara is that it remains unspoiled. At the same time, you don't have to rough it.
Instead, luxury tented camps blend effortlessly in with the surroundings and can cater to your every whim.
Authentic lodges and campsites also give you the feeling of a real authentic African experience, but with the added luxuries of comfort, style, and elegance.
There are also a number of luxury hotels that are only a short commute away.
What to See at Maasai Mara
The gentle savannas and rolling grasslands make it exceptionally easy to spot wildlife while on safari.
Leopards, rhinos, elephants, buffalo and of course lions all make the Maasai Mara their home.
Just imagine a beautiful sunset as the backdrop to a rare rhino drinking from a watering hole.
Or imagine witnessing a pride of lions stalking their prey.
Great Migration
If you arrive between July and October, you can see the great migration.
This is where over 2 million wildebeest make their way from the vast plains of the Serengeti to the Maasai Mara in search of food and water.
Accompanying the wildebeest are often zebra and gazelle.
Of course, wherever they are, there will sure to be carnivores such as leopards and lions.
All of which get rich pickings to see them through the leaner months of the dry spell.
It's a great balance in a delicate eco-system of life.
You can get the latest migration update right.
Maasai People
Although no longer allowed to make their homes in the reserve itself, Maasai people are a colorful and elegant race of people who live a nomadic existence.
For centuries they have lived in harmony with this amazing place.
They still have a huge presence in the area.
Nowadays, rather than hunting the game for food, many now work within the flourishing tourist trade and the many villages that are dotted around the Maasai Mara are now open to visitors.
Kenya will captivate you for so many reasons.
With an abundant array of flora, fauna, wildlife and people, the Maasai Mara is truly an enticing place.
It's one in which will leave you with a plethora of stunning memories which will stay with you for many years to come.
Holiday In Mauritius – Foodie Paradise Cuisine Should You Sample
Guide to the Mombasa Coast, Kenya ~ Where to Go
Are you planning a trip to Kenya and the Mombasa Coast?
Here's all you need to know to plan the trip of a lifetime.
The Kenyan coast has been influenced by a large number of different cultures throughout history.
This is mainly due to the fact that Mombasa has been a bustling port since the 12th century.
For 800 years, Arabs, Swahilis, Portuguese, Omanis and British have all been passing through.
They've left pieces of their traditions and cultures behind.
This unique melting pot of cultures makes Mombasa Coast a fascinating place to discover.
You will see Portuguese and Islamic architecture with traces of an Indian and British colonial past.
Here is a quick introduction and guide to what you need to know about Mombasa and the Mombasa Coast when planning your first visit.
When to go Mombasa Coast, Kenya
The coast stays hot throughout the year, but nothing spoils a beach break like a sudden downpour.
Areas along the coastline also benefit from the breeze coming off the sea, which brings the humidity down, leading to more comfortable conditions.
The best time to travel to this part of the world is during the dry season, which lasts from January through to March.
Although the wettest months tend to be April and May there is often a wet spell in October and November too.
Visitors should be aware that this area of Kenya is predominantly Muslim.
Therefore, your travel plans may be affected around the religious festival of Ramadan in November.
Best Beaches Mombasa Coast, Kenya
Since the Mombasa coastline sits on the edge of the Indian Ocean, it is not surprising that some of the best beaches in the world can be found here.
Think white sand, azure sea and palms dotted along the shore.
They are divine.
Diani Beach
One of the best swimming spots in the area due to the reef's location slightly off shore, which protect the beach from large waves.
It is located to the south of Mombasa.
It is a hive of activity during the high season, but more tranquil when the tourist rush subsides.
Tiwi Beach
At the other end of the spectrum to Diani Beach, but also to the south of the city, this is a great place to escape the crowds.
There are no large hotels or resorts at Tiwi Beach, making it much quieter.
It is a safe place to swim with no souvenir sellers plying their trade, but there is also a shortage of amenities as a consequence.
Bamburi Beach
This is the hot spot for getting involved in activities.
Enjoy snorkeling, scuba diving and water skiing.
Here you can also arrange for a camel ride across the beach or on a dhow ride out to sea, so think action-packed as opposed to peaceful.
Things to do Mombasa Coast, Kenya
Start off at the Old Town in Mombasa where the narrow streets are home to ancient buildings and curio shops.
Then head to Fort Jesus, built in the 16th century by the Portuguese, which now contains a museum exploring the practice of slavery that occurred in the area during the era.
This educational destination contains various artifacts relating to slavery and shows the cells where slaves lived.
To the north of Mombasa, you can find the ruins of a town called Gedi.
They date back to the 15th century when a small group of Swahilis lived there, ruled by a rich sultan.
They make for a fascinating place to explore (like Egypt).
The government designated it as a National Museum and a place of cultural importance.
If you are able to stay an extended time in Kenya, be sure to check out the Maasai Mara and other incredible things to do in Kenya.
Getting Around Cape Town South Africa
Like a painting on canvas, Cape Town South Africa, nestled under the shades of the austere and grandiose Table Mountain, appears like a harmony of textures and colors.
It is an amazing sight to see cable cars ascending from the mountain's flat top, which is an ideal location to view the city and its busy harbor.
Boats are on their way towards Robben Island in Table Bay where the nefarious prison that once held Nelson Mandela stands.
Interestingly enough, this place is now a living museum. Rwanda Safari Holiday
Cape Town South Africa welcomed many new visitors from around the world and re-established itself as a great place for tourists to explore.
While it has been a firm favorite for many Europeans seeking to escape the depths of winter, many travelers' eyes to the natural beauty and modern appeal of the 'Mother City'.
It's best to rent a small vehicle when you come to Cape Town, as everything is easily accessible by car.
This way you can comfortably explore the city's surrounding areas and perhaps even take a drive along the Stellenbosch wine route.
If you're planning on staying in the city center, however, you can use the recently implemented My Citi buses to get around, or take a taxi.
You can travel to Cape Town by plane, ship, train or cross-country by car.
Once you reach the city, there are various ways to get around the metropolis…especially biking South Africa
You can walk, take a taxi, hire a car or use the City Sightseeing bus, that gives you the option of hopping on and off at several major attractions that dotted the day.
If you are commuting, you can catch the My Citi bus from various points.
But prior to your trip, you need to buy a 'myconnect' bus card from the main station at the Civic Center in Hertzog Boulevard or from retailers along the area.
There are route timetables and up-to-date costs found in MyCiTi website.
While the city center is relatively safe during the day, it is important to remain vigilant and never walk alone at night.
Sights to see in Cape Town South Africa
Today, tourists find their way to this South African city for it is rewarding to see sculpted balconies filled with colorful blooms, streets lined with shady leafy trees, mosques with their onion-shaped domes and exotic minarets.
Like an open canvas of art, you encounter natural beauty or a visit to their museums that echoes the historical period of South African.
Cape Town is second among the most populous urban areas in South Africa.
Majestic Table Mountain
An absolute must-see when you're in Cape Town is the view from atop the majestic Table Mountain, which you can either hike up or ride a cable car to the top.
Make sure to go on a clear, sunny day when you can see the beautiful sights of the city down below, without having clouds in your way.
If you enjoy historical buildings, don't miss the Castle of Good Hope, which is the oldest surviving colonial building in South Africa.
Built in an interesting star shape, the building served as a fortress and has remained exceptionally well-preserved, allowing visitors to experience a relic first hand.
Clifton Beaches
The four beaches in Clifton are broken by giant granite boulders that are easily reached by steps found along Victoria Rd.
They provide the best spot for sunbathing as they are always sheltered from the wind.
Vendors hawk drinks and ice creams along the beach and sun loungers and shades are available.
District Six Museum
The museum displays a floor map that former residents labeled as their demolished homes.
It also showed where their former neighborhood once stood; as well as the reconstructions of home interiors.
There are exhibits of faded photographs and recordings.
Most museum staff, who was practically displaced residents themselves, has heartbreaking stories to tell.
Kirstenbosch Botanical Gardens
These 52,800-sq-km botanical gardens are among the most beautiful in the world.
The Tree Canopy Walkway has a curvaceous steel and timber bridge that go up through the trees and provides amazing views.
There are more than 9000 of Southern Africa's 22,000 plant species grown here.
See the elevated fragrance garden to sample the scents of the plants, walk a Braille trail, navigate through a kopje (hill) planted with pelargoniums and browse in a garden full of useful plants.
Mutual Heights
Clad in rose- and gold-veined black marble, the building contains the most impressive of the City Bowl's collection of art deco structures.
It features one of the longest continuous stone friezes in the world, designed by Ivan Mitford-Barberton and sculptured by master stonemasons the Lorenzi brothers.
Much of the building's original detail and decoration have been preserved, including the impressive central banking space but unfortunately not open for general viewing.
South African Jewish Museum
This museum is so secured that you need a photo ID to enter the compound that is not only an imaginatively designed museum but formerly a synagogue.
Built in 1905 in Neo-Egyptian style, it functions as a beautifully decorated Great Synagogue.
The museum partly occupies the beautifully restored Old Synagogue.
Marvel at the splendid and permanent exhibit of Japanese Art's Hidden Treasures that showcased an exquisite collection of carved pieces of ivory and wood.
South Africa Museum
As the oldest museum, it contains a wide and often intriguing series of exhibits of the country's natural history.
The best galleries showcased the art and culture of the area's first peoples, the Khoekhoen and San.
There's an extraordinary delicacy to the paintings, particularly the ones of graceful elands.
St. George Cathedral
Commonly known as the People's Cathedral, this was one of the few places of worship that was open to people of all races during apartheid.
The interior is a cool retreat but search out for the Siyahamba Labyrinth in the cloisters that is a paved circular walking path to aid mediation and spiritual relief.
Designed by Sir Herbert Baker at the turn of the 19th century, mass then was often offered by the indomitable Archbishop Desmond Tutu; he also made the cathedral a focal point for the opposition during the tyrannical Afrikaner regime.
View and appreciate the exhibits around the Memory & Witness Center in the crypt
Food in Cape Town, South Africa
Cape Town has a great selection of international cuisines to offer, as well as traditional South African restaurants.
If you enjoy seafood, drive over to Hout Bay for delicious calamari on the seaside or grab some fresh fish at Minato Japanese sushi restaurant.
As the staple food, a typical family eats 'pap' –a fluffy porridge made from maize mixed with stew gravy.
Because South Africans love their food, Cape Town has a variety of restaurants.
A Rainbow cuisine is just right for a rainbow nation.
You have only to stroll down Long Street to savor various foods that South Africans enjoy.
Whatever your food choice is, from Italian to Mexican to Chinese, there is probably no country that isn't being represented gastronomically.
For great burgers, Neighborhood and Royale Eatery on Long Street are popular picks, with Neighborhood offering great Mojitos (2 for 1 during happy hour!) and a fun bar vibe.
For some retail therapy, V&A Waterfront and Century City/Canal Walk boast a vast selection of stores and are also great places to go for restaurants, bars, cinemas, and local attractions.
Once the sun sets, Cape Town's vibrant nightlife comes alive at clubs like Assembly, The Fez, and Mercury Live, promising the latest music and friendly people.
They love their meat preferably beef; meat is always the main portion of any meal.
Aside from grilled meat, they also have a penchant for dried meat, or Biltong.
Why you should not miss out on Ile aux Cerfs while touring Island of Mauritius
South Africa Food Specialties
South Africa Biltong
This is made from salty dried meat usually beef or kudu, but also from ostrich and even rhino.
South Africa Bobotie
This Malay-origin dish is similar to your meatloaf, with raisins and baked egg on top; it is served with yellow rice, banana slices, and chutney.
South Africa Boerewors
This is the African version of a thick sausage that is traditionally braised.
South Africa Bunny Chow
A hollowed half-loaf of bread stuffed with curry.
South Africa Chakalaka
An Indian/Malay origin dish, this garnish or food accompaniment that is a mixture of carrots, cauliflower, garlic, ginger, green pepper and spiced with chilies and curry.
South Africa Koeksisters
This is Afrikaans twisted pastries that are deep fried and heavily sweetened.
South Africa Melktert
Tart or dessert made from milk.
South Africa Potjiekos
Are the traditional Afrikaans stew, made with meat, veggies and cooked over coals in cast-iron pots.
South Africa Rusks
Are the rectangular, hard and dry biscuits eaten with tea or coffee, like biscuits, they are dunk in warm beverages.
You can make your own, or buy them in any store.
South Africa Sosaties
Internationally called kebabs; they made from marinated meat grilled, on skewer.
South Africa Umngqusho
Is the staple food of the Xhosa people that consisted of sugar beans and white maize mixture.
South Africa Waterblommetjie
Is a meat stewed with the flower of the Cape Pondweed
After your trip to Cape Town South Africa, you'd have experienced almost everything possible from a nice guided city tour through an adrenaline kick in an old fighter jet.
Preserve those fond memories of your visit to the museums, food adventure in gastronomic restaurants savoring native delicacies, thrilling clubs, adventurous tours and a fun-filled walk into one of the visitor's centers.
If there was only a fountain, you would have thrown coins to guarantee your return!
Insider's Guide To South Africa
South Africa.
I traveled there as a backpacker.
Worked there as a volunteer.
Lived there as a resident type person.
I've experienced a lot in South Africa.
I've seen racial harmony; I've observed racism.
I've been humbled by dignity in poverty; I've been robbed by people in poverty.
I've experienced human warmth; I've witnessed human cruelty.
I've seen the good and the bad of country.
And the strange.
In honor of the latter, here are a few curious, interesting and fun personal observations about South Africa.
Guide To South Africa is like a fantasy world map
You know the map of Middle-Earth in the Lord of the Rings books?
The map in the Game of Thrones novels?
South Africa is a bit like that.
I don't mean it's full of hobbits and dragons; I mean it embodies that fantasy trait of realms ranging from arid scrubland (Northern Cape) to lush forests (Mpumalanga), and from icy mountains (the Drakensberg range) to vast oceans (shout-out to the Atlantic and Indian).
Large exotic creatures no roam wild on the vast plains of South Africa, but the fantastical Big Five (lion, elephants, buffalo, leopard and rhino) remain ingrained in the nation's culture.
Joburg looks like a city from a futuristic dystopian movie
I won't start every entry like this, but you know those cities-of-the-future from 80's films where everything has gone wrong?
The ones with high crime, boarded-up shops, people afraid to stop at red lights and fires in metal bins?
Like in Blade Runner or Demolition Man?
That's what inner-city Johannesburg is like.
It's not a place you want to spend a typical evening. Although, if you hang around long enough, perhaps you'll meet Robocop…
There Are So Many Languages
A lot of countries have more than one official language.
But 11?
Are you serious?!
Luckily, many people speak multiple languages, and there's a lot of overlap.
Typically, most will speak English, Afrikaans and their 'local' language, e.g. Xhosa, Zulu, Sotho, etc.
Obviously, that's not even going into regional dialect variations, but let's not go nuts here.
My advice for backpackers?
Know English, learn some Afrikaans and pick up a few polite phrases for whichever place you're in at the time.
Especially the tongue-click Xhosa.
It's fun.
Afrikaans accent is scary – but hot
The Afrikaans language is a deep, throat-wrecking and Germanic-sounding drawl.
The result of this is that, when animated, Afrikaners can sound aggressive, powerful and… sexy.
It's kind of like they're giving you orders all the time, even when they're just asking for a coffee.
It's totally a preference thing, but while everyone likes to be seduced by French or Italian or another romantic language, sometimes you can't beat a good hard… Afrikaans accent.
Rugby is the national sport, or is it football?
Due to the juxtaposing cultures in the country, you'll get a very different impression of sporting passion depending on who you're with.
Whereas football is basically the national sport in England – black or white – in South Africa the number one sport for Afrikaners is rugby.
The beloved green-and-gold Springboks are the primary focus of white sport fans.
However, among the black population it's all about soccer.
The national team, affectionately known as Bafana Bafana (the boys), are the pride and joy of the country.
Yes, yes, I know; you can't just literally split sporting affiliation into black and white.
Except you can.
Sort of.
Black Taxi means something very different
I was really confused the first few times (white) people in South Africa referred to the combi van taxis that carry 15 -20 people at a time.
In the UK a 'black taxi' or 'black cab' is a universal mode of transport; they're used by pretty much everybody.
Black taxis in South Africa are different; it's considered a poor person's way of getting around.
But, as a traveler, you shouldn't be afraid of this.
Yes, it's uncomfortable and involves lots of waiting around, but it's a chance to travel as normal people travel.
I hate to use the phrase, but, like volunteering in Africa, catching a black taxi means you get a very authentic South Africa experience.
You can hang out with elephants and sharks in the same day
Because South Africa is like this magical fantasy place when it comes to wildlife, you're basically incredibly spoiled; you could spend a morning diving with sharks and go on a game drive in the afternoon or evening.
Kruger National Park is the most famous national park, but the country is teeming with them, and you might have a better experience at one of the less popular ones.
My recommendation is Addo National Park near Port Elizabeth – it's awesome for elephants.
Lots of elephants.
If you can kill it, you can barbecue it
South Africans love barbecuing.
Or, as they call it over there, braaing.
To braai is a not merely a method of cooking; it's a lifestyle.
A cultural tradition.
Modern heritage.
It's universally loved by all.
Except vegetarians.
But there aren't many of them in South Africa.
Usually braais will feature standard steaks, ribs and the beloved boerewors sausage made from beef and pork.
But be prepared for anything. Impala, boar, springbok, crocodile; they all could make an appearance.
Traveling In East Africa Will Change Your Perspective
TOP 10 BEST LUXURY SAFARI CAMPS IN AFRICA
Your Guide to Budget Travel In Africa
Africa is a continent bursting with possibilities for travel: diverse cultures, fascinating histories and vibrant communities.
Among the main reasons to travel in Africa are the breathtaking wildlife and natural beauty, the adventure and romance of safari, the deserts, jungles, mountains, and delight of the glittering coastline.
Exploring the continent can be done on any budget, and if you travel wisely it is possible to get by on surprisingly little.
While it would be impossible to cover all that the mighty continent has to offer in such short space, we hope it provides some indicators for destinations and activities during what should be a trip of a lifetime.
Find the best travel accommodation options in S. Africa with AccommoDirect.com.
When to Go and Weather
Africa is a vast continent straddling the equator and as such has varied climates and contrasting seasons.
Travelers usually time visits to avoid the height of the rainy seasons and the ravaging temperatures at the peak of the hot seasons, but these weather patterns change from region to region.
North Africa is at its best, and coolest
During October to March.
Sub-Saharan Africa is best for travelling between rainy seasons.
In East Africa it is dry from December to March and again in and June to October.
West Africa is dry in October to May, but also extremely hot during these months.
Central Africa is dry from June to September.
In the South, the dry season is from May to June and the rainy season is from November to May; between these seasons, around October, southern Africa is ferociously hot.
Top 5 Destinations Via Private Jet
Enjoy African Action, Adventure and Stunning Wildlife In An Affordable Way
For many travelers the principle reason for travelling in Africa is to experience the astonishing diversity of wildlife, most famously by going on safari.
Safari packages vary greatly in price, but a basic minibus and camping trip out in the wilderness – while relatively costly, gives value for money in terms of the amount of animals you get to see.
Walking safaris are great for getting up close with nature, and often cheap too!
Generally, safaris in the national parks of western and southern Africa such as Kruger and Etosha are more affordable than the more famous parks of the Serengeti and Massai Mara in the east.
Bird watching is also a big wildlife attraction due to the incredible number of bird species across Africa, and during the months of November to March the numbers swell as native birds are joined by migratory varieties.
Birds inhabit every part of Africa, so bird watching is an affordable way to see the continent's wildlife.
Africa is home to many primates including mankind's closest relatives: the chimps and gorillas.
Trips to visit the apes in Rwanda, Uganda, Cameroon and Tanzania can be the experience of a lifetime, but don't come cheap.
Primate tracking in Gabon and Gambia are generally more affordable options.
There are endless possibilities for hiking in Africa, taking in all types of terrain and climate, and an affordable way to take in the scenery.
The spectacular peaks of the Atlas Mountains in Morocco and a week spent walking the slopes of Mount Kilimanjaro in Tanzania are particularly fine hiking opportunities.
Africa's Great Lakes
Albert, Victoria, Nyasa and Tanganyika – offer enormous possibilities for exploration of the wildlife and cultures of past and present that have grown around them.
On the border between Zambia and Zimbabwe, the awesome power of nature can be seen at Victoria Falls, which is one of the largest waterfalls in the world.
The Zambezi River, which cascades through the falls, is a center for water sports and adventure pursuits in Africa, and there are activities to suit any budget.
Africa's amazing coastline provides a massive range of attractions for visitors
There are opportunities for diving along the shores of the Mediterranean, Red Sea, Indian Ocean and the mighty Atlantic.
Scuba diving can be expensive, but snorkeling is a cheap and enjoyable alternative, especially for exploring the many coral reefs and shallows of the Red Sea and Indian Ocean.
One of the best ways to enjoy Africa is by simply relaxing on the sandy paradises of the continent's beaches.
Local Festivals And Celebrations
Contemporary Africa offers a feast of different cultures, life styles and experiences.
The best thing about the continent is the people, and a good way to get involved is to visit local festivals and celebrations.
There are countless regional events to attend, and some of the bigger festivals are worth timing you visit to coincide with.
The Cure Salee ('Festival of the Nomads') is an annual gathering of Nomadic tribes in Niger, which takes place to mark the end of the rainy season in September.
voodoo traditions are represented at Togo and Benin's yearly Vodun celebrations around January 10th.
The city of Fes hosts a fantastic multitude of global sounds at the Morocco Festival of Sacred Music every June.
Marrakech is famous for its shopping, and has an abundance of hand made lamps.
They make them on the back streets and corners around town, but few know that much of it, though not all, is child labor
Tips on Budgeting In Africa
For African film the biannual FESPACO in Burkina Faso is probably the continent's biggest festival, taking place during February and March.
South Africa's Durban International Film Festival is also an important showcase, taking place each June.
Keep accounts
By keeping a record of all you costs you can plan ahead for your travels, allow yourself a daily allowance and make preparations for bigger outlays.
Plan big expenses in advance
While you can keep your daily expenses relatively low during your travels in Africa there will be occasions when it's worth paying a bit more money such as going on safari, long-distance travel or treating yourself to a night in a more luxurious hotel.
Plan ahead for these moments, before you start travelling if possible, so you know exactly how much money you need for bigger expenses.
Be flexible
Traveling in Africa should be a trip of a lifetime, so be prepared to be flexible with your budget.
There will be times when spending a bit more is worthwhile such as picking a guide and transport for going safari.
It's also wise to have some cash set aside for an emergency.
Haggle
Many merchants in Africa expect their customers to bargain for their goods, so learning to haggle is a great skill to have.
Work out how much you're willing to pay for an item before haggling, and by remaining polite and friendly throughout the bargaining all parties should come out of a haggle happy.
Spend ethically
There is a great deal of poverty in Africa, and as a tourist you will often be seen as much richer than the locals and be expected to pay more.
You shouldn't take offense to this, and by spending wisely you can help ease this inequality.
Buy and pay for local services and good so local people benefit, and if you want to help people begging in the streets then donate some money to a local charity.
If you spend wisely you can enjoy Africa on an affordable budget and hopefully also bring some happiness to those who live in the lands through which you travel.
Hope this guide helps you plan your next trip to Africa!
(photo credits: The Dilly Lama)
South Africa's Best Cities
South Africa is a diverse country that's probably most famous for being a top safari destination.
While it is, without doubt, an unparalleled place to see the big five, it's also home to some of the world's most exciting cities – a fact that I think can sometimes be overlooked.
Hopefully, this will inspire you to hop on a plane and visit one of them for your next holiday!
And, if it does, you can find a brilliant selection of luxurious accommodation through Wanderforth.
With that in mind, I've put together a guide to three of South Africa's most vibrant, exciting and memorable metropolises.
Cape Town
I think Cape Town is probably the best-known city in South Africa and it is, in my opinion, one that definitely deserves its fame.
As well as being the provincial capital of the Western Cape, it is home to a huge wealth of attractions, from natural wonders like Table Mountain to beautiful beaches populated with penguins.
My absolute favorite thing about Cape Town is Boulders Beach, the home of the aforementioned colony of African penguins, who have lived here since the 1980's.
Coming here to see them waddling around and swimming is a must and, if you're really lucky, you'll find yourself paddling beside them when you take a dip.
Just as a quick tip, this beach is part of Table Mountain National Park, so you'll need to pay a small fee to get in.
Durban
If your idea of the perfect city combines varied urban attractions with an absolutely stunning coastline, I think you'll find it difficult to discover a destination better than Durban.
This city lies on the edge of a coastline bathed in warm Indian Ocean waters, and as a consequence the shore here is a divine place for sunbathing and swimming.
As we're focusing on cities rather than beaches today, I'll try not to get too caught up in talking about various stretches of sand!
Aside from the beaches, Durban's attractions include its wonderfully diverse culture; you should be able to discern Zulu and Indian, as well as South African, influences.
Should you fancy experiencing a little of the luxurious lifestyle, make sure you spend some time at Wilson's Wharf.
This charming area is home to a great mix of restaurants and high-end shops, as well as acting as a splendid summer venue for musical and theatrical events.
Johannesburg
Last on the list is the incredibly vibrant, diverse and historically rich Johannesburg.
The ultimate place to come if you want a jam-packed break.
Think exploring nationally important cultural attractions during the day and partying hard at night.
Among the most fascinating options for the former is visiting the Apartheid Museum, which tells the story of 20th-century South Africa.
This does, of course, mean it has a strong focus on apartheid, but the establishment does look at the broader national history too.
If you want to spend a day or two doing something a little more light-hearted, head to Gold Reef City.
Packed with fast-paced rides like Tower of Terror and Anaconda, it is also somewhere the kids can enjoy a spot of dressing up in period costume.
Be sure to stay vigilant in Johannesburg and plan your trip ahead of time.
With some pre-planning, you can have an amazing time!
Night Owls Guide to Namibia, Africa
Forget about any misconceptions you may have, because Namibia, Southern Africa is up and coming on the tourist scene in a major way.
That's right, there is somewhere other than the big African cities of Johannesburg and Nairobi where you can experience all night partying and top class eateries, with a healthy and sometimes overpowering African influence thrown into the mix.
I for one love to explore, which is why if you are looking for something totally different and some of the most stunning scenery in the whole continent.
The young country of Namibia, Southern Africa can deliver an unrivaled experience that will take even the most experienced travelers' breath away, and provide a contrasting nightlife suitable for all no matter your expectations.
Windhoek – Little Germany
Africa as a continent has been heavily influenced – mainly negatively – by its colonial past.
Any traveler flying into Namibia's central Highlands's capital Windhoek will be immediately met by heavy German influences, which as a result has led to the city becoming a beacon to the rest of the continent on just how an Africa city can thrive if it uses colonial influences to its advantage.
Hotels in Namibia and Windhoek will not exactly be packed full of western tourists – something that I'm sure will appeal to many travelers looking for a true African experience.
But there will be plenty of faces milling around on the search for Namibia's nightspots.
The city may not exactly seem buzzing at first glance, but it can offer first class food.
Which unsurprisingly is based on German cuisine – as well as several lively party venues.
Club Thriller does not enjoy the best location – in fact new visitors to Namibia, Southern Africa may well think it looks a bit rough on arrival.
But it does provide a nice mix of African and European music and a fairly relaxed atmosphere.
Funky Lab is a more popular nightspot and the Jass Bar is a sophisticated venue where you can enjoy a nice cigar and a pleasant conversation in a part of Africa few have explored.
If you can, visit this city in March or April, when the month long German carnival is in town.
It's a real experience not to be missed if possible.
Cheap and Cheerful Swakopmund
Hotels in Namibia can vary, but if you decide to stay in the interesting city of Swakopmund there is no way you'll break the bank as everything is so cheap!
Hotels in Namibia and Swakopmund in particular can charge around £5 per room, which is great value.
You can sample the local beer for under a £1 and in most places you can fill yourself up on huge steaks for under a fiver.
Not bad, eh?
When it comes to nightlife, there are plenty of options in this small but buzzing city.
If you want to follow the locals and any travelers who are in town, head to Gruner Kranz.
Here you'll find pool tables, beautiful girls, cheap beer and shots all accompanied by good music suited to all tastes.
The city is safe and is a good beacon of Namibia, Southern Africa as a whole, so forget about it being bandit country or unsafe for tourists.
Just relax with the locals and enjoy true African nightlife every night of the week!
So there you have it – Namibia, Southern Africa in a nutshell.
Expect the unexpected by all means, but expect a thrilling holiday above all else!
Savor The Taste Of Namibia, Southern Africa
When my boyfriend and I decided to venture to Namibia Southern Africa I was more than a little concerned about what I was going to eat, being a vegetarian.
Like any devoted carnivore my boyfriend attempted to quash my fears with the 'they'll always be salad' argument, which made me even more irate.
But I shouldn't have been so worried, there were hundreds of amazing food places in Namibia.
Although undeniably meat orientated, many of the restaurants had a large vegetarian section, so vast in fact that I often found it difficult to choose!
One restaurant I would recommend in particular is Homstead in Windheok.
As long as you're not indecisive (the menu is one of the most diverse I've seen) then this is the perfect place for all tastes.
The food is also pretty unusual, my boyfriend had a crocodile fondue for example, while I went for a deliciously flavored vegetable curry dish.
The herbs and vegetables used were all freshly grown in their garden, and the restaurant had a very wholesome, earthy vibe.
The setting was beautiful, you could either sit in their idyllic garden and bird watch while you ate, or dine in the historical house built in 1906.
They even had a wine cellar and some interesting liquors to sample, though be warned they can be pretty strong!
For a more international flavor I would recommend O Portuga restaurant, also in Windheok.
These dishes are based on Portuguese cuisine and the flavors are absolutely out of this world!
My boyfriend had a mammoth meat kebab, which literally towered over us!
Apparently it was one of the best kebabs he'd ever had, and he doesn't praise meat lightly.
In an attempt at bravado, he also tried Piri Piri (a really fiery flavored chili).
If you like chili these are something else, but if you're only trying to be manly avoid them at all costs, it was great entertainment for me though.
For my main meal I decided on the salmon steak cooked in mixed vegetables.
Although I usually try not to eat fish I could not help sampling this delicious dish, and the guilt was well worth it, the fish was succulent and the flavors were stunning.
For pudding we shared the petite gateaux, which had the perfect ratio of chocolate to vanilla ice cream, and was warmed to perfection.
It was so heavenly in fact that we soon found ourselves fighting over the last morsel.
Although I was initially skeptical about what the food in my destination Namibia might be like, I was quickly won over by its deliciously exotic flavors.
Unfortunately for my waistband, I never even contemplated a salad!
11 Top South Africa Bike Trails
South Africa Bike Trails and Off road biking is an increasingly popular sport in South Africa, and little wonder with the fantastic weather in this country and the stunning natural scenery.
Coupled with excellent infrastructure and fabulous accommodation, and a biking holiday with friends or your family can be a memorable and healthy way to spend your time.
There are literally hundreds of mountain bike trails across the country, from the valleys of the Magaliesberg in Gauteng and the extraordinary scenic beauty of the Drakensberg to the spectacular landscape of the Cape Winelands and the picturesque villages along the Garden Route.
Find a mountain bike or road bicycle on Gum tree South Africa and explore some of these glorious spots:
The Magaliesberg, outside of Johannesburg and Pretoria, has mountains and valleys and great bush to cycle through.
Hit the local tourist offices and get a map of the routes on offer for a great outdoor experience.
In KwaZulu-Natal is the really pretty Midlands Meander route.
Here, you can spend a few days running along the R103 from Estcourt into the pretty town of Howick, taking in the Howick Falls, Karkloof, and the hills and dales of the sugar cane plantations.
The Drakensberg is just wonderful and accommodation is really superb.
If you are a little more serious about your sport, you can join the Sani Pass Bike Epic, taking you to the top of Africa, and also the Volvo Classic.
Outside of Johannesburg towards Heidelberg is the Suikerbosrand Nature Reserve, offering over 60 kilometers of challenging and fascinating nature trails with great opportunities to view animals and birds.
Sabie in Mpumalanga is a wonderful spot with hilly and challenging routes taking you to spectacular waterfalls and the Blyde River Canyon.
Accommodation is quaint, and the hospitality in this part of the world is excellent.
The Garden Route offers a range of short and long cycle trails all along its string of great little towns, including Knysna and Wilderness with great seascape views or inland trails along lakes and rivers.
The South Coast south of Durban is also a biker's paradise.
Trails along Port Edward are well known for the challenging ride, great scenery, and wonderful warm Indian Ocean at your doorstep for a refreshing swim.
Table Mountain in the Cape is a great place too for a weekend cycle with fabulous views of the city, the waterfront, and the beaches of this great mother city, all within a short ride of your hotel or family accommodation.
Hogsback in the Eastern Cape is a lovely place with a different natural setting.
You'll find beautiful open landscapes as well as a lovely sense of history and charm in this old farming community.
While in the Eastern Cape, you can ride the Owl House cycle route which is a nice day or two of cycling.
You can visit the famous Owl House while on your tour.
The Cape Winelands area is also lovely.
The difficult Hellshoogte Pass between Stellenbosch and the R45 on the Winelands route will give you a great weekend of mountain biking South Africa Bike Trails.
South Africa's Garden Route
Alongside the bustling inner-city hubs of Cape Town and Johannesburg, you may have heard individuals refer to South Africa's Garden Route as an outstanding South African holiday destination for picturesque negotiations of the Rainbow Nation.
But what is the South Africa's Garden Route exactly?
Well of course, it is a route on its own merit but in reality it is so much more than that.
It is a fascinating journey taking in the incredible splendor of South Africa's south eastern coast embracing the adjacent Atlantic Ocean but also incredible broad leaf forests, premium golf courses, idyllic bays and adrenaline filled pursuits.
With a surprise around most corners, let us let you in on five things you may not know about this classic South African journey!
How did the route earn its name?
The Garden Route earns its friendly and hospitable title in respect of the diverse vegetation and wetland areas that mark the makeup of the region intercepted by the highway itself.
Fynbos biome describes the indigenous vegetation that adds color to the route.
To provide a concise history lesson, this rare variety of plant species came to being due to the last ice age – occurring 10,000 years ago – obliterating the survival of such species in the northern hemisphere, hence the wonder of such sightings in South Africa.
The route boasts the second mildest climate on the entire planet!
Second only to the American island state of Hawaii, South Africa's Garden Route is the silver medal in respect of boasting the mildest climate in the world.
Of course, this is fantastic in respect of the area maintaining its allure as a fulfilling year-round holiday destination with temperatures in the middle of winter averaging around 19 degrees and the midsummer – 28 degrees.
Be sure to bring your brolly however, as the green rain forest thrives due to year-round rainfall.
How long is the route itself?
The Garden Route is approximately 200 kilometers or 124 miles in length, meaning it's generally advised that any sole visit shouldn't complete the route in one go.
Why would you want to anyway with numerous intriguing stop off points such as Nature's Valley – a unique coastal holiday village in respect of actually being entirely surrounded by the greenery of the Tsitsikamma National Park.
Which is the biggest settlement on the route?
George is both the South Africa's Garden Route's largest settlement and also the administrative hub underpinning the region.
Located roughly halfway between Cape Town and Port Elizabeth, the city resides in the shadow of the dramatic Outeniqua Mountains with a viewing platform at the Outeniqua Pass ensuring travelers can marvel at the sun kissed coast.
The Garden Route boasts some outstanding wineries
South Africa is famed for her wine trade and the South Africa's Garden Route boasts numerous wineries such as Mons Ruber Estate located close by to De Rust.
Sample the local produce but of course, make sure you have a designated driver to continue on along the route!
(photo credits: 1 – 1 – 2 – 3 – 4 – 1 – 2 – 3 – 4 Nicolas Mamberti – Kyknoord – gego2605 – 1 – 2 – 3 – 1, 2, 3, 4, 5)