Tips for Traveling Women – The world has become hostile, but that should not hinder you from traveling across the globe.
This article is for helping women travel independently and safely.
It doesn't matter if you're speaking a foreign language, you're if different color, race and gender, these tips will keep you grounded, safe and not mugged.
If you're planning a vacation outside the country, use these tips, and your stay will be peaceful.
Conduct Thorough Research On Your Destination
Before booking a flight, ensure you have conducted thorough research.
Not every destination is safe for women.
As you scroll through various coolest cities and stunning beaches, your safety should come first.
For instance, South Africa scores poorly on street safety.
Historically, women in South Africa have been treated with cruelty.
Although the situation is improving, women are advised against for hikes, walking, or driving alone.
Russia also scores low on intentional homicide against women.
But these countries also have a range of attractive tourist scenes that will make your vacation enthralling.
What we mean is know where to be, what and what not to do.
When it comes to the lodging, how are the safety ratings?
Check out reviews in various hotels and resorts and know what previous guests have to say.
Another factor to research on is health safety in the country.
Visit a travel clinic and talk to a health provider about your destination.
Alternatively, call an online doctor for advice.
Using a local SIM Card or an eSIM will make your calls cheap and fast.
You will get international call cards to make your communication seamless.
You can also subscribe to prepaid calling cards.
Carry Your Valuable Luggage Everywhere
In the first place, you should never carry precious items and jewelry with you.
But, in my case I have a cremation necklace so I can travel around the world and my beloved is always with me.
It's a good idea to always wear it or secure it on my person.
Leave vital documents like birth certificates at home.
But if you take them with you, always keep them close to you.
When you board the plane, ensure you stay with your valuable bag.
When you get to your room, you can lock them in a safe or still carry it wherever you go.
Once you let the valuables off your site, you'll likely never see them again.
Put Your Trust on Hold
They say women are compassionate.
Well, it's true, but that doesn't mean you trust every person you meet, especially in a foreign country.
It can be tempting when you meet people of your race, country, or tribe.
Sometimes they can be of great help.
However, some are con artists who have mastered the art of offering help travelers.
They will convince you to leave your valuables with them only for you to get robbed.
Sometimes, we meet people and feel connected instantaneously.
Probably it's the love at first sight.
Some males are outrageously sexy, and it can be tempting to have that romance moment.
If that happens, ensure to protect yourself enough.
Guard your electronics and don't disclose any vital information like your debit card.
Take things slowly, get to know someone better, and follow your instincts.
The world is cruel out there!
Be Cautious About Your Drinking Habit
You've been having tight schedules and crazy deadlines to meet.
Now you're on vacation, and you want to quench your thirst to whatever level.
Well, it's allowed but take caution.
It doesn't matter whether you're on the road or in a hotel room.
Getting drunk makes your senses dull, making you vulnerable to others.
If you go out drinking, drink slowly and have glass water after every drink.
If you want to visit the washroom, don't leave the drink open.
Resist pressure to keep pace with others.
If you feel the urge to drink more, you can carry it your room and drink to your satisfaction.
More so, familiarize yourself with the drinking laws of the country or state.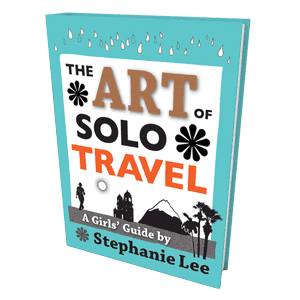 Travel Insurance is Important
You need a travel insurance policy.
This is a lifesaving policy you should never ignore.
There are several online providers.
Hence you have no reason not to buy it.
If your goods are robbed, the travel insurance will cater for the expenses.
Tips for Traveling Women
As a woman, traveling alone should not instill fear in you.
With these safety Tips for Traveling Women, you are assured of a vacation full of happiness.
And to make your trip more successful, plan it about three months beforehand.
Ways to Stay Safe Whilst Solo Traveling
Girls Guide Solo Travel and The Solo Girl's Guide to Traveling Without Fear