Things to Do in Hot Springs Arkansas – Hot Springs National Park is situated in Hot Springs, Arkansas—a settlement that developed into a famous and pleasant spa town after establishing federal protection.
Hot Spring National Park is generally tiny, and its history is intertwined closely with that of the town.
This is the only park with an urban street and historic stone buildings called Bathhouse Row.
According to its name, the key feature of the park and the main reason behind its historic popularity are its hot springs.
The Native Americans called it the "Valley of Vapors"—they had been visiting the site for thousands of years to take baths in its healing waters. Modern development began when thermal waters were brought under federal protection in the 19th Century.
But what can you do in Hot Springs National Park? Below are some of the activities to explore and things to do in Hot Springs National Park.
1. Visit the Historic Fordyce Bathhouse
The Fordyce Bathhouse was in operation from 1915 to 1962, and it was the fanciest among all bathhouses. Currently, it accommodates the Hot Spring National Park Visitor Center—the only building that the public can tour on historic Bathhouse Row.
You should watch the orientation film during your visit and proceed to take the self-guided tour. Take a look at the massage, dressing, and music rooms, and explore the gymnasium.
These rooms showcase the splendor that characterized bathhouses during the first half of the century.
Also, remember to get a Hot Springs Park map. The park is free to visit, so you should not have to pay an entry fee.
2. Hike Around the Hot Springs Mountain
Aside from the urban path mentioned above, there are multiple hiking trails through Hot Springs National Park forests. One of the most incredible activities in this park includes an afternoon hike.
Even though the park is smaller than 23 square kilometers (9 square miles), it has more than seventeen named trails in the Northern Mountain areas and Hot Springs Mountain.
Furthermore, five different paths intersect the West Mountain region on the town's other side. Although most trails are short, you can connect them for an extended hike.
The Hot Springs mountain trail is located in the center of the park, and it encircles the summit of Hot Springs Mountain. It's only 2.7 km long (1.7 miles) and is good for an outing in the hills and woods behind Bathhouse Row.
You can access the Hot Springs mountain trail through the 1 kilometer (0.6 miles) Peak Track from the Grand Promenade or through the Gulpha Gorge Trail that is similarly long; begin from the Gulpha Gorge Campground.
The Mountain Tower at Hot Springs is an excellent addition to this hike—it provides spectacular views of the adjacent landscape. You have to pay a fee, though, before you climb the tower.
3. Tour the Superior Bathhouse Brewery
To end your day after an exceptional bathing experience, you can relax with a beer at the Superior Bathhouse Brewery in Hot Springs National Park. This is the first and only brewery in a national park.
The Superior Bathhouse Brewery is globally unique. It is located in a remodeled historic bathhouse, and it uses water from the hot springs to brew beer. That's only one item among many that set this brewery apart.
4. Move Around Bathhouse Row and the Grand Promenade
After familiarizing yourself with the park's history and touring a real bathhouse, proceed with your day's activities in the park with a relaxed walk along Bathhouse Row.
Stroll along the amazing street lined with trees which is among the main attractions in Hot Springs. You will see beautiful architectural designs like Ozark, Hale Bathhouses, and Buckstaff.
The Grand Promenade is situated behind Bathhouse Row—it's a pathway that takes you beyond several hot springs and cuts through a park-like scenery.
You'll observe that most hot springs are lidded to shield them from pollution, and there are also some open fountains and springs.
The Hot Spring Water Cascade located at the northern end of Bathhouse Row is the park's most outstanding open hot spring. You can also access it through a staircase down the Grand Promenade.
5. Bathe in Hot Springs Water
The only remaining bathhouse in Hot Springs National Park operational is the Buckstaff Bathhouse. It is one of the classic attractions in the park, and it has drawn tourists from different parts of the world for centuries.
You can get an intense bathing routine dating from the 19th century at Buckstaff Bathhouse. It was modeled according to orthodox European spa practices.
The price caters to a couple of treatments and includes full steam baths for two minutes, soaking in a hot bath for twenty minutes, hot pack application, and a cool-down shower for two minutes.
You can pay extra money for a full-body Swedish massage for twenty minutes and omit the treatments you don't want.
6. Experience the Scenic Hot Springs Excursion
Hot springs has enchanting and beautiful scenery suitable for a postcard. Buckle up and drive up to the North Mountain in the Hot Springs for mind-blowing views of Ouachita Mountain.
Head to West Mountain if you're searching for an exemplary view of Hot Springs Mountain and downtown Hot Springs. There are many striking overlooks in the National Park to park your car and take Instagram-worthy panoramas.
Both mountains provide small pavilions and picnic tables, making it an excellent spot for lunch while soaking in the breathtaking scenery. Don't forget to head out for a spectacular excursion up the mountains to have dinner as you watch the sunset.
7. Tour the Hot Springs Baseball Trail
Likely, you're already aware of the rich history of Bathhouse Row in Hot Spring Park and its connection to gangsters.
Hot Springs usually serves as training grounds for Major League Baseball in the Spring.
There is a fun and free comprehensive tour that'll give you the story behind America's treasured pastime linked to Hot Springs, whether you're a baseball fan or not.
You can install the app for an extensive tour—it captures immersive tales such as when Babe Ruth, the baseball legend, initiated a home run (500-foot) in 1918 into Arkansas Alligator Farm.
To end your tour in Whittington Park, you can toss a baseball around like the well-known baseball players of the Major League did during spring training.
8. Hot Springs National Park Swimming —Lake Catherine, Lake Hamilton, and LakeOuachita
There are three lakes in Hot springs, Arkansas, with unlimited free activities and hot springs national park swimming that can be enjoyed throughout the year.
The crispest lake is Lake Ouachita; Lake Catherine is located in Garvan Woodland Gardens, while Lake Hamilton is a ten-minute drive from the downtown area of Hot Springs, Arkansas.
There are various free and entertaining activities, from swimming, picnicking, fishing, and kayaking in these three lakes. You can bring along your kayak or boat to explore Lake Hamilton.
On Lake Ouachita, you can bring along your camping equipment and dishes and search for a private island to spend the night. There are many treasures you can find on Lake Ouachita. During your camping trip, be on the lookout for quartz crystals.
Do you like fishing? Lake Catherine is the place to be! Bring along your fishing rods. Lake Catherine has many fish varieties, including bream, walleye, crappie, spotted bass, catfish, and striped bass.
Lake Hamilton also has a hiking trail accessible through the water. There are two ancient homesteads across the hiking trail. The trail is 118 acres with a 2-mile loop. Hop onto your boat or kayak and explore the Electric Island Nature Preserve.
In Lake Catherine, you can go hiking on the Falls Creek Falls waterfall and swim or visit the Falls Branch Trail. And please remember to carry your swimsuit with you when you visit Lake Catherine.
9. Move Around the Greenway Trail At Hot Springs Creek
The Greenway Trail is a 5.5-mile paved track bordering the Creek at Hot Springs and connects to downtown Hot Springs. You can take a leisurely walk on the track or come with your bicycle to leisurely cycle the course without incurring any cost.
Start by exploring the vendors at the Hot Springs farmers market on Saturdays from 8 am-12 pm with live music from 9 am-12 pm.
As you proceed down the course, you will encounter the future Majestic Park Baseball Complex, Valley Street State Park, and ultimately the Bark Park at Hot Springs and Hollywood Park.
You can bring your dogs and let them run around the trail. Pack a picnic basket and visit the track for more entertaining exploits.
Sprinkled throughout the track are several unique displays and sculptures that bring nature and art together. Soak in all the entertainment that the Greenway track offers as you explore the park.
The Art Moves Exhibit is displayed in Hollywood Park and the Majestic Park portion of the trail. It features eleven representations replicated onto 30 x 40 metal panels and is a must-see.
New artwork is usually displayed each year, and each has a scannable QR code that gives you details on the piece and its creator.
10. Explore the Hot Springs National Park
There are various entertainment options when you visit Hot Springs Park. There is an excellent spot along the shoreline of Lake Hamilton at Entergy Park where you can take your entire family for a leisurely walk.
Additionally, the park has other entertaining sites such as paved walkways for cycling, picnic tables and grills, great areas for fishing, and a playground area for children.
There is also Hollywood Park near Hot Springs Creek, a basketball court and playground area a few minutes from downtown Hot Springs. The park also has day-use picnic tables and grills. Therefore, you can enjoy a barbecue after a fun day in the park.
You can also bring your dog along and check out Hot Springs Bark Park, opposite Hollywood Park. The park consists of two acres of land with play structures, so your pups can enjoy the location without a leash.
11. Tour the Hot Springs Convention Center Art Collection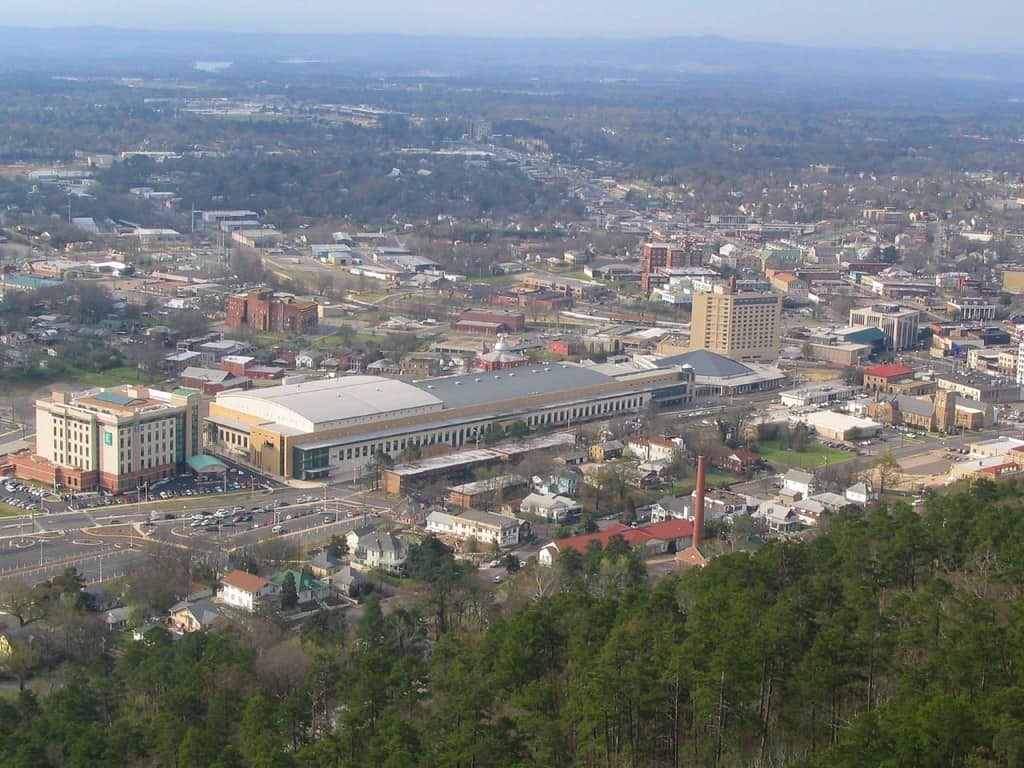 The Hot Springs Convention Center has the largest art collection in Hot Springs—they house some of the most exceptional art pieces found in any public facility.
You can view the exhibition for free during regular business hours. Featured artists include Benini, Gary Bolding, James Bekkering, Jeanfo, Tom Brewitz, etc. You can explore the broad selection of sculptures and paintings that are exhibited as part of the permanent exhibits in addition to viewing traveling art exhibits all year round.
You will also find a broad array of historical Hot Springs pictures at the Convention Center, in addition to sculptures and paintings.
Even though the featured pieces are exhibited in the main foyer, make sure you check out the art collections displayed throughout Horner Hall and Grand Lobby as well.
12. Go For Swimming in Gulpha Gorge Creek
There is a spot in Gulpha Gorge Creek where you can take a refreshing dip, 5 minutes outside the busy downtown of Hot Springs. The Gorge is distinctive in that it is the only campsite located inside the Park.
Tent sites and RV at Gulpha Gorge are offered in the order of arrival while still near renowned downtown restaurants and shops. The gorge spans out across the campground, and it has a tranquil spot where you can swim on a blazing day.
You can go hiking on the Goat Rock Trail, then come back and take a relaxing dip in the Gulpha Gorge Creek swimming hole located in the park—swimming is free. There are also picnic sites available.
13. Have an Experience of the Hot Springs Mountain Tower
If you want to enjoy the fantastic views of Ouachita Mountain and Hot Springs National Park, look no further than Mountain Tower at Hot Springs.
The tower consists of an elevator that brings visitors to a height of 216 feet to access the decks. The decks are situated way above the forest, looking out onto the landscape with great views all around.
This view is 1256 feet above sea level, and the Diamond Lakes and Hot Springs Mountain are visible. You can purchase a souvenir or snacks in the gift shop on the tower's ground floor.
Hot Springs National Park Camping
Hot springs national park camping is a popular family-friendly way to enjoy the stunning beauty of nature. The springs are just a few miles from the campsites and offer a range of temperatures for warming up after a long day. It's also possible to hike a short distance to a secluded natural pool or explore the geothermal features on your own.
A family camping trip is one way to make the most out of the hot springs national park experience. Many families prefer camping as it allows them to spend more time together and enjoy all that nature has to offer. The campgrounds provide many amenities including picnic tables, fire pits, and flush toilets. There are also all sorts of activities available at campground such as fishing, swimming, hiking, and canoeing.
Plan a Visit to Hot Springs National Park
The Hot Springs National Park is the only national park home to an eccentric combination of water sources (the only non-geothermal springs with high-quality color, temperature, and taste), lithology, and geological structures in the United States.
These unique features have made the park one of the most popular tourist destinations. More than 1.5 million people visit Hot Springs National Park every year for an in-depth tour for at least a day.
Don't miss out on this unique experience. Visit the Hot Springs National Park and get to experience these special features for yourself.
Related Reading: Ready to see what other sights our national parks have to offer? Check out the Best Time to Visit Yellowstone and start planning your next trip!
Green Mountain National Forest
Niagara Falls at Night
Best Time to Visit Acadia National Park
Best Hikes in Acadia National Park
National Parks in the USA That Should Be On Your Travel List