Dublin in Ireland has the best of both a small town and cosmopolitan city. It has the great easy going people you can only find in small towns, but the variety of nightlife you only find in big cosmopolitan cities.
You can easily spend a week here strolling around, talking to people and enjoying the 'happenings' in town – which seems to be every day.
There are heaps of things to do in Dublin, both for those who enjoy pub culture as well as literature and history.

Perhaps you've been to Ireland before or maybe you are planning for what will be your first visit. With it's amazing countryside and friendly people, you won't want to leave.
Getting Around Dublin Ireland
Dublin is a fairly small city, which makes it perfect for sightseeing. You rarely need to take the bus or "luas" (tram), but they do run frequently and are cheap if you're lazy. You can get to most places on foot.
Things To Do In Dublin Ireland
Dublin has the best of both a small town and cosmopolitan city: The people are easy going people like in small towns, but the variety of nightlife is just as good as in cosmopolitan cities.
There are many great hotels in Dublin, and you can easily spend a week here strolling around, talking to people and enjoying the 'happenings' in town, as there are heaps of events going on.
There are many things to do in Dublin, both for those who enjoy pub culture as well as literature and history.
Visit The Medieval Part of The City
The medieval part of Dublin dates back to 11th century, and is a nice part of town.
Bring a picnic or buy some takeaway food, join the locals down in St Patricks park and watch time fly by on the clock of the beautiful St Patricks church.
Christchurch cathedral is also located in the medieval part of Dublin, it's a really old cathedral, founded in 1030 it is one of the oldest buildings in Dublin.
It costs 7 Euro to go inside, but there are free concerts quite often which are worth a visit.
Walk The Golden Mile
Pub crawls are very popular in Dublin, but you don't have to do it with an organised tourist group. Locals do it every weekend along the Golden Mile.
The real name of the street is "Victoria Street", but it has been nicknamed "The Golden Mile" because there are countless of bars along the street, and it has become somewhat of a local tradition to try to drink at every pub in one night.
Few people have ever made it to the end of the Golden Mile: will you?
Stout and Whiskey History
Alcohol is an important part of Irish culture, and the tour of the Guinness Storehouse is the most popular thing to do in Dublin.
If you're a big fan of beer or Guinness this is definitely worth a visit, and for the 15 Euro entry you get a free Guinness to enjoy with the best view of Dublin.
Jameson's Distillery which produces the Irish Whiskey also has tours for visitors, and they cost around 13 Euro. However, those who aren't very interested in beer and Guinness often don't think it's worth the entry fee.
We didn't go there ourselves for that reason, but thought it would be good to mention it since it's so popular.
Guiness Storehouse
The number one attraction in Dublin with more than 750,000 visitors every year is the Guinness Storehouse tour, and there is good reason for this. At the brewery you will learn the history and cooking secrets to the beer, and get a free tasting by the end of the tour.
Beginning with the ingredients and going through the whole process from brewing to marketing and sponsorships.Visitors can expect to see the historical building which has been continually upgraded starting with the Atrium.
It is in the shape of a pint glass that rises seven storey's which would hold 14.3 million pints of Guinness. One of the world's best loved beers did not happen overnight. It took the effort and dedication along with inspiration and ingenuity for more than two centuries to achieve.
Arthur Guinness had big dreams when he rented the St. James's Gate brewery in 1759 for 9,000 years. He wanted something new and great to originate from Dublin with his name. He tried brewing Porter, a new popular drink, and was successful.
His three sons continued the family business and helped the Guinness brewery become the largest in the world before the end of the 19th century. Guinness was being enjoyed in America, Africa, Australia and the Far East at that time and, with cooperation from local brewers, it became the world's favorite beer.
The Guinness Storehouse was opened in 2000, as a tourist attraction.
For €16, it's not a cheap attraction, but it's not difficult to see why it's the most popular one of all. A pint of Guinness is included with the price of admission. Visitors also learn how to pour the perfect pint.
Visit Trinity College
50% of the population in Dublin are under 25 years, in other words, there are a lot of students in this city, and Trinity College is the most sought after place to study.
This is for a good reason, as this college educated some of the most famous Irish people ever – Samuel Beckett (winner of the Nobel Prize) and Jonathan Swift for example.
It's a beautiful college with amazing buildings, and the old library (where you'll find the book of Kells) and a sports arena where they often have games.
Because there are so many young people living here many of the things to do in Dublin are perfect for a younger crowd.
General Post Office
Not that you've ever been interested in post offices, trust us when we say this is different. The general post office is one of the most significant places in Irish history.
It was used as a fort by Irish rebel troops when fighting the British for independence, and stands as an icon for the failed 1916 Easter Rising.
The building has since been restored, but you can still see bullet holes in the walls.
Best Places to Eat in Dublin
Leo Burdock Fish and Chips
Oldest place in dublin. They serve big portions with the thickest french fries. Outside their door is a long list of hundreds of celebrities who have all bought fish n chips from there – be one of them!
Eddies Rocket
This restaurant have a really cool interior designs a la 50's style, with a jukebox and everything – who doesn't want to have their burger in the 50's?!
Gallagher's Boxty House
This place sells Irish traditional food. Their Irish style pancakes with filling are awesome, around 16 Euro.
Lolly and Cooks
A visit to George's Arcade is a fun thing in itself. You'll find stalls selling lots of fun things like hand painted converse shoes, and, best of all – the best cupcakes ever.
Lolly and Cooks is a little stall there which specializes in cupcakes. They cost about 2,5 pounds each (box of 6 for 12 pounds) and come in all colors and flavors.
Walk Inn Noodle Bar
Many pubs and restaurants will blow your food budget, but this little take away show sells noodles for 4.50 and spring rolls for 2.50.
Best Pubs in Dublin
Bars are an important part of Irish culture, and while today there is an Irish bar in just about every city on earth, there is nothing that comes even close to the real deal.
Fitzsimmons Sport Bar
The Irish are as crazy about sport as the British, this place gets packed with sports fanatics and a great atmosphere whenever there is a game on.
Stags Head
This is the oldest pub in Dublin, which is worth a visit for that reason only. It was featured in Guinness 250th anniversary ad
Shebeen Chic
Quirky pub with live music, great people and fun interior and things hanging on the wall to look at.
Where to Sleep in Dublin
Times Hostel at Camden Place offers some great accommodation in a perfect location. The rooms are cozy and clean with private bathrooms, and there is a big kitchen with all tools you need to cook your own food.
The staff are very friendly and easy going, you can ask them about anything and they'll try their best to help you out (plus free calls!).
The best thing about the hostel however, are all the events they have during the week; pancake Mondays, pub crawls, pool competitions, ice cream days etc.
How to see Dublin on a budget
There are many destinations that will burn a hole in your wallet and make you cringe just from the thought of what you just paid for your dinner.
We found Dublin to be easy to get around on a budget, as there is a lot of everything there: bars, restaurants, attractions, hotels etc. which means that there will always be some great budget choices.
There are also a lot of budget airlines that fly there so getting a cheap ticket won't be much of a problem either – we got a flight there for just €10 each..!
Eat Cheap Like a Celebrity
There are a lot of cheap lunch deals to be found in Dublin, but our favorite stop was the famous Fish n Chip shop "Leo Burdock".
While you're munching on the huge portion of Fish n Chips, check out their "Hall of Fame" hanging on the wall with the names of all celebrities who have passed through their doors;
U2, Naomi Campbell, Bruce Springsteen, Tom Cruise and Snoop Dogg (or now Snoop Lion) to name but a few..! A tip is to visit one of the many markets, like the "Crashes Into" farmers market which has turned into a food vendor market with lots of cheap eats, perfect for lunch.
Other cheap eats: Gallagher's Boxty House (huge Irish pancakes), Eddie's Rocket (burgers in 50's inspired restaurant)
Dublin Travel VIDEO
After having spent a few days in Dublin, we left with many memories and impressions of the city. Here is a quick round up of our thoughts and what we learned and loved about Dublin:
Dublin was such a wonderful city, full of colorfully bright doors, pubs & friendly people.
This was the first time both of us were in front of the camera together, so it really was a throw-yourself-in-the-deep-end kind of experience.
Dublin Locals
In Dublin, we found the locals very talkative and easy going. If you stand next to someone at a bus stop you can be sure to know their life story 10 minutes later, which when we mentioned this to a local girl she completely agreed.
Apparently (according to a guy we met in London), the Irish people have a rumor of being rude and weird. We did not find that true at all, but we suspect that their rumor might have something to do with Britts and Irish in particular.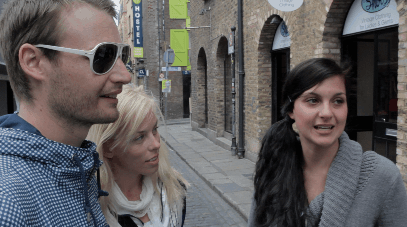 The Colorful Doors of Dublin
Colorful Doors of Dublin
The first thing I noticed when arriving in Dublin were the bright colorful doors on every house, and the traditional architecture on the buildings.
When Queen Victoria died, everyone was told to paint their doors black in mourning. In revolt, the Irish did the opposite and painted their doors in bright beautiful colors.
The women painted their doors in different colors so that their drunken men wouldn't miss it and walk into the wrong house. In my opinion, it could be either one!
Getting to and from the Dublin airport
Dublin Airport lies around 8 miles from the south-west of the city, making it just a 20-minute drive away.
When I was there, I didn't hire a car, but I can certainly see the appeal of it.
Despite the airport being such a short distance away, my bus dropped off and picked up loads of other holidaymakers to and from their hotels, meaning the journey between the airport and city took a lot longer than I expected.
This meant I felt a bit rushed on my final day, whereas if I'd had a car I could have jumped in that and been at the airport in less than half an hour.
While there is nothing wrong with spending your days shopping in style, or soaking up the atmosphere of its bars and pubs, booking car hire from Dublin Airport means you can travel out of the city's limits and take in breathtaking countryside, as well as some of the lesser-known attractions.
Visiting the surrounding villages and towns
If you do decide to hire a car at the airport, you are well placed to discover what lies on the outskirts of Dublin, before heading into the city itself – it is nearer to the coast than you might think.
The seaside town of Rush is around 16 miles away from the capital and offers stunning scenery, lovely beaches and a harbor filled with small fishing vessels.
Howth Village is also worth driving to (and is just 5 miles away from the airport) and your efforts will be rewarded with charming bars and restaurants, pretty vistas and towers and castles that are itching to be explored.
Dublin hotels to stay
Should you be driving into the city center, you'll obviously want accommodation that comes with guest parking or nearby spaces.
That aside, Dublin boasts a fantastic array of places to sleep, from cheap and cheerful hostels to luxurious hotels.
This means you will find something to match your budget. If you choose to stay in the popular Temple Bar area, be prepared to pay that little bit extra for the convenience of being central.
Choosing accommodation a little bit further out – such as in Lucan, Donnybrook or Sutton. Will help push the cost down, but don't worry, as you'll still be well-connected to the center.
Alternatively, you might decide to stay in a hotel close to the airport (after all, it's only a short drive from the centre). This has a number of benefits, such as making catching your flight easier.
Dublin's Local customs
Many, but not all, restaurants in Dublin include a ten to 15 per cent service charge on the bill, while a discretionary ten percent tip is usually given to taxi drivers – it's always nice to reward good service.
The Irish are very friendly and polite, and good manners go a long way here. This means queuing nicely, always saying thank you and apologizing if you bump into someone in the street.
You'll find locals will more often than not chat to you in bars, so don't be afraid of getting into a conversation.
Ireland is a religious nation, so when in places of worship such as churches, make sure you are quiet, respectful and keep those mobile phones switched off!
Dublin in the Spring
Ah, Dublin, sweet Dublin. No finer a city has there been. As the capital city of Ireland, Dublin remarks proudly to her visitors its history, beautiful landscapes and curious stories of old which keep the people and communities of Ireland intertwined, culturally vibrant and unforgettably beautiful.
This place of old is an inspiration of favored accommodations of scenic mastery and a hardy people whose outlook on life and approach to living are admirably inviting.
Families, singles and even honeymooners find it hard to resist the allure of Dublin's cooler climates, many landmarks, eateries and higher education.
All of these and more can be discovered in the months of March, April and any month of the year! Finding the perfect niche in this cultural city comes easily, especially with the famous luck o' the Irish.
Everybody loves a good luck charm.
The beautiful city of Dublin grants existentially famous good luck through the ever-popular love of the four leaf clover, as well as through fabulously superfluous pots-of-gold-hot-spots and festive activities strewn about the town.
Stepping lively is the name of the game where excitement, community involvement and personal enrichment throw its arms around the entire city letting the good times really roll.
Explore sports events, festivals, music, shopping, nightlife and plenty of Irish jigs.
Notable Events In Dublin
Get ready to discover many of the wonders of Dublin over a pint, a hearty collage of cabbage and bacon or a freshly caught Dublin Lawyer seafood bowl.
Here is a list of upcoming things to do in Dublin.
ST PATRICK'S DAY
St. Patrick's Day is right around the corner where the fun has only just begun!
ST PATRICK'S DAY THE PARADE
Where: City Centre, starting at Parnell Square, Dublin 1
Watch Dublin's streets light up with spectacular flair as Ireland's leading pageant companies and marching bands present only the finest in authentic Irish entertainment.
HOW? WHAT? WHY? is the theme for the 2012 St. Patrick's Festival Parade which will open up fascinating wonders of science.
Children will find this particularly interesting as Ireland's leading pageant companies present insightful and thought provoking creations.
BIG DAY OUT
Where: Merrion Square, Dublin 2
Cost: Free
Amazing Irish street art collections and entertainment come alive in the heart of Georgian Dublin for all the entire family.
Creative open air shows and performances will be presented by leading professional street theater artists around Merrion Square Park.
TREASURE HUNT
When: Late March
Where: Registration at City Hall, Dame Street, Dublin 2
Cost: Free
Enjoy the capital city's largest annual festival of the year during the days surrounding St. Patrick's Day.
Experience a fun and family-friendly, free treasure hunt event incorporating a collection of Dublin's venues and institutions.
Participants can discover and solve awaiting clues while absorbing Dublin's rich history and competing for prizes along the way.
DINE IN DUBLIN
When: March – April
Where: Dublin Restaurants
Cost: Varying
Enjoy incredible cuisine using special promotional rates of a 20% saving on á la carte prices.
Each evening customers will peruse a special 'Dine in Dublin' menu comprised of mouthwatering selections of appetizers, entrees, desserts, tea and coffee.
DUBLIN UNIVERSITY BOAT RACES
When: Late March
Where: O'Connell Bridge to St. James' Gate Brewery, River Liffey
Cost: Free
Annual Dublin University Boat Races contest between local rivals Trinity College Dublin and University College Dublin.
The senior men's race, the Gannon Cup, will be contested at 10am.
(photo credit: 1 – 2 – 3 – 4 – 5 – 1 – 1 – 1 – 2 – 3 Murphy– infomatique – twicepix)