Our feet are blistered, our legs are giving in, our minds are buzzing – Bangkok got the best of us, but we also got the best of Bangkok.
Bangkok really has everything for everybody – it is huge, chaotic, but also in a weird way quite charming – after spending 10 days there last month we decided to share below a few of our favorite things to do in Bangkok, "The City Of Angles".
We had a lot of creatures living in and around our bungalow in Koh Lanta: The two frogs in the bathroom and this lizard were the most frequent guests…
Koh Lanta lizard
5 Things To Do In Bangkok
Travel to Bangkok via Cathay Pacific.
Check Out The Local Food Markets
There are loads and loads of markets in and around Bangkok, and it's great fun to visit them even if you're not planning on buying anything.
Our favorite one is Thewhet Flower Market, a smallish flower and food market, and it really is a true cultural experience.
Although the flower market is quite nice, the food section is most interesting part.
Bangkok local food Markets
Don't be surprised if you're the only tourist there, this is where locals come to buy their groceries, so soak up the atmosphere, take in the contrasting smells and sights, and just stroll around.
In a country like Thailand with so many things going on, people seem to be able to relax and rest anywhere no matter how crazy it is around them – especially monks…Sleeping Monk On Train Thailand
Go Temple Sightseeing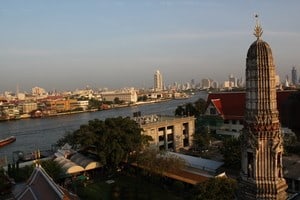 There are so many temples in Bangkok, so it would take you forever to see all of them, but among many others these four are the temples you'll absolutely love:
The Turtle Temple (Wat Prayoon)
was my favorite of them all, it was so different from all of the others.
What's special about this place is the cave like mound surrounded by a large pool full of turtles.
The mound is covered with shrines, all from chedis to spirit houses and doll houses.
Built for loved ones who have passed away. (email us if you want directions – since seems not many people know where this place is.)
The Temple of Dawn (Wat Arun)
is known as the icon of Thailand.
The detailed sides of the temple are so amazingly beautiful, and the view from the top is awesome.
Make sure you go as high as you can, even if you have a fear of heights – it really is worth it!
Also go there in the afternoon, as the sun will give it a smooth beautiful light.
Stay until after sunset to take some awesome shots, and it's also much nicer to visit when it's cooler outside.

The Reclining Buddha (Wat Poh)
is a HUGE golden statue of a reclining Buddha.
But don't just leave after having seen it, stay around and check out some of the other 1000 buddhas within the temple area.
The Giant Standing Buddha
is another huge buddha, it's a nice temple because it's a little quieter and you can sit back and just admire the size of it in peace.
Note! I wouldn't suggest you to see them all in one day, I tend to get templed out after only a few, so to really enjoy and appreciate them, take your time and spread it out over time…
Muay Thai (Thai boxing) means "Art Of Eight Limbs", and it's a favorite sport for everyone in Thailand.

Shopping And Thai Boxing
Shopping can be an overwhelming experience in Bangkok, but that really is part of it.
So go crazy and take a day running between these huge malls and update your wardrobe while snacking your way through the food courts.
MBK and Central World were our favorites.
Spend a full day shopping, and if you go on a Wednesday you can finish the day with a nice, relaxing – thai boxing match outside MBK!
It's free, it's rough, it's Thai…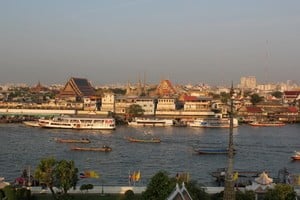 Travel Around Bangkok By Boat
Bangkok can get horribly hot, and with 11 million people the streets are often jammed with cars and mopeds.
If you want to get away from the bustling street, or just want to find a quicker and more enjoyable way of getting around the city, head to the canals – this is also where you can also find many great Riverside Hotels.
Taking a boat down the Chao Phraya river is one of the most popular things to do in Bangkok, the waterways are also often the best way to get around the city, plus it's really cheap.
We really enjoyed the boat ride to Siam Square from Golden Mount, and the orange boat line on the Chao Phraya river.
The first one takes you via a small canal behind people's houses right into the center of Siam Square, all for just 9 baht.
The Orange Flag Express boat takes you to many of the most popular tourist attractions, and shows Bangkok from a different angle.
The tickets cost 18 baht flat fee, and you can step off wherever you like.
Khao San Road's Side Streets
Khao San Rd has become a tourist attraction in itself, and you will likely want to spend some time there, especially the area around Khao San Road.
The side streets have a little more laid back attitude and some really nice bars, restaurants and many Khaosan Hotels – you also might find that strolling around the smaller streets and corners is much more enjoyable than the actual Khao San Road itself.
You'll find some great street vendors along the street, and some nice bars to sit down and have a drink and do some people watching.
15 Most Awesome Destinations in Asia You Cannot Ignore
There are so many more things to do in Bangkok, but I hope you enjoyed this quick mini guide and got an idea of what this city has to offer!
Lopburi to Sukhothai Thailand Over-Run by Crazy Monkeys
Experience Mysterious Thailand with a Local
How To Enjoy Thailand Without Visiting The Beach
Things To Do In Chiang Mai Thailand
5 Things I've Learnt About Thai People While In Thailand
We Got Our Colons Cleaned Out
Thailand Medical Tourism
Sivarin Guesthouse In Bangkok, Thailand Hostel Review
A few weeks ago we stayed at Sivarin Guesthouse in Bangkok for 10 nights, and had an amazing stay.
Not knowing anything about the place before we arrived – we were impressed with the accommodation and the service.
Check out our review of the place below, and if you want to see what the guest house looks like INSIDE make sure you watch the video we made!
Sivarin Guesthouse In Bangkok, Thailand Hostel
The guesthouse is located in a nice and quiet area in the old town of Bangkok, on a small street off Samsen Road.
Only an 8-10min walk away from the famous Khao San Road,
makes it a perfect place to escape to when you want to get away from the noisy polluted streets of Bangkok.
Tucked away on a small side street, it's hard to believe that it's only a minute away from all the shops, markets, convenience stores and some of the best restaurants in Bangkok.
Sivarin Guest House
Is situated close to many interesting attractions such as The Giant Standing Buddha and the Whet Flower market, and a short taxi ride to most main attractions.
Sivarin Guest House Internet / Wi-Fi
As full-time travel bloggers, we LOVED the fast and free Wi Fi access they offered in our room, and for those without laptops you can also use the free computer downstairs.
Sivarin Guest House Facilities
Large rooms, hot water, air-con, free drinking water, comfortable king-size beds – this place really felt more like a hotel, than simply a guesthouse.
There is a fridge and a microwave if you'd like to cook or heat up some food, which is a nice touch that guest houses usually don't offer in Asia.
It's really the small details which makes this guesthouse stand out from the rest.
You get two bottles of free water daily, you get free shampoo, conditioner and shower gel, they serve a free great fresh breakfast every morning, and there is free coffee, tea and hot chocolate at any time of the day.
The staff were incredibly friendly and helpful, and there was always someone by the reception to help you out if you had any questions about Bangkok and Thailand.
In short, this place really understands service, and makes you feel at home right away.
So, if you like a quiet, clean and comfortable accommodation close to restaurants, markets and Khao San, but still away from the noisy streets, this place is perfect for you.
Sivarin Guest House Room Rates
– Superior Double Room with Fan: 550 baht/night
– Superior Double Room with A/C: 690 baht/night
– Family Room (1 Double bed and 1 single bed) with Fan: 690 baht/night
Sivarin Guest House Contact Details
Tel./Fax: +66 2628 5659
(office hours 8am – 8pm)
Email: sivarin_guesthouse@hotmail.com
Website: www.sivaringuesthouse.com
Address: Sivarin Guesthouse 11/1 Soi.Samsen3, Samsen Rd., Watsampraya, Phranakorn, Bangkok 10200 Thailand
The Man In The Chair Bangkok
This man is one of the people we met during our trip that I will remember the most.
Every day he sat outside his home on a worn leather seat and watched the people pass by on this small side street in Bangkok.
He was there when we went out in the morning, and there when we went home in the afternoon.
And every time we passed he smiled with his toothless smile, waved his hands and said "Sa-waht dee-krap!" (hello).
The last day of our stay, we asked to take a picture of him.


Things To Do In Bangkok, Thailand
Top 5 Streets Of Bangkok You Need To Visit
Bangkok Nightlife – Where To Go
As the sun sets behind The Temple Of Dawn down the Chao Phraya river, people are getting ready to hit the streets and enjoy some of the crazy bangkok nightlife that makes the city change completely.
Some prefer to spend the evening in a nice bar or restaurant, others want to get right in the middle of it all and experience the crazy events that Bangkok hides under its robe during the day.
But the city is spread out over a large area, and it can be difficult to know where to go.
Here are our top picks of where to go to enjoy the Bangkok nightlife to the fullest:

For The Bar/Restaurant Chill out:
Although the Bangkok nightlife is known for being crazy, there are many places to just chill out at a slower pace.
Rambuttri road has quite a few nice bars and restaurants with a nice chill vibe, and a few places have live jazz and blues bands playing, which makes for a nice atmosphere for those who want to grab a drink and relax.
It's a nice street with many restaurants and bars to sit back and relax, do people watching, sample street food and talk with friends. This street is for a quieter night out.
Sleeping Monk On Train Thailand
If you want some more action, Khao San Road is right nearby.
Green House – Trendy restaurant bar, free wi-fi, cool music and always nearly full.
Even at 12 pm you'll find young tourists having drinks while trying to pick up girls.
Molly Bar – Relaxed atmosphere, a good place for people watching, having a drink or some food and just talk or play pool, while some not-amazing live band is playing in the corner.
It seems to be pretty popular with Thai people, but everyone comes here.
Girls, Girls and Ladyboys…
Let's face it, even if you're not looking to bring someone home, you're curious to see what the whole thing is about, what the Bangkok nightlife is most infamous for.
If you want to see where sad men go to buy their fake happiness, head over to the Sleaze central Nana Plaza.
It has become one of the most visited of all the areas to enjoy the nightlife Bangkok is so (in)famous for.
All the famous bars are here; the Rainbow bars, Hollywood Rock, Hollywood Strip, Playskool, Voodoo, G-spot, Rock Hard, Silver Dragon, Mandarin, Carnival etc.
It's basically a 3 story high sex mall with bars and shows.
It's rumored to be the largest sex complex in the world, and every night people flock here for a "unique" experience.
The place used to be a normal restaurant place, but in the 80's go-go bars started taking over, and today that's all there is to find at this place.
Quite a few bars here have only ladyboys working there (pre-operative), just so you know.


So you get the deal, it's adult entertainment on high level, and although a few curious girls come to visit, the American, European and Japanese men are the main types of people you'll see here.
Patpong
is a more "gentle" version as there is a night market there as well as a few other normal live music bars.
But remember that it is still a sex industry place.
I saw a girl standing outside so shocked that she was crying in her boyfriend's arms.
It's your choice to go there, you know what it's there, so don't act all surprised.
Bangkok Clubbing
There are many "high class" clubs in Bangkok, and budget travelers as we are, we never entered any of them.
But, there is a really popular club you will love if you're looking for a cheaper option.
Route 66 – This place is known as one of the best clubs and is totally packed with people, and the entry is free!
Both live bands and DJ's play here, and they have light shows playing in the roof and on the walls.
Live Music
Adhere 13th Blues Bar – A small but lively bar playing blues music every night.
The stage is small, and the guitarist is the owner of the bar (to give you an idea of the place), but it has a great vibe.
You'll find it on Samsen Road.
Saxophone Pub and Restaurant – Not just jazz music is played here, but ska, rock, reggae (a local band called T-bone plays every Friday night) and funk too.
It's a funky place to hang out for an evening, and pretty popular with expats.
Enjoy your time in Bangkok and get the most out of the Bangkok nightlife on offer!
Experience Mysterious Thailand with a Local
Mysterious Thailand – In some destinations, it's best to do things strictly by the book.
A person could visit Los Angeles, for instance, using a reputable guidebook and could have a perfectly acceptable experience.
They'd hit all the highlights of the area and probably avoid some of the grittier neighborhoods.
However, other destinations (Traveling to Thailand) definitely deserve to be explored in a manner that's more off the beaten path.
A little unscripted wandering in these places means being able to interact meaningfully with local people and to experience their culture in a way that simply can't be achieved when a traveler is chained to a guidebook…Ayutthaya and Sukhothai
As vegetarians we never tried these meat sticks, but they are very popular for some reason…?
Bangkok to Ayutthaya, Thailand Travel Video- As We Travel TV Show
One of the most memorable images of Thailand are the long tail boats lining the beaches with its colorful bands, here with the lime stone cliffs from Rai Leh in the background.
Mysterious Thailand
One of these places is Mysterious Thailand.
It's an ancient, majestic and mysterious place that's worthy of years of exploration.
Unfortunately, most people who visit here don't have tons of time to really absorb the local flavor.
While a guidebook might be enough for the casual visitor, someone who wants to really delve into the depth and complexity of Thai culture won't be satisfied with that experience.
As with any foreign civilization, the best way to view it is with the assistance of a local.
Someone who has grown up with and is fully immersed in the Thai culture can open doors for the tourist who wants to go beyond the well-known temples and palaces.
It makes for an intimate, highly personalized experience the likes of which would be virtually impossible to duplicate without having a local friend or two.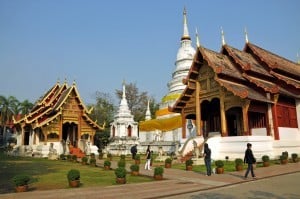 Fortunately, the internet makes connecting to local experts a breeze.
It makes one-of-a-kind experiences a reality in a way that just wouldn't happen otherwise.
Imagine being able to dine in a private home, enjoying authentic Thai dishes that were prepared by a host who has been learning to craft traditional meals since childhood.
It's definitely not the kind of evening that would happen in even the finest restaurant in the nation.
Travelers visiting mysterious Thailand can go way beyond the major attractions with the assistance of a local guide.
Hosts can arrange for a vast array of experiences.
Depending upon their specialty and interests, a host might provide a lesson in Muay Thai, the nation's style of martial arts.
Others offer cooking lessons, tours of the local marketplace, or provide insider tips on how to get the best deals on locally made wares.
Wat Pho is famous for its impressive huge golden Reclining Buddha, but few know that this also is the birthplace for the traditional Thai massage…
Hosts are friendly and accommodating, which makes it easy to arrange for a tour, activity or meal.
There's simply no substitute for being able to visit a temple or museum with someone who can bring the local perspective to the adventure.
By sharing their thoughts and memories, hosts bring the Thai culture to life in a particularly personal way.
They help visitors to understand not only what the Thai lifestyle is, but also why and how it has evolved the way it has.
We met these fishermen on a morning market in Thailand, selling their newly caught fish from the previous night – they seemed like two men with a lot of stories to tell.
Hosts are fully vetted, so visitors can rest assured that their experience will be safe and memorable for all the right reasons.
More than one tourist has made a lifelong friend by using this service.
It's possible to arrange for a tour or other activity well in advance, but sometimes the hosts can be quite flexible when it comes to accommodating last minute requests.
I've heard that these women try to make you pay for taking photos of them in Vietnam – well this was Thailand, where you don't pay to take a photo of someone, and she was so happy that we took a photo of her that she actually stood up and posed for us… such an adorable woman…
Each experience is unique, and it is often possible to make special requests that the host is willing to tailor to the taste of the visitor.
For instance, enjoying a home cooked meal with a local family is one of the most asked for experiences.
The visitor may arrange for their own transportation, but in many cases the host provides a knowledgeable escort who can see them safely to the home of their host.
Visitors are immediately put at ease by a warm and gracious welcome, and special dietary requests are respected.
Each individual is treated like an honored guest and can expect to enjoy the finest Thai style hospitality.
For many visitors, it is these unique, one-of-a-kind experiences that become the most memorable part of their visit.
Tourists may also arrange to observe some of Thailand's most interesting festivals with a local host.
Songkran, or the New Year's Day celebration, is particularly popular.
Many people also choose to visit on Ghost Day, traditionally known as Pi Tha Khon.
Unique Thai festivals take on far more significance with a local guide.
It's a wonderful way for visitors to understand the meaning behind the celebrations and better appreciate the traditions and legends that are incorporated into each.
We're not quite sure what the strings were used for, but the owner of the bike sure had an eye for pretty color combinations..!
While there are a number of reputable, well-written travel guides on the market, none of them can truly compare with having the guidance of a local insider.
No book can possibly contain information on every attraction, festival and restaurant in Thailand.
That's why a local friend is so indispensable.
With their assistance, greater understanding and appreciation is possible.
It turns an interesting experience into a remarkable one, and mysterious Thailand definitely deserves to be appreciated in all of its complexity.
This is one of the very few whole Buddha statues in Ayutthaya.
Nearly all Buddha statues were decapitated when Ayutthaya fell to the Burmese in 1767.
This was done to remove precious items – gold, jewels and other relics – placed inside the statue when they were made, and the heads were then sold to private collectors in Europe and the US.
A few have been rediscovered in museums in the US, but when Thailand asked to have them returned they refused.
Lopburi to Sukhothai Thailand Over-Run by Crazy Monkeys
How To Enjoy Thailand Without Visiting The Beach
Things To Do In Chiang Mai Thailand
Things To Do In Bangkok, Thailand
5 Things I've Learnt About Thai People While In Thailand
Koh Lanta – Thailand
For a moment we thought we would never get away from this island.
We extended our stay longer and longer, and really fell in love with everything this island had to offer.
Life in Koh Lanta is slow paced, easy, and days turn to weeks without anyone even noticing.
We lived right on the beach with the most amazing view from our bungalow overlooking a seemingly endless white beach and turquoise water.
(Photo credit: Keng Susumpow – Ray_from_LA – permanently scatterbrained)