Updated:
Stockholm weather – Stockholm is unarguably one of Europe's most beautiful cities, and everyone I've met who has been there has had a great time.
There is, however, nearly always one complaint – the weather in Stockholm.
Weather in Stockholm
"The people are friendly, the city is beautiful, and there's so much to do in this capital city – but the weather in Stockholm is horrible!" – is usually how it goes.
Weather Stockholm
Visitors to Stockholm may think it has a really harsh climate; however, compared to other far north countries, it's considered relatively mild.
And when the weather Stockholm is nice, it's absolutely amazing!
If you visit Stockholm at the right time of the year, you'll be able to experience the best of everything. Likewise, if you're there at the wrong time of the year, you may not want to step outside!
Stockholm Weather – When Is the Best Time to Visit Stockholm?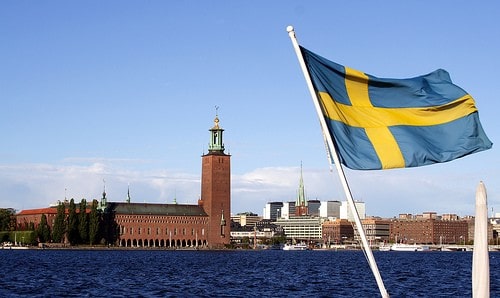 When to go to Stockholm?
The best time to visit Stockholm is in the summer months. However, know the summer is when it will be the most crowded as well as the most expensive.
Sweden's climate is impacted by the Gulf Stream, flowing from the west coast of Norway. This makes this country considerably milder than other countries in the high northerly latitude.
Located on Sweden's east coast, the capital city of Stockholm encompasses 14 islands. Much of the city is made up of waterways.
There is steady precipitation throughout the year.
Locals and tourists alike capitalize on the warmer weather when it comes. During this time, people want to do nothing else but go outside to enjoying the weather and the long daylight hours.
Summers in Stockholm
With mild summers, if you are planning on visiting Stockholm, this is when you want to go.
June to August are typically the best months to visit Stockholm. It's the warmest time of year.
July is the hottest month in Stockholm.
July in Stockholm averages 20 – 25 degrees Celcius (68 – 77 degrees Farenheit). The average low temperature in the summer is 13 degrees C (and 55 degrees F).
The summer season in Sweden really is unlike most other countries in the world. It seems like the sun never sets!
Toward the end of June, daylight peaks in Stockholm:
There are over 18 and a half hours of daylight each day.
The summers are packed with locals and tourists in Stockholm. You can enjoy the best of Stockholm at this time of the year.
The fact that you can go swimming in the middle of the city is pretty special, but there are also islands to explore.
At this time of the year, there are tons of things to do. You can enjoy island hopping, outside concerts, canoeing, etc.
Visiting Stockholm in the Off Season?
Although the summer season may be hotter and sunnier, I would like to give a shout out to Stockholm in the off seasons as well.
Spring and early autumn can be nothing less than stunning. Stockholm is a very green city, and seeing the city come to flourish in spring time is amazing.
This is a beautiful time to walk around in parks, and in the city. Much of the cith is made up of parks and greenspace.
It's not packed with tourists, and you can still enjoy a hot chocolate on an outside seating at a cafe.
The early autumn is just as beautiful, with the color changes in the nature. Often the weather is really nice at this time of the year, chilly but clear skies.
Some people actually like the spring and autumn more than the summers.
The best month to enjoy Stockholm in the springtime is in May, while the early autumn in September is amazing.
Stockholm temperatures in May and September
Stockholm temperatures in May average 7 – 16.4 degrees C (44.6 – 61.5 degrees F).
In September, the average temperature is 9.6 – 15.8 degrees C (49.3 – 60.4 degrees F).
Six hours of daylight in December
The winter season is cold and dark. At it's darkest, in December, there are just over six hours of daylight.
Usually January is the coldest month. Average low temperatures are -3.7 degrees C (25.3 degrees F).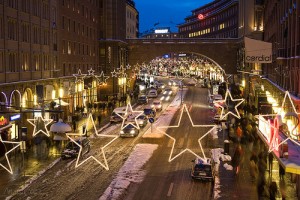 Snow is common in Stockholm, and the old town looks really cozy at this time of the year.
If you go there before Christmas it's especially nice since they have put up Christmas decorations everywhere and you can take a visit to the Christmas market.
The Swedish Christmas food is very special. In Stockholm there are many places to go to get the best experience and tastes of Swedish Christmas.
Another nice place to visit on a clear day is Skansen, which is open all year round.
They also have a Christmas market, as do Gröna Lund (the theme park).
Stockholm Sweden Weather
How to Travel On a Budget in Sweden
While it's lovely visiting Stockholm to experience Christmas traditions, the best time to visit Stockholm for more of a "sure thing" weather-wise is the Stockholm Sweden Weather in the summer.
Stockholm Sweden Video – Europe Trip
There are few places in the world like Stockholm, combining the best of both worlds – literally.
The city is a vibrant cosmopolitan place with great shopping, fashionable people, lots of bars and clubs and great little boutiques.
At the same time you're always surrounded by water, as it's situated on 14 islands, and the nature is just around the corner.
The water is perhaps the best example of combining the best of both; it's salty AND sweet at the same time!
To read more about our time in Stockholm, make sure you check out Stockholm Sweden Video below.
Blue and yellow are the colors of Sweden.
Here is a golden crown as a decoration on a bridge overlooking the blue waters of Stockholm, the capital city where the Royal family lives.
golden crown bridge Stockholm
The three-edged Swedish flag has been raised here since the 1660's and perhaps even longer….!
This is where passing boats were greeted with the flag and a cannon salute.
Blue is the color of the royalty and gold a symbol of wealth, and Sweden's colors are blue and yellow – so what better colors to use for the Royal Park Gate than these?
Planning a Scandinavian Road Trip
A road trip through the far north of Europe is the perfect way to explore one of the most beautiful regions on the planet.
This is especially true during the short but intense summer period, when the locals tend to make the most out of the long hours of sunshine.
Outside cafés and restaurants are generally filled until late and the large cities feel particularly lively during this time of the year.
A road trip between the Scandinavian capitals provides a great opportunity to get to know unique cities like Stockholm, Copenhagen and Oslo, while giving you the chance to pass some truly majestic scenery along the way.
If you are planning a driving trip while you will be visiting — and you will be the driver — be sure to note the weather. There is snow on the ground during much of the winter months.
How To Travel On A Budget In Sweden
Stockholm Weather – When Is Best Time To Visit Stockholm?
Experiencing Stockholm
A perfect place to start your road trip through the Nordic capitals is in Stockholm.
Built on 14 islands, the Swedish capital offers a unique beauty, combining nature with stunning architecture, great shopping opportunities and a vibrant night life.
You should definitely give yourself at least a couple of days to experience Stockholm and visit some of the city's best sights, such as the Gamla Stan medieval city center, the Royal Palace and the Vasa Ship Museum.
Once you've spent enough time Stockholm, you can then take a car rental from Sixt to start on your Scandinavian adventure.
Weather in Stockholm Sweden
Weather in Stockholm Sweden can be perfect summers and great winters
The Stockholm to Copenhagen drive
From Stockholm you can venture south driving along the beautiful Southern Swedish coast line.
Some of the highlights along the way include a visit to the medieval castle of Kalmar and the glass works produced in the region of Småland.
From there you can continue to the charming town of Ystad before reaching Malmö, the third largest city in Sweden, and finally crossing the famous Øresund Bridge to reach the Danish capital of Copenhagen.
As with the Swedish capital, you should allow yourself a couple of days in the city, enjoying its lively summer atmosphere and visiting the main attractions such as the Little Mermaid Statue, Tivoli Gardens and Chistiansborg Palace.
Also make sure to stroll along the beautiful harbor Nyhavn. It's one of the most picturesque areas in the city!
Getting from Copenhagen to Oslo
If you're ready to take a break from driving, you can always drop off your car rental in Copenhagen and take the ferry from Copenhagen to Oslo.
If you would prefer to drive, you can head across the Øresund Bridge once again. Plan to head north from there to visit Sweden's second largest city, Göteborg and heading further north to Oslo from there.
On your way up, you should definitely stop over in Göteborg for a day. Be sure to explore the old Haga, Slottsskogen and the many cafés lined along Linnégatan.
It's a great city full of life and atmosphere!
When arriving in Oslo, attractions such as the Viking ship museum, the National Opera and the Holmenkollen Ski Museum are waiting.
It is definitely worth noting, however, that if you are on a tight budget, you may want to keep your visit to Oslo rather short. Oslo is infamous for not exactly being cheap.
One of the best free things to do in Oslo is checking out Vigeland Park, the world's largest sculpture park and one of the most popular attractions in the city.
From Oslo, you can either drive back to Stockholm to complete your Scandinavian round trip, getting to explore inland Sweden along the way, or you can finish your trip there.
The great thing about hiring a car is that you don't not necessarily need to return the vehicle in the same city. This allows for numerous options.
For those on a tight schedule, just driving from Stockholm to either Copenhagen or Oslo may already be a great opportunity to explore Europe's majestic North.
Stockholm – London – Hong Kong – Kerikeri, and the best 360SEK I've ever spent!
This entry is (probably) going to be brief (and undoubtedly littered with typos!) as I'm at the mid-way point in my journey from Stockholm, Sweden to Kerikeri, New Zealand.
Sitting in Hong Kong airport at the travelers lounge, I'm enjoying possibly the best 360SEK (400HK$) I've ever spent.
A 20 minute hot shower after having been awake for about 28 hours so far, with 2 flights, a lot of airport security, a talkative travel buddy (now boarded his next flight – more about him later), air-sick kid in the row in front (poor guy!),
Feeling a bit worse for wear – yes, the 20 minute hot shower was definitely needed!
Coming up is a 15 minute neck/shoulder massage – which is also seriously needed (although I'd trade it in a flash for the opportunity to sleep for half a day before boarding the next flight…which ironically enough, has a flight time of about half a day!)
Of course, the full experience of long-haul travel is hard to put to paper or screen, as the millions of new impressions, new information etc etc that is being processed in the brain is sometimes more than enough just to cope with, let alone distribute (am I rambling now? hmm….)
My Chinese is pretty much what it used to be (which isn't necessarily a good thing, as it used to be more or less non-existent).
Which is why it's great that the level of English in this ex-British colony is superb.
Probably better than mine actually, given that my mind has been focused on Swedish, Norwegian, Danish, and German for the last 6 ½ year!
Right, time to relax again, then that massage…then it's another couple of hours wait, before a 2nd ½ day flight, 3 more hours waiting, 40 minutes in a mosquito, and then a short ride from the airport.
(I purchased my ticket from Auckland to Kerikeri about an hour ago, so I hope my Dad checks his email when he wakes up! – he had planned on driving to Auckland Airport to pick me up!! )
Best time to visit Stockholm
Stockholm Sweden is the Best of Both Worlds
The most famous song about Stockholm is one that every Swedish person knows. It's called "Stockholm in My Heart." It's a song about the love locals have for their capital city.
And even as a girl born and raised in Gothenburg, its "little brother" who wants to think it's the better city, I have to say that it's hard not to love Stockholm.
Best of Both Worlds
There are few places in the world like this, combining the best of both worlds – literally.
The city is a vibrant cosmopolitan place with great shopping, fashionable people, lots of bars and clubs and great little boutiques.
At the same time you're always surrounded by water, as it's situated on 14 islands, and the nature is just around the corner.
The water is perhaps the best example of combining the best of both; it's salty AND sweet at the same time!
I love how a capital city can be so involved with nature, how you can just walk across a bridge and enter a huge park, or just hop on a ferry and escape the city within minutes to explore the "country side culture" of Sweden.
I've never been to another capital city where people go fishing in the middle of the city next to the Parliament – here, it's part of many peoples' every day life.
The Old Lazy Town
The Old Town is so quaint, with houses in different shades of yellow and streets leading to everywhere or nowhere it reminds you of the villages you see in pictures in children's books.
But walking around in The Old Town I realized for the first time how "lazy" we are in Sweden – nothing here was open until 11 am, and most boutiques closed around 4 pm or earlier.
In most of Europe you'll find shops being open from early morning to late evening.
In Stockholm, some places I wanted to visit, like the Knight's House, was only open for two hours a day….
As Swedish as it Gets
The changing of the guard at the Royal Palace was perhaps the best example of Sweden in general.
While in other countries it's something rather serious, in Sweden it was … different.
After all the serious drumming and marching through town, some man cleared his throat in the speakers and said with many "uh's and eeh's" that the orchestra would be playing a few songs …And they played… ABBA…!
It can't get more Swedish than a man fumbling for words at the Royal Palace (our king is known for just that), and the tunes of ABBA during the changing of the guard.
The Most Beautiful Scenery in Stockholm
Leaving on the overnight ferry to Finland, we slowly criss-crossed for 4 hours through the archipelago with islands dotted everywhere around us.
Swedish red and white wooden houses and flag poles with the Swedish flag proudly blowing in the wind this was the perfect way to leave Sweden.
It's a beautiful last photo I took of Sweden, a good memory – until we visit there again next time.
Exploring the Best of Stockholm
Being the capital of Sweden, Stockholm is a fascinating city comprised of 14 islands connected by numerous bridges.
Scandinavian architecture is a characteristic feature of this lively city, and together with the magnificent Gamla Stan (Old Town) the city attracts millions of visitors every year.
If you've planned to visit this beautiful city, here are three things not to miss!
Exploring Gamla Stan
Gamla Stan is one of the main attractions of Stockholm, it is the largest and one of the most well preserved medieval city centers in Europe.
Its winding streets represent the unique spirit of the old city which looks like taken straight out out of a fairy tale.
Gamla Stan is full of museums, cafes, bars and restaurants.
The Nobel Museum and Stockholm Cathedral are both situated here, but the most significant attraction here however is the Royal Palace, which is one of the largest palaces in the world.
There is also a museum inside the palace exhibiting Royal costumes and armory, but the best part is to watch the changing of the guards outside the palace.
Going to the top of the Globen
After its completion in 1989, the SkyView became one of the city's major landmarks.
Stockholm Globe Arena is huge and shaped like a ball, situated in the southern part of the city and used for a large number sports and entertainment events.
It took 70 tonnes of steel to build this attraction, and all the materials were lifted by helicopters and attached by mountaineers.
The SkyView will take you along the outside of 130 meter high Globen in a glass capsule attached to the rails on the building.
It fits 16 people and the ride takes about 20 minutes to reach the top.
The view from the top is breathtaking: you see the whole city, even the glittering archipelago surrounding it.
There are also guided tours showing you the inside of the building, and there is a good restaurant inside to grab some lunch afterward.
Taking a boat tour in Stockholm
A visit to Stockholm will not be complete without seeing the city from the water, so a boat tour is a must!
Be sure to plan your visit in the summer months if this is something you wish to do.
There is a large number of different tours to choose from: Royal Canal Tour, Historical Canal Tour, Stockholm Grand Tour and Under the Bridges of Stockholm.
You can also purchase a Hop On Hop Off ticket.
Which is great for unlimited trips and it is also combined with a bus.
For those who want to see the archipelago – an Archipelago Race is a great way to do so.
Explore Sweden Like A Local
Explore Sweden Like a Local
If you want to visit a place that has both beautiful nature, exciting cities and is off the beaten track, Sweden is a perfect choice.
As it's not normally on the itinerary for Europe travelers, it has the benefit of being everything but "touristy", and you can easily experience the country like a local – that is, if you know how to.
Summer is the best time of the year to visit Sweden, the country becomes alive and thriving, people go the the coasts to party and sunbathe and enjoy the warm weather.
Here are the top things to do in Sweden during summer, to explore it like a local:
Rent a Summer Cottage
You have probably seen the idyllic pictures of red and white cottages surrounded by green forest by a lake, or perched on a rocky island in the middle of the sea.
Many people go for short day cruises around the islands in Gothenburg or Stockholm to marvel at the picture perfect surroundings – but why not take it one step further and experience what it's really like to live there?
Renting a summer cottage by the lake or close to the beach will give you what is perhaps the most Swedish experience you could ever get.
There are plenty of lakes in the country and many of the holiday cottages are secluded and have their very own pier and boats you can use to go fishing, water skiing or just exploring the hidden corners and bays of the lake.
Party by Sweden's Coast
You will find that while the pace slows down in the cities and the crowds thin out, the livelier it gets at the popular summer spots along the coast lines.
Different places are popular at different times of the year. During Midsummer, in late June, Bohuslän is a popular place, especially Smögen.
Other fun places where there is a lot of great partying going on is Båstad, Visby and Tylösand.
In July there is an extremely popular Tennis week event in Båstad where people party all day long.
Sample Swedish Cuisine
After exploring the city's major attractions it's time to drop by one of the cafes for coffee and cake in a Swedish tradition, but be aware that Swedish coffee is pretty strong, but the cakes are absolutely delicious!
In general, dining in Stockholm is quite expensive. It will cost you around 175-250SEK for a meal, so if you're on a tight budget, self-catering will be the best way to save money.
Also look out for some lunch deals. There are often plenty to choose from and prices are often half of the normal dinner prices.
There is no better way to get a "taste" for Swedish culture and history, and a glimpse into the people than to try their traditional food.
One very typical Swedish dishes is Swedish meatballs with mashed potatoes, brown sauce, green peas and Lingon berrry jam.
Another typical dish is the pea soup and pancake, which traditionally is to be eaten on Thursdays.
The most traditional version includes bits of meat, but vegetarian versions are also common.
The pea soup includes a number of different spices, but Swedish people like to add a bit of extra mustard to it as well.
Taste of Stockholm
The pancake is eaten after the pea soup, but the traditional way is to serve them both together.
Taste of Stockholm – Must-Try Food!
Stockholm is a city scattered on fourteen main islands connected by bridges – thanks to numerous waterways the city earned the name of "the Venice of the North".
The city is very organized, stylish and funky, and the restaurants in Stockholm are absolutely superb.
With a great variety of restaurants, bars and cafes, you will never be short of places to eat, and trying Swedish cuisine in Stockholm is one of the things that you really shouldn't miss.
Even though modern Swedish cuisine is highly internationalized, there are still some typically Swedish dishes that everyone should try.
Swedish cuisine doesn't use any fancy spices or herbs, but instead prefers salt, white and black pepper – the dishes mainly consist of some sort of meat, fish, potatoes, salad and cream sauce.
Popular Must Try Swedish Dishes:
Pickled Herrings – Pickled herring is one of the most famous traditional Swedish dishes, and can be prepared in a variety of styles.
Some love it, most hate it – but try it for the experience!
Janssons frestelse (Jansson's temptation) – This is a traditional Swedish dish that has a special place at every Christmas table.
It is made of potatoes, onions, herring, pickled sprats and cream.
Pyttipanna (Leftovers in a pan) – If you have potatoes, onions and ham in your fridge then you have all necessary ingredients for Pyttipanna.
All the above mentioned ingredients are chopped and then pan fried and seasoned with salt and black pepper.
It is usually served with some beets, fried eggs, capers and pickled gherkin on the side.
Ärtsoppa (Pea soup) – It consists of yellow peas, pieces of onion and pork and is very often served with a little mustard.
Traditionally served on Thursdays along with pancake and whipped cream (for some unknown reason).
Makaroner och Falukorv (Macaroni and Sausage) – Macaroni are simply cooked with milk and have a nice creamy taste.
It is served with a special type of fried sausages and ketchup and is one of the kids' favorite dishes.
Swedish Fast Food – Pizza, hot dog, kebab and falafel are the main fast food dishes in Stockholm.
There are a lot of hot dog stands all over the city and you should also try a famous Swedish specialty "tunnbrödrulle" – a hot dog in a tortilla with mashed potatoes and shrimp salad.
Sweets – There are tons of pastry shops and bakeries scattered around Stockholm. Drop by one of them to try homemade ice cream, princess cake or cinnamon buns.
Swedish coffee
If you are a fan of coffee, Stockholm is one of the best places to enjoy this aromatic drink.
Swedish consumption of coffee is known to be among the highest in the world.
For Swedish people it is more like a social ritual when you can enjoy the cup of coffee and discuss the latest gossips and news.
FAQs about Stockholm
When should I visit Stockholm?
Their summer season, June – August, is the best time to visit Stockholm.
What is the best month to visit Stockholm?
July is the best month to visit because it is the hottest.
When is the best time of year to go to Sweden?
While the climate varies throughout Sweden, the summer months of June – August are the best time to visit.
Is it expensive in Stockholm?
Yes, Stockholm is expensive when you compare it to other large cities in Europe. However, Sweden is less expensive than Norway and overall less than the UK.