Updated:
Stay safe whilst solo traveling – If you're new to solo traveling, you might feel worried about the potential dangers that you could be faced with.
Traveling without the safety of a friend or partner can feel daunting, and you might be concerned about people trying to take advantage of your situation.
But try not to worry.
Ways to Stay Safe Whilst Solo Traveling
Solo traveling can be extremely invigorating and create a sense of freedom that you won't get when traveling with a companion.
So, how can you stay safe whilst solo traveling?
Respect safety signs
You can run into danger anywhere in the world, and you may see signs warning you about potential hazards in certain areas, like those made by mysafetysign.
If you're visiting an area with potential hazards – like a mountain range, for example – a falling rocks sign will have been placed to alert you of the potential hazard and keep you safe.
Whilst it might be temping to ignore a safety sign to get a better picture or to feel "invigorated", it is not advisable.
The signs are in place for a reason, and you're putting yourself at risk.
If you're craving adrenaline, consider visiting a theme park instead.
Keep Family Members Updated
Whilst you might be solo traveling to get some space from people back home, it's important to keep one or two people updated about your whereabouts.
This means that someone else always knows where you are and when to be concerned if they haven't heard from you.
If you're worried about getting internet whilst traveling, check with your network provider before you embark on your trip, investigate into local Wi-Fi spots or invest in a local sim card.
All it takes is one text a day to ensure your safety.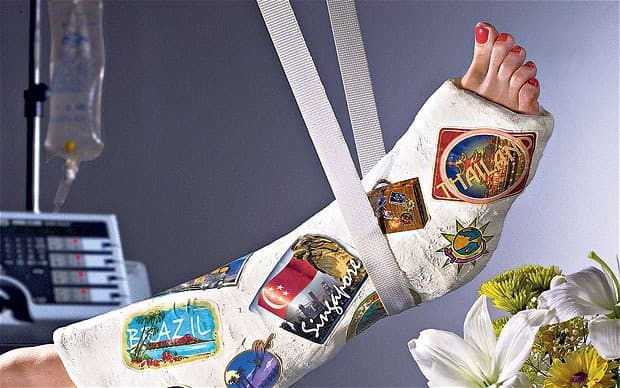 Be aware of scams
If you're traveling to popular tourist destinations, especially big cities with famous landmarks, then unfortunately you may run into scam artists, pick pockets or thieves.
These people wait in busy, popular areas and take advantage of tourists who are distracted by impressive sights or don't speak their language.
Whilst being polite and friendly to strangers is a great way to meet new people as a solo traveler, and it's certainly not advisable to be rude to locals, being aware of these types of people can be useful to keep you safe.
Research the common scams in the places you're travelling to, and keep an eye out.
Staying Safe When Traveling
Traveling Solo Hacks
Tips For Traveling Women: How To Keep It Safe And Fun
Protect your valuables
Likewise, protecting your valuables is another essential when solo traveling.
Keep your travel documents together in a folder and think creatively about how you can keep your valuables hidden.
For example, thieves might see an opportunity if a tourist is wearing a money belt, so think about hiding your notes in your sock, or sharing them out in different locations.
If you're going on a beach holiday, invest in waterproof pouches which allow you to wear your notes, cards and phone around your neck whilst you go for a swim.
You can also find safes in most hostel rooms, which are sturdy and reliable.