Are You About To Travel Around The World?
You've Got One Chance To Make Sure Everything Is Prepared… Are You Prepared?
Round The World Travel Guide Your Most Reliable eBook on RTW Travel
Best Round the World Travel Guide

The Travel Dream…While on your trip you have the most amazing time, you meet incredible people, everything you planned works out perfectly, your money and gear last the whole trip – it's pure enjoyment and nothing goes wrong.
The Travel Mistake…While on your trip you think you have everything planned, enough money saved, the right gear etc. Half-way through the trip you realize that isn't the case and you're forced to learn the hard way about how RTW traveling really works, resulting in extra unnecessary stress and uncertainty.
What if you could have two experienced travelers coaching you step-by-step on every aspect of how to prepare for and get the best out of your trip?
The Pre – Travel Guide is an eBook designed to give you the best step-by-step advice so you can prepare every area of your next trip with stress-free confidence and without worrying that you missed any important details.
This Travel Guide book gives you the INSIDER TIPS – it's about cutting the fat, and giving you exactly what you NEED to know, not just a bunch of re-hashed info which might help to get you started – this book is the complete Pre – Travel Guide.
And the best part? it's a downloadable Travel Guide eBook which you can have today (with no extra delivery or shipping fees!) – for only $4.95 US.
What Others Are Saying About This Travel Guide:
---
I'm a big researcher – I've read several pre-travel guides over the past year. Thanks to Nathan and Sofia's thoroughness and unique outlook, I can say this is definitely the best one I've read.
– Steph – Travel Blogger @ Twenty-SomethingTravel.com
An awesome guide, packed with inspiring info and advice. Ideal for anyone considering RTW travel. The structure is perfect, they take you from step1 right up to spending the first month on the road, giving you everything you need to know about budget travel…
– Jon Gorrie, Author – Performing In The Zone
Just read this book, it's perfect and NOT JUST for first time travelers. People out there already traveling can learn much from what Nathan and Sofia have experienced. Thanks for this book, it made my trip so much better…
– Joachim, Inspired Traveler
As We Travel – E-Book Review via Backpack With Brock.
The Pre: Travel Guide: What's Inside?
---
The Pre – Travel Guide is a downloadable PDF eBook specifically designed to help you improve every part of your RTW preparation – from planning, saving, where to go, cheap transport, staying healthy, dealing with scams etc.
Here's why we're super proud of this eBook and believe it'll improve your travels:
Because it's thick – 100+ pages packed with brand new RTW travel content on a wide range of topics (see below for what it covers)
Because it's about taking action – Read this book, and you WILL travel – simple. Instead of sitting around travel-dreaming, this book inspires you to get out there and see the world the best way possible – stress-free!
Because you get FREE eBook updates for life – Yup, we are always looking for better and better ways and ideas when it comes to traveling the world – so anytime we find something new we think you need to know about, we will update the book and you can download it again – FREE!
Because of the 100+ high-res travel photos – Each page contains inspiring real life images from around the world, designed to inspire you. This isn't just a book full of boring ol' text – the blend of text and pictures make this book the perfect travel inspiration
Because it's for Everyone – Successful travel comes down to understanding the fundamentals, so even if you have been out there traveling the world for years, we believe there is advice in this book for even the most experienced RTW travelers
Because it's Accessible – Beautifully Designed, Easy to Read and Available for Immediate Download as a .PDF eBook Today
Because it's Guaranteed – You get a 30 Day No Questions asked Money Back Guarantee
Why This Travel Guide eBook Was Written:
---
From an Interview with Nathan & Sofia: This Travel Guide book is the result of our first backpacking trip around the world. For 8 months we traveled through Oceania, South East Asia and Europe.
With no preparation whatsoever, and only $6,000 US each, we left home, driven purely by a sense of adventure. But, things didn't go as smoothly as we expected…
During those 8 months that followed we made pretty much every mistake you can think of. We had to learn how to travel the right way by doing it the hard and wrong way.
There were so many times we just wanted to give up and go home, but instead we learned how to turn that stress, and uncertainty into a core driving force which left us after that first trip even more motivated, and excited to travel the world again and again and again.
Our aim with this Travel Guide book is to help you to prepare for your trip the best way possible so you won't have to deal with the same messed up situations and and do the stupid things we did.
This Travel Guide book is meant to be something you can use as a step-by-step reference guide helping you understand the basics of trip planning, where to go, and what to take, all the way to how to deal with that first month on the road.
This book is everything you need to get started.
How to plan a round-the-world trip?
The Travel Preparation Process – Your Step-by-Step Travel Guide
---
Here's a sample shot from INSIDE the book of how typical pages are laid out: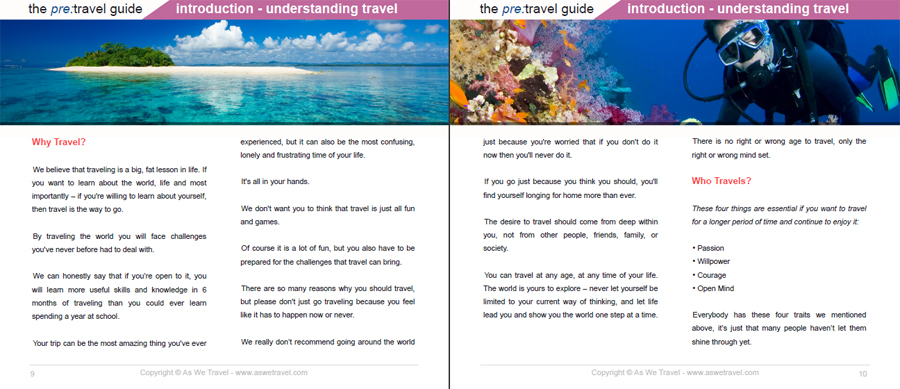 The 100+ page Pre: Travel Guide includes:
A complete guide to help you through every step in planning your trip, all the way from where to go to the first month on the road
Fundamental travel principles and the mindset behind why and how we travel
Demo country routes with estimated living costs in Europe, South East Asia & Oceania.
How to handle your economy and save money fast for your trip
How to choose the right backpack, what gear to bring, and how to pack
Our full RTW 40L gear list
Comparison between different types of round the world flight options
How to find the cheapest flight deals
Understanding and finding the best transport options for you
How to get cheaper and free accommodation
How to avoid scams and crime while on the road
How to stay healthy when traveling
Staying in shape on the road (including our 20min Travel Workout)
Travel insurance and Visa information: How Your Travel Insurance Can Help If You Are In an Accident Abroad
Staying in touch back home, internet, Wi-Fi etc.
Mental preparation, and how to deal with travel stress, and uncertainty while traveling
How to travel as a couple without fighting 24/7
plus so much more…
About The Authors
---
Nathan Schacherer and Sofia von Porat, a 20-something couple, have been traveling around the world together since 2008. They run the popular travel site AsWeTravel.com sharing weekly travel advice, city guides and videos with the mission to inspire, and provoke others to get out there and really enjoy the world. Also, checkout our Round The World Gear List
AsWeTravel.com has been featured as part of the LonelyPlanet Blogsherpa Program, ranked top 50 Best Travel Blog by Travelpod.com, and have had travel articles published on numerous other online travel-related media sites.
More PTG Reviews
---
Well written, nice layout, modern approach, filled with so many useful tips, facts and links – making this a good guide for both beginners and experienced travelers – aimed to bring the best out of our great travel adventures.
– Niclas Corn, Film Director & Author
If you are just getting out of college and ready to backpack through Europe and have never been outside the country, I think this book would be perfect for you – if you are new to the whole round the world trip or new to travel in general, this is a good place to start, providing the step by step guide that makes the process a little less daunting.
– Suzy Guese – Travel Writer @ SuzyGuese.com
This eBook is a good tool for any traveler who wish to have the whole "travel picture" in a single package, even experienced ones. It's all about cutting the fat – giving you exactly what you need to know without wasting your time.  It provides all the information "distilled", not to mention all the Google hours it will save you.  For me, that's one of the biggest benefits of this eBook.
– Norbert – Experienced Traveler & Travel Blogger @ GloboTreks.com
The 30 Day Money Back Guarantee
---
If you're not satisfied that The Pre: Travel Guide is helping you plan your next RTW trip within 30 days just let us know and we'll refund your money in full. That's how confident we are that this book is a resource that will help you improve every part of your RTW planning process, and also improve the quality of your trip once you are on the road.
Download Your Copy Today
---
[box type="download"]The Pre: Travel Guide is ready for your download right now for ONLY $4.95 US – to secure your copy simply click the 'Buy Now' button below – you'll be taken to a page where you can make your payment via PayPal or Credit card and get immediate access to the book.[/box]