Romantic Getaways in California is home to alluring mountain scenery, majestic sunsets and serene, palm tree-lined beaches – and also the ideal backdrop for a romantic getaway.
Romantic Getaways in California For Couples
From the idyllic island ambience of Santa Catalina to the breathtaking beauty of Napa Valley wine tours to the gorgeous beach towns of Santa Barbara, California is rife with romantic getaway spots.
Mesmerizing Santa Barbara
The palm-fringed coastline is home to the beautiful Santa Ynez Mountain and snuggled comfortably behind the foothills is Santa Barbara – also known as the American Riviera, given its resort-like atmosphere and scenic Mediterranean seaside.
The sandy, picture-perfect beaches and historic Spanish Mission will have romantics in sheer awe as they take in the Pacific Ocean's calming waves crashing against the shore, coupled with unbelievable sunsets.
The sophisticated spas, Spanish-inspired building, boutiques, art galleries, cafes and restaurants, along with the impossibly beautiful natural environment are perfect for romantic dinners and shopping or outdoor activities like sailing, hiking, and biking.
Unspoiled Mendocino County
With abundant wildlife and flourishing redwood trees that can be found running along the craggy coastline, the only way to describe Mendocino County is peaceful and "unspoiled".
Romantics will surely feel renewed and rejuvenated the moment they arrive at this perfect couples getaway spot.
Mendocino County is complete with its relaxing 'hidden' beaches, pure and pristine air, and an environment that's beyond perfect for hiking and camping as well as outdoor sports like boating, fishing, canoeing, kayaking, and more.
And make sure you take your fishing gear for a stop at the 700-acre nature reserve called Lake Mendocino, which is truly is a sight to behold – and a perfect excuse to pop that bottle of wine, wouldn't you say?
Dreamy Santa Catalina Island
Santa Catalina Island offers just the right stuff for the perfect romantic getaway: a scenic and dreamy island, secluded beaches and picturesque villages by the seaside.
The largest town on the island, Avalon, offers lovely modern resorts and historic hotels alike, along with palm-fringed beaches that can only be described as utterly stunning at first sight.
Let your inner enthusiast loose because there are plenty of spots to go swimming, snorkelling, and kayaking.
And overlooking peaceful coves and sandwiched right between two ports is the island's western end, which gives off a vibe of paradise on earth…
Hilly Sonoma County
Drive an hour north of San Francisco and the vine-covered and pastoral landscape of rolling Sonoma hills come into view.
Couples have been vacationing in Sonoma County for decades, enjoy the relaxed pace of life and rejuvenating outdoor activities, including Napa Valley wine tours, that are also ideal for romantics as well as exciting hot-air balloon rides, hiking, and mountain biking, to name a few activities.
Sonoma County is also a great place for experiencing the freshest farm ingredients in the local gourmet cuisine and happens to have some of the top-rated restaurants anywhere in California.
Dramatic and Colorful Big Sur
Breathtaking, colorful, and beautiful in every sense of the word, Big Sur is one of the best escapes for romantics.
The magnificent ocean views and wild landscape truly captivate the senses.
Despite the fact that Big Sur is somewhat cut off from civilization, given its remote location and no cell phone coverage, it has fantastic spa resorts, gourmet restaurants, and luxurious hotels, not to mention the rustic-chic campsites and inns.
Perhaps one of the biggest attractions for romantics in Big Sur are the lush redwood forests found on the coastline which towers a good 1,200 feet above the Pacific Ocean.
Subliminal Lake Tahoe
Nestled comfortably at over 6,000 feet in the Sierra Nevada Mountains, Lake Tahoe is a sight to behold, with its sublime alpine beauty.
The fresh and crisp air instantly invigorates the body while the lake's mind numbing deep blue water urges the soul to relax and draw in the astonishing beauty.
It's no wonder Lake Tahoe is such a popular spot for romantic getaways in California, especially since it's nicely packed in winters, courtesy of all the outdoor activities couples engross themselves in: boating, skiing, biking, hiking, and camping.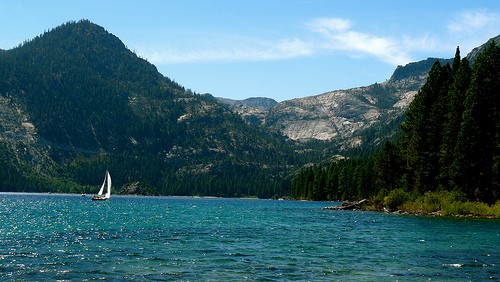 Rustic-Chic Paso Robles
Travel 30 miles out from San Luis Obispo and you'll arrive at the vine-covered hills of Paso Robles on the Central Coast.
This historic downtown is known for its old-time vibes and slow pace of life – with plenty of outdoor dining spots and tree-lined streets.
But that's not all it's known for – the spas offer some of the best wellness treatments and mineral water pools.
You'll also find many boutique hotels and bed-in-breakfasts, which are charming to say the least.
Slow'n'Lazy Half Moon Bay
Half Moon Bay is a small and slow-paced coastal town surrounded by woodlands, small farms, and rolling hills.
Due to the immaculate sandy beaches and picturesque hiking trails, it's a very popular destination for nature lovers and romantics alike.
Despite the windy and misty weather, the scenery is always inspiring and dramatic as you hike along the coastline at the local beach.
Boutiques and bed-and-breakfasts can be found every few miles while the Mill Rose Inn is one of the most romantic places a couple could stay: floral-print bedding, vintage-inspired décor, and sumptuous guest rooms.
Blissful Cambria
Another gorgeously romantic town that lies along the coast is the charming and alluring village of Cambria, with its romantic beach getaways and blissful seaside views.
The local Moonstone Beach which stretches for miles on end is the perfect idyllic spot for a romantic stroll, while Cambria's East Village is known for its beautifully kept buildings that date well back to the 1800's.
Romantic Wine Tours
There's something innately romantic about taking wine tours in the beautiful Napa Valley in Sonoma County – one of the best romantic getaway spots that's just a few hours' drive from San Francisco.
Known for some of the most romantic hotels around as well as a tantalizing local cuisine, Napa Valley brings in plenty of couples from all over California, thanks to its picture-perfect wineries and unforgettable Napa Valley wine tours.
Napa Valley
The very famous Napa and Sonoma Valley are practically made to be experienced with friends, especially once you count the amazing wine in the equation.
A lot of these wineries offer the full visitor's experience, so you'll get to taste fine wine and see how it's made.
There's just so much to see and experience that you'll definitely want to be back over and over again.
While it's possible to visit the wine country without a car, it's not always the most effective solution.
The main problem with driving on your own is that there will always be at least one person that won't get to enjoy the good wine.
In that case, the most effective solution would be to charter a coach bus or minibus out of San Francisco.
That way, the group could stay together the whole time and experience the road trip, too.
No one would be left out due to driving duty, so you might want to consider chartering a bus.
Better yet reserve an RV or car rental in San Francisco.
Ridge Vineyards
There are few spots near San Francisco that offer the entire package like Ridge Vineyards.
It's located in the slopes of Cupertino, and one of the first things you'll notice are the breathtaking views.
The entire time you're there, you'll be treated to some of the finest views of Silicon Valley, all the while sampling some of the most exquisite wine in the region.
Ridge Vineyard's wine has been considered of superb quality for decades, and it's a winery that's been consistently praised by critics.
Loma Prieta Winery
This spot is one of the most group-friendly wineries out there.
It's been designed to allow several groups to do some picnicking, and pets are fully allowed, too.
You can also play a lot of games there as visitors are actually encouraged to try a game of bocce.
The single most memorable thing about Loma Prieta are the views.
You'll have unforgettable views of the Santa Cruz coastline.
And if you manage to catch the sunset, you'll see a scene that you won't soon forget.
That's not to say that the wine is bad, because that can't be further from the truth.
Antica Winery
For those that prefer to have a rural, relaxing, and unique experience, Antica is definitely the perfect spot.
It's located at the end of Soda Canyon Road, and while that might mean that there's a bit more driving, the end result is absolutely worth it.
Antica has a heritage like few other wines in the world.
It goes back to the 14th century, which is why it's considered as one of the finest today.
While you're there, you'll be enjoying your wine outside, if the weather permits, and enjoy some of the most beautiful vistas in Napa.
Larkmead Winery
This is a winery that's dedicated to complete luxury.
With over 120 years of experience, Larkmead has grown to be the most famous winery that people have never heard of.
That means that while their wines are all well-renowned, the winery itself is severely under-visited.
However, there have been recent changes and development in Larkmead.
There is now a special building that's made just for tastings, and combined with the wonderful weather, it's a spot that no one should skip on.
The wines themselves might be on the pricier side, but they're completely worth the price.
Enjoying a sunset with friends and a glass of wine in one hand is definitely something everyone should aim for.
The wine country in San Francisco backyard is a place that's made for group travel, and it's an experience you won't soon forget.
How To Find The Best All Inclusive Vacations
Free Things To Do In Los Angeles – When we think of Los Angeles, we generally see long stretches of beach meeting urban sprawl, sunny skies, famous people and a big Hollywood sign.
The city is full of a great sites and attractions, restaurants with all types of cuisine, and it is the world capital of film entertainment.
Despite a reputation of being expensive, there are lots of things you can do for free – check out the stuff below for some ideas…5 Free Things To Do In Los Angeles
Free Things To Do In Los Angeles
Free Things To Do In Los Angeles
Hollywood Walk of Fame
One of the most popular things to do in LA is to visit Hollywood's walk of fame.
15 city blocks make up the black sidewalk within which the pinkish stars are embedded.
This is the best way to appreciate the talents that have brought us film, television and music for many decades.
Some 10 million people visit the Walk of Fame a year, not counting the locals who walk over the stars daily.
You will find some 2,400 stars, many of which have names you might not recognize.
But don't worry; there are tons that you will recognize, from Frank Sinatra and Charles Chaplin to Matt Damon, Mickey Mouse and Michael Jackson.
Griffith Observatory
Griffith Observatory
Located atop the hill park of the same name, the observatory is a great place to check out for all ages, but especially for kids. Inside you'll not only find a free astronomy museum, but also a giant telescope.
The telescope is called Zeiss, and in the evenings they offer the option to look through the telescope.
There's really nothing like seeing the stars through some of the thickest smog in the country!
California Science Center
If the observatory sparked your interest, head over to the California Science Center, another superb place for people of all ages.
The place is very interactive, which makes it popular for families with small kids, but adults who are not afraid of letting their inner child come out will have a good time as well.
California Science Center
It's one of the best science museums in the United States, and the exhibits change regularly to provide fresh reasons to return.
There is also a large 7-story IMAX theatre inside, though you'll have to pay to enter.
Venice Beach
Finally, and without further ado, the Venice Beach boardwalk is a must-see and free attraction.
The vibe the neighborhood gives is comfortable and different, and the roller-skating bathing suited bodies make for a distinctly Southern California atmosphere.
You simply can't see LA without checking out Venice Beach.
The Getty Center
The Getty Center
If fine art is your cup of tea, then head to one of the most involved galleries in the world, The Getty Center.
The building itself is beautiful to look at, and inside you'll find plenty of priceless works of art.
The collection is quite impressive, with works from Van Gogh and Monet, and the gardens are wonderful to stroll around in.
This place also has concerts on some nights, so if you plan to visit it's always worth checking out if there is any event happening.
Another good reason to visit is the spectacular view you get from there, overlooking LA and the ocean.
On a side note, another way to get a good view is to hike to the Hollywood sign, which might take a bit more effort, but it's also free, and totally worth it.
What's your favorite things to do in Los Angeles for free? What to do in Anaheim
Why Working Remotely is Harder than You Think
Best Apps for Traveling
How Do I Get Internet While Traveling?
Using My Cell Phone While Traveling to Europe
Best Mobile Hotspot for Traveling to Europe and Overseas
Top Beaches To Visit In Los Angeles
Los Angeles has many beaches – in fact, if you have to choose, there are almost too many to choose from.
If you are planning to visit and don't know where to get started – here are five beaches to check out:
Point Dume State Beach
Have you seen Planet of the Apes or The Big Lebowski?
Well, both of them were filmed here at Point Dume State Beach.
It is uniquely sheltered between sand dunes and the ocean, and from the top of the sand, you can enjoy some great views.
In fact, the first piece of land directly south of its tip is Antartica.
Especially if you like swimming, scuba diving, tide pooling, rock climbing or whale-watching (from December to March), you will find delight at Point Dume State Beach – it's a good destination for all of them.
The fact that it is further out from the LA metro area also means that it is usually less crowded than many of the other Malibu beaches.
Paradise Cove
This beach is what its name already says it is: a paradise cove.
A private beach in the 28,000 block of the Pacific Coast Highway, Paradise Cove charges you $25 to park and $5 per person if you walk in.
If you dine at the Paradise Cove Restaurant, you automatically get validated for four hours.
But all this exclusivity doesn't mean that it doesn't get crowded; quite the contrary, be sure to arrive before noon on weekends because it fills up fast.
The Strand Manhattan Beach
If your time is limited, head to The Strand.
It's an easy drive from the city and its strip comes with some serious real estate.
When you stay at one of these impressive homes, you can stare out into the Pacific (while thinking about Keanu Reeves in the surf board-buying scene from Point Break, which was shot nearby).
The paved pathway is also an ideal place to walk, run, jog, rollerblade or bike.
Heavens Beach
Another beach that is what its name entails.
It is uniquely situated in Leo Carrillo State Park.
Here, you can grill a relaxing BBQ after a day of surfing, the waves are pretty consistent and great for all levels.
All of this against a stunning backdrop; giant sycamores shade the main campgrounds throughout the park and there's plenty of tide pools, coastal caves and reefs for exploring, too.
Best Wineries a Short Drive from San Francisco
Santa Monica Beach
With 3.5 miles of Southern California beaches and over 300 days of sunshine, the Santa Monica Beach is a prime piece of California coastline and a welcome retreat for vacationers and locals alike.
There are countless activities you can pursue here year-round, including swimming, surfing, fishing, volleyball and biking.
Those who enjoy people-watching, can catch some of the finest views here, too.
The beach is considered a natural asset, and the city cleans and rakes the sand every day – lifeguard stations are also staffed 24-hours a day.