Updated:
Romantic Getaways in California is home to alluring mountain scenery, majestic sunsets and serene, palm tree-lined beaches – and also the ideal backdrop for a romantic getaway.
From the idyllic island ambience of Santa Catalina to the breathtaking beauty of Napa Valley wine tours to the gorgeous beach towns of Santa Barbara, California is rife with romantic getaway spots.
Here Are Our Top 10 Picks for Romantic Getaways in California
Mesmerizing Santa Barbara
The palm-fringed coastline is home to the beautiful Santa Ynez Mountain and snuggled comfortably behind the foothills is Santa Barbara – also known as the American Riviera, given its resort-like atmosphere and scenic Mediterranean seaside.
The sandy, picture-perfect beaches and historic Spanish Mission will have romantics in sheer awe as they take in the Pacific Ocean's calming waves crashing against the shore, coupled with unbelievable sunsets.
The sophisticated spas, Spanish-inspired building, boutiques, art galleries, cafes and restaurants, along with the impossibly beautiful natural environment are perfect for romantic dinners and shopping or outdoor activities like sailing, hiking, and biking.
Unspoiled Mendocino County
With abundant wildlife and flourishing redwood trees that can be found running along the craggy coastline, the only way to describe Mendocino County is peaceful and "unspoiled".
Romantics will surely feel renewed and rejuvenated the moment they arrive at this perfect couples getaway spot.
Mendocino County is complete with its relaxing 'hidden' beaches, pure and pristine air, and an environment that's beyond perfect for hiking and camping as well as outdoor sports like boating, fishing, canoeing, kayaking, and more.
And make sure you take your fishing gear for a stop at the 700-acre nature reserve called Lake Mendocino, which is truly is a sight to behold – and a perfect excuse to pop that bottle of wine, wouldn't you say?
Dreamy Santa Catalina Island
Santa Catalina Island offers just the right stuff for the perfect romantic getaway: a scenic and dreamy island, secluded beaches and picturesque villages by the seaside.
The largest town on the island, Avalon, offers lovely modern resorts and historic hotels alike, along with palm-fringed beaches that can only be described as utterly stunning at first sight.
Let your inner enthusiast loose because there are plenty of spots to go swimming, snorkelling, and kayaking.
And overlooking peaceful coves and sandwiched right between two ports is the island's western end, which gives off a vibe of paradise on earth…
Hilly Sonoma County
Drive an hour north of San Francisco and the vine-covered and pastoral landscape of rolling Sonoma hills come into view.
Couples have been vacationing in Sonoma County for decades, enjoy the relaxed pace of life and rejuvenating outdoor activities, including Napa Valley wine tours, that are also ideal for romantics as well as exciting hot-air balloon rides, hiking, and mountain biking, to name a few activities.
Sonoma County is also a great place for experiencing the freshest farm ingredients in the local gourmet cuisine and happens to have some of the top-rated restaurants anywhere in California.
Dramatic and Colorful Big Sur
Breathtaking, colorful, and beautiful in every sense of the word, Big Sur is one of the best escapes for romantics.
The magnificent ocean views and wild landscape truly captivate the senses.
Despite the fact that Big Sur is somewhat cut off from civilization, given its remote location and no cell phone coverage, it has fantastic spa resorts, gourmet restaurants, and luxurious hotels, not to mention the rustic-chic campsites and inns.
Perhaps one of the biggest attractions for romantics in Big Sur are the lush redwood forests found on the coastline which towers a good 1,200 feet above the Pacific Ocean.
Subliminal Lake Tahoe
Nestled comfortably at over 6,000 feet in the Sierra Nevada Mountains, Lake Tahoe is a sight to behold, with its sublime alpine beauty.
The fresh and crisp air instantly invigorates the body while the lake's mind numbing deep blue water urges the soul to relax and draw in the astonishing beauty.
It's no wonder Lake Tahoe is such a popular spot for romantic getaways in California, especially since it's nicely packed in winters, courtesy of all the outdoor activities couples engross themselves in: boating, skiing, biking, hiking, and camping.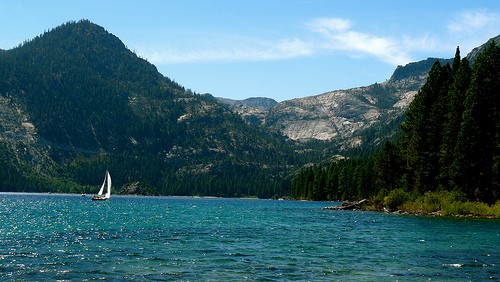 Rustic-Chic Paso Robles
Travel 30 miles out from San Luis Obispo and you'll arrive at the vine-covered hills of Paso Robles on the Central Coast.
This historic downtown is known for its old-time vibes and slow pace of life – with plenty of outdoor dining spots and tree-lined streets.
But that's not all it's known for – the spas offer some of the best wellness treatments and mineral water pools.
You'll also find many boutique hotels and bed-in-breakfasts, which are charming to say the least.
Slow'n'Lazy Half Moon Bay
Half Moon Bay is a small and slow-paced coastal town surrounded by woodlands, small farms, and rolling hills.
Due to the immaculate sandy beaches and picturesque hiking trails, it's a very popular destination for nature lovers and romantics alike.
Despite the windy and misty weather, the scenery is always inspiring and dramatic as you hike along the coastline at the local beach.
Boutiques and bed-and-breakfasts can be found every few miles while the Mill Rose Inn is one of the most romantic places a couple could stay: floral-print bedding, vintage-inspired décor, and sumptuous guest rooms.
Blissful Cambria
Another gorgeously romantic town that lies along the coast is the charming and alluring village of Cambria, with its romantic beach getaways and blissful seaside views.
The local Moonstone Beach which stretches for miles on end is the perfect idyllic spot for a romantic stroll, while Cambria's East Village is known for its beautifully kept buildings that date well back to the 1800's.
Romantic Wine Tours
There's something innately romantic about taking wine tours in the beautiful Napa Valley in Sonoma County – one of the best romantic getaway spots that's just a few hours' drive from San Francisco.
Known for some of the most romantic hotels around as well as a tantalizing local cuisine, Napa Valley brings in plenty of couples from all over California, thanks to its picture-perfect wineries and unforgettable Napa Valley wine tours.