Niagara Falls at Night – Niagara Falls is famous for its breathtaking natural beauty, but that's not all this friendly border and Great Lakes town has to offer. Niagara Falls may have a small-town vibe, but it also has a metropolitan spirit.
Rather than going to bed when the sun goes down, Niagara Falls stays up to show its visitors — and locals — a good time.
Whether you're looking for a family-friendly fireworks show, or a kid-free night on the town, Niagara Falls at night can deliver.
Titillate your taste buds with fine dining, take in a live show, relax with a drink at one of the town's many wine bars, and dance the night away at a local nightclub.
There's something for everyone at Niagara Falls, even after dark.
Niagara Falls weather ~ WET!
Niagara Falls
One of the most popular and famous attraction in all of America, the spectacular Niagara Falls should definitely be on anyone's itinerary when traveling through Canada.
One of the most popular ways to see the Niagara Falls and experience the powerful gushing falls is to get up close on the 'Maid of the Mist' cruise, where the cascades pound, churn and foam right before your eyes – prepare to get soaked!
Niagara Fall at Night ~ Canada vs. USA
For those unfamiliar with the region, Niagara Falls straddles the border between Canada and the USA. One side of the falls resides in the province of Ontario, with the other side in New York (the State, not the city). Both sides of the falls have a lot to offer, but this article will be focused on the Canadian side of Niagara.
Niagara Falls is situated in the Niagara region of Ontario, roughly a 1.5-hour drive from Toronto, Canada's largest city. Canada's side of the Niagara Falls is known to be touristy, campy, and a lot of fun! Featuring bars, restaurants, casinos, live music, amusement rides, and much more.
The Canadian side of the Falls also sees many young American tourists, being that the drinking age in Canada is 19 years old (compared to the American 21).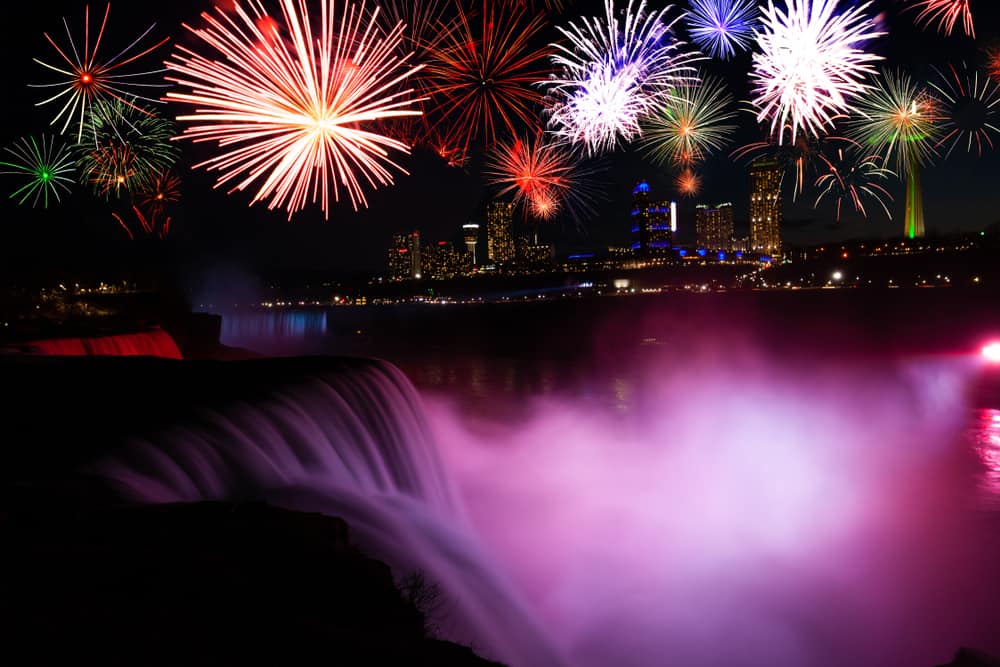 Top Things to do in Niagara Falls at Night
Here's our guide to the top activities in Niagara Falls at night. There's something for everyone on this list. Let's get started:
Niagara Falls Nightlife Fireworks Show Over the Falls
Niagara Falls is stunning during the day, and you'll no doubt want to enjoy famous local attractions like the Hornblower Niagara Cruise, Journey Behind the Falls, and the Whirlpool Aero Car.
But once the sun goes down, you can enjoy a delightful fireworks show over the Falls every Friday, Saturday, and Sunday night at 10:00 p.m. Take in the show from your Fallsview hotel room or watch it from Queen Victoria Park.
While the fireworks show is limited to summer weekend nights, the Falls are illuminated with LED lights every night of the year!
The Falls were first illuminated in 1860, and though the technology has evolved over the years, the nightly illumination of the Falls has become a tradition.
Today, the Falls are illuminated in a variety of colors that change depending on the occasion, and hours of illumination also vary depending on the time of year.
And what better place to soak it all in than the Niagara Skywheel? The Skywheel is a big Ferris wheel that extends high above the falls, offering a great view of the surroundings.
The Skywheel reaches 175-feet in height, offering a gorgeous, panoramic view from a climate-controlled gondola. Tickets are $14 CDN for adults, and $7 CDN for children. The Skywheel is open day and night, but we recommend the view at night, especially if you can catch the fireworks.
Eat at One of the Town's Great Restaurants
Niagara Falls has restaurants for every budget and mood. Enjoy delicious Italian cuisine at La Cascate Pizzeria & Caffe, or sip local wines while munching on farm-to-table dishes at Weinkeller.
Kick back with some pho, grab some old-fashioned, North American-style comfort food, or sink your teeth into the best breakfast in Niagara at the Flying Saucer Drive-In.
With so many to choose from, you can enjoy one of the best restaurants in Niagara Falls every night of your trip, without eating at the same place twice.
Or if you just want to browse the area and decide, there's no better option than a stroll down Lundy's Lane. Lundy's Lane is basically "main street" of Niagara Falls.
The tourist-y street stretches right down to the falls. It's lined with plenty of places to eat and drink. So if you're undecided on what to do for dinner, a quick walk down Lundy's should spark your imagination.
Go Dancing at One of the Area's Hip Nightclubs
Sample local wines at one of Niagara Falls' trendy wine bars, and follow up with a night out dancing at one of the area's hot nightclubs.
The Hard Rock Night Club offers views of the Falls from the dance floor, the world's largest disco ball, an 18,000-watt sound system, a balcony, and a Falls Avenue Patio.
Garage doors open up at night to let in the fresh air and the sights and sounds of the Falls.
Of course, there are plenty of other nightclubs in Niagara Falls.
The Clifton Hill district is home to The Beer Garden, an outdoor venue that's perfect on a warm summer night.
Other popular nightclubs in the Clifton Hill district include The Lake of Restoration, the Dragonfly Nightclub, and Jack's Cantina.
Catch Some Live Entertainment
If live entertainment is more your scene, then Niagara Falls has you covered. Downtown Niagara Falls offers plenty of spots for live music, shows, and all sorts of entertainment options. From a quaint performance at a bar, to a large, concert environment, Niagara Falls has it.
How about a stand-up comedy show? Yuk Yuk's Niagara Falls is part of Canada's most popular chain of stand-up comedy clubs – Yuk Yuk's. Featuring premiere talent from across Canada (and elsewhere), Yuk Yuk's has developed a reputation for showcasing only the best, and many big names in stand-up got their start here.
Or, you could head to the Greg Frewin Theater to catch a magic show. The Greg Frewin Theatre is a great place for dinner-and-a-show, featuring the magic of (you guessed it) Greg Frewin, an International Grand Champion of magic. It's a Vegas-style performance, with all the flash, glitz, and wonderment. If you're in the mood for a classic magic show, this is it.
Fallsview Casino also hosts live events in its Avalon Theatre room, or in its partner building, the Fallsview Entertainment Center. Mostly live music, with concerts from some pretty huge acts. Check the schedule before you go, and grab tickets in advance. Once you're done, head to the casino floor for some fun!
As you can see, there's plenty to do in Niagara Falls, and we've only covered the Canadian side! Whether you're looking to eat, drink, or sit back and enjoy a show, there are plenty of options. Use our guide above to pick the option that most appeals to you. Niagara Falls offers so much to do, all centered around one of the true wonders of the world!
Which side of Niagara Falls is better
Which side of Niagara Falls is better? – As one of the world's foremost family destinations, Niagara Falls has quite the pedigree among travel enthusiasts. Not only is the area home to one of the greatest wonders of the natural world, it contains an abundance of fun-filled attractions designed to please visitors from all walks of life – including dedicated geeks.
At first glance, Niagara Falls may not seem the like ideal destination for travelers whose interests skew towards fantasy, gaming and other geeky pursuits, but as you'll find, the area has a lot to offer geeks who have been bitten by the travel bug.
So, when big trips once again become safe and feasible, geeky Niagara-bound travelers should check out the following attractions.
Guided Tours of the Falls
No trip to Niagara would be complete without a fun, informative tour of the falls themselves.
Fortunately, when it comes to tours, your options are anything but limited.
If you're not opposed to a little bit of cardio, consider embarking on one of the many walking tours.
In addition to providing visitors with good exercise, these tours are often rife with prime photo opportunities.
Travelers who want to see the falls up-close should explore their options for Niagara Falls boat tours.
Just be advised that no matter which type of tour you select, you are practically guaranteed to get wet, so take care to dress accordingly and take the proper precautions with phones and other electronics.
Certain tours even provide customers with complimentary rain ponchos, which in addition to keeping you dry, make fantastic souvenirs.
Niagara Falls at night
It isn't hard to see why Niagara Falls attracts millions of visitors each year.
In addition to the iconic falls, Niagara has enough culture, attractions and activities to keep even the most discerning traveler occupied.
The area's well-deserved reputation as a family destination.
Niagara Falls
The majority of people would love to visit the Niagara Falls. For more than a hundred years, it has been a must-see destination. If you are planning a trip, all you need to do is to follow our insider tips to get the most out of the experience.
Separated by the Niagara River, Niagara Falls, Ontario, and Niagara Falls, New York, are ideal locations to begin a Great Lakes adventure.
The area's origins date back 12,000 years ago to the end of the last Ice Age when the Clovis People inhabited the region.
Since then, the War of 1812 helped set a permanent border between the U.S. and Canada, and the building of the Hydraulic Canal in 1852 brought an influx of people, commerce, and industry to the region.
Niagara Falls is the namesake of both cities and the most recognizable natural attraction in the region.
The Falls formed 12,000 years ago when a large mass of water was released from the Laurentide Ice Sheet.
This torrent of water drained into the Niagara River and eroded the rock away to create the falls.
Visitors can stop by the Niagara Falls State Park which features incredible views of this natural marvel.
Those looking to get a bit closer should take a ride on the Maid of the Mist, a 600-passenger boat that drives directly to the base of the falls.
Aside from the falls, the Niagara Region offers a variety of attractions and fun things to do.
Anyone interested in the history of the area should visit Old Fort Niagara, which is the oldest continuously occupied military site in North America.
The Niagara Parks Botanical Gardens offers travelers 99 acres of beautifully manicured gardens and a world-famous rose garden with more than 2,400 roses.
For a one-of-a-kind view of the falls and the surrounding landscape, take a ride on the 175 foot-tall Niagara Skywheel.
Regardless of which side of the border you're on, the area delivers with world-class cuisine.
On the American side, foodies will love The Griffon Gastropub, Savor, and Third Street Retreat.
New Life Hiking Spa Green Mountains of Vermont Vacation
Over on the Canadian side, food lovers flock to Casa Mia, Taps on Queen Brewhouse and Grill, and Weinkeller.
No matter your cuisine preference, you'll find it all here.
With so much to offer, you may need a couple of trips to get the full Niagara experience.
Which side of Niagara Falls is better?
Exploring Niagara Falls
Unashamedly unoriginal, yet magnificently majestic, I had wanted to view these colossal cascades for as long as I can remember.
It didn't bother me that everyone went there – sometimes you have to swallow your nagging doubts about venturing on to the dreaded beaten track and just accept that popular things are popular for a reason.
The Niagara Falls are as synonymous with Ontario as Ayers Rock is with Australia, or as the Eiffel Tower is with Paris, or as the pyramids are with Egypt, so I had a pretty good idea of what to expect.
Namely, a very large, very powerful, very scenic waterfall.
And, with a gluttonous dose of posing tourists, that's pretty much what I got.
Here before me lay the most iconic waterfall on the planet.
A sweeping horseshoe of turquoise plunging into a seething cloud of white mist; momentous, beautiful and lethal in equal measures.
New opportunities had emerged and I began to ponder the marvelous possibility that there was a secret passage known only to wise locals.
There was, as it turned out, except the passage wasn't secret and although the wise locals were probably aware of its existence, so was everyone else within a 10,000 mile radius.
None more so than the people running Niagara Parks, who wouldn't let me in until I'd handed them the best part of $15.
Still, not to worry, I got my discovery fix.
Observing the waterfall from the 'wrong' way was a peculiar experience.
A series of gloomy tunnels led off the main corridor at right-angles, and it was through these – at considerable distance – that the falls could be observed.
So not much to report on the visual front – imagine looking out an open window during a ferociously heavy downpour, and then multiply it several times – but it was the thunderous noise that grabbed me.
The kind of noise that's so loud you can feel it vibrating in your bones.
The kind of noise that seems to have metamorphosed into a physical being.
It was like the Four Horseman of the Apocalypse had paid their $15 entrance fees and were galloping about the place, or to use a more up to date analogy, like a Boeing 747 had lost its way disastrously on its descent into Toronto.
I felt satisfied leaving Niagara Falls.
Not because the trip behind the waterfall was particularly life affirming, but because it was unexpected.
So I suppose the overriding point I'd like to leave you with is this: do as little research as is humanely possible before going to a place.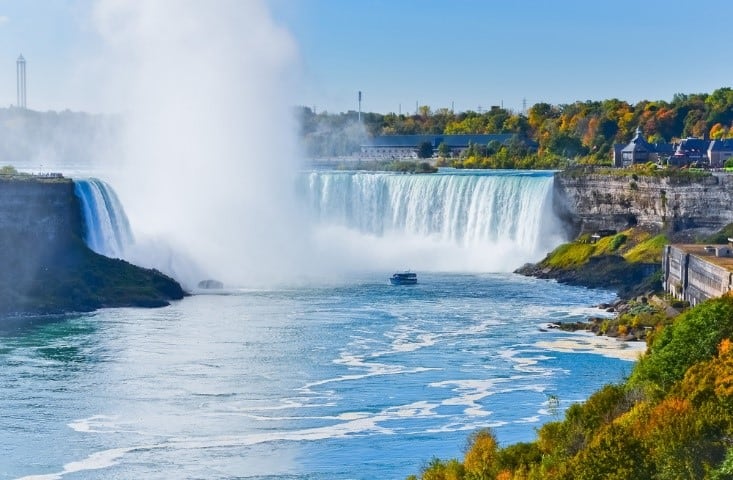 Find the best Niagara Falls deals
The best way to get a good deal on your accommodation is to book as far in advance as you can. Check out the regular price, pick a few dates for next year and look for the deals.
If you do not see anything that is drastically cheaper it may be worth ringing the hotel and asking for a discount.
If you already know which attractions you want to experience, book them in advance.
Doing this will save you money as well as enable you to skip the queues.
Look for family deals Niagara Falls
Traveling as a family can be expensive.
But, if you know where to look there are plenty of package deals available that offer things like free kids tickets.
Niagara Falls Hotels
Whenever you are planning a trip to Niagara Falls, you have an important decision to make: the American side or the Canadian side?
While you can travel back and forth across the border (assuming you have the proper paperwork) the trip takes time that might better be spent on other activities around the falls.
Generally, you should choose a side and stick to it, and the side you choose should be selected based on the kind of Niagara vacation you seek.
The American side of the falls is primarily filled with national forestland, meaning there aren't many amenities to make your stay feel luxurious.
While the American side is worth visiting if you want a outdoors-focused, camping adventure trip, this time around you should set your sights on the Canadian side.
Your luxury Niagara Falls hotel Canada options are far from limited.
There are an abundance of hotels and resorts that combine high-class accommodations with shopping, dining and entertainment opportunities.
When it comes to accommodation you will be spoiled for choices. There is everything from tents to five-star luxury spa rooms to choose from.
But, our advice is to splash the cash. Visiting the waterfalls is a once in a lifetime experience, so it really is worth making it as special as possible.
If you can afford to book a room with a spectacular view of Niagara Falls, you really should do so.
Many of the Guest Rooms on the Falls provide spectacular views that take in both the Canadian and American Falls.
As an extra treat, choose one that includes a whirlpool tub in the price. It really is a great way to unwind.
Queen Victoria Park is a Secret Niagara Falls Viewing Spots
Queen Victoria Park is a must-visit viewing spot for the world-famous waterfalls.
Just a few steps from most hotels on the Canadian side, the park provides sweeping views of both Horseshoe Falls and American and Bridal Falls on the U.S. side.
However, Queen Victoria Park is also devastatingly crowded for most of the year; not only is it a common place for tourists to linger, taking pictures and whatnot, but it is also a popular event space for the occasional festival.
For instance, at the end of the year, Queen Victoria Park is the location for the annual New Year's Eve concert.
Thus, it is wise to get your pics in Queen Victoria Park and head elsewhere for lingering views.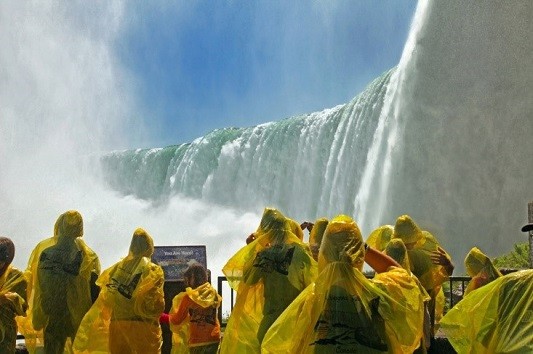 Some spots with a slower pace and greater personal space include:
Niagara Valley Best Wine Tasting Experiences
Perhaps the most leisurely and luxurious activity to participate in during a trip to Niagara Falls is a wine tasting tour.
Niagara Valley has a soil not unlike that of France; the soil is rich and fertile, the weather relatively temperate thanks to the surrounding lakes, and the grapes grow as if by magic, producing fantastic vintages.
Several vineyards and wineries in the area have won international awards, drawing critical attention and praise to the Niagara wine country.
There are roughly 400 winemakers spread around the Niagara Valley.
Much too many for you to try them all during one trip.
You might consider consulting your hotel's concierge for advice on convenient and quality wine adventures; most resorts offer discounts on tickets with certain tours, and you might even gain behind-the-scenes access to some vineyards thanks to your association with your accommodations.
There are ways to see and experience Niagara Falls without fighting against crowds of eager tourists.
By planning ahead and choosing options that take you away from the hustle and bustle, you can enjoy a quiet and relaxing trip to the falls.