Niagara Falls Nightlife – Niagara Falls is famous for its breathtaking natural beauty, but that's not all this friendly border and Great Lakes town has to offer. Niagara Falls may have a small-town vibe, but it also has a metropolitan spirit.
Rather than going to bed when the sun goes down, Niagara Falls stays up to show its visitors — and locals — a good time.
Whether you're looking for a family-friendly fireworks show, or a kid-free night on the town, Niagara Falls at night can deliver.
Titillate your taste buds with fine dining, take in a live show, relax with a drink at one of the town's many wine bars, and dance the night away at a local nightclub.
Or test your luck and maybe strike it rich at the local casino.
There's something for everyone at Niagara Falls, even after dark.
Which side of Niagara Falls is better
Niagara Falls: Canada vs. USA
For those unfamiliar with the region, Niagara Falls straddles the border between Canada and the USA. One side of the falls resides in the province of Ontario, with the other side in New York (the State, not the city). Both sides of the falls have a lot to offer, but this article will be focused on the Canadian side of Niagara.
Niagara Falls is situated in the Niagara region of Ontario, roughly a 1.5-hour drive from Toronto, Canada's largest city. Canada's side of the Niagara Falls is known to be touristy, campy, and a lot of fun! Featuring bars, restaurants, casinos, live music, amusement rides, and much more.
The Canadian side of the Falls also sees many young American tourists, being that the drinking age in Canada is 19 years old (compared to the American 21).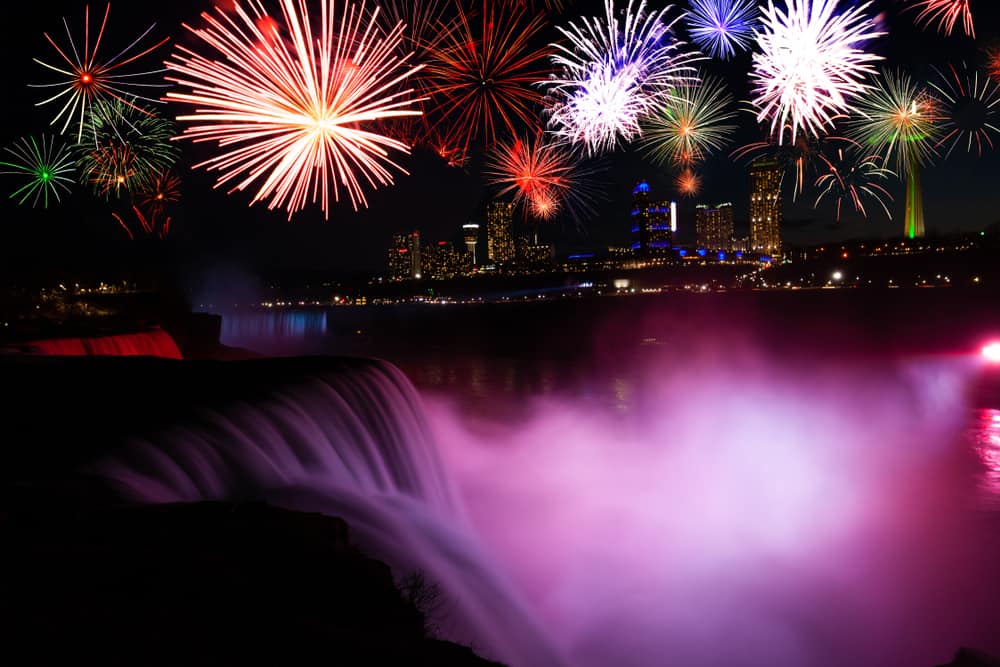 Top Things to do in Niagara Falls at Night
Here's our guide to the top activities in Niagara Falls at night. There's something for everyone on this list. Let's get started:
Niagara Falls Nightlife Fireworks Show Over the Falls
Niagara Falls is stunning during the day, and you'll no doubt want to enjoy famous local attractions like the Hornblower Niagara Cruise, Journey Behind the Falls, and the Whirlpool Aero Car.
But once the sun goes down, you can enjoy a delightful fireworks show over the Falls every Friday, Saturday, and Sunday night at 10:00 p.m. Take in the show from your Fallsview hotel room or watch it from Queen Victoria Park.
While the fireworks show is limited to summer weekend nights, the Falls are illuminated with LED lights every night of the year!
The Falls were first illuminated in 1860, and though the technology has evolved over the years, the nightly illumination of the Falls has become a tradition.
Today, the Falls are illuminated in a variety of colors that change depending on the occasion, and hours of illumination also vary depending on the time of year.
And what better place to soak it all in than the Niagara Skywheel? The Skywheel is a big Ferris wheel that extends high above the falls, offering a great view of the surroundings.
The Skywheel reaches 175-feet in height, offering a gorgeous, panoramic view from a climate-controlled gondola. Tickets are $14 CDN for adults, and $7 CDN for children. The Skywheel is open day and night, but we recommend the view at night, especially if you can catch the fireworks.
Eat at One of the Town's Great Restaurants
Niagara Falls has restaurants for every budget and mood. Enjoy delicious Italian cuisine at La Cascate Pizzeria & Caffe, or sip local wines while munching on farm-to-table dishes at Weinkeller.
Kick back with some pho, grab some old-fashioned, North American-style comfort food, or sink your teeth into the best breakfast in Niagara at the Flying Saucer Drive-In.
With so many to choose from, you can enjoy one of the best restaurants in Niagara Falls every night of your trip, without eating at the same place twice.
Or if you just want to browse the area and decide, there's no better option than a stroll down Lundy's Lane. Lundy's Lane is basically "main street" of Niagara Falls.
The tourist-y street stretches right down to the falls. It's lined with plenty of places to eat and drink. So if you're undecided on what to do for dinner, a quick walk down Lundy's should spark your imagination.
Do Some Gambling at the Fallsview Casino
Hoping to strike it rich? Take your chances at the Niagara Fallsview Casino Resort, where you can enjoy 200,000 square feet of slots, table games, events, and tournaments.
Take in stunning views of the Falls while you enjoy more than 3,000 slot machines, more than 100 gaming tables, and a meal at the Fallsview restaurant.
The resort also offers an indoor pool, spa, luxury hotel rooms, and live performances.
Go Dancing at One of the Area's Hip Nightclubs
Sample local wines at one of Niagara Falls' trendy wine bars, and follow up with a night out dancing at one of the area's hot nightclubs.
The Hard Rock Night Club offers views of the Falls from the dance floor, the world's largest disco ball, an 18,000-watt sound system, a balcony, and a Falls Avenue Patio.
Garage doors open up at night to let in the fresh air and the sights and sounds of the Falls.
Of course, there are plenty of other nightclubs in Niagara Falls.
The Clifton Hill district is home to The Beer Garden, an outdoor venue that's perfect on a warm summer night.
Other popular nightclubs in the Clifton Hill district include The Lake of Restoration, the Dragonfly Nightclub, and Jack's Cantina.
Catch Some Live Entertainment
If live entertainment is more your scene, then Niagara Falls has you covered. Downtown Niagara Falls offers plenty of spots for live music, shows, and all sorts of entertainment options. From a quaint performance at a bar, to a large, concert environment, Niagara Falls has it.
How about a stand-up comedy show? Yuk Yuk's Niagara Falls is part of Canada's most popular chain of stand-up comedy clubs – Yuk Yuk's. Featuring premiere talent from across Canada (and elsewhere), Yuk Yuk's has developed a reputation for showcasing only the best, and many big names in stand-up got their start here.
Or, you could head to the Greg Frewin Theater to catch a magic show. The Greg Frewin Theatre is a great place for dinner-and-a-show, featuring the magic of (you guessed it) Greg Frewin, an International Grand Champion of magic. It's a Vegas-style performance, with all the flash, glitz, and wonderment. If you're in the mood for a classic magic show, this is it.
Fallsview Casino also hosts live events in its Avalon Theatre room, or in its partner building, the Fallsview Entertainment Center. Mostly live music, with concerts from some pretty huge acts. Check the schedule before you go, and grab tickets in advance. Once you're done, head to the casino floor for some fun!
Conclusion
As you can see, there's plenty to do in Niagara Falls, and we've only covered the Canadian side! Whether you're looking to eat, drink, or sit back and enjoy a show, there are plenty of options. Use our guide above to pick the option that most appeals to you. Niagara Falls offers so much to do, all centered around one of the true wonders of the world!