We had about a month left in Malaysia before our trip down to Singapore in June and needed to find a place where we could relax and work for a while. Melaka turned out to be the perfect place for this, and we ended up staying there for the whole month – with it becoming our favorite city in Malaysia!
Meet the Locals
The people in Melaka are very relaxed and welcoming, and it didn't take very long until many of them started recognizing us and treating us like locals.
While the city is pretty close to the cosmopolitan capital Kuala Lumpur, Melaka has an entirely different vibe. Hurry was not a known word in this place, everybody took their time, and you could sit and do nothing at all, without feeling bad for it.
The hands on the clock tower on the main square had stopped at half past two, but nobody seemed to have bothered to change it (or even noticed?) for a long time, perhaps because time is irrelevant there anyway.
Melaka is True Land Of Smiles
What I noticed about Malaysia in general was even more obvious in Melaka – this is the true land of smiles! In contrary to many countries, people in Malaysia smile just for the sake of smiling, nothing else.
It is such a freeing feeling to know that the person smiling at you doesn't want anything in return but a smile from you too. In many countries the only smiles you get are when someone wants something from you, most often your business.
When they want to sell you something, they smile – if they don't, they won't bother. In Malaysia, people smile a lot, and they do it because they simply want to, especially in Melaka Malaysia.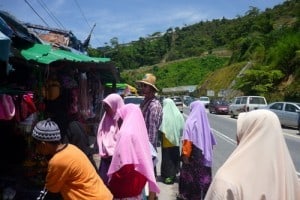 Explore the Diverse History
Because of Melaka's interesting history, with Dutch, British and Portuguese settlers, there is a fun diversity there.
You'll find Dutch inspired houses, Portuguese inspired food, and shoes and traditions from the Nyonya people (Chinese-Malay).
Sitting by one of the cafes lining the (Dutch) canal was one of my favorite things to do, although you could get quite tired having to always wave back at every tour boat and fishing boat that passed by on the canal.
Yes, waving to each other was like an unwritten law there..!
Every Day Is A Holiday in Melaka
It is sometimes a little difficult to travel in Malaysia without anything pre-planned.
Malaysians themselves love to travel in their own country, and with all the holidays they have hotels are fully booked very often.
I was not surprised to find out that Malaysia has the most holidays in the whole world – it literally felt as though every second day was some sort of holiday!
Open-Minded
My experience with Malaysians is that they are very open-minded to other cultures and traditions. This became especially clear to me when a group of teenage girls came up to me one day in a mall for an interview for their school project.
They immediately started showering me with compliments: "You look so fashionable today!", "I love your blonde hair!", they said while touching my hair and smiling.
This was so funny, because the contrast between us couldn't have been bigger – they were all wearing Tudong and Baju Kurung (veil and full-covering dresses), and there I was in a short sleeveless dress…
Which is your favorite city in Malaysia?