Updated:
Melaka – We had about a month left in Malaysia before our trip down to Singapore in June and needed to find a place where we could relax and work for a while.
Melaka turned out to be the perfect place for this, and we ended up staying there for the whole month – with it becoming our favorite city in Malaysia!
Time Stands Still in Melaka
The people in Melaka are very relaxed and welcoming, and it didn't take very long until many of them started recognizing us and treating us like locals.
While the city is pretty close to the cosmopolitan capital Kuala Lumpur, Melaka has an entirely different vibe.
Hurry was not a known word in this place, everybody took their time, and you could sit and do nothing at all, without feeling bad for it.
The hands on the clock tower on the main square had stopped at half past two, but nobody seemed to have bothered to change it (or even noticed?) for a long time, perhaps because time is irrelevant there anyway.
Melaka is True Land Of Smiles
What I noticed about Malaysia in general was even more obvious in Melaka – this is the true land of smiles!
In contrary to many countries, people in Malaysia smile just for the sake of smiling, nothing else.
It is such a freeing feeling to know that the person smiling at you doesn't want anything in return but a smile from you too.
In many countries the only smiles you get are when someone wants something from you, most often your business.
When they want to sell you something, they smile – if they don't, they won't bother.
In Malaysia, people smile a lot, and they do it because they simply want to, especially in Melaka Malaysia.
Melaka Malaysia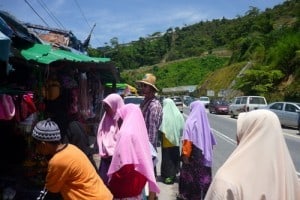 Because of Melaka's interesting history, with Dutch, British and Portuguese settlers, there is a fun diversity there.
You'll find Dutch inspired houses, Portuguese inspired food, and shoes and traditions from the Nyonya people (Chinese-Malay).
Sitting by one of the cafes lining the (Dutch) canal was one of my favorite things to do, although you could get quite tired having to always wave back at every tour boat and fishing boat that passed by on the canal.
Yes, waving to each other was like an unwritten law there..!
Every Day Is A Holiday in Melaka Malaysia
It is sometimes a little difficult to travel in Malaysia without anything pre-planned.
Malaysians themselves love to travel in their own country, and with all the holidays they have hotels are fully booked very often.
I was not surprised to find out that Malaysia has the most holidays in the whole world – it literally felt as though every second day was some sort of holiday!
Open-Minded
My experience with Malaysians is that they are very open-minded to other cultures and traditions.
This became especially clear to me when a group of teenage girls came up to me one day in a mall for an interview for their school project.
They immediately started showering me with compliments:
"You look so fashionable today!", "I love your blonde hair!", they said while touching my hair and smiling.
This was so funny, because the contrast between us couldn't have been bigger – they were all wearing Tudong and Baju Kurung (veil and full-covering dresses), and there I was in a short sleeveless dress…
Which is your favorite city in Malaysia?
Kuala Lumpur Malaysia City Guide
Kuala Lumpur, a city where everything is crazy in the most structured way you can imagine.
hard to put a finger on what this city really is simply because it's such a big mixture of everything.
The city is similar to much of their food style – inspired from all countries in Asia thrown into one pot, so what do you do in Malaysia?
Kuala Lumpur has really focused on two big pleasures of life – Shopping and Food.
You could probably spend a whole week in Kuala Lumpur never stepping your foot outside the malls.
It often feels like as soon as you step out of the tram you step into another mall.
Kuala Lumpur Malaysia Twin Towers
Start the morning by visiting the Petronas Towers, the second largest building in the world.
It's a beautiful building even on the outside, as is the shopping mall inside, Suria KLCC.
If you want you can even take a walk on the sky bridge which is the highest bridge between any towers in the world.
Travel to Kuala Lumpur
You can get free tickets if you get there first thing in the morning, the counter opens at 8am so be there then or at least 8.30.
On your ticket it says what time you should be able to come back and allowed to walk on the tower, but you won't be allowed to go up right after getting the ticket.
There are normally massive crowds there on a daily basis!
Shopping in Kuala Lumpur
The shopping mall in the twin towers was just a preview for what is coming up.
Kuala Lumpur has 66 shopping malls to spend your cash. Some of them are really beautiful inside and there are often happenings going on in the malls, all from fat-loss beauty competitions to the new exclusive watch shows.
In Kuala Lumpur we noticed how many of the women put effort into matching everything they wore:
The shoes with the bag with the dress with the scarf etc.
But these three women sure take the price:
Not only did they match their outfits with each other, they matched it with the shopping mall they were going to!
There is not a chance you will be able to visit all the shopping malls, but take a visit to Lot 10 (beautiful architecture inside), Sungei Wang Plaza, Bukit Bintang Plaza, Star Hill Gallery, KL Plaza, Pavilion and Berjaya times Square (HUGE).
Shopping in the Golden triangle is easy as the shopping malls are so close to each other, you can walk out of a mall and into another in a matter of seconds.
Grab a bite to eat at Jalan Alor
After some shopping you might want to sit down and rest your feet while having a nice lunch.
Food is the most important thing for Malaysians, and thanks to the variety of cultures here, you will find the food choices are many.
Jalan Alor, a street in the middle of the Golden Triangle has countless of food stalls and restaurants where you can choose whatever you like to eat.
Kuala Lumpur Independence Square
Visit the Independence square (Dataran Merdeka) where Malaysia's independence was declared in 1957.
Right in front of the impressive Sultan Abdul Samad building, and other historical buildings such as the old railway station and the St. Mary Cathedral which is over a hundred years old.
It's quite nice with the fountain and the flag poles lined up along the square.
Kuala Lumpur Authentic Feel in Kampung Baru
Have an authentic Malay dinner in Kampung Baru.
This area has a very authentic Malay feel to it, and since the area is trying to stand against the modern developments in the city they have preserved the traditional Malay style, and among traditional houses and clothing there is also a lot of typical Malay food to find here.
Here you will get a good insight in the traditional Malay culture.
Bargains in Chinatown
Walk through China Town and bargain some fake copies or try the street food.
Do some shopping along the night market in Jalan Petaling.
Here the shopping is completely different from what you experienced in the fancy shopping mall earlier this morning.
What's amazing isn't the stuff they sell, but the contradiction and the sudden changes in the city, which you can also find while walking through Indian Town.
Party hard in Bukit Bintang
Unless your feet are tired from the busy day, you can go and enjoy the busy night life in Jalan Bukit Bintang, a street full of pubs, clubs, open air cafes, street performances etc. Everything you need for a good night out!
For me this photo represents the good and evil – Nature's gift – and Kit Kat…
Kit Kat, produced by Nestlé, is a company responsible for the diminishing forest and soon to be extinct Orangutans in Borneo, Malaysia.
They destroy the native forest, make it impossible for the native animals and tribe people to survive in the new desert of only Palm Oil trees.
Roomorama In Kuala Lumpur, Malaysia
Admiring the most iconic building in Kuala Lumpur – the Petronas Towers, while at the same time floating on your back in an infinity pool, just doesn't make any sense – it simply would be too good to be true.
Or, so we thought…
While searching for an apartment in Kuala Lumpur, we managed to find an unbelievable place to stay, right opposite the famous Twin Towers in the middle of the city.
We stayed for 3 nights at Marc Residence, a luxury apartment complex which offered everything you could want:
Two large pools (one literally with a view of the Petronas Towers), a tennis court, fully equipped gym, sauna, reading room with free wifi, mini mart, laundry and a cafe.
Booking online with Roomorama went really smoothly: you find a place you want, send an inquiry to the host, and if it's available, the host will get back to you and offer you the place.
If it is unavailable, or if you simply want to make it easier for yourself, you can use the "Shout Out" feature.
Where you add the city you'll be visiting, the dates, number of guests, and write a short message.
This message will be sent off to all the hosts in the city you'll be visiting, who can then get back to you with their offers.
Sometimes you meet the host before moving in, but often the host arranges everything so that this isn't necessary.
We picked up the keys from the concierge at the reception, and once we had moved into the studio apartment, we sent the host a "payment code" so that she could collect the money.
It is a very safe system, preventing hosts from taking the money before the guests have checked in and made sure that everything is fine.
Our experience with Roomorama was great as always, and anyone looking for apartments with that extra flair and a great location should look into using Roomorama for their next trip.
The Nest Guesthouse In Kuala Lumpur REVIEW
Centrally located in the heart of Kuala Lumpur, you'll find The Nest Guesthouse, one of the top rated B&B's in the city.
The reason why people like this place so much, is simple:
Owners have truly understood what it takes to make their guests feel comfortable and enjoy their stay.
"One of the most important things about a good guesthouse, is the vibe" says Lupo, one of the owners.
When you enter the guesthouse you immediately leave the busy, chaotic streets of KL behind and feel right at home.
The lounge has a nice vibe with comfy couches where you can watch movies, read magazines, and meet other travelers.
The bedrooms are bright and spacious, and the common kitchen with free tea/coffee and breakfast, is immaculately clean.
But what made us really appreciate this place was the small things that other guesthouses in Asia, and anywhere for that matter, often tend to miss:
Cleanliness, the modern designs, and the attention to small details – such as the aromatherapy shower gel in the bathrooms and the super fast high-speed wifi throughout the building.
For those who don't have laptops there are two computers in the lounge you can use for free.
The location is great, tucked away on a smaller street in a neighborhood with heaps of great restaurants, bars, shopping malls and street markets nearby.
It's a great guesthouse at a good price, in a location close to almost everything, and we would definitely stay at the Nest Guesthouse again next time we visit KL.
Changes In Kuala Lumpur
Meanwhile, in Kuala Lumpur, Malaysia, things didn't seem to have changed that much.
It had been two years since we were there last time, so after spending some time in Southern Thailand we decided to head down to Malaysia to see what had changed.
We went to the same hostel we had stayed at last time, and everything was still the same.
We went to India street, and found the same restaurants which looked the same as last time.
The only thing that seemed to have changed was the old graffiti tag on a wall, which was now half painted over