Updated:
Lyon France is one of the most beautiful and atmospheric cities in France where past and present, old traditions and new trends live side by side and add a quirky touch to the city.
We spent two weeks staying in an apartment in Vieux Lyon (old town), and had a chance to see the city from a local perspective and find out what it would take to become "one of them".
To blend in with the locals in Lyon you simply have to do what they do and …
Get Yourself A "Kick Scooter"
How to be a Local in Lyon France
A very peculiar detail we found in Lyon was that everyone, adults and children alike, loved to get around the city on kick scooters – you know the ones every kid on the block had in the late 90's!
The trend quickly faded and became uncool in the rest of the world, but in Lyon the kick scooter business is thriving.
Fancy girls in high heels and businessmen in suits sweep past on their kick scooters every few minutes – so the first step to becoming a local in Lyon is to get yourself one of those.
Always Buy 2 Baguettes
Of all assumptions the French are associated with, their love for baguettes is indeed one that is true.
Every day, no matter what time it is, you will see people walking down the street on their way to work, lunch or home, carrying not one – but two, baguettes.
It was a rarity to see someone holding just one baguette, and we sometimes got a funny look from the baker when asking for one rather than two – judging by what we saw on the street, one baguette is for munching on while you're on your way home, and the other one for lunch or dinner.
So next time you buy yourself a baguette, get two… 😉
Buy Your Food At The Right Places
Lyon is a foodie mecca, so don't resort to buying all your food from the supermarket – in fact, good supermarkets are difficult to find in Lyon, perhaps because the locals prefer to shop elsewhere.
From Tuesday to Saturday there is a morning market (St Antoine Market) along the Saône River on Quai St-Antoine where locals go to buy food, flowers, wine and delicacies.
Stalls are lined up along the river offering a huge variety of local wines, meat, cheese straight from the farm, fresh vegetables and fruit, grilled chicken, bread, cakes and pastries.
Anything French you're looking for, you will be sure to find on this market.
Behind one stall they serve massive oyster plates and a glass of white wine as though it was fast food.
Can it get any more French than this?!
Once you zoom off on your adult kick scooter on your way to the local market to buy your daily dose of 2 baguettes – you know you've become a local in Lyon.
Have you been to Lyon?
What did you think about the city?
Capturing The Essence of Lyon France
So far, Lyon is my favorite city in France. It has all the benefits of a cosmopolitan city but it feels more like a small town and has a great laid-back atmosphere.
Although there aren't many attractions per se, it's a wonderful city to just wander around in soaking up the atmosphere and all the "Frenchness" surrounding you.
Getting to Lyon France:
Lyon–Saint Exupéry Airport makes it easy to reach the city from all over Europe with several great flights going between UK (Birmingham, London-Luton and Dublin are just a few).
You can use websites for parking your car at the airport in Birmingham and Luton, and can book your parking there and at other airport locations on their website.
From the airport you can take the tram-train Rhônexpress to the city for €13 one-way (30 min) – the train is a more convenient way of reaching Lyon with three stations to arrive at, Part-Dieu station being the most central one.
These three things are what for me really capture the essence of Lyon…
Lyon France City Of Food
Lyon prides itself to be France's best food capital, and it truly is – that is, if you're a fan of pig cooked in a hundred different ways..!
One of the main things to do in Lyon is to dine at the many Bouchons (traditional Lyonnaise restaurants), but the menus are excessively meat heavy so there wasn't much to choose from for vegetarians like us.
Instead, we decided to explore Lyon's sweets and snacks, which fortunately there was plenty of!
What to eat in Lyon France
Make sure you try the Praline tart and St Martin cheese – two local specialties that are really tasty.
Also make sure to check out the St-Antoine market where stalls sell plenty of local specialties and delicacies – especially during weekends!
Hidden Treasures in Lyon France
There is more to Lyon than what meets the eye – literally.
On the historical cobble stoned streets of Lyon are doors leading to old traboules, a type of traditional passageways that are used as a way of moving between buildings hidden from the outside.
It was primarily used by silk manufacturers to quickly transport their silk to the merchants by the river.
Textiles were also transported in the traboules as they were sheltered from bad weather.
Some of the traboules are said to date back to roman times, and many of them are from the medieval century.
The traboules are open to the public, and residents live in the buildings and use the traboules every day, but since people live there you should respect their privacy while you're there.
Where: Finding the traboules can be difficult without a map, but fortunately all the traboules in Vieux Lyon and Croix-Rousse are marked in red on the city map that you can get for free at the tourist office (with a numbered list above the fold).
There is also an app you can use to find your way.
Views And Gardens in Lyon France
When exploring the traboules you will be walking through some of Lyon's cutest neighborhoods and oldest areas, but after some time wandering the streets of Vieux Lyon and Roisse croux you may want to find a place to relax and enjoy some nature or views.
The most famous viewing point in Lyon has to be the Basilica of Notre-Dame de Fourvière, overlooking the whole city and its rivers.
The cathedral is truly beautiful, and the views are nice as well, but just like with the views from the Eiffel tower it's missing one important thing – the cathedral itself.
The best view in Lyon is the one overlooking the old town with the cathedral in the background, perched on top of the green hill – and you get it from the riverside walk along Quai des Célestins and Quai St-Antoine.
But the walk up to (or down from) the cathedral is worth the visit alone, as you walk through beautiful lush gardens and flower plantations. It's an oasis in the middle of the city.
Another lovely green area in Lyon is the Parc de la Tête d'Or, a huge park expanding 290 acres and a favorite picnic hangout among locals.
There is a lake, gardens, ponds with exotic birds and small open-air zoo that is free to visit.
These are just a few things that make Lyon so special, what are your favorite things about Lyon?
Lyon France Hacks – 5 Things to do in Lyon
France's third city is a bustle of boutiques, bistros, hidden passageways, riverside walks and historic architectural masterpieces.
There is a lot to do both in the city and the surrounding countryside but here is a short list of things you have to do in Lyon!
Eat in Lyon France!
Lyon is France's gastronomic capital and you could spend your whole trip just going from romantic bistros to gourmet restaurants and sidewalk cafes.
Many of the "must-eat" dishes can be sampled in the many "Bouchon", intimate restaurants which serve traditional Lyonnais cuisine in multi-course meals.
Try the offal (tripe, bone marrow and pork offal sausages), fish dumplings and chicken liver cake.
Café de la Cloche is a good choice for trying the Lyon café culture and chocoholics can enjoy the Chokola chocolate-only shop!
Wash down your meal with some of the local wine like Brouilly.
Vieux-Lyon (Old Lyon) in Lyon France
Wander through the meandering pedestrian cobbled streets, take in the historic buildings, stores, craftsmen shops and sidewalk cafes.
You can see Renaissance and Medieval architecture and this is one of Europe's largest concentrations of Renaissance architecture.
The buildings which have struggled to survive have been lovingly restored and renewed.
Within Old Lyon is the Musee des Beaux-Arts de Lyon and St. Jean cathedral.
Traboules
These are tunnel-like passage ways which wend their way between and even through houses.
The majority of traboules are found here in Lyon.
You may just follow a traboules which opens up to a secret garden or courtyard.
It is believed that the French resistance used these passages during the Second World War to hid from the Germans.
Saint John Cathedral in Lyon France
Although there is also the hill top Notre Dame de Fourviere Basillica, this one, the cathedral St. Jean is a 15th century masterpiece and a UNESCO World Heritage Site.
The Roman Catholic cathedral was built on the site of earlier churches and parts of the earlier structures dating back to the 6th century still remain.
The cathedral's most stunning feature is the astrological clock, a 13th century addition.
The church also has stunning stained glass windows and a beautiful rose window.
Parc de la Tete d'or (Golden Head Park)
This is one of Europe's largest parks (Disneyland Paris vs Walt Disney World Orlando – Which Is Better?) covering 290 acres, here you can enjoy the wide open green spaces, a small zoo, botanical gardens, rose gardens, a velodrome, greenhouses, a large lake, mini-golf, miniature train, sports grounds and a statue commemorating the 22nd G7 conference of 1996.
Enter through the ornate 1901 wrought iron Porte des enfants du Rhone.
The park is one of only a handful of parks in Lyon and is very popular. Come here to picnic, play or enjoy the attractions.
Nice France Hacks – Top Places To Visit
Nice France – Top Places To Visit is situated on the French Riviera, the city of Nice is nestled between the mountains and Mediterranean Sea in the Provence Côte d'Azur.
The city has mild temperatures throughout the year, and with its beaches, museums, monuments, coastal bars and restaurants – it is easy to see why it's such a popular holiday destination.
Below are some of the must see places in Nice…
Promenades des Anglais Nice France – Top Place To Visit
The Promenade des Anglais is a five-kilometer promenade along the beach, and one of the most popular attractions in town.
Walking along the avenue you will pass beautiful architecture, restaurants, shops and street vendors.
The area is also popular with locals who roller-blade, jog, cycle, walk or sit by the Promenade or, for short, La Prom, and is the perfect place for a romantic walk with your loved one.
Top Places To Visit Nice's Markets
Nice has markets scattered all over the city selling a variety of things.
The markets are the perfect place to prepare a picnic basket, with fresh bread, fruit, vegetables, pickles, meats and cheeses.
The Cours Saleya Flower Market provides for a wide array of ripe produce, sidewalk cafes, souvenir shops and flower shops selling bouquets of all sorts of colors, textures and scents.
There are also local cafes, shops and boutiques dotted around the market's edges.
St Nicholas Russian Orthodox Cathedral Nice France – Top Places To Visit
The St Nicholas Orthodox Cathedral is a 20th-century Russian cathedral that is a big contrast with the tropics of Nice.
It is locally known as Catherdale Orthodoxe Russe St-Nicolas, and features bright onion shaped domes and classic Russian design reminiscent of the USSR on the Côte d'Azur.
Place Massena Nice France
Place Massena is the main square of the city and is bordered by red ochre buildings of Italian architecture.
Is sees a constant flow of people among its bright buildings, many stopping to watch the statues that change color and the fountain.
On the square you will also find some great cafes and bistros, and street performers, especially during summer.
Matisse Museum Nice France
The Musée Matisse is a national museum devoted to the work of French painter Henri Matisse, including his depiction of the Nice shoreline. Also make sure to check out the museum shop.
Nice France – Top Beaches To Visit
The French Riviera has several beaches extending from Nice to Juan les Pins to Antibes.
They offer water activities along the shore and restaurants and bars, and the water is warm enough to swim in until late autumn.
Learning French
While people speak some English, having the ability to speak French would make things much easier.
But it's better to learn once you're there than trying to do it before you get there.
There are many opportunities available to those wishing to learn French in France.
Investing in French language learning will also be very beneficial when traveling to many other countries, as they speak French not only in France but in many other countries as well, especially in Africa.
Nice, France Timeless
It's called Nice the Beautiful, and this is no idle boast.
For free spirits looking for a cultural experience with a difference, Nice will call out, promising unforgettable memories.
Nice, the magic of this jewel of the Côte d'Azur is in its link between tradition and modernity, where visitors can absorb its historic atmosphere whilst enjoying the charisma of a cosmopolitan city.
It would take time to talk about everything Nice has to offer its visitors, but to help you get an idea of what is awaiting, here are a few suggestions to get you started.
Nice is renowned for its healthy air and mellow light, making it a favorite destination for the likes of Matisse and Chagall who regularly visited for inspiration.
With its warm climate and minimal rainfall in the high summer season, there are ample opportunities to combine sightseeing with relaxation.
Highly recommended is the old town, where you can wander the narrow streets, complemented by buildings with red tiled roofs, abundant open markets and intimate restaurants.
It is not difficult to imagine Matisse walking these curving walkways, taking in the atmosphere while contemplating a masterpiece.
Then there's the 19th century Opera de Nice, regularly offering a full program of public performances, and don't miss out on a visit to the 17th-century Nice cathedral, with its Baroque architecture and 10 chapels.
Take a walk up Castle Hill for spectacular views of the city, the Bay of Angels and, of course, the stunning cerulean blue of the Cote d'Azur in all its glory.
If you want to fully explore the city, you should sign up for a guided walk or one of the Nice bike tours.
From cultural monuments to delicious bakeries where you can enjoy coffee and cake on a terrace, you won't want to miss out on anything the city has to offer.
The Promenade des Anglais skirts the Bay of Angels, with Hotel Negresco's flamboyant facade facing onto the street.
There are vehicle-free zones in the city, including the Zone Piétonne which runs parallel to the promenade.
You can enjoy shopping in the small boutiques before sampling the rich cuisine the restaurants have to offer, including Spanish, Italian, Chinese and, not forgetting, Nicoise.
Visit the beautiful squares, such as the Place Rossetti which lies in the center of old Nice, where buildings are the color of red and yellow ochre and a magnificent fountain and the cathedral of Sainte-Reparate sit alongside cafes and superb ice cream parlors.
Come nightfall, the lighting of the square, together with the music and the tempting smells emanating from the restaurants, make it a very inviting spot.
It's also a city that invites contemplation, not only at its various and varied religious buildings dotted around its center, but at the large Monument aux Morts, a war memorial carved into Castle Hill in memory of the city's men who fell during the war.
Of all the city's churches, the St Nicholas Orthodox Cathedral, designed in the style of Russian Orthodox cathedrals, is the most impressive.
Reflecting the eclectic mix of visitors to Nice over the centuries, this 20th-century church was built as a tribute to a Russian royal who died in the city.
Over the years, Nice has drawn in many admirers from across the globe and continues to do so today, enchanting new generations with its graceful glamour.
Nice offers you a quintessentially French experience, with the opportunity to savor its bright lights and exquisite cuisine against a cultural backdrop that gives you a glimpse of the past and moments of peaceful reflection intertwined with a stylish way of life.
Don't forget to book your airport transfer with Holiday Transfers when you visit!
Provincial and Exotic, it's Brittany France
If there's one place in Europe that steals many hearts, that would be Brittany, France.
Located in the north-west of France and referred to as "Little Brittain", Brittany is a cultural region full of architecture, arts, music, great cuisine and festivals.
Known as a "magical destination", you will find scenery like no other in the world including beaches full of hidden coves, golden sand and charming towns.
One of France's most rugged regions, Brittany is more than just a spectacular coastline, history and architecture take center stage in this quaint town with is Celtic culture, museums, music and landmarks.
Brittany is France's well-kept secret hideaway.
There are a variety of choices when it comes to accommodations but holiday homes such as those provided by Casamundo will give you that local "home-away-from-home" feeling, giving you the opportunity to explore every detail of this culturally rich destination.
Brittany as the French Do
Life among the residents of Brittany is tranquil and yet, purposeful.
The French always make their daily chores look like a scene from a graceful ballet. Brittany offers many little rural lanes full of restaurants, hotels and shops.
No matter where you stay chances are you'll find enough to explore just a short walk away.
Find a quaint café, a bustling diner or just take part of the thriving cultural scene.
If you're in the mood for a little exploring, make sure you visit one of Brittany's islands, Île de Bréhat or Île de Sein are among the most popular ones.
There's also a vast amount of Cathedrals including Cathedral St-Pierre-St-Paul, which is one of France's last Gothic cathedrals.
You'll need more than a week to really enjoy all the area has to offer.
The walled city of Saint Malo is one of the more popular among tourists holding within it's walls all it's pure medieval character and activities.
When in France, do as the French do!
Pick between a rural or seaside setting, wake up to ocean breezes or the sight of acres of colorful flowers.
Take a dip in the outdoor pool or wander cobblestone streets in town.
A holiday home can certainly offer all this and more, make you feel like a local and give you enough time to explore all the details of it's ancient towns.
You'll enjoy the shops and sights found only in Brittany.
Saint Malo: Small Town, Big History
What is it about Saint-Malo that tempts tourists to board ferries to France?
What leads them to cross the English Channel in droves?
Historically, this stretch of water was dangerous, as it was the turf of the infamous corsairs."
These privateers pillaged ships and guarded their loot behind the city's heavily fortified walls.
Fortunately for visitors, Saint-Malo is more welcoming these days, and it is more than willing to share its current bounty of seafood and crêpes.
Here are some great ways to explore Saint-Malo:
Explore the City
A walk along the city's ancient walls or beach is the best way to start exploring the town.
Next, visitors can continue out to the Fort National or the Île du Grande Bé.
These sites are only accessible at low tide, and a modern-day Malouin rescue flotilla descends on those who time their visit poorly.
The Cathédral St-Vincent is another stop on every walking tour, as is the impressive Chateau.
The French government put it in place to help them keep tabs on the privateers, and visitors to La Maison de Corsaire can see firsthand how well all the 17th and 18th century plundering paid off.
A trip to the WWII memorial provides a sobering counterpoint – most of the city's ramparts were completely destroyed during the war.
Their careful reconstruction is a testament to both the city's determination and pride in its past.
Taste the French Cuisine
Saint-Malo's numerous cafés and crêperies are great places to grab a bite and wash it down with some local cider.
La Maison du Beurre is a paradise for dairy lovers, as they have several artisan cheeses and butters to sample.
Platters of oysters and mussels are served up pretty much everywhere, but connoisseurs should check out famed restaurant Le Chalut.
Those who prefer sea life that is alive and swimming should visit the Grand Aquarium instead.
Throughout the old town, charming shops open onto cobblestone streets and provide a pleasant afternoon diversion.
The Celtic Breton musicians about are yet another reminder of Saint-Malo's unique heritage.
Although the passage of time has altered this port city, it has changed less than one might think.
To stand on a pier, with salt on the air and boats creaking in their moorings, is to stand in the shoes of countless voyagers, past and present.
Many who plan a day trip to France chose Saint-Malo for its convenience, but this proud little city is a destination in its own right.
Top Spots To Visit In Northern France
As a child I spent many happy family holidays in France – living close to the south coast of the UK as we did, it was really easy to stick us kids in the car and catch a ferry from Dover to Calais, arriving on foreign soil ready to explore within a few hours.
I go back there still – here are three of my favorite spots, all are only an hour or two's drive from Calais.
Le Touquet – Ideal For Beach People
The quirky coastal town of Le Touquet around an hour west along the coast road from Calais used to be a hangout for film stars and a playground for politicians back in the 1920s and 30s.
Rich and powerful Parisians built exuberant villas here, a casino opened and the airport ferried in moneyed Brits from across the channel – today, the place has a bit of an air of faded grandeur about it which I really love.
You can hop on a bicycle and pedal your way around those grand villas – many of them with interesting Art Deco architectural flourishes, some now housing interesting art exhibitions.
The local produce market in the center of the town buzzes with life, bursting with all manner of fruits, vegetable, fish and fowl – and then there's the beach, which of course was what attracted the rich and famous in the first place.
Giverny – Lovely For Art Lovers
France has given the world its fair share of genuinely great artists and few come much more impact than Monet.
At the forefront of the Impressionist movement which sought to depict hyper realistic scenes using tiny dabs of bright paint – Monet painted many of his most famous canvases at his house and gardens in Giverny which lies around 3 hours inland from Calais on the banks of the River Seine.
Monet lived here from 1883 to his death in 1926 and devoted much of his time to creating the most amazingly vibrant gardens – wonderfully laid-out expanses of brilliant blooms interspersed with placid lakes, shady bowers and delicate footbridges.
From these views were born some of his most famous works of art – in particular the vast canvases of water lilies, many with a slender Japanese footbridge in the background.
Laon: Wonderful For Romance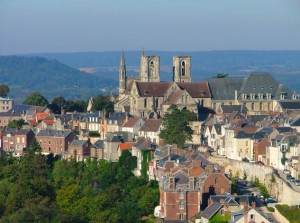 The medieval town of Laon sits atop an escarpment on the wide plains east of Paris – it's also around a 3 hour drive from Calais – down the A26 autoroute – but well worth the traveling time, particularly if you're looking for a cozy weekend break á deux without many other tourists around.
The big auto route going right past the door means many visitors to this part of France cruise right on by and that's why I particularly like it – it's surprisingly un-visited.
The tightly contoured hillside it sits on means that the old town is a delightful labyrinth of narrow old cobbled streets and wooden beamed houses.
It's ideal for just strolling – sudden abrupt views of unexpected vastness arrive around corners as you reach stretches of the old ramparts.
And then, sat right in the midst of it all, is the massive cathedral – a Gothic fortress of the most incredible proportions adorned with all manner of carvings and statues.
In the evenings the town is quiet and cozy, ideal for a meander and a spot of food at one of the handful of local bars and creperies.
Getting there: P&O Ferries has regular sailings every day from Dover to Calais – the crossing takes just 90 minutes and if you're lucky you'll get to travel aboard their smart new super ferry the Spirit of France.
Cycling tour of France
France is a wonderful country with so many exciting cycling trails.
It is arguably the best country in the world for a cycling holiday.
You can go on a challenging slog up a Tour de France col or a gentle stroll between France's wonderful natural landscapes and pretty villages.
You can explore the great cities of France on two wheels as well.
As cycling is so very popular around France, you can find some local cycling races and championships arranged on your French cycling tour.