Updated:
Skopje Macedonia – Since our planning was so rushed, we decided to skip the beautiful lake Ohrid and stay in the capital – apparently, the capital city isn't known to be a great hot spot for tourists.
"The most popular thing to do in Skopje is to leave" – people said on the internet.
Although I have to admit it was a funny answer to my question of things to do in Skopje, like many times before, other people's thoughts of a place wouldn't keep me from going there.
Arriving in Skopje I kind of realize what they were talking about.
The train station looked so run down that we wondered if it was closing down, and the tourism information center was nowhere to be seen.
People kept pointing in opposite directions leading to nowhere, and we soon realized that there was no such thing as a tourist information center in Skopje, and no real maps of the city either.
And with a video episode to film, we were wondering how it would turn out…travel movie!
Skopje Macedonia
Skopje Macedonia isn't the most popular place to visit in FYR Macedonia, (Lake Ohrid is) but after reading online that one of the most popular things to do in Skopje was to leave – I knew we had to stay around for a few days and give the city a chance. Do We Travel to Escape Reality?
Skopje seems to have drawn the short end of the straw when it comes to tourism in Balkans.
It's not a bad city at all, it's just not as great as the other ones, and Skopje seems to know it, as there was no tourism office anywhere, no guides about the city and few tourists on the streets.
This was both a good and a bad thing, in my opinion.
It was bad because we weren't mind-blown by the things we saw, but it was good because the city was so 'non-touristic' and "real", and most of the people seemed really happy when they saw some tourists in their city.
The people was the most interesting experience in Skopje.
As in many cities, some locals were really helpful, outgoing, and friendly.
While some didn't like tourists and said bad things about you to their friends or in your face.
This was no big deal, you can experience that anywhere – but the difference in Skopje was that you could never tell which person would fall into the two categories.
Usually you can tell who to avoid asking for things and who will be helpful, in Skopje, this didn't work at all!
And while I have to admit it wasn't Venice, and it wasn't Bled but I personally think it really was such a CUTE little town.
Walking through the old town, and having the locals yell out "Skopje GOOD!" as we filmed the narrow streets, really made us feel so welcome.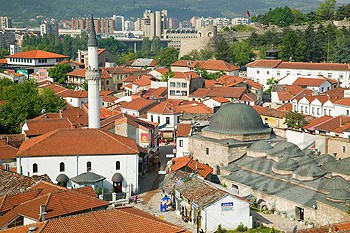 So I definitely recommend it as a place to visit if even only for a few days while on your way to the popular Lake Ohrid.
We hope you enjoyed our Skopje video.
The main attraction in Skopje for example, the castle, had suddenly closed without any warning.
The tour groups coming in buses all the way from other places like Ohrid, only to see this castle, were rudely informed in the gates that it was closed due to "politics", and disappointed they had to go back to their buses and return home.
But once we got to the city center, it turned out not to be too difficult to fill the day.
Skopje was actually a really nice place, and most people seemed so happy to see the very few tourists that were strolling the streets.
"Skopje GOOD!" a man yelled at us on the street and smiled proudly.
"Welcome to Skopje!" someone else said on a market, and asked us to take a photo of him, while the neighboring stall keepers laughed without being able to hide their excitement.
Being one of the few tourists there we had many people staring at us, and when asking for directions in a bar the worker would actually drop everything, come with us outside and lead us through the whole city to show us his favorite cafe.
This is what I love about smaller places, often in places like this people take more time for each other and treat you with a lot more respect.
It's all in the little things…which is why I travel