Inspiring Travel Movies – Sometimes I feel a bit lost and confused, and I start to question my actions and why I travel, but after watching these movies they helped me to remember again why I travel, and feel inspired to continue traveling and living this lifestyle.
A lifestyle without working for someone else or getting a 4 year long education doing something I don't really want to do.
For years Hollywood has taken us to places we never knew existed!
Movies can give you the travel bug in an instant, they're so good at giving you that "wish you were there" feeling!
Traditional movies like The Sound of Music took us early on to scenes of historical Europe like the town of Salzburg in Austria.
My Top Inspiring Travel Movies
More modern movies like The Bucket List not only got us started on our own personal list but gave us amazing scenes of the Himalayas and the pyramids in Egypt.
Need inspiration to buy your next ticket?
Here's great Inspiring Travel Movies that will inspire you to pack your bags
If you ever feel in doubt of why you're traveling, or why you broke out of the 9 to 5 cubicle, watch these movies and you'll remember:
The Bucket List
Another favorite, The Bucket List, with great actors, Morgan Freeman and Jack Nicholson, has viewers thinking about their own travel bucket lists!


The Bucket List is a movie about two men – Edward, a billionaire hospital boss and Carter, a broke mechanic, who have both been diagnosed with lung cancer and are sharing the same room at the hospital.
Carter writes a bucket list of things to do before he dies, but after hearing that he only has a year to live, he throws the list away.
Edward convinces Carter to do everything on his list, which he also pays for, and they're off on a big world adventure.
I think we all have a bucket list of things we want to do, and I don't want to find myself 80 years old realizing that I never did all of those things I had on my bucket list.
That I got caught up in the every day life, spent most of my life working at a job I didn't like, and never traveled to any of the places I dreamed of.
This movie is a great reminder of this and keeps me on the right track.
A Map for Saturday
Two weeks ago I finally took the time to watch a movie that I've had for a while but just had never taken the time to watch.
It's called "A map for Saturday", and for those who haven't seen it it's an independent film about traveling and backpacking.
Brook travels the world, shares his thoughts and interviews people he meets along the way about their thoughts and experiences from traveling.
I actually thought it was a pretty good movie, he reminds you over and over how amazing traveling is, why we do it and all the things we learn from it.
Last Stop For Paul
This is a great independent movie (based on a true story) about two guys backpacking the world in two weeks (!), spreading one of the guy's dead friend's ashes in each country as they go.
What I found MOST inspiring about the movie wasn't so much the story itself, but the way they produced it.
They just had a loose script and idea, and improvised on the spot.
All stand-in characters in the movie were just people they found on the street – I absolutely love it!
It inspired me to travel and film our own rtw trip (hint hint), and they seemed to have a great time doing it!
The Sound of Music
This old favorite received 5 Academy awards.
It takes place in Salzburg, Austria in 1965 with stars, Julie Andrews and Christopher Plummer.


We are all familiar with the story of the nun who becomes governess to 7 children, but did you know that the Nonnberg Abbey was originally built in the year 714?
Other amazing inspiring locations from this movie are the rolling hills in Salzburg, the Frohnburg Palace, Residenz Square, Felsenreitschule and the famous Sound of Music Pavilion where Maria sang "I am 16 going on 17".
Midnight in Paris
Written and produced by Woody Allen, this movie takes us back in time to some wonderful inspirational scenes of historic Paris back in the early 1920's.


If romance is on your mind and you're up for traveling with your loved one, this movie is a must watch!
Walk the streets of Paris, visit Notre Dame, sit at a little outdoor café, walk Versailles and visit the Sacre-Coeur.
Worst Travel Movie Companions
Think about what happens in your favorite road trip movies.
Two best friends set out together on an epic journey.
They fight, it makes the plot line more interesting, and both emerge even closer at the end, their lives more enriched and fulfilled (well, in most movies anyway).
In real life, however, conflict while traveling isn't anywhere near as exciting.
Take a cue from some of your favorite films, and take note of what not to look for in a travel buddy.
Dr. Gonzo – Fear and Loathing in Las Vegas (1998)
Played by Benicio del Torro, Dr. Gonzo is a perfect example of who not to take on a road trip – whether you've got a boot full of drugs or not.
Nobody wants a psychotic travel companion who loudly sings the wrong tune when listening to the radio, pulls knives on random passers-by, tries to electrocute themselves in the bathtub, and abandons you while you're in a drug-fueled haze and foots you with the hotel bill.
Gollum – The Lord of the Rings Trilogy (2001 – 2003)
Whether you're trekking across barren plains to Mordor where peril and near-death lies around the corner, or booking a couple of chilled domestic flights to your closest city, it goes without saying that your travel companion should not be constantly trying to steal your stuff and choke you to death while you're sleeping – a few things Gollum is a little guilty of.
Neal Page – Planes Trains and Automobiles (1987)
Played by Steve Martin, if you have a friend who's constantly frustrated, angry and tries to ditch you several times throughout your journey, consider another travel buddy.
Sure, it may be funny to watch them scream at airport employees or rental car companies once or twice, but it will get embarrassing if they're constantly having a tantrum.
Richard Hoover – Little Miss Sunshine (2006)
While travelling with your dysfunctional family is a bad idea at the best of times, a particularly uptight and neurotic parent or travel companion like Richard Hoover, played by Greg Kinnear, is the worst.
Annoying attempts at motivational speeches, unhelpful diet tips and constant over-analyses of everybody's personality types will soon get very tiring.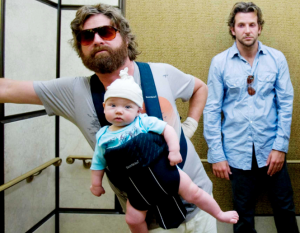 Alan Garner – The Hangover (2009)
We've all got a friend who's a little socially awkward, at times inappropriate and just a little darn weird.
But if said friend decides to slip you and your other travel companions a roofie one night just like Zach Galifinakis' character does in The Hangover – you're probably better off leaving them at home…