Updated:
How to Find Leisure and Luxury in Niagara Falls – Niagara Falls likes to brag that it receives more than 8 million visitors per year, making it one of the most popular vacation destinations in the world and preferred Great Lakes Destinations.
If you do the math, the average daily attendance of Niagara Falls Everything You Didn't Know You Could Do at Niagara Falls is over 21,000.
Which means when you are trying to get a good view of the majestic, thundering falls, you are jockeying with literal thousands of others who are trying to do the same.
To most leisure travelers, that doesn't sound like a good time.
Still, Niagara Falls is a wonder and why so may are visiting Niagara Falls yearly.
Among the largest waterfalls in the world — so it remains on many tourists' bucket lists.
Traveling to Canada in the Winter
How to Find Luxury in Niagara Falls
The truth is that many Niagara Falls hotels do offer outstandingly luxurious amenities, so it isn't difficult to enjoy a relaxing and rewarding trip to Niagara Falls if you know where to look.
Here is a quick and easy guide to finding leisure in Niagara Falls, so you can see the famous and exhilarating falls yourself.
How to Find Leisure and Luxury in Niagara Falls
Top Hotels for a Relaxing Stay
Whenever you are planning a trip to Niagara Falls, you have an important decision to make: the American side or the Canadian side?
While you can travel back and forth across the border (assuming you have the proper paperwork) the trip takes time that might better be spent on other activities around the falls.
Generally, you should choose a side and stick to it, and the side you choose should be selected based on the kind of Niagara vacation you seek.
The American side of the falls is primarily filled with national forestland, meaning there aren't many amenities to make your stay feel luxurious.
While the American side is worth visiting if you want a outdoors-focused, camping adventure trip, this time around you should set your sights on the Canadian side.
Your luxury Niagara Falls hotel Canada options are far from limited.
There are an abundance of hotels and resorts that combine high-class accommodations with shopping, dining and entertainment opportunities.
For example, Falls Avenue Resort offers rooms with stunning views of Niagara Falls from four different hotels: Clifton Victoria Inn at the Falls, Crowne Plaza Fallsview, Sheraton on the Falls and the Skyline Hotel.
As well as on-premises access to the Fallsview Indoor Waterpark, the Christienne Fallsview Spa, Clifton Hill and convenient shuttles to Casino Niagara.
Why bother staying somewhere less convenient when you are after a leisurely trip?
Queen Victoria Park is a Secret Niagara Falls Viewing Spots
Queen Victoria Park is a must-visit viewing spot for the world-famous waterfalls.
Just a few steps from most hotels on the Canadian side, the park provides sweeping views of both Horseshoe Falls and American and Bridal Falls on the U.S. side.
However, Queen Victoria Park is also devastatingly crowded for most of the year; not only is it a common place for tourists to linger, taking pictures and whatnot, but it is also a popular event space for the occasional festival.
For instance, at the end of the year, Queen Victoria Park is the location for the annual New Year's Eve concert.
Thus, it is wise to get your pics in Queen Victoria Park and head elsewhere for lingering views.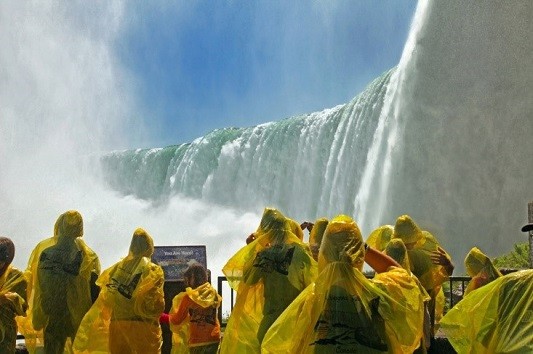 Some spots with a slower pace and greater personal space include:
Oakes Garden Theatre
Located at the base of Clifton Hill, this theatre allows you to step into its open pavilions, where you can catch panoramic views of all three waterfalls.
Niagara Skywheel
For a small entry fee, you can ride Canada's largest observation wheel to gain birds-eye views of the falls and surrounding countryside.
Hornblower Funicular
This incline railway has been resurrected to help transport visitors up and down the gorge, providing unique views of the falls the entire trip.
Luxury at Niagara Falls
Niagara Valley Best Wine Tasting Experiences
Perhaps the most leisurely and luxurious activity to participate in during a trip to Niagara Falls is a wine tasting tour.
Niagara Valley has a soil not unlike that of France; the soil is rich and fertile, the weather relatively temperate thanks to the surrounding lakes, and the grapes grow as if by magic, producing fantastic vintages.
Several vineyards and wineries in the area have won international awards, drawing critical attention and praise to the Niagara wine country.
There are roughly 400 winemakers spread around the Niagara Valley.
Much too many for you to try them all during one trip.
You might consider consulting your hotel's concierge for advice on convenient and quality wine adventures; most resorts offer discounts on tickets with certain tours, and you might even gain behind-the-scenes access to some vineyards thanks to your association with your accommodations.
There are ways to see and experience Niagara Falls without fighting against crowds of eager tourists.
By planning ahead and choosing options that take you away from the hustle and bustle, you can enjoy a quiet and relaxing trip to the falls.