Great Lakes Destinations – During the Late Pleistocene Era (roughly 126,000 to 11,700 years ago), the Laurentide Ice Sheet dominated the majority of northern North America.
The hulking ice sheet (reaching more than two miles high in specific areas) gouged and transformed the earth beneath.
Once the glaciers receded (12,000 to 10,000 years ago) the diverse and beautiful Great Lakes Region was born.
Covering eight states and Canada's Province of Ontario, the Great Lakes contain roughly 20% of the planet's fresh surface water.
Combined, the Great Lakes have more than 9,500 miles of coastline making it the perfect location for a host of outdoor activities.
Great Lakes Destinations
From activity packed metropolises to unique coastal communities, the Great Lakes Region has the ideal destination for your next big vacation.
Traverse City
Featuring a small town atmosphere, activities during all seasons, and a vibrant natural landscape, Traverse City is an excellent spot for a relaxing Michigan excursion.
Established in 1852 and home to more than 15,000 residents, this is the largest and one of the oldest cities on Michigan's Lower Peninsula.
Outdoor enthusiasts will find a nearly never-ending list of activities to enjoy, regardless of the season.
Warm weather months bring ample opportunities for hiking, fishing, boating, or just relaxing on the beach.
During the winter snowmobiling, snowshoeing, and skiing are the most prominent activities.
Make your way to the Sleeping Bear Dunes National Lakeshore for a variety of things to do and natural vistas.
The city also features a thriving artistic and performing arts community.
At the City Opera House (built in 1891) travelers can see performances by the Traverse City Orchestra, talks with luminaries, plays, musicals, and more.
The Interlochen Center for the Arts is ideal for anyone curious to learn about a new art form, and it features hundreds of concerts and events throughout the year.
With the local climate partially controlled by the waters of Lake Michigan, the area has become a hotbed for growing grapes and wine production.
The Leelanau Peninsula and Old Mission Peninsula are epicenters of the Traverse Wine Coast and boast more than 30 total vineyards.
Visitors taking a trip on the Leelanau Peninsula Wine Trail can sample wines and try pairings at more than 20 vineyards.
The relaxed atmosphere of Traverse City ensures visitors can set the pace of their experience.
There are few lines or waits, and the attractions and activities are in reasonable proximity to lodging providers.
After one trip to this community, you'll find out why it's visited by more than three million people annually.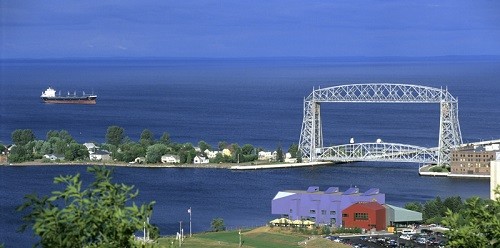 Duluth
Perched on the shores of Lake Superior (the largest freshwater lake on the planet), Duluth's pristine natural surroundings, attractions for all ages, and unique culture make it one of Minnesota's top travel destinations.
The city was named Duluth in 1857 to pay homage to French explorer Daniel Greysolon, Sieur du Lhut who helped to establish the area as a trading outpost during the mid-17th Century.
The natural beauty of the area has attracted a variety of artists, performers, and art collectors.
Sprinkled around downtown and surrounding areas visitors will find an impressive collection of art galleries including Waters of Superior, Siiviis of Sivertson Gallery, and Art Dock.
Those in search of performance art venues are in luck, The Duluth Playhouse offers a year-round schedule of world-class live theater, and the Minnesota Ballet performs a variety of full-length story ballets.
Visitors to the Zenith City will encounter a diverse culinary scene.
Whether you're into duck confit or an All-American hamburger, the city has it all and more.
The Duluth Grill was featured on the Food Network program Diners, Drive-Ins, and Dives and its menu is diverse.
Visitors will encounter a unique gourmet specialty market and eatery at the Northern Waters Smokehaus, a restaurant that utilizes local and sustainably raised meats and fish.
Located on and around the bluffs that rise high above Lake Superior, the city's surrounding natural landscape and opportunity for outdoor recreation attract people from across the world.
Duluth offers outdoor activities for every season and interest.
This winter wonderland features an abundance of trails for cross-country skiing and snowmobiling, as well as a handful of excellent downhill skiing areas.
The summer months treat visitors to lush landscapes, open waters, and about every warm weather outdoor activity that you can imagine.
Duluth's small-town vibe combined with its cosmopolitan attractions make it ideal for anyone.
Visitors will find plenty of room to operate as they experience all the city has to offer.
Once travelers get a taste for what the city has to offer, it won't take long to realize why Outside Magazine named Duluth as the "Best City Ever."
(photo credit: farlane – charlottes333 – nick farnhill – Janine Curry)