Updated:
Great Lakes Destinations – During the Late Pleistocene Era (roughly 126,000 to 11,700 years ago), the Laurentide Ice Sheet dominated the majority of northern North America.
The hulking ice sheet (reaching more than two miles high in specific areas) gouged and transformed the earth beneath.
Once the glaciers receded (12,000 to 10,000 years ago) the diverse and beautiful Great Lakes Region was born.
Covering eight states and Canada's Province of Ontario, the Great Lakes contain roughly 20% of the planet's fresh surface water.
Combined, the Great Lakes have more than 9,500 miles of coastline making it the perfect location for a host of outdoor activities.
Great Lakes Destinations
From activity packed metropolises to unique coastal communities, the Great Lakes Region has the ideal destination for your next big vacation.
Traverse City
Featuring a small town atmosphere, activities during all seasons, and a vibrant natural landscape, Traverse City is an excellent spot for a relaxing Michigan excursion.
Established in 1852 and home to more than 15,000 residents, this is the largest and one of the oldest cities on Michigan's Lower Peninsula.
Outdoor enthusiasts will find a nearly never-ending list of activities to enjoy, regardless of the season.
Warm weather months bring ample opportunities for hiking, fishing, boating, or just relaxing on the beach.
During the winter snowmobiling, snowshoeing, and skiing are the most prominent activities.
Make your way to the Sleeping Bear Dunes National Lakeshore for a variety of things to do and natural vistas.
The city also features a thriving artistic and performing arts community.
At the City Opera House (built in 1891) travelers can see performances by the Traverse City Orchestra, talks with luminaries, plays, musicals, and more.
The Interlochen Center for the Arts is ideal for anyone curious to learn about a new art form, and it features hundreds of concerts and events throughout the year.
With the local climate partially controlled by the waters of Lake Michigan, the area has become a hotbed for growing grapes and wine production.
The Leelanau Peninsula and Old Mission Peninsula are epicenters of the Traverse Wine Coast and boast more than 30 total vineyards.
Visitors taking a trip on the Leelanau Peninsula Wine Trail can sample wines and try pairings at more than 20 vineyards.
The relaxed atmosphere of Traverse City ensures visitors can set the pace of their experience.
There are few lines or waits, and the attractions and activities are in reasonable proximity to lodging providers.
After one trip to this community, you'll find out why it's visited by more than three million people annually.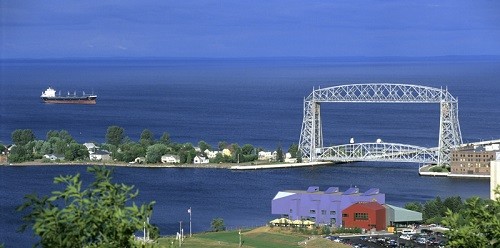 Duluth
Perched on the shores of Lake Superior (the largest freshwater lake on the planet), Duluth's pristine natural surroundings, attractions for all ages, and unique culture make it one of Minnesota's top travel destinations.
The city was named Duluth in 1857 to pay homage to French explorer Daniel Greysolon, Sieur du Lhut who helped to establish the area as a trading outpost during the mid-17th Century.
The natural beauty of the area has attracted a variety of artists, performers, and art collectors.
Sprinkled around downtown and surrounding areas visitors will find an impressive collection of art galleries including Waters of Superior, Siiviis of Sivertson Gallery, and Art Dock.
Those in search of performance art venues are in luck, The Duluth Playhouse offers a year-round schedule of world-class live theater, and the Minnesota Ballet performs a variety of full-length story ballets.
Visitors to the Zenith City will encounter a diverse culinary scene.
Whether you're into duck confit or an All-American hamburger, the city has it all and more.
The Duluth Grill was featured on the Food Network program Diners, Drive-Ins, and Dives and its menu is diverse.
Visitors will encounter a unique gourmet specialty market and eatery at the Northern Waters Smokehaus, a restaurant that utilizes local and sustainably raised meats and fish.
Located on and around the bluffs that rise high above Lake Superior, the city's surrounding natural landscape and opportunity for outdoor recreation attract people from across the world.
Duluth offers outdoor activities for every season and interest.
This winter wonderland features an abundance of trails for cross-country skiing and snowmobiling, as well as a handful of excellent downhill skiing areas.
The summer months treat visitors to lush landscapes, open waters, and about every warm weather outdoor activity that you can imagine.
Duluth's small-town vibe combined with its cosmopolitan attractions make it ideal for anyone.
Visitors will find plenty of room to operate as they experience all the city has to offer.
Once travelers get a taste for what the city has to offer, it won't take long to realize why Outside Magazine named Duluth as the "Best City Ever."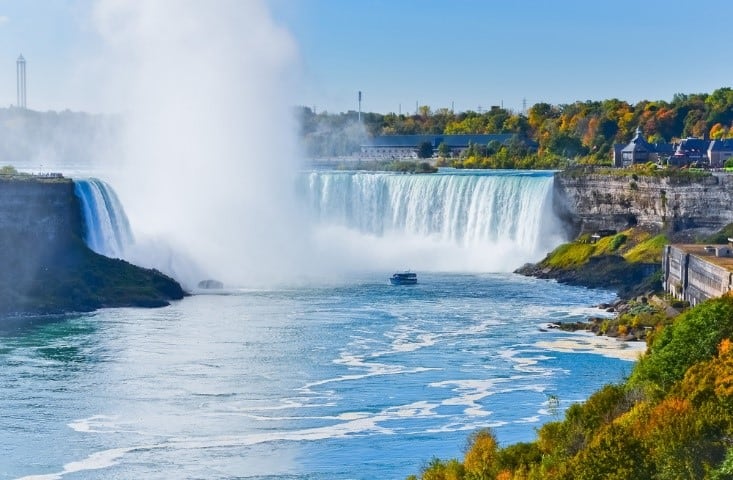 Niagara Falls
Separated by the Niagara River, Niagara Falls, Ontario, and Niagara Falls, New York, are ideal locations to begin a Great Lakes adventure.
The area's origins date back 12,000 years ago to the end of the last Ice Age when the Clovis People inhabited the region.
Since then, the War of 1812 helped set a permanent border between the U.S. and Canada, and the building of the Hydraulic Canal in 1852 brought an influx of people, commerce, and industry to the region.
Niagara Falls is the namesake of both cities and the most recognizable natural attraction in the region.
The Falls formed 12,000 years ago when a large mass of water was released from the Laurentide Ice Sheet.
This torrent of water drained into the Niagara River and eroded the rock away to create the falls.
Visitors can stop by the Niagara Falls State Park which features incredible views of this natural marvel.
Those looking to get a bit closer should take a ride on the Maid of the Mist, a 600-passenger boat that drives directly to the base of the falls.
Aside from the falls, the Niagara Region offers a variety of attractions and fun things to do.
Anyone interested in the history of the area should visit Old Fort Niagara, which is the oldest continuously occupied military site in North America.
The Niagara Parks Botanical Gardens offers travelers 99 acres of beautifully manicured gardens and a world-famous rose garden with more than 2,400 roses.
How to Find Leisure and Luxury at Niagara Falls
For a one-of-a-kind view of the falls and the surrounding landscape, take a ride on the 175 foot-tall Niagara Skywheel.
Regardless of which side of the border you're on, the area delivers with world-class cuisine.
On the American side, foodies will love The Griffon Gastropub, Savor, and Third Street Retreat.
New Life Hiking Spa Green Mountains of Vermont Vacation
Over on the Canadian side, food lovers flock to Casa Mia, Taps on Queen Brewhouse and Grill, and Weinkeller.
No matter your cuisine preference, you'll find it all here.
With so much to offer, you may need a couple of trips to get the full Niagra experience.
From experiencing the falls and its surrounding parks to shopping the day away at the Fashion Outlets of Niagara Falls USA, this region has it all.
Honorable Mention: Chicago!
Wonderful things to do in Chicago.
Exploring Niagara Falls – "The skiing in Ontario is great!" earnest people told me when I announced my plans to get acquainted with Canada's east-central province last January.
"Oh, and you should check out the golf courses – sublime!"
That may be the case, but I can't ski, I had no immediate desire to learn (or more specifically, I had no desire to pay for lessons) and I was fairly sure the golf courses would be up to their flags in snow.
Plus, I don't like golf.
Various other suggestions were mooted – most of them entirely predictable – but oddly none involved the most predictable thing of all: Niagara Falls.
Exploring Niagara Falls
Unashamedly unoriginal, yet magnificently majestic, I had wanted to view these colossal cascades for as long as I can remember.
It didn't bother me that everyone went there – sometimes you have to swallow your nagging doubts about venturing on to the dreaded beaten track and just accept that popular things are popular for a reason.
The Niagara Falls are as synonymous with Ontario as Ayers Rock is with Australia, or as the Eiffel Tower is with Paris, or as the pyramids are with Egypt, so I had a pretty good idea of what to expect.
Namely, a very large, very powerful, very scenic waterfall.
And, with a gluttonous dose of posing tourists, that's pretty much what I got.
Something wasn't right though.
Something was missing.
Here before me lay the most iconic waterfall on the planet.
A sweeping horseshoe of turquoise plunging into a seething cloud of white mist; momentous, beautiful and lethal in equal measures.
Yet I didn't feel a thing.
Not a hint of excitement and a level of interest that could best be described as mild (unlike the freezing temperatures, which could best be described as vicious).
The problem, of course, was that there was no sense of discovery – the catalyst for any meaningful travel experience.
So when I overheard a young couple whispering something about going behind the falls, I did what any self-respecting journalist would do.
I eavesdropped.
Unfortunately, their conversation branched off into other unrelated matters soon afterwards, and that's all I wish to say about that.
My interest, however, was now primed.
New opportunities had emerged and I began to ponder the marvelous possibility that there was a secret passage known only to wise locals.
There was, as it turned out, except the passage wasn't secret and although the wise locals were probably aware of its existence, so was everyone else within a 10,000 mile radius.
None more so than the people running Niagara Parks, who wouldn't let me in until I'd handed them the best part of $15.
Still, not to worry, I got my discovery fix.
Observing the waterfall from the 'wrong' way was a peculiar experience.
A series of gloomy tunnels led off the main corridor at right-angles, and it was through these – at considerable distance – that the falls could be observed.
So not much to report on the visual front – imagine looking out an open window during a ferociously heavy downpour, and then multiply it several times – but it was the thunderous noise that grabbed me.
The kind of noise that's so loud you can feel it vibrating in your bones.
The kind of noise that seems to have metamorphosed into a physical being.
It was like the Four Horseman of the Apocalypse had paid their $15 entrance fees and were galloping about the place, or to use a more up to date analogy, like a Boeing 747 had lost its way disastrously on its descent into Toronto.
I felt satisfied leaving Niagara Falls.
Not because the trip behind the waterfall was particularly life affirming, but because it was unexpected.
So I suppose the overriding point I'd like to leave you with is this: do as little research as is humanely possible before going to a place.
The more familiar it is, the bigger the anti-climax.
But if you're the organised type and you're thinking of heading over this way, you should probably have a look at My Destination Ontario just to be safe.
Jack Jones – This quote from Pete McCarthy pretty much sums me up… "He instinctively understands that the purpose of travel is to be able to tell your friends about it and make them feel that staying at home was the poorer option, even if it wasn't."
(photo credit: farlane – charlottes333 – nick farnhill – Janine Curry)