Italy's Finest Hikes – Experience Italy in a completely new way by lacing up your hiking boots and hitting the trail while exploring the great outdoors – on one of Italy's finest hikes.
Italy's finest hikes Cinque Terre is on of Italy's Finest Hikes
These five towns are perched on sheer cliffs above the Ligurian Sea and are connected by rail and hiking trails.
It's best to try and visit in the off-season, as the trails are immensely popular and crowded in the summer.
You can check the Cinque Terre National Park site for the most updated information on the status of all of the trails.
The the towns' candy-colored buildings and old-world charm are seemingly untouched by tourism.
Be sure to build in time in your hike to explore each of the towns.
A dip in the water at one of the beaches is a great post-hike treat.
Visit The Picturesque Cinque Terre, Italy
If you want to travel to the Mediterranean this year for your holiday, Cinque Terre should be at the top of your list of places to consider.
It's part of the Italian Riviera and made up of five little seaside villages, namely: Vernazza, Corniglia, Monterosso al Mare, Manarola and Riomaggiore.
The area has been protected by the UNESCO World Heritage Foundation since 1997 which means that the only way of getting around is via a public service of electric buses – cars are not allowed.
Bliss!
A few days holidaying in this part of the Mediterranean offers a really authentic experience too as many of the villagers will rent out their spare rooms to interested travelers.
One thing you must do if you choose to spend your holiday time in Cinque Terre this year is hike from Monterosso to Vernazza along the guided footpath.
It's a brilliant and natural way to workout while on holiday and the views will make all your exercising efforts worthwhile.
Hikes in Tuscany
Tuscany offers a series of diverse hiking opportunities covering dense forests, coast cliffs, medieval villages, amazing history and more.
A hike around the Anello del Rinascimento (Renaissance Ring) allows you to take in the nature and history of the countryside surrounding the city of Florence.
While the entire trail is 170 km long, you can utilize public transportation from Florence to enjoy a single section of the trail.
Depending on what part of the trail you experience, you will see country churches, castles, walled communities, and roads dating back to the Medieval and Roman times.
Other trails in Tuscany allow you to meander through the rolling Tuscan countryside and visit some of Italy's ancient towns.
A trip out to Monte Argentario, a rocky promontory connected to the Tuscan mainland by two huge sandbars, is a great way to see wildlife.
Make sure you pack a pair of Bushnell binoculars when visiting La Feniglia Nature Reserve, which is on one of the sandbars, to be able to spot the wildlife there.
Hiking Dolomites
A short trip from Venice or Milan, the Domomites mountains have something to offer everyone.
Some of the paths are wheelchair accessible, while others require serious mountaineering equipment.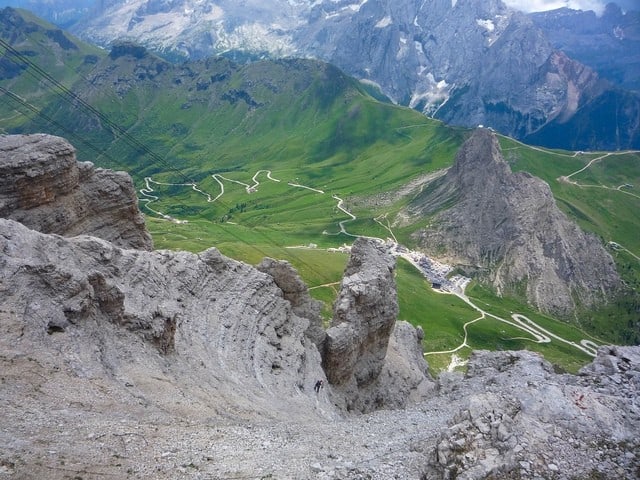 It's possible to take multi-day treks, but remember that pitching a tent is forbidden, so make plans to stay in a refuge and make your reservations in advance!
Also, make sure plan ahead with the right equipment and proper footwear from Uttings Outdoor.
Break your boots in before the trip — a series of short hikes will help get you in shape for your hiking vacation.
Volcanoes Hike
For something different, try climbing one of Italy's famous volcanoes.
Hiking Vesuvius
Vesuvius is a good day trip from Naples and is the least difficult volcano to climb.
Mt. Etna
Stromboli
Stromboli is a bit harder to summit, but the island has glimmering black sand beaches to relax on afterwards.
The sunset view from the top is hard to beat.
Vulcano
Vulcano is perhaps the stinkiest volcano, with the smell of sulfur apparent as soon as you step off the boat from Sicily, but it also provides a great view of the other Aeolian Islands and the opportunity to peer into otherworldly craters.
Mt. Etna
As it has recently been prone to belching lava, it may not be possible to climb Mt. Etna, but Sicily's stunning beaches make for a lovely back-up plan.
Venice, Italy
Renowned as one of the most romantic destinations in Europe, Venice is a great choice whether you're jetting off with your partner or a group of friends.
This sophisticated Italian city has plenty to offer, from the outlying islands which make a fantastic day out to its many museums packed with artistic and cultural treasures.
Perhaps one of the most popular activities on a city break here is to enjoy a gondola ride on the canals, allowing you to sightseeing with minimum effort.
Make sure you spend a bit of time on dry land to explore the beautiful Piazza San Marco, or to browse the hundreds of artworks in the Gallerie dell'Accademia.
Venice, like much of Italy, is well known for its high-quality cuisine and, as the city is located by the ocean, seafood is a staple of the diet here.
Tuck into some freshly caught fish, accompanied by local favorite polenta, and treat yourself to one of the delicious desserts – such as a slice of Nicoletta cake (a type of bread pudding).
(photo credit: 1)
Getting Around in Venice: To Walk or Boat in Venice
Transportation is pretty binary in Venice, and there aren't many options when you visit this unique European city.
However, this ends up being the most interesting thing about Venice.
It's the only city in Europe that has remained free of cars or any other type of sizable vehicles.
When planning your trip to Venice, be sure to pack a good pair of sneakers.
You will be walking a lot.
Your choices are to either boat or walk when getting around in Venice.
Getting around in Venice
Everyone who has ever visited Venice will tell you: It's not if you will get lost.
It is when you will get lost.
It seems to be part of the initiation.
Inevitably, you will lose your way when you stroll through the many winding, narrow roads around this beautiful town.
Walking in Venice
There are a couple of things that are a must when walking around Venice.
These tips will help you out.
Map of Venice
Investing in a detailed Walking Tour Map of Venice​ is simply a necessity.
If you are one of those people who thinks they can wing it and will always find their way around, then you might find your way into a country pasture or a six hour window of large crowds and lost time.
Boat In Venice
Sometimes this is just what the doctor ordered; however, if you are on a tight schedule, then you need to make sure you are prepared.
Understand the signs
There are many signs (usually white or yellow) to get you to your destination when walking in Venice.
However, it is really not very straightforward.
You need to understand exactly where you are going.
It is worth noting that some streets might share the same name or even be similar to the name you are looking to find.
You also really need to understand the wording on the signs as they are not in English so try to learn some useful Venetian phrases in order to ask directions.
Learn how to travel to Venice on a budget.
Getting Around the Canals
When talking to regulars or someone who has just visited, they almost always speak about the crowds, getting lost, and walking for hours on end.
If this does not seem very appealing to you, then you need to situate a water taxi ahead of time.
It can zoom you around in comfort and style to your chosen destinations.
Tips on Hiring a Water Taxi
Watch for high/low tide which can be difficult for getting off of boat
It can be pricey so you might want to share the price with your group.
Plan for ways to save money on your trip.
Know that when taking a water taxi, it can be a long walk to your destination from the pier
Make sure the driver has a valid driver's license.
Look for a yellow stripe along with his number.
Airport Transfer
A great idea is to plan your airport transfer ahead of time.
This is definitely the quickest way to get to your bed when you are tired from your long flight.
When searching the web, you can find sites like Book Water Taxi Venice where it is possible to book a ride online and pay with your credit card or PayPal.
Knowing in advance about getting around in Venice will help you enjoy your stay that much more.
Did you know that Fort Lauderdale in Florida is often compared to Venice, Italy?
How To Visit Venice On A Budget
Venice is often referred to as "the sinking city" – a statement which is true, but there is also no major rush to visit before it's too late, Venice has been sinking for the last 1,000 years.
Venice On A Budget
However, at the time they built the city, there was no such thing as global warming or tourists, so they never prepared for raising water levels and the 20 million visitors that would crowd the small islands some 1,000 years later …
But they are working on it, since Venice needs to be saved – it's beautiful, unique – and also a money-making gem.
Venice has in a way become a victim of its own popularity, it's such a beautiful and unique place, but it comes at a price – a high one…
Before I went there I had heard about the exorbitant prices, the crazy amount of tourists and the feeling that nobody lives there anymore – like a ghost town …
Well – you know us, we stopped blindly believing in what we read online a long time ago.
You realize that people online love to exaggerate, and even if they were right about some things, there is always a way to get around those things and still have a great time.
Venice, Italy VIDEO
After leaving Switzerland, it was time to jump back on the train and head to Venice, Italy.
We enjoyed our time in Venice, even though it was pretty expensive & busy – you could also get away and find a quiet corner to relax and also find cheap(er) pizza.
We hope you enjoy our Venice video.
We're in San Marco's Square.
Sofia's just been feeding the pigeons. They're really tame.
That was really cool to seem they were just all over the place.
Standing here and I realized there were cafés all around the square and outside many of the cafés they have live classical music bands who are dressed up in tuxedos really fancy.
These are the places that have a nine Euro cappuccino. So let's go closer and check out the prices.
Often when you go to a café to relax they've got the latest pop or rap music in the background, 50 Cent and Brittany Spears, that kind of stuff. Here in Venice, they do it differently.
You've got live classical music, guys and girls wearing tuxedos and formal dress. Beautiful.
It really is like an experience coming to this café.
Like I said though, these are the cafés that have cappuccino for about nine or ten Euro. So let's go and order one maybe Cappuccino, nine Euro.
It is expensive, but I guess you get what you pay for. It's absolutely beautiful here.
So we've seen the main attraction around San Marco's Square, and now we're going to go back into the maze of Venice.
Get away from the crowds and try some Italian ice cream. Maybe some pizza as well.
We went to a place I've wanted to visit for many years but for some reason never have had the time to see:
Venice!
The historical, beautiful city on water that I had dreamed of going to – was right there in front of me – the narrow streets, hundreds of bridges and thousands of Venetian masks were no disappointment.
The only thing that surprised me was that the pizza I tried there just didn't live up to expectations – maybe it's just bad luck, but none of the ones I tried in Venice were any good!
And to be rudely honest, the best pizzas I've tried have actually been in other countries.
Sure, I give the Italians credit for having invented this awesome thing, but to be honest I think some countries have been inspired and taken pizza to a new level 😉
Maybe I just like people experimenting with food, trying to reinvent something rather than settling for the tradition is more my thing.
The Italians would probably laugh at me if I told them that my favorite pizza is one with banana, curry and peanuts as ingredients… trust me it's nice!
How To Visit Venice On A Budget
We avoided the expensive hotels by staying at a cheaper one in Padova, a town 20 minutes away from Venice, using our InterRail passes to take a free train to Venice for the day.
We avoided the big tourist crowds by starting early in the morning – at this time the streets were close to empty, and you could enjoy the melancholic alleys and quietness of the town – alone.
We came here before the big tourist season, and the locals hadn't fled the town, the kids were still playing football in the squares – the town was vibrant and alive with Italian flare.
We avoided the expensive Gondolas and Vaporettos by simply walking – it's about compromising, and the Gondolas didn't seem to be worth 79 Euro for ONLY an hour…Getting Around in Venice
We avoided the expensive food by eating away from the touristy areas – a full-sized pizza for only 3 Euro was what we had for lunch.
A cappuccino at St Marco's square costs a whopping 9 Euro, while a few blocks away it costs 2.5 Euro.
An ice cream went from 2.20 Euro to 1.10 closer to the train station 5 minutes away.
You get the idea – it's only expensive if you can't be bothered to look around – so take that time, do a bit of research since Venice really can be enjoyed by anyone on any budget – as long as you make a bit of an effort!
Lost In A Misty San Marino Micro State
Get some useful information about San Marino here to make your trip more enjoyable.
The world is full of exotic locations that stir your imagination – countries that speak languages you've never heard of before, food you could never have imagined yourself, and traditions that show you how diverse people really are.
There are big cities and famous destinations like the Parises and New Yorks of this world, but then there are those smaller ones whose name you may have heard for the very first time.
If you're looking for a unique and unforgettable trip to a country that's small enough to be explored at your own relaxed pace, then San Marino could be the perfect place for you.
Surrounded by Italy on all sides, the enclaved micro state San Marino is the oldest republic and surviving sovereign state in the world – dating back to year 301!
Perched on top of a hill, clinging to steep cliffs, is the country's capital city "San Marino".
The World Factbook states that at 61 square kilometers, San Marino is the 3rd smallest small state in Europe, its size being about a third of Washington D.C.
Geographically an enclave, San Marino is entirely enclosed within Italy, which makes it a very popular day trip destination for those visiting other popular Italian cities.
On the day we went to visit, the town which on a clear day offers views from all sides overlooking the hills and valleys of the tiny country, was instead hidden from the outside world by a thick mist.
Although I have to admit I was a bit disappointed to miss out on the awesome views, the misty atmosphere added to the medieval vibe of the town, which by the way was incredibly well preserved.
Reaching over the stoned walls it was impossible to see the ground below through the mist, which made it feel as though the fortified town was floating in the air.
It was easy to see why Giuseppe Garibaldi (a leader of the Italian unification movement) chose the secluded San Marino as his hiding place when escaping his enemies.
In appreciation, he let San Marino remain independent when the rest of the Italian peninsula was forced to be unified.
During its long and fascinating history, the tiny country San Marino has survived by charming their way past big leaders like Napoleon – and still today it charms its visitors even on the grayest of days.
Things to do in San Marino
Just because it is small doesn't mean there's nothing to do in San Marino.
As a matter of fact, there are a lot of attractions that can keep your days and nights busy.
It's even an advantage that the area is relatively small, because that means you can explore it easily.
Here are some of the best activities and attractions you can look forward to when visiting San Marino:
Visit the Fortresses of Mount Titano
A visit to San Marino would not be complete without heading to its capital, the City of San Marino (locally known at Città di San Marino or simply Città).
There you'll find San Marino's highest point, Mount Titano, which has the most splendid views of the countryside, the Apennine mountains, and even the coast.
You can head to three different fortresses: Guaita, Cesta, and Montale.
Each fortress will give you a different part of history.
Rocca Guaita dates as early as 1253 and is the oldest of the three.
Cesta on the other hand contains the Museum of Historical Weapons, where you'll find around 1,550 weapons from as early as the medieval times.
These fortresses and towers are a must-visit when you're in San Marino, and the breathtaking views from the top of that mountain are to die for.
Hear Mass at the Basilica del Santo
A neo-classical style first Basilica built in 1826 before it was demolished and rebuilt, visiting this religious site is not only good for those interested in architecture and religion.
It has massive Corinthian columns and a beautiful bell tower, but more than that, it's significant because this is where you can find the relics of St. Marino.
Explore the Quirky Museums
San Marino in itself is a living and breathing historical artifact, but there are a number of interesting museums you can explore.
You have the Museum of Curiosities, the Wax Museum, the Coin and Stamp Museum, and even the Museum of the Agricultural Culture and Traditions.
Another museum you shouldn't miss is the Museo di Stato or the National Museum.
Watch the Changing of the Guard
The neo-Gothic Palazzo Pubblico is where you'll find the heart of San Marino's political scene.
It contains the town hall and is where all the important ceremonies take place.
The plaza in front of it is the Piazza della Libertà, where you'll find tourists all day and where you can witness the Guardie di Rocca changing of the guard ceremony.
Sample the Local Cuisine
Food is a very important part of San Marino life, and you should never leave this place without sampling the best that local cuisine has to offer.
Enjoy the locally grown produce and the rich flavors of their Mediterranean offerings.
Local family-owned restaurants will surely tickle your taste buds with recipes passed on from generation to generation.
Make sure you sample the wine as well.
San Marino is the oldest republic and surviving sovereign state in the world
Aside from all these attractions, perhaps the best motivation for paying a visit to San Marino is that it's actually the oldest republic in the world.
Established as early as 301 A.D., San Marino is also the oldest sovereign state with the oldest constitution that you can find, so visiting it today will be akin to traveling back in time and taking a piece of world history home with you.
With only 30,000 citizens, it is called The Most Serene Republic of San Marino and is a UNESCO World Heritage Site.
It also has the smallest population out of all the countries in the Council of Europe.
It's certainly a welcome break from visiting countries with dense populations and a lot of people.
Tourism is picking up, so you'll most likely bump into a lot of tourists and visitors who like you would want to experience the San Marino magic.
Free things to do in Rome
Rome is probably not the first destination you think of when it comes to budget travel, but the great thing is that there are so many free things to do in Rome that once you have found cheap apartments in Rome – the rest of your budget planning is easy.
The city is practically an open-air museum, and there are so many historical sites that won't cost you a dime – to give you an idea.
Here are 7 free things to do in Rome …
Take A Stroll In Foro Romano
Stroll among the ruins of what once was the commercial, governmental and religious center of ancient Rome and its powerful empire.
Used as a venue for public speeches, criminal trials, gladiatorial games, it was the heart of ancient Rome and one of the most important meeting places in history – an ancient beauty not to be passed up!
Toss A Coin In Trevi Fountain
Rome is home to many incredible piazzas and almost as many fountains.
One of the most famous is the Trevi Fountain, where the Swedish beauty Anita Ekberg splashed in La Dolce Vita – a scene that would become one of the most iconic in film history.
The flamboyant baroque fountain was completed in 1762 by Niccolo Salvi, and legend says that if you throw a coin in the fountain over your shoulder you will return to Rome again some day.
Visit The Pantheon
The Pantheon is the oldest standing domed structure in Rome, built in 27 B.C. as a temple honoring the Roman gods (in 609 it was converted into a Christian church).
The structure is the burial place of several famous artists, and the reason for the huge 30 ft hole in the ceiling is still a mystery.
One of the most popular explanations is that the opening was built as a sundial to illuminate the emperor as he entered on important occasions.
It's the largest un-reinforced concrete dome in the world, and a must see when in Rome.
Try Your Luck At La Bocca della Verita
Literally translated to "the mouth of truth", this quirky sculpture is thought to once have been a piece of an ancient Roman fountain.
A legend from the middle ages has it that if you put your hand in the gaping mouth of this grotesque sculpture and tell a lie, you will pull out nothing but a stump!
Relax In Nature
For panoramic views of Rome, Park Gianicolo on Janiculum Hill is perfect!
Another great place to get away from the hustle and bustle of the huge city are the fardens at Villa Borghese, some of the largest and most beautiful gardens in Rome and a great place for a picnic.
Check Out The Free Events
Summer is the high-season for free events in Rome, with music, film and theater festivals accompany wine-tastings and food events.
The International Urban Theater Festival has plenty of spontaneous and free dance, music and acting performances throughout the city in September.
The main summer festival, Estate Romana, is dedicated to outdoor performances and practically the whole of Rome becomes a stage.
During the festival hundreds of concerts, film showings, art displays and dances are held, many of them free of charge in all sorts of places, from the ancient ruins at Ostia Antica to open squares.
Visit These Two Churches
There are many absolutely stunning churches in Rome, but you can only see so many churches until you get so sick of them that if you see another church you swear you will go mad.
But before that happens, there are two amazing churches in Rome you should take the time to visit – the first one is St. Peter's Basilica, the largest Roman Catholic building in the world and an amazing work of art.
Make sure you rub the foot of the bronze statue of St. Peter before leaving, as it's supposed to bring good luck!
The second church is San Clemente, which actually holds three churches in one.
Made up of three levels, the lowest one is an ancient worship site, the second level is the first version of the church as a Christian worship site and the third a sanctuary from the 12th century with beautiful mosaics!
3 Amazing Roman Architecture
The rise and fall of the Roman Empire may be ancient history, but Roman architecture is still on prominent display in countless European cities.
From arches to aqueducts, temples to baths, there is no shortage of places to admire the remains of the great civilization."
While not as famous as the Coliseum or the Pantheon, here are three sites that demonstrate a range of architectural techniques and give visitors a sense of what it was like to live in ancient Rome:
Verona Arena – Verona, Italy
Built in 30 AD, this structure is one of the best preserved Roman arenas, and despite a damaging earthquake in the 12th century, it is still in use today.
Originally built outside the city limits, the arena accommodated up to 30,000 spectators, and Romans would flock to it to watch barbaric gladiator fights and other games.
The Verona Arena is famous for its wonderful acoustics, and it is a currently popular venue for opera productions and rock and pop concerts.
A great option is to stay in local Verona apartments and take in a show.
Villa Adriana – Tivoli, Italy
The Emperor Hadrian's expansive villa, comprised of 30 separate buildings, is a testament to his appreciation of and influence on Roman architecture.
Built in the early 2nd century AD, Hadrian's vacation home included vast gardens, multiple pools, theaters, libraries, baths, underground tunnels, and housing for guests and servants.
Especially interesting is the Maritime Theater, a pool with a small island in the center that could only be reached by drawbridge.
On the island was a small Roman house – allowing the emperor to retreat from his retreat!
The Ruins – Pompeii and Herculaneum, Italy
Destroyed by the eruption of Mt. Vesuvius in 79 AD, these Roman towns were buried under the volcano's pyroclastic flows.
Pompeii is well known for its ruins, but Herculaneum's ruins were even better preserved: the city was completely buried so even upper stories of buildings remain intact, and the hot ash preserved wood objects such as furniture.
There are bakeries, bars, luxurious homes, and brothels.
Sharp-eyed visitors will notice ancient graffiti and a "beware of dog" sign."
Visitors can even come face-to-face with the towns' last inhabitants; eerie plaster casts are all that remain of those who failed to escape the volcano and were quickly overcome by super-heated air.
Rome: History You Can Still Experience
Rome was once the center of a vast empire that spread thousands of kilometers.
While many of the empire's cities have fallen and artifacts from the era have been destroyed, some are still intact in Rome.
This makes Rome a perfect destination for those interested in the history of the Roman Empire, and a trip there lets you experience the ancient architecture and understand the Roman way of life 2,000 years ago…
Preparing for Your Arrival
Before you can explore the rich history of Rome, you must first plan your trip.
Consider how you will arrive, where you would like to stay and what you would like to do during your visit.
Even if you are not quite ready to make your purchase, start reviewing the price of tickets and accommodations now.
Book your airfare and a place to stay in Rome as far in advance as possible.
Generally speaking, the sooner you make your reservations, the cheaper it will be.
This is especially true if you will be going during the high season, which is June through August.
During these months, airfare and accommodations will be more expensive.
Easter is also a very busy time of the year in Rome, and although you might find somewhere to stay, I would still suggest that you go outside of this holiday to really be able to enjoy your time there.
Essential Historical Sites to Experience
There is an overwhelming number of places to visit in Rome, but to break it down for you, here are some unique and captivating historical sites I recommend:
The Colosseum:
Easily the most recognizable and famous historical monument in Rome, this was once the world's largest amphitheater.
Gladiators, lions and criminals were pitted against each other for the entertainment of the emperor and citizens.
It has been well-maintained and offers regular tours, allowing you to see the arena that once hosted life-or-death battles.
Palatine Hill
As the birthplace of this ancient city, Palatine Hill is home to dozens of historical sites.
From ancient buildings to sacrificial alters, you will be able to absorb the earliest history of Rome in this single location.
The foundation myth of Rome states that the city was founded in 753 B.C. by the twins Romulus and Remus, and they are enshrined throughout this landmark.
As the oldest historical site in the city, simply setting foot on the grounds imparts a sense of awe.
Ostia Antica
One of Rome's lesser-known historical sites, it is also one of its best preserved. Ostia Antica was the port of ancient Rome, and this gateway traces its roots to the 4th century B.C. Ancient military camps, temples and the Baths of Neptune are all located in this well-preserved area.
Musei Capitolini
This museum is home to hundreds of artifacts of Rome's extensive history — from the Renaissance, medieval and ancient periods.
With so much history in the multi-building complex, this is a must-see for those looking to relive the history of Rome.
Circus Maximus
Perhaps the second most popular historical landmark in the city, Circus Maximus was once the largest primary sports stadium.
This arena hosted the famous chariot races and was capable of holding 150,000 spectators.
Explore Unrivaled History
The Roman Empire was the world's first civilization of its size.
It spread all the way from Europe to the Middle East.
It originated technology and ideas that we still use today, such as roads and some schools of mathematics.
Rome was a center of commerce and knowledge for centuries.
Fortunately, due to pristine preserved monuments and historical artifacts, you can still experience the rich history of this once-great Empire.
Verona – The City Of A Love That Never Was
Known as the city of Romeo and Juliet, Verona is the location of the most romantic and tragic love story of all time.
Every year 1,600 Japanese tour groups stop for one hour to stand on "Juliet's Balcony" and rub the boobs of Juliet's statue on the square below for good luck.
Nobody seems to care (or even know) that the romantic couple never actually existed, or that Shakespeare had never been to Verona.
However, the fighting Capulets and Montague families were inspired by the real families of Capello and Montecchi who lived in Verona at that time.
And despite the fact that Shakespeare had never been to Verona, he could not have chosen a better city to base a love story in.
Dark Alleys & Lovely Piazzas
Romance is everywhere in the little town of Verona, and while Juliet's balcony is the one people come to visit, there are romantic little balconies decorated with flowers everywhere along the dark winding alleyways that suddenly open up in large piazzas full of life.
Piazza delle Erbe is the most charming of the squares in Verona, and has been a marketplace for over 2000 years.
You can have a seat at one of the elegant cafes or sit grab a gelato and sit down by the 14th century fountain or the 15th century Berlina shrine (once used for public elections and punishments of guilty citizens) while taking it all in.
Past & Present Side By Side
Just like many other picturesque Italian towns, Verona's rich history blends in with the present; scattered among modern shops and bars are chips of Roman columns, old facades, a Roman theater and medieval reliefs.
There is even an arena dating back to 50 AD (older than the Colosseum in Rome) which is still today used for concerts and events!
Relax & Have A Drink
Aside from the passing tour groups on their way to and from Juliet's balcony and the train station, Verona has a calming vibe which slows you down and makes you appreciate the small moments of everyday life on the streets.
The outside seating at the many small Trattorias (Italian Café/bars) are full of people enjoying a few glasses of Aperol Spritz and chips in the sun.
A great place for an Aperol Spritz and chips is Attimo Caffé at Lungadige Porta Vittoria 19a, a popular hangout spot among the town's university students – it has a cute little outside seating area in the sun, and prices are cheap.
In general you'll find that prices are cheaper on that side of the river than in the city center.
Take In The Views
Walking along the narrow streets (and even narrower sidewalks!) you'll find little love stories everywhere in Verona, but the most romantic place in all of Verona, is at the Castell San Pietro, a favorite spot for romantic couples.
Climb the steps up the hill to get the most amazing sunset view overlooking Verona with the river and bridges below (including Ponte Pietra, a beautiful bridge dating back to 100BC) and the snow covered alps in the backdrop.
There is much more to see and do in Verona, but these were among our favorites.
What are your favorite things about Verona?
Best Health Resorts in Italy
The best health resorts in Italy will help you to relax and greatly enhance your quality of life.
Most people rush through life taking little time to care for themselves.
They hurry from one responsibility to the next, neglecting to indulge in the relaxation and recreation that could greatly enhance their quality of life.
Even worse, they don't make opportunities to eat a healthy diet or regularly exercise.
Sometimes that holds true on vacations as well. It's all too easy to rush from one must-see sight to the next.
Once again, there's no time to relax, enjoy and feel the regenerative effects that a good vacation should bring.
A stay at the Hotel Adler Balance is the cure for that kind of vacation.
It's a resort unlike any other in that the health and well-being of every guest is the primary concern of the staff.
Accommodations, meals and activities are all geared toward providing the relaxing and rejuvenating atmosphere people need in order to experience the best that life has to offer.
Even the resort's setting seems designed to inspire awe and soothe away every day cares.
Set in the breathtaking majesty of the Italian Dolomites, the Adler Balance is the perfect venue for experiencing an escape from the ordinary.
Even the air guests breathe here positively affects their health and well-being.
At elevations greater than 4,000 feet, visitors enjoy a stronger circulatory system and may benefit from a positive hormone release.
Hotel Adler Balance is located in the picturesque Val Gardena, a northern Italian valley.
It's a region recognized for outstanding outdoor recreation like rock climbing, hiking and skiing.
One of the valley's villages is Ortisei, which hosts the Hotel Adler Balance.
Only about 6,000 fortunate people get to live in Ortisei, but this is a village designed to cater to the tourism industry.
Visitors love strolling along the center of the village to discover quaint shops and one-of-a-kind eateries.
Local history and culture is explored at the Gherdeina Local Heritage Museum or during one of the many annual festivals.
While the valley, Ortisei and the Dolomites are lovely, most people come here for the wellness resorts.
Foremost among these is the Hotel Adler Balance.
In all public areas and private suites, resort management has provided painstaking attention to detail.
There are no jarring lines and no wrong notes in the color choices.
Everything is designed to soothe and relax.
From the muted music pouring softly from state-of-the-art speakers to the tasteful art collection, the Adler Balance is aimed at producing a calming effect.
It's virtually impossible to feel rushed here.
Ordinary stress simply melts away under the influence of muted tones and beautifully designed furnishings.
Each suite is luxuriously appointed to cater to an excellent night's sleep.
Sliding glass doors allow in copious amounts of natural light. Even better is the balcony that lies beyond.
Each is equipped with a comfortable seating arrangement and a breathtaking view.
Back inside, guests enjoy spacious proportions that are enhanced through the use of natural building materials and textiles.
The bathrooms are particularly impressive.
Each has an extravagant wellness tub where guests can soak their cares away.
The tea bar and minibar featuring organic fruit juices are welcome alterations on the usual hotel room offerings.
While it would be tempting to spend inordinate amounts of time in the suites, there are plenty of enticing activities to experience elsewhere.
The hotel offers a number of different packages, each of which is tailored to the guest's specific health and wellness goals.
Some packages are designed to enable weight loss while others provide helpful strategies for coping with stress.
The main idea is that guests utilize their time at the hotel to learn new techniques and then apply them to their everyday lives back home.
The result is a happier, more fulfilling lifestyle in which the individual is better able to balance responsibilities with taking excellent care of themselves.
Adler Balance achieves this goal using a number of methods.
In the gorgeous dining room, guests enjoy items from a diverse menu of al a carte meals or adhere to a nutrition plan that is personally designed for them by the resort's medical personnel.
Regardless of which option is chosen, diners can expect superior cuisine that draws heavily on fresh, local produce and traditional dishes.
The theme of health and wellness is also exemplified in the property's Water and Wellness World.
It's a sumptuous oasis of indoor and outdoor pools, spas and saunas.
A splendid hay sauna resides in a picturesquely rustic mountainside hut while a decadent salt lake hides deep underground.
The area is dotted with relaxation zones that are ideal for napping and reading.
After a difficult day of spa treatments, there's no better place to unwind.
ADLER BALANCE Private Best Health Resort in Italy
Speaking of the spa, the Adler Balance features a spectacularly well-appointed one.
Guests may select from an impressive array of treatments designed to relax, rejuvenate and beautify in a carefully cultivated atmosphere of repose.
Couples may want to choose treatments that pamper both partners at the same time.
It's a lovely way to reconnect while on vacation.
The health and well-being of guests is reinforced at the resort's state-of-the-art fitness center. The center features a packed schedule of activities.
Guests may be introduced to yoga, Pilates or specialized classes designed to burn the maximum amount of fat.
There is also an extensive selection of resistance and cardio machines for guests to choose from.
Every activity is overseen by friendly, knowledgeable staff members who are there to help guests gain the most benefit from the experience.
The resort even takes fitness outside with walking and outdoor programs.
In the warmer months, guests may try walks, climbs and bike rides.
When snow covers the ground, skiing and other winter sports take center stage.
Guests may indulge on their own or join a program led by an experienced guide.
The Hotel Adler Balance offers a remarkable experience for guests hoping to indulge in a truly relaxing vacation.
Its unique mix of activities and accommodations make it the most desirable resort in a region known for its breathtaking beauty.
How To Visit Venice On A Budget
Family Friendly Italian Holidays
Italian Holidays ~ Italy is one of the most popular travel destinations in the world for its rich history, stunning landscapes, trendy fashion, art treasures, top-class cuisine and passionate people.
With so many wonderful things to do for almost all kinds of travelers in this country in the southern Europe, it is always difficult to choose which regions to visit in a single trip to Italy.
If you are looking to have some wonderful experiences in Italy with your family, consider the following 5 family friendly places: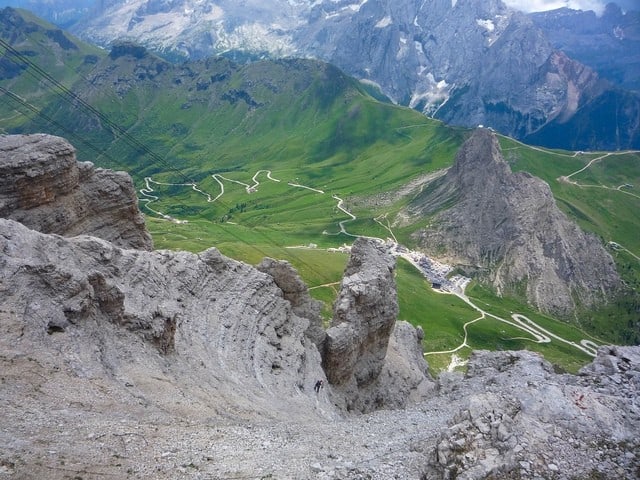 Tuscany
Tuscany is perhaps the most popular family vacation destination in the world for its natural landscapes that include cypress trees, vineyards, olive groves, and beautiful rolling hills.
You can find fairy tale style, luxury holiday villas to have some wonderful moments with your family.
There can't be anything more pleasing to see the wonderful nature of Tuscany sitting on the balcony of a Tuscan villa with your family.
Some other popular activities for family vacationers in Tuscany include exploring Renaissance art in Florence, relaxing in hill towns like San Gimignano.
Paying visits to the leaning tower of Pisa, to the wonderful beaches in Elba and medieval city of Siena all can offer you and your family plenty of unforgettable experiences.
Amalfi Coast
Stretching 30 miles along the southern part of the Sorrento Peninsula, Amalfi Coast is one of the most popular travel destinations in Italy for its picturesque coastline that features multicolored villas, lemon tree gardens, craggy cliffs, ritzy resorts, and shimmering bays.
With scenic mountains, pastel houses, and beautiful pebbled beaches, Positano is one of the most romantic towns along the Amalfi coast.
So, you can have some wonderful moments in Positano as well.
Rome
Rome, the eternal city, is perfect travel destination for all kinds of travelers.
There is limitless number of wonderful architecture and arts to explore for travelers visiting Rome.
So, you can take your family on holiday to the most popular tourist attractions such us the roman coliseum, the Vatican Museums, the Roman Forum, the Trevi Fountain and so on.
Sicily
With several small isles, Sicily is an autonomous region of Italy.
It is the largest island in the Mediterranean Sea.
It is a destination which is rich in history and art and boasts of Palermo's Baroque churches, Agrigento's Valley of the Temples, and Mount Etna, Europe's tallest active volcano.
Venice
Venice is a wonderful archipelago of 118 islands connected with some beautiful scenic canals and bridges.
Although Venice might not be as family friendly as Tuscany and the other places mentioned about, but Venice is a city you can do on a budget.
Getting Around in Venice – Taking a gondola ride with your family along the famous Grand Canal and many other small ones can be an experience of lifetime.
And don't forget to pay visits to the magnificent Venice landmarks such as Rialto Bridge, Doge's Palace and most importantly like Saint Mark's Square and Basilica.
Cinque Terre Italy Travel Guide
Cinque Terre Italy Travel Guide – Cinque Terre is undoubtedly one of the most picturesque areas in Italy, and it's impossible not to be charmed by the colorful quaint villages clinging on to the rugged cliffs along the coast and its warm hospitable locals.
Walking around the villages you can easily picture what it must have been like a hundred years ago when the area was so secluded that the only way to get there was by sea or mule paths.
These mule paths have been maintained and used over the centuries and are now popular hiking paths with the most amazing views of the sea-swept Cinque Terre …
You can buy 1, 2, 3 or 7 day passes that are valid on all local trains on the Cinque Terre route – that way you can travel back and forth between all the towns as much as you like for the time period the pass is valid.
A 1 day pass costs €10 per person and lasts all day.
There is also a one-direction pass for €8 where you can travel in one direction, but by the end of the day you'll still need to return to your city and pay a single ticket, so it kind of evens out anyway.
Single tickets cost between €1.80 and €2 between the villages when bought from the stations.
Cinque Terre 5 Villages
Cinque Terre literally translates to "5 lands", and includes the five villages Monterosso, Vernazza, Corniglia, Manarola and Riomaggiore. While they have many similarities, each village stands out with its own unique attributes and charm.
Vernazza
With a picturesque harbor and stunning views overlooking the village from the walking paths nearby, Vernazza is surrounded by hilly vineyards on one side, and the great ocean on the other.
The cafés are cute and cheap, perfect for a lunch stop.
Manarola
The waves that clash against the dark rugged rocks that the little colorful houses in Manarola cling to really makes the view over the town one of the most dramatic in Cinque Terre.
Completely surrounded by vineyards, Manarola is a good stop to sit down in a Trattoria and taste the local wine.
If you're feeling for something more refreshing, Manarola has the best Gelateria in Cinque Terre called Gelateria Cinque Terre.
Monterosso
The largest village and also the flattest, Monterosso has two sandy beaches, a rare commodity in the area, it also offers more budget friendly hotels than the other villages and is often the place travelers base themselves in.
Riomaggiore
Riomaggiore was the village we stayed in, so we naturally spent more time there and loved the cafes and take-away restaurants that lined the steep main street of the village.
We never tired of the view of the houses tightly tucked next to each other on the steep hill.
Corniglia
Set high above the ocean on a hilltop, Corniglia is very different from the other villages that are located by the shores.
The narrow, winding alleys in Corniglia charm visitors with its tiny Trattorias, Pizzerias and handicraft shops.
The views overlooking the other villages below and a small village even further into the secluded hills are stunning.
The village is so secluded that locals buy their daily necessities from vans that drive up to the village to sell food, cooking utensils and what not from the back of their vans.
Our Favorite Cinque Terre
Each town has its own charm and special touch, but if we had to choose our favorite, it would be Vernazza.
It's incredibly picturesque, offers beautiful views, and has a great vibe.
What To Eat & Drink in Cinque Terre
The locals are very friendly and open, and the cafes and eateries serve fantastic food for good prices – we were expecting over-priced meals since the villages in Cinque Terre are rather secluded and small, offering few options.
But instead we found that the meals were normal compared to other places in Italy, and we didn't have one boring meal during our stay (coffee was a bit more, around €2.50).
Pesto
Cinque Terre is a pesto paradise, and local diners serve all sorts of food smothered in the green deliciousness.
We became huge fans of the "Gnocchi al Pesto" at Te La Do Io La Merenda in Riomaggiore (€6).
Limoncino
Cinque Terre grows a lot of lemons, which is why their dessert wine Limoncino is a local specialty.
Wine
Also make sure you try their local wine, which are grown from the unique vineyards you see all over the area clinging to the ocean cliffs and hills.
Cinque Terre was one of the most colorful areas we've ever been and we absolutely loved it!
What are some of your best tips for travelers visiting Cinque Terre?
Italy
The cornerstone of style, the foundation of civilization, the bedrock of a modern world, yes Italy has done it all.
As one of the most culturally significant places in the world, you won't be short of things to do.
From the tops of the Alps to the simmer of Southern Italy, all that's left to do is pick the perfect holiday for you.
Whether you're a fan of the classic film Roman Holiday, are a history buff, or just have serious wanderlust, there are a million reasons to visit Rome.
Many believe that there's no better way to get to know a city on foot.
Rome walking tours are a wonderful way to explore the city and feel more like a local than a tourist.
Plus, you'll get a little exercise in the process — meaning you can binge on as much pizza and pasta as you want later.
What should you know about Rome walking tours, and which areas should you be sure to see on foot?
Read on to find out.
Beautiful Rome Walking Tours
With a Guide or Self-Guided?
The first thing you need to decide is whether you'd prefer to walk with a tour guide and group, or go at it on your own.
Thanks to smartphones, it's easier than ever to find your way in a foreign city.
If you're the independent type, and would rather go at your own pace, a self-guided tour may be best.
You can also pick up a travel brochure or book that will tell you a bit about the history of the places you pass by.
Of course, if you're on a tight budget, you'll likely choose to do a self-guided tour.
However, if you have the funds and interest, there are several professionally-guided Rome walking tours.
Especially if you're concerned about getting lost, or are a solo traveler looking to meet others on your trip, a professional tour may be the best option for you.
Plus, your tour guide can make suggestions for the best local places to eat, see, and shop.
Additionally, you may get more personal history from a guide, and you'll be able to get any questions you have along the way answered.
This isn't always possible if you're taking a self-guided tour.
Whichever option you choose, there are a few routes for Rome walking tours that you shouldn't miss.
Let's explore a few of them now.
Spanish Steps to the Historic Trevi Fountain
Everyone remembers this iconic scene from Federico Fellini's film La Dolce Vita, where Anita Ekberg dances in the Trevi Fountain.
To see it for yourself, follow this tour!
Start at the very last step of iconic Spanish Steps.
Then, take a left turn, so that you pass the Keats-Shelley museum.
From there, you'll be able to see the historic Column of the Immaculate on the Piazza Mignanelli.
Once you've seen enough of the Column, you'll notice a fork in the road — head to the right side of the fork to walk up via Propaganda.
There are tons of restaurants on this street, so this is a great mid-day walk.
You'll also pass the Saint Andrew Basilica, which is well worth a look.
As you keep walking, you'll notice that the road becomes narrow.
Eventually, the street will turn into Via di Sant Andrea della Fratte.
You'll soon come across the Collegio Nazzareno, a former palace and current school.
Take a left on Via del Nazarelio, which you'll follow until it becomes Via del Tritone.
This is one of the busiest streets in the city, so keep your eyes open.
You'll also start to notice signs leading you to the Trevi Fountain, which will tell you to take the Via della Stamperia.
Get ready to feel those famous Italian cobblestones under your feet!
Soon, the Trevi Fountain will appear right before your eyes.
Resist the urge to jump in and mimic Anita Ekberg, as doing so will cost you a hefty fine!
Trevi Fountain to the Pantheon
Once you've had your fill of taking in the beauty of the Trevi Fountain, you can continue your walk to the historic Pantheon building.
The Pantheon is a stunning ancient building, filled with natural light.
It's also the final resting place of the famed Italian artist, Raphael.
When you're directly facing the Trevi Fountain, take a sharp left down the Via delle Muratte.
While this street is perhaps a little more of a tourist trap than most would like, it's a wonderful place to pick up some souvenirs for your friends back home.
Plus, it's a short street.
Walk along it until you see the Via del Corso across the street.
Soon, Via del Corso becomes the Via di Pietra.
Here, you'll take a look at the Piazza di Pietra.
This Piazza is home to the famous Temple of Hadrian.
Interestingly, the name of the street translates in English to "The Plaza of Stone."
This is because the cobblestones you'll walk along were made from the same stones that built the Temple of Hadrian.
Though the wall along the Temple has certainly had a tough time surviving the passage of time, the part that still exists is stunning.
Luckily, you'll even be able to see a few of the Corinthian columns that still stand.
Exit the Piazza on the left side, and walk along the Via del Pastini.
Here, you'll have another opportunity to grab a snack, or even a much-needed glass of wine!
Keep following this street until you see the magnificent Pantheon coming into focus.
The square itself is filled with shops, tourists, and locals alike.
From there, you can enter the Pantheon and experience history firsthand.
Make These Rome Walking Tours a Part of Your Trip
Whether you decide to go with a professional tour guide or on your own, make sure you don't miss these walking tour routes.
Things to do in Florence, Things to do in Bologna
Of course, once you've finished your tour, you'll want to know what you should see next!
And when you're planning your trip, you'll likely have questions about what to pack and how much money you should bring.
We've got you covered.
Check out our travel blog for the top tips on things to see and do in destinations all around the globe.
We'll also share our favorite packing tips with you, so you can cram as much as possible in your suitcase.
Now all that's left to do is book your flight.
5 Italian Foods You Must Try on our European Trip
Italy is a foodie's paradise mainly because the Italians like to use the freshest local products when preparing their dishes.
And after you have indulged, take a Rome Walking Tour.
Traditional Italian food is known to most people around the globe but tasting it in Italy, where recipes have been handed down for generations and the ingredients were probably picked yesterday, just a mile away, is a whole new experience!
Apart from prepared dishes be sure to try the olive oil, wine, fresh mushrooms, Italian cheese, garlic and Italian pesto.
Italian food you must try
Pasta
Any variety will be delicious but the carbonara made with egg yolks, guanciale and pecorino, served with rigatoni is divine, especially when eaten in Rome.
Make sure you're eating the pasta which has been freshly made on the premises and explore all the shapes and sizes of pasta as well as the traditional sauces.
You'll discover the many forms the humble pasta can take and the individual flavored sauces depending on what part of Italy you're in.
Gelato
You'll find gelato shops serving creamy ice-cream on almost every corner of every street in Rome and most of Italy.
The flavors are vast and the rich treat is piled high in the display cabinets showing a rainbow of colors.
Enjoy your gelato in a waffle cone or a tub.
The gelato is delicious because of the high quality ingredients used, and no calorie counting is taken into consideration when the gelato is created!
Pizza
You'll discover that pizza comes in many forms and mainly in squares (pizza al taglio), but can be in triangles or circles!
Try the Pizza Bianca, a white pizza made using thick, fluffy focaccia bread as the base.
In Rome you'll find thin crust pizza and in Naples there is a thick bread base.
A good pizza should be baked in a wood oven and they can be piled high with fresh vegetables, meat and basically anything else.
Truffles
Italy produces the best truffles in the world so why not try them here, even better see if you can join a group hunting for truffles.
Truffles grow in the Piedmonte and Umbria regions, here you can also find truffle festivals.
The most famous truffle festival is the White Truffle Festival of Alba.
They are extremely expensive due to their rarity.
Truffles grow, like mushrooms, but beneath the ground and attached to a tree's roots.
One truffle is produced a year from each fungi and the flavor of the truffle varies according to the tree it grows on.
You can try the white truffles (the most precious) or black truffles and enjoy the delicacy in its country of origin.
Because of its price truffles are often added in sparse quantities and you can find them on the menus of only the finest restaurants.
Tripe
Trippa, may sound like an unlikely candidate for this list but for that reason it is here, it is unusual to foreigners!
The stomach lining of a cow's first stomach is cooked very slowly and served in a tomato or meat sauce it can also be made into a stew.
Tripe became a popular dish because it is cheap, but today it is a respected item on classy restaurants.
So whether you are visiting Italy for a holiday or are studying abroad, be sure to experience this cuisine.
Hadrian's Wall Walk – With its postcard-perfect panoramic views and historic Roman remains, Hadrian's Wall is one the most epic paths you can hike on.
The defensive barrier runs from Wallsend to Bowness-on-Solway on Scotland's east coast, and hiking the 135 km wall from end-to-end will take around a week.
An excellent way to soak up the vibe and dive into its rich history is to plan your route to take pit-stops at some of the incredible Roman ruins that are dotted along the way.
From famous forts and bathhouses to viewing towers and granaries, we reveal five of the most striking roman ruins that should be on your Hadrian's Wall must-see list.
Best Roman Ruins You Will See on Hadrian's Wall Walk
Hang out at Historic Housesteads
Ask any local for their advice on the best Hadrian's Wall hotspot and they will most likely reply with Housesteads Roman Fort.
After All, this ancient landmark is probably one of the most famous Roman Forts in Northumberland, if not Great Britain.
The imposing fort is perched high above Hadrian's wall, and a trip there will transport you back to an era when around 800 soldiers manned the barracks.
Prepared to be wowed by the artifact-filled interactive museum, discover more about the Roman Empire at a screening in the mini-cinema, and take a gander at some of the oldest toilets in the country.
You can head to the visitor's center to view a detailed 3D interactive map of the site and chat with the friendly and knowledgeable staff about Housestead and its intriguing past.
A new North-West Frontier exhibition showcases the life of the Roman cavalry through film and interactive displays.
There is a small admission fee for adults and children, while National Trust Members get free access to the grounds.
Facilities are plentiful with car-parking, a gift-shop and a small cafe available on-site.
Archeologists Dream: Vindolanda Roman Fort
Another must-see spot — and the only one where you'll witness archaeologists uncovering Roman treasures right before your very eyes — is Vindolanda Roman Fort.
Constructed around 122 AD, these barracks were filled with a treasure-trove of pristine personal items which archaeologists compared unearthing them to a lottery win.
The artifacts are in such great condition because they were protected by a thick layer of concrete which created oxygen-free conditions to preserve all manner of items including weapons, brooches, tablets, bags, combs and woven cloth.
Wandering the ruins will give you a strong connection to the 1000+ soldiers and slaves who once lived here.
The fort's newly refurbished museum displays many of the archaeological finds, including an ancient wood-inscribed writing tablet which recorded some of the more personal details of the soldiers and commander's lives.
Open all year round, Vindolanda Roman Fort does require a small entrance fee, but visitors will have access to a cafe, the museum, the souvenir shop and parking facilities.
Arbeia Roman Fort: Step into a Roman World
Arbeia Roman Fort shines a bright light on Roman culture through its beautiful restorations and reconstructions of original Roman buildings.
The large fort once housed soldiers who guarded the River Tyne entrance.
It was also a river supply center which played a vital role in sustaining troops who were stationed along some of the 17 forts speckled along Hadrian's' wall.
It's here you can marvel at the foundation of some of the earliest granaries in the United Kingdom, take a stroll through the luxurious commander's office and explore the barrack blocks that come complete with reconstructed beds and furniture.
Excavations are ongoing, and many of the findings are displayed in the on-site museum.
There is also a special interactive TimeQuest exhibition which unravels some fascinating Roman secrets.
Other highlights include a well-preserved chain mail suit and live-action events held throughout the summer months.
The fort and Museum are open from the start of January to the middle of September, and admission is totally free of charge.
Chester's Roman Fort
One of the more tranquil spots is Chester's Fort, which lies on the pretty banks of the North Tyne.
This fort has a large bathhouse, steam rooms, and clubhouse, which once served as a place of rest and relaxation for tired soldiers.
An amazing collection of rare objects await you in the on-site museum, while Chester's tea room provides a quaint spot to sip on a cup of tea and enjoy a scone or two.
Kids of all ages will be kept entertained at an interactive game experience called Chester's Fort Takeover, which will get you racing through the ruins on a fun adventure.
Visitors can choose to become an English Heritage member to receive free access to 40 hot spots, including Chester's Roman Fort, several other historic places along the walls, as well as one-off events.
Non-members will be required to pay a small admission fee to access the fort, and family discounts are available.
You can choose to drive to your chosen Roman ruins and significant parts of the wall that is on your list, but the best way to truly absorb the history and magic of the wall is to hike it.
You can book Hadrian's Wall Walking Holidays which range from 3 to 10 days in length, and include accommodation, a detailed guidebook filled with a personal itinerary, essential information, waterproof maps and images.
It's an easy way to explore the best Roman forts, and have everything planned for you before you arrive.
At The End of the Wall: Segedunum Roman Fort
Last but certainly not least on the list is Wallsend Fort, which gets its name from being the last fort on the east end of the wall.
Also known as Segedunum Fort, this wall is the most complete excavated site on the wall.
Unliked Chesters Roman Fort, Wallsend features fully reconstructed Roman baths.
There's also a reconstruction of the wall which sits just the other side of the main road, and visitors are allowed to climb on it in order to get a true feel for its size.
For birds-eye views of the wall and its pretty surroundings, head up to the top of the impressive 35-meter high viewing tower.
The extensive museum is worth a visit too, as the interactive exhibits tell a vivid story of Roman and pre-Roman times.
Special events are held through the year including fireworks, reenactments and kids fun days.
Check the official website to find out more information on opening hours, and what is on during your trip.
The fort and museum are open year round and there is an admission fee for adults, while concessions are available and children under 16 get in free.
The fort houses a small cafe, and a souvenir-filled gift and frequent lectures and reenactments are held through the year.
So don your best hiking boots, clean your camera lens and get ready to explore one of the most magnificent walls in Europe.
It's time to steep yourself in the rich history of the area and get lost in a long-gone era.
These five Roman ruins are arguably highlights of Hadrian's Wall and will impress even the most knowledgeable history-buffs.
Enjoy your trip.
Tuscany Italy – What To See And Do
If you want to go to a place known for its good food and drink, amazing atmosphere and peaceful ambiance, then Tuscany is the perfect destination.
Lucca
The city of Lucca is a great place to visit in Italy, and has many attractions for its tourists and residents.
The city is enclosed inside a wall, however there are lots of places to rent bikes and go on some splendid walks.
Some great sights to see in this city include the "San Michele in Foro Church", the "San Martino Cathedral" and also the "Church and Baptistery of San Giovanni and Perparata".
This is a great place to go if you plan on visiting Pisa.
Pisa
Pisa is a must see destination if you plan on going to Italy for a trip, it can become very hot in the summer and very crowded especially around the cathedral.
Strangely enough, this is where the famous Leaning Tower of Pisa stands, or leans.
For great views of the surrounding area take the 300 step ascent up to the top.
There's no need to worry about this bizarre structure giving in to gravity and toppling, for it was leaning during its construction and has been ever since, for over 800 years.
For good measure it also counter weighted by hefty blocks of lead. Lots of them.
Siena
This city is around 200 km north of Rome and has some of the best festivals in Italy.
The most famous one is the festival "Il Palio di Siena", which is a horse race in the square "Piazza del Campo".
The countryside of Siena is beautiful and unique.
You will encounter small villages and medieval towns consisting of vineyards and impressive olive trees.
There are many beautiful Tuscany villa rentals around Siena, and they tend to be especially popular with wine connoisseurs
Florence
Florence is one of the most famous cities in Italy stands a very pretty Renaissance city in the center of Tuscany.
The most popular and famous square in Florence is Piazza della Signoria, which has a great open air sculpture exhibit.
You should definitely make sure you see the "Baptistery" which is of John the Baptist – as its one of Florence's oldest buildings.
Stop by the oldest bridge in Florence – the "Ponte Vecchio" – which was built in 1345.
Wimdu has some amazing deals on local bed and breakfasts in this city and worldwide – so make sure you find yourself a place to stay before it's all booked out for the Summer!
For something a bit more relaxing, why not head to the "Boboli Garden and Pitti Palace".
You can wander through the huge park and view the wonderful gardens and fountains.
It has a great view of the city from here, so remember to take your camera with you.
Then head to Rome and take a walking tour.
Things To Do In Florence Italy
Things To Do In Florence Italy ~ Known as the birthplace of the Renaissance – Florence is a cultural, architectural and artistic gem.
From visiting world famous museums to sampling local wine in a corner bar, there is plenty to see and do in Florence, and the city will easily keep you busy for a week.
However, keep in mind that with all the entrance fees, the costs can easily add up, but on the other hand you won't want to miss out on all the great attractions for being cheap.
Instead, spend on the attractions and save on accommodation, and stay in one of the many apartments on – that way you can cook your own meals, which will save you a lot of money!
Museums In Florence Italy
There are a number of excellent museums in Florence, from sculpture museums to science – there is even a museum dedicated to the luxury brand Gucci!
The most famous museum however, is Uffizi, one of the most popular museums in the world, with collections of Renaissance paintings and sculptures from classical antiquity.
The entry fee, and it's not uncommon having to wait in line for hours, so the extra € for booking in advance could very well be worth it, as you will save a lot of time that could be spent in the museum rather than outside of it.
Other popular museums include Bargello, Accademia Gallery and Pitti Palace (with the beautiful Boboli Gardens).
Santa Maria del Fiore In Florence Italy
Also called "Duomo di Firenze", this is the most beautiful cathedral in Florence, and is the symbol of the city.
It's possible to climb up to the huge Dome to get a view overlooking the city.
But keep in mind that there are 464 steps to climb!
Ponte Vecchio In Florence Italy
Built in the 14th century, Ponte Vecchio, which literally means "old bridge", is the oldest and most famous bridge in the city.
Unlike most bridges, this one is known for having shops still built along it, a tradition which was once common in Italy. The little buildings hanging off it over the river can be seen from the Uffizi.
Most of the shops are traditionally mostly jewellers since the days of the Medici.
Boboli Gardens In Florence Italy
Boboli Gardens which are located behind the Pitti Palace, is one of the most beautiful and relaxing spots in Florence.
With fountains, flowers, tree-lined lanes and wonderful views of the city, the Boboli Gardens are not to be missed!
We hope you found these tips useful, and we recommend checking out The Roman Guy for tours to Florence and Tuscany.
And checkout our article regarding Rome Walking Tours
Things To Do In Bologna Italy
Bologna, the capital of the Emilia Romagna region of Italy is a leading university city and one of the country's most beautiful.
Together with ancient buildings the city is driven by a modern energy and dynamic cultural life.
Apart from the top five attractions recommended below be sure to try the famous Bologna cuisine.
Sip coffee in the Piazza Maggiore
With a stop at this central square you can see a number of attractions all in one go.
The ancient square is surrounded on all sides by historic medieval buildings and features the beautiful Fontana di nettuno (Neptune's Fountain).
In the square are the City Hall Building (Palazzo Communale);
Basilica of San Petronio which is one of the world's largest churches, holds the relics of the city's patron saint and Charles V was coronation here in 1530 also Napoleon's sister Elisa Bonaparte is buried here.
Portico of Banchi and the 1200 Palazzo del Podesta (Palace of the Podesta) where shops line the double open arcade on the ground level.
Relax in one of the outdoor cafes and enjoy doing some people watching while you sip your coffee.
Climb to the top of one of the Twin Towers
The two towers of Bologna are an iconic landmark in the Piazza di Ravegnana dating back to the 12th century when there were many more towers in the city.
The two towers were used for military and civil purposes.
The Asinelli family funded the construction of the tower where there is a 498 step staircase which can be climbed to get breathtaking views over the city and its red roofs.
The staircase is made of wood and takes you 97, 20 meters above ground level.
A the base of the towers you can see the remains of barracks built in 1448, today there are workshops in these strongholds.
Basilica of San Domenico
Apart from the stunning architecture this church is home to some exquisite artwork.
Here you can see work by Giuseppe Pedretti, Vittorio Bigari, Ludovico Carracci and many more artists.
But the church is best known as the place where Mozart played the organ while studying with Giovanni Battista Martini (1769).
In the pebble paved square in front of the church parishioners used to stand and listen to the sermons given by the priest from the pulpit at the churches corner.
Note the beautiful brick column in the square which holds a bronze statue of St. Dominic.
Pinacoteca Nazionale di Bologna (National Art Gallery)
This is one of Italy's leading museums and is home to an impressive collection of regional art spanning the history of art from the 14th to 21st century.
There are thirty rooms displaying the permanent collection which includes work by Reni, Carracci and Raffaello and regular temporary exhibitions as well.
The museum focuses on artists with some association with the city and they strive to preserve the region and city's artistic history.
Basilica di Santo Stefano
This used to be a medieval complex of seven churches, today only four churches remain.
The relics of San Petronio are kept in Chiesa del Crocefisso and Chiesa del Santo Sepolcro is an octagonal church.
In the next courtyard Cortile di Pilato takes its name from the basin where Pontius Pilate washed his hands after sentencing Christ.
Chiesa della Trinita is next to a small museum and Santi Vitale e Agricola is the oldest church in the city.
Exploring The Beauty Of Venice
There is no denying that Venice is a unique destination – throughout history, the city resisted invasions, sieges, the plague, and ultimately, subsidence.
Still, Venice attracts more than 50,000 visitors every day.
This article will review the Hotel Cipriani, an interesting accommodation choice located in one of Venice's most charming islands.
It will also provide the prospective visitor with suggestions on the best places to visit.
The Hotel Cipriani sits on the eastern tip of Giudecca island, the hotel offers its guests a 24-hour complimentary boat service that ferries passengers to and from St Mark's Square.
The Cipriani is also well communicated with Venice's airport and the city's train station, via public transport.
The hotel provides only the most exquisite service and facilities.
In fact, visitors could spend their holidays enjoying a swim at the hotel's heated swimming pool, or indulging in the whole range of treatments available at the wellness centre.
However, it would be a pity to miss the many sights that surround the Cipriani.
The island of Giudecca is nowadays an upscale residential area, but tourists flock to the island to visit the 16th century church of Il Redentore, which holds paintings of renowned Renaissance artists.
Another pleasure offered by the island is the possibility to walk along its pier, while taking in one of the best views of the Venetian city.
As locals say, you must see Venice from La Giudecca in order to get the right perspective of the city.
From the pier, visitors can get spectacular views of St Mark's Square and the Doge's Palace, just across the Grand Canal.
You can also cross the Canal to visit the Zattere, just north of La Giudecca.
Here, the ample promenade is the perfect setting for an evening stroll or a romantic dinner at one the many restaurants.
Alternatively, you can visit one of the few remaining gondola-making workshops.
I found it relaxing that a walking tour of Rome.
There is no shortage of historic buildings and monuments in the Zattere, so the tourist could easily spend a whole day taking in the sights.
Back in La Giudecca, the tourist can visit the Mulino Stucky, an impressive neo-Gothic construction which now houses a hotel.
It was here where electricity was first introduced to Italy.
The huge complex is comprised of 13 different buildings, one of which houses the Skyline bar, the perfect scenario to end to your Venetian holiday.
Choosing the Perfect Hiking Boots for Trekking the World
Physical Fitness to Keep You fit
(photo credit: 1 – 2 – 3 – 1, 2, 3 – 1 – 2 – 3 – 4 – 5 – 6 – Pixabay and Pixabay – 1, 2, 3, 6, 7)