Updated:
Mysterious Thailand – In some destinations, it's best to do things strictly by the book.
A person could visit Los Angeles, for instance, using a reputable guidebook and could have a perfectly acceptable experience.
They'd hit all the highlights of the area and probably avoid some of the grittier neighborhoods.
However, other destinations (Traveling to Thailand) definitely deserve to be explored in a manner that's more off the beaten path.
A little unscripted wandering in these places means being able to interact meaningfully with local people and to experience their culture in a way that simply can't be achieved when a traveler is chained to a guidebook…Ayutthaya and Sukhothai
As vegetarians we never tried these meat sticks, but they are very popular for some reason…?
Bangkok to Ayutthaya, Thailand Travel Video- As We Travel TV Show
One of the most memorable images of Thailand are the long tail boats lining the beaches with its colorful bands, here with the lime stone cliffs from Rai Leh in the background.
Mysterious Thailand
One of these places is Mysterious Thailand.
It's an ancient, majestic and mysterious place that's worthy of years of exploration.
Unfortunately, most people who visit here don't have tons of time to really absorb the local flavor.
While a guidebook might be enough for the casual visitor, someone who wants to really delve into the depth and complexity of Thai culture won't be satisfied with that experience.
As with any foreign civilization, the best way to view it is with the assistance of a local.
Someone who has grown up with and is fully immersed in the Thai culture can open doors for the tourist who wants to go beyond the well-known temples and palaces.
It makes for an intimate, highly personalized experience the likes of which would be virtually impossible to duplicate without having a local friend or two.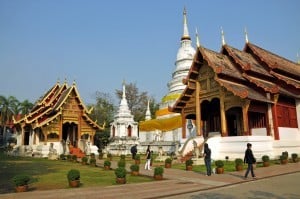 Fortunately, the internet makes connecting to local experts a breeze.
It makes one-of-a-kind experiences a reality in a way that just wouldn't happen otherwise.
Imagine being able to dine in a private home, enjoying authentic Thai dishes that were prepared by a host who has been learning to craft traditional meals since childhood.
It's definitely not the kind of evening that would happen in even the finest restaurant in the nation.
Travelers visiting mysterious Thailand can go way beyond the major attractions with the assistance of a local guide.
Hosts can arrange for a vast array of experiences.
Depending upon their specialty and interests, a host might provide a lesson in Muay Thai, the nation's style of martial arts.
Others offer cooking lessons, tours of the local marketplace, or provide insider tips on how to get the best deals on locally made wares.
Wat Pho is famous for its impressive huge golden Reclining Buddha, but few know that this also is the birthplace for the traditional Thai massage…
Hosts are friendly and accommodating, which makes it easy to arrange for a tour, activity or meal.
There's simply no substitute for being able to visit a temple or museum with someone who can bring the local perspective to the adventure.
By sharing their thoughts and memories, hosts bring the Thai culture to life in a particularly personal way.
They help visitors to understand not only what the Thai lifestyle is, but also why and how it has evolved the way it has.
We met these fishermen on a morning market in Thailand, selling their newly caught fish from the previous night – they seemed like two men with a lot of stories to tell.
Hosts are fully vetted, so visitors can rest assured that their experience will be safe and memorable for all the right reasons.
More than one tourist has made a lifelong friend by using this service.
It's possible to arrange for a tour or other activity well in advance, but sometimes the hosts can be quite flexible when it comes to accommodating last minute requests.
I've heard that these women try to make you pay for taking photos of them in Vietnam – well this was Thailand, where you don't pay to take a photo of someone, and she was so happy that we took a photo of her that she actually stood up and posed for us… such an adorable woman…
Each experience is unique, and it is often possible to make special requests that the host is willing to tailor to the taste of the visitor.
For instance, enjoying a home cooked meal with a local family is one of the most asked for experiences.
The visitor may arrange for their own transportation, but in many cases the host provides a knowledgeable escort who can see them safely to the home of their host.
Visitors are immediately put at ease by a warm and gracious welcome, and special dietary requests are respected.
Each individual is treated like an honored guest and can expect to enjoy the finest Thai style hospitality.
For many visitors, it is these unique, one-of-a-kind experiences that become the most memorable part of their visit.
Tourists may also arrange to observe some of Thailand's most interesting festivals with a local host.
Songkran, or the New Year's Day celebration, is particularly popular.
Many people also choose to visit on Ghost Day, traditionally known as Pi Tha Khon.
Unique Thai festivals take on far more significance with a local guide.
It's a wonderful way for visitors to understand the meaning behind the celebrations and better appreciate the traditions and legends that are incorporated into each.
We're not quite sure what the strings were used for, but the owner of the bike sure had an eye for pretty color combinations..!
While there are a number of reputable, well-written travel guides on the market, none of them can truly compare with having the guidance of a local insider.
No book can possibly contain information on every attraction, festival and restaurant in Thailand.
That's why a local friend is so indispensable.
With their assistance, greater understanding and appreciation is possible.
It turns an interesting experience into a remarkable one, and mysterious Thailand definitely deserves to be appreciated in all of its complexity.
This is one of the very few whole Buddha statues in Ayutthaya.
Nearly all Buddha statues were decapitated when Ayutthaya fell to the Burmese in 1767.
This was done to remove precious items – gold, jewels and other relics – placed inside the statue when they were made, and the heads were then sold to private collectors in Europe and the US.
A few have been rediscovered in museums in the US, but when Thailand asked to have them returned they refused.
Lopburi to Sukhothai Thailand Over-Run by Crazy Monkeys
Cooking and Deserts Video Chiang Mai Thailand
How To Enjoy Thailand Without Visiting The Beach
Things To Do In Chiang Mai Thailand
Things To Do In Bangkok, Thailand
5 Things I've Learnt About Thai People While In Thailand
Koh Lanta – Thailand
For a moment we thought we would never get away from this island.
We extended our stay longer and longer, and really fell in love with everything this island had to offer.
Life in Koh Lanta is slow paced, easy, and days turn to weeks without anyone even noticing.
We lived right on the beach with the most amazing view from our bungalow overlooking a seemingly endless white beach and turquoise water.