Europe Train Challenge – By the time you read this, we will be sitting on a plane flying back to Europe – that's right, we decided to cut our Asia travels short, head back to Europe and start a whole new adventure!
On the 2nd of May it begins ~ AS WE TRAVEL:
Europe Train Challenge 30 countries – 90 days around Europe by TRAIN
Welcome: The Europe Train Challenge.
We have teamed up with InterRail (as our premium sponsors) to create this train challenge.
During the challenge, everything we experience will be filmed, edited, and then turned into a travel show, which will be released online while we are still traveling.
The aim is not only to see if it's possible to visit nearly every country in Europe by train within a 90 day deadline, but also to inspire and show others how easy it is to get out there, and explore the wonders of Europe in an environmentally-friendly way.
So be prepared for an extra busy 3 months here on As We Travel.
List of 30 countries we will be visiting in 90 days:
Ireland / England / Netherlands / Belgium / Luxembourg / France / Portugal / Spain / Switzerland / Italy / Slovenia / Croatia / Bosnia / Montenegro / Serbia / Macedonia / Greece / Bulgaria / Turkey / Romania / Hungary / Slovakia / Austria / Czech Republic / Poland / Germany / Denmark / Sweden / Norway / Finland … phew!
Europe Train Challenge
Europe Train Challenge – The Route
Hey everyone!
In less than 4 days we will be starting the Europe Train Challenge in Dublin, I am sure you have seen that stressful countdown button above :p
Many people have been asking us where exactly we will be traveling during this challenge, so I thought it would be great for you guys if we posted our route map.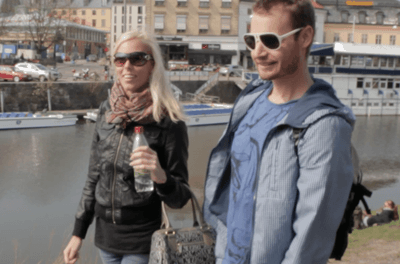 If you want to follow our daily updates, latest videos etc – you can click the like button below, follow our adventures and behind-the-scene videos on Facebook.
For us the most stressful part of the trip is that we have already confirmed and booked nearly everything.
The route below can not change, since we have already arranged sponsored accommodation in every city along the way and most train tickets to each place.
We have never planned this far in advance, and it really isn't our style of travel – we normally prefer to turn up, see what happens and then make future plans based on how we feel.
This is very different, and we are feeling a bit stressed about all the planned certainty and having to make sure we arrive in each city on the exact day. :p it's gonna be a fun challenge!
Firstly here is a rough outline of Europe with our route layout:
Below you can see the exact dates for when we will be in each city during the month of May.
Europe in MAY:
Dublin: 1-2-3 – May
London: 4-5
Amsterdam: 6-7
Brussels: 8-9
Luxembourg: 10
Paris: 11-12
+ OVERNIGHT – 13th
Lisbon: 14-15-16
+ OVERNIGHT 17th
Barcelona: 18-19
Vevey: 20-21-22
Venice: 23-24
Bled: 25-26-27
Zagreb: 28-29
+ OVERNIGHT 30th
Sarajevo: 31st May – 1st June
JUNE – JULY WILL BE POSTED AT A LATER DATE.
We will also be posting at least 2 new HD videos every week from every country we visit – so make sure you follow along on this adventure.
ALSO we would love to meet up and connect with any readers who happen to live or are also traveling to the same places as us – so send us an email or comment below with your location and we would love to meet up – we might even create a Facebook event for each city we visit – what do you think about this?
Europe Train Challenge – 3 Countries In 1 Week:
It has been just over a week since the Europe Train Challenge started, and it has been one big roller coaster ride so far!
Countries This Week: Ireland, England, Netherlands.
Europe Train Challenge
Usually, Nathan and I enjoy a more slow paced style of travel – we're used to staying in cities until we know them inside out – so jumping to a new country every 2-3 days has been very different!
In a way, I've actually liked it more than I expected, but it still feels quite strange.
Sweden and Dublin, where we started our journey only about a week ago, feels so far away.
We have seen and experienced so many things in such a short amount of time that every day feels like two days.
We wake up in one country and go to sleep in another – where else can you do that so frequently and easily than in Europe?
travel from country to country
It really is different to travel from country to country every second day, and Europe just feels smaller and smaller.
We have been eating so much fatty food – it seems as though every country's special local food is the fattest they can come up with 😉
But I've been enjoying it all; the thick battered fish n chips in Dublin, the beer (and deep fried Chinese) in London and the Stroopwaffles (with syrup filling) in Amsterdam.
Finding local food – which was part of our challenge in each country, was only difficult in London – the city was so multi-cultural that it almost seemed more 'local' to eat Indian or Chinese for lunch than pie and mash.
Amsterdam
Apart from eating, we have done what we do best – walked.
Walking around a city, looking at the strikingly different architecture, visiting tourist attractions and people watching are what makes traveling so fun and spontaneous.
It's often hard to explain what you have been doing when somebody asks.
Often what you remember is not exactly the attraction you saw but the people who were there seeing it with you.
Feeling in the vibe and atmosphere has been the most interesting part of this trip so far.
When you change surroundings so often, you really see the contrast in people: the people in Dublin were completely different from those in London, who were totally different from those in Amsterdam – the contrasts is what has been most obvious and surprising.
The only thing I've had a hard time with is finding time to blog. 🙁
Whenever I visit a new city I want to get out there right away and see it all and more – but traveling and blogging doesn't really make that possible.
And when you do have the time to blog, the wi-fi is super expensive…
How you can find free wi-fi in a small town in the most Northern part of Thailand, but London & Paris want to charge crazy prices for a bad connection, is beyond me! B
But don't worry, we'll update as often as we can and the first video episode of our Europe Train Challenge from DUBLIN will be up in just a few days – Nathan has been working hard editing all the videos! 🙂
Europe Train's
Europe has some of the world's most breathtaking scenery!
It has inspired fairy tales and epic poems.
It has provoked paintings and plays.
The scenic views of Europe are not only absolutely stunning, but they have brought about some of the world's most beautiful works of art!
Taking in all of the majestic landscapes in Europe may seem like a daunting task.
Racing from Croatia to the beaches of Spain, to the vineyards in Italy and the Black Forest of Germany, there's just SO MUCH to see!
What better way to take it all in than from the luxury of a train holiday through Europe!
Grand Tour of Switzerland
Taking in the spectacular views of Europe wouldn't be complete without seeing the majesty that is the Swiss Alps!
Enjoy the fine foods of Switzerland, the brilliant culture, the wonderful people, and of course, the most awe-inspiring natural views!
Your grand tour of the many unbelievably gorgeous Swiss landscapes will take you on an eleven-day adventure!
Travel from London to Interlaken, where you can explore the Bernese Oberland!
You can even take a railway up to the top of the peaks with the Jungfrau railway lines!
After Interlaken, you'll make your way through to Montreux with the Golden Pass!
The Swiss Riviera awaits you and you'll spend a day or two in the Lake Geneva area before heading off to Zermatt and the picturesque Swiss Alps!
In Zermatt you can even board the Gornergrat Mountain railway to ride up close and personal to the MATTERHORN!
Once your time in Zermatt is complete, you'll travel through the mountains to St. Moritz on the Glacier Express!
The practically perfect scenes as you ride alongside the Rhône will make the trip that much more splendid!
From St. Moritz you'll travel to Lugano past Lake Como, then on to Ticino!
Enjoy the Italian border before you head off to Lucerne!
Lucerne is your final stop on this spectacular journey before heading back to London.
The grand tour of Switzerland will take your breath away with its beauty!
Upgrade your journey to include hotels, train seat assignments, restaurants, or even extending your stay in certain cities.
Prices vary depending upon seasonal travels, personal upgrades, and preferences.
Standard class Swiss Pass for travel on Glacier Express, Golden Pass, and Bernina Express
Travel Documentation includes tickets for the railways, hotel vouchers, restaurant recommendations, and other necessary documents.
Provence in Detail
One of the most memorable places you will see in your tour of European scenic views will be the exquisite sights of Provence, France!
Take in the beauty of the rolling Lavender Fields, the olive groves, and even the rocky outcrops in this amazing French countryside!
When it comes to traveling in style, booking a tour will give you everything you need for a memorable holiday!
You'll have accommodations included with top of the line hotels in every city on your Provence Tour!
Your holiday will take you from Avignon, to Aix-en-Provence, all the while enjoying a voyage tailored to your needs!
Black Forest to Saxony: A Continental Railway Journey
Travel to the birthplace of so many famous fairytales as you make your way to the unimaginably inspiring Black Forest!
Here you'll find yourself immersed in a rich culture of stories, history, and Cuckoos, all while taking in the beautiful sights Germany has to offer!
From London into Brussels, then from Brussels into the stunning Freiburg, you'll start your epic holiday in a sunny, medieval Old Town!
The Gothic architecture will then transition to the heavily wooded slopes of the Black Forest.
Make sure to really take in the local histories, stories, and amazing craftsmanship and artistry of this strikingly exquisite region!
Days four and five you will find yourself in the city of Heidelberg on the Neckar River.
The Heidelberg Castle on top of Mt Königstuhl will give you all of the fairytale feelings and you can learn some incredible and interesting things!
Wrap yourself up in the fairytale experience as you tour through some of the most impressive scenic areas in all of Germany!
On day six you will go from the remarkable fairytale landscape of Southern Germany into the busy city of Frankfurt.
You can get out and see the beautiful city on your own, or sign up for guided tours.
Then for two days you'll make your way to the city of Göttingen!
Leaving Göttingen, you will find yourself watching the handsome landscape of the Rhine whirl past as you make your way back to London!
What an amazing holiday spent absorbing the fantastic and alluring beauty of the Black Forest!
Extend your holiday to include a train journey all the way across Germany to Berlin!
Upgrades are available to hotel, train seats, and any other addition like an extension in each city.
Documentation includes city maps, hotel vouchers, comprehensive directions, rail tickets, and other necessary documents
Reach out for local tours of the Black Forest area and in the major city stops.
Croatian Coastline
If fairy tales and mountains and sprawling hillsides aren't your cup of tea, then maybe you'll enjoy some of the world's most spectacular beaches!
Traveling down the sunny coastline of Croatia along the Adriatic Sea will let you take in the sun-filled sights of the Mediterranean!
Day one will find you traveling from London to Turin!
Travel across France and then the Italian border into Turin.
Then day two you will travel all the way from Turin's Porta Nuova station to Ljubljana through Venice (where you'll get to stop for lunch)!
You'll almost feel overwhelmed with the opulence and beauty of these train rides!
Once you find your way to Zagreb, you'll finally set your sights on the richness and luxuriousness of the Croatian coast!
In Zagreb you can take in a few hours of cultures and traditions, before you make your way to the Dalmatia region and the city of Split.
Here you will bask in the sun and sea breezes!
After a few days in Split, with its medieval influences and Roman era passages, you can travel to the island of Hvar!
You can even include a full boating day on the Adriatic into your travels, or an extension down the coast to Dubrovnik!
Enjoy the sunshine and welcoming culture of Hvar Island for a few days!
You can see the beaches, soak up the sun, go hiking on the hills of the coastline, enjoy watersports, and even hire a car to take you on a private tour of the island!
Your eleven-day train journey will end with a trip from Hvar Island back to Zagreb, then onto Munich via the Alps, and finally home to London!
Stay in four-star hotels in Turin, Ljubljana, Split, Hvar Island, Zagreb, AND Munich!
Upgrade your holiday at any time to include five-star hotels, first-class train tickets, extra nights in each city, or a few nights more in Dubrovnik.
Prices will include accommodations, but are also based on seasonal travel and your own personal requests.
Best Time to Visit Italy
Best Festivals in Europe
Best Food City in Italy ~ Best Places to Eat in Italy
Turin Italy Forgotten Food Capital
Best Time to Visit Bergamo Italy
Bergamo – The City Milan Doesn't Want You To Visit!
How Do I Use My Cell Phone While Traveling to Europe