Cheap European Vacations – We get a lot of emails from people asking for advice on their planned Europe trips, and the most common question we get is about how much it will cost to travel to the destinations they have planned, and then also if we have some tips for other cheap European vacations they can take instead.
After having traveled extensively through Europe in the last few years we have found that prices vary highly between every country, and depending on where you go you can either make or break your budget. Travel Cheat Sheet for Europe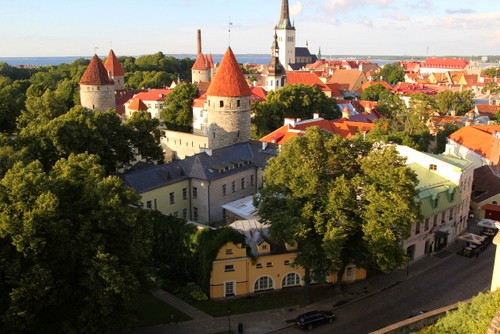 Also remember that it's not just the destination that decides the price of your trip – to make sure you stay on budget, don't be cheap with your travel insurance.
It's better to be safe than sorry, and to spend a little extra money on getting travel insurance with medical conditions (if you have them).
Since if you risk it and something bad happens, your trip will certainly be one of the most expensive you've taken..!
General Rule For Cheap European Vacations
As a general rule, countries in Eastern Europe tend to be cheaper – there are some great places to visit in the Balkans and Baltics.
A few exceptions in Eastern Europe is Turkey and Greece, which from our experience are quite expensive to travel in.
Here are some great destinations for those looking for cheap European vacations this summer…
Cheap Vacation to Bosnia
Bosnia is a true gem in the Balkans, with some fascinating cities, beautiful nature and charismatic people.
Traveling by bus around the country is cheap, and a great way of seeing the countryside.
Eating local food and in local restaurants (i.e not the touristy ones) is very cheap; a coffee and Borek (a traditional savory pastry) is about €2, and you can get a descent meal with drink for €5.
Sarajevo and Mostar are two great places we recommend to check out, but there are many other places to see and things to do – like white water rafting in Neretva river.
Cheap Travel to Portugal
Portugal is one of my favorite cheap European vacations in western Europe, with charming cities, lovely people and fascinating food.
There is a great variety of things to do in Portugal, from surfing in the south, to exploring the Fado restaurants in Lisbon, or wander the narrow streets of the picturesque town Porto in the north.
There are some great deals to find in Portugal, especially in Porto.
There are plenty of cheap snacks to buy in the corner shops, and there are hostels offering amazing value.
Croatia isn't as cheap
Croatia isn't as cheap as many other Eastern European countries, but for a beach destination, Croatia is the perfect alternative to Greece (which for the record, doesn't seem to have gotten any cheaper despite the economic crisis).
The coastline is incredibly beautiful, with quaint fishing villages and islands with awesome nightlife.
Food, accommodation and drinks come relatively cheap, and you can travel cheap both on the mainland as well as go island hopping between the islands.
The capital city Zagreb (which generally seems a bit cheaper) and the historic city Dubrovnik offer amazing culture and history for when you've had enough of the beach life.
In all, it's one of the best cheap European vacations for both sun worshippers as well as culture and history fanatics.
Estonia on the Cheap
Estonia is our favorite among the Baltic countries – the capital city Tallinn is adorable, with charming cobble stoned streets, interesting attractions and friendly people.
It's on our list of cheap European vacations because accommodation, food and transport is cheap, and because there are many free sights to check out.
Don't miss out on trying the huge delicious pancakes at Kompressor (Rataskaevu Tänav 3, in the Old Town) which at €1-5 is a steal!
Checkout of Tallinn Travel video
Cheap Vacations to Berlin (Germany)
I say Berlin instead of Germany because the rest of Germany isn't as cheap as Berlin.
Summers in Berlin don't get as hot and unbearable as in many other cosmopolitan cities in Europe, so if you are looking for a shopping weekend getaway, you will find summer a perfect time to visit and get the best of the city.
You can find some great value on accommodation, and there are cheap restaurants, bakeries and bars everywhere.
Berlin is the perfect choice for cheap European vacations for tourists who enjoy boutique shopping, underground partying and museums.
Cheap Travel to Czech Republic
Some people might complain about how Czech republic isn't as cheap as it used to be, but in the big picture it's still cheap and still deserves a spot in the list of cheap European vacations.
You can get a nice hotel room in the city center for the same price as a hostel in other countries in Europe, their famous beer can be enjoyed for €1,5 and you get large portions of their hearty cuisine for well under €10.
The country itself is beautiful and has some interesting places to visit, Prague being the most popular, nicknamed the "city of a thousand spires".
How To Plan A Trip To Europe
To travel around Europe is a dream for many people around the world, there is so much to see, so much history and culture to embrace – and it's all there right in front of you, just waiting to be explored.
But planning a trip to Europe is no easy task, at least not if you want to make the most of your time there and get the best experience possible.
It takes a lot of planning, but where do you start?
Well here are the three first steps you should consider before starting to really plan the rest of your holiday to Europe.
Where To Go in Europe
Choosing the destination is perhaps the trickiest task, as there are just so many places to see and every country has something unique to offer.
The question you have to ask yourself is: what do you expect from this trip?
Do you want to see old historical towns, party, indulge in cuisine, explore the traditional things or more modern?
Chances are that you will want to see a little bit of everything.
Your destination also comes down to you budget.
The more money you can "throw around" the more choices you have.
Generally speaking, eastern Europe is cheaper than western Europe, and northern Europe is even slightly more expensive than the south.
Scandinavia is not a budget destination, although it is possible with more thorough planning, but the experience is more that of typical Scandinavian than what foreigners imagine is European.
If you don't mind flying, you can choose to spend some time in different parts of Europe to truly experience the differences.
Germany and Austria are sort of similar to each other, but entirely different from the Balkan countries, and so on.
Transportation Options to Europe
Now, once you arrive in Europe, you're going to need a way of getting around as well.
The three most common options are to fly, travel by train and travel by bus.
Flying within Europe can be very cheap, but requires more detailed planning, and is only really beneficial if you're traveling a long distance.
To fly to the neighboring country will likely be more expensive and take more hassle than to go by train or bus.
To travel on land with bus and train will give you the opportunity to see more of Europe as you travel through the countries.
Bus is often cheaper than train, but also more uncomfortable.
Bus About and Eurolines are popular to travel around Europe with by bus, while EuRail is the obvious choice for train travelers.
How To Plan Your First Adventure Trip
Tips To Save Money On Your Bookings to Europe
Traveling to Europe is not a cheap investment, however, there are many ways you can make it cheaper by a little bit of effort.
Here are a few simple tips on how you can save more money on your next Europe trip and still get the most out of your destination.
Use A New Accommodation Booking Engine
It's easy to just get used to using the same hotel booking site every time you travel somewhere, but today there are so many great booking sites offering incredible deals and good value.
There are also many different types of accommodation to choose, that can both help you save money and give you a more memorable trip.
If you're open to new things, then renting out an apartment from one of the many vacation rental websites would be something for you.
You can choose to either rent out a room in someone's house or apartment, or get the whole villa or apartment to yourself, for a price much lower than the hotels.
Then you have couch surfing which is entirely free, however that often means that you'll spend a lot of time with your host, so it's not at all the same as a hotel, although you get to meet the locals and see a different side of the city you visit.
If this is not your thing, and you prefer staying in a hotel or B and B, then choose a booking engine that compares not just with its own hotels, but with other hotel booking sites.
Websites combines the results from different hotel search engines so that you get more options.
This will help you get a better deal and save money.
Let Someone Else Find The Flight Ticket
There is a brand new, very effective way of letting go of the hassle of looking for the best and cheapest flight and let somebody else do the job for you.
The website is called , where you can offer to pay the person who finds the cheapest or best flight money as a reward.
Considering that the person finding the flight can possibly find a better ticket saving you thousands of dollars, 40$ is nothing but a win win for both.
Get Savvy on Your Travel Extras Too
There are always those little extras that you forget when booking your trip, yes flight sorted, accommodation sorted but what about the airport parking.
Well thankfully you can now find comparison websites offering all the options and you just choose the cheapest for any particular car park.
Be sure to compare prices and were really easy to use plus of course offered stacks of great deals, especially if you can book in advance where the prices got really cheap.
Europe – The Most Popular And Cheap Summer Holiday Spots For You To Visit
Hey everyone! I hope you're having a great summer.
Holiday time is here in Europe, people are escaping the cities and heading out to find the best summer spots – but where is the best place to go?
I've tried to figure out where people are going this summer, which destinations offer the best cheap vacations, so I called a couple of travel companies to check out whats going on for summer 2010.
Obviously it all depends what you want out of the trip, but here are a few destinations which are most popular this summer.
Turkey
Turkey is one of the cheapest countries to visit in Europe right now, and really is so much more than just cheap fake brands and nice beaches.
You just need to be willing to scrape off the surface to find those amazing places with a lot of cultural value.
If you want to experience some history then I would recommend spending a day in the Ephesus Ruins.
It's one of the best preserved Roman city in the Mediterranean region, and is an amazing sight to see!
If you like a bit of adventure, why not go white water rafting.
You can choose between Dalaman, Köprülü, Çoruh and Zamanti Rivers. Another fun thing I recommend is trying a Turkish Hamam Bath.
It's a great experience, but do it early on your vacation if you want to keep that tan!
Best Places To Party & Shopping? Make sure you check out: Alanya, Marmaris and Antalya which can all be found in Turkey.
Greece
If you're looking for incredible beaches but want them without the 200 other German tourists (who according to a travel company salesman, tend to get countries raising prices wherever they go), then make sure you head over to Karpathos in Greece.
Not only is Greece cheaper because of the low Euro, but Karpathos is generally always cheaper than at the rest of Greece.
This could have to do with the fact that the island got an airport 5 years ago, and didn't get exploited the same way as Crete in the 70's.
Some people claim that this island is like Crete used to be before the mass tourism.
Many of the postcards you see of Greek islands are taken from this island, and for someone who enjoys beautiful nature there are some nice hiking trails here.
You don't have to worry about the economic problems in Greece, it shouldn't affect the tourist industry, and prices won't be raised until after summer (around September I was told).
The fun thing about Greece is that you can go island hopping so easily, and spend a day or two somewhere else.
Croatia
Croatia is a beautiful destination where the water is crystal clear.
You can either choose to relax in the smaller coast villages like Makarska, or head over to the party island Hvar.
However, the most amazing city to visit is by far Dubrovnik.
It's an amazing town dating back 1300 years.
Stroll around the city and the baroque buildings, visit the old city and walk along the ancient walls surrounding it.
So have you decided where you are going this summer for a lovely holiday?
Experience Romania
Incredibly diverse landscapes and an intriguing political history make Romania a place to linger in rather than rush through – this country of contrasts demands a longer stay than the traditional two-week break.
Romania Country Of Contrasts
Travelling round the country by train is best as Romania's extensive railway network is one of the largest and most comprehensive in Europe.
Bright lights, big city
Bucharest cannot fail to impress – you can step back in time at the Village Museum, Europe's biggest outdoors museum, and you will certainly need to step back to take in the pompous grandeur of Parliament Palace.
Historic city buildings date right back to the fifteenth century rule of Vlad the Impaler (the model for Bram Stoker's Dracula) so there is a lot to get your teeth into and you could spend many days just ambling around the Old District alone.
Varied volunteering
There are plenty of opportunities for you to do voluntary work, which offers the perfect experiential holiday as it immerses you further in the varied communities, towns and natural beauty spots that make Romania such a diverse destination.
Doing volunteer work on projects across Romania makes a great way to extend your trip, gain new skills and get to know this fascinating country better.
Archaeological digs can take you deeper into Romania's past whilst opportunities to carry out social work abroad in Brasov's orphanages help you to alleviate the burden placed by history on contemporary Romania's poorest communities.
Captivating countryside and marvelous monasteries
Nestled in sensuous rolling hills Bucovina is home to one of the world's greatest art treasures: the Painted Monasteries – the 15th and 16th century frescoes delight are uniquely beautiful and look as fresh as the day they were first painted.
The Ceahlau National Park is endowed with such natural beauty that you could linger for days taking stunning nature walks through sacred hills.
Beautiful beaches and the Danube delta
A warm climate and miles of sandy beaches flanked by tasteful modern resorts make Romania's Black Sea Coast a great place to relax.
Alternatively you could chill out on a boat meandering through the Danube Delta where 2,200 square miles of rivers, canals, marshes, tree-fringed lakes and reed islands teem with the highest concentration of bird colonies in all of Europe.
Mountain meadows
Away from the coast the rugged beauty of the Carpathian Mountains awaits – from a base in picturesque mountain villages you can walk through serene alpine meadows, trek around glacial lakes, take horses or bikes into the wild, scramble up rock formations and explore ancient fossils.
Contrasting country
With so much to see and so many different things to do, Romania is a country that will captivate you and always leave you with a sense that there is more to see.
Make sure you plan to have enough time to do it all justice!
Amazing Interesting Golf Courses In Europe
There are countless golf courses all over Europe so it can be very tricky knowing where to go and which golf course to pick on your holiday in Europe.
We have put together a list of some of the most popular golf courses, to inspire you and help a little bit on the way…
Interesting Golf Courses In Europe
The Oldest In History – St. Andrews Old Course, Scotland
Scotland is an amazing place to play golf, not only because of the spectacular surroundings, but because it is the very country where Golf was invented.
The first record of golf as a game was in St Andrews, which is also known for having created the first ever 18 hole golf course in 1764 at the Old Course.
The resorts are nothing less than brilliant, but many prefer to stay in the traditional stone cottages and finish the evenings in front of the fire place with some local Scottish Whiskey.
Europe's Augusta – Valderrama, Spain
Valerrama is often compared to the Augusta course in U.S, which is one of the most famous golf courses along with golf courses like: www.arizonagolf.com – Valderrama is definitely one of the best known golf courses in Europe, and for a good reason:
The nature and scenery plays a dramatic roll in the layout of the course, and the area is blossoming with plants and a wide variety of bird species.
Wildlife And Views – San Lorenzo, Portugal
There are more than a few great golf courses in Portugal, but this one has to be among the best in the country if not the continent.
The golf course is set in an amazing scenery winding its way through pine forest alongside a lagoon which is a wildlife reserve, and rewarding views over the sea.
And it really worth the trip down to Portugal for a few rounds of golf in this lovely area.
Play Among Roman Relics – Golf Di Roma Acquansanta, Italy
This golf course is unlike any other, you actually play among ancient Roman relics. The resort lies at the foothills of the Adirondacks, whose peaks provide a stunning backdrop.
The course is known for its diversity in challenges, which are sometimes quite difficult but still entertaining – something which is becoming more rare in today's golf courses.
An Unusual Course – Barsebäcks Gamla, Sweden
Barsebäck golf course is a beautiful example of Scandinavian nature, almost like a Swedish garden, with old oaks and Swedish pine trees lining the course along with fields of yellow flowers.
It's also a versatile layout: part links – with three holes open to the North Sea – part woodland and part parkland. This is what many people say that they love about the course, that it's actually three different courses, something which is very unusual.
The accommodation is nothing special however, this is obviously something you will have to consider when choosing your courses.
Scotland, Portugal and Spain have really nice resorts, quite similar in style & quality to those in USA like the Hilton Head Golf course: www.hiltonheadgolf.com – if you have any tips of other great golf courses in Europe, feel free to add them below!
Hotel Tips Travel Pros Recommend and use all of the time.