Visiting Niagara Falls – The majority of people would love to visit the Niagara Falls. For more than a hundred years, it has been a must-see destination. If you are planning a trip, all you need to do is to follow our insider tips to get the most out of the experience.
Niagara Falls
Separated by the Niagara River, Niagara Falls, Ontario, and Niagara Falls, New York, are ideal locations to begin a Great Lakes adventure.
The area's origins date back 12,000 years ago to the end of the last Ice Age when the Clovis People inhabited the region.
Since then, the War of 1812 helped set a permanent border between the U.S. and Canada, and the building of the Hydraulic Canal in 1852 brought an influx of people, commerce, and industry to the region.
Niagara Falls is the namesake of both cities and the most recognizable natural attraction in the region.
The Falls formed 12,000 years ago when a large mass of water was released from the Laurentide Ice Sheet.
This torrent of water drained into the Niagara River and eroded the rock away to create the falls.
Visitors can stop by the Niagara Falls State Park which features incredible views of this natural marvel.
Those looking to get a bit closer should take a ride on the Maid of the Mist, a 600-passenger boat that drives directly to the base of the falls.
Aside from the falls, the Niagara Region offers a variety of attractions and fun things to do.
Anyone interested in the history of the area should visit Old Fort Niagara, which is the oldest continuously occupied military site in North America.
The Niagara Parks Botanical Gardens offers travelers 99 acres of beautifully manicured gardens and a world-famous rose garden with more than 2,400 roses.
For a one-of-a-kind view of the falls and the surrounding landscape, take a ride on the 175 foot-tall Niagara Skywheel.
Regardless of which side of the border you're on, the area delivers with world-class cuisine.
On the American side, foodies will love The Griffon Gastropub, Savor, and Third Street Retreat.
New Life Hiking Spa Green Mountains of Vermont Vacation
Over on the Canadian side, food lovers flock to Casa Mia, Taps on Queen Brewhouse and Grill, and Weinkeller.
No matter your cuisine preference, you'll find it all here.
With so much to offer, you may need a couple of trips to get the full Niagra experience.
From experiencing the falls and its surrounding parks to shopping the day away at the Fashion Outlets of Niagara Falls USA, this region has it all.
Which side of Niagara Falls is better?
Honorable Mention: Chicago!
Wonderful things to do in Chicago.
Exploring Niagara Falls – "The skiing in Ontario is great!" earnest people told me when I announced my plans to get acquainted with Canada's east-central province last January.
"Oh, and you should check out the golf courses – sublime!"
That may be the case, but I can't ski, I had no immediate desire to learn (or more specifically, I had no desire to pay for lessons) and I was fairly sure the golf courses would be up to their flags in snow.
Plus, I don't like golf.
Various other suggestions were mooted – most of them entirely predictable – but oddly none involved the most predictable thing of all: Niagara Falls.
Exploring Niagara Falls
Unashamedly unoriginal, yet magnificently majestic, I had wanted to view these colossal cascades for as long as I can remember.
It didn't bother me that everyone went there – sometimes you have to swallow your nagging doubts about venturing on to the dreaded beaten track and just accept that popular things are popular for a reason.
Niagara Falls
The Niagara Falls are as synonymous with Ontario as Ayers Rock is with Australia, or as the Eiffel Tower is with Paris, or as the pyramids are with Egypt, so I had a pretty good idea of what to expect.
Namely, a very large, very powerful, very scenic waterfall.
And, with a gluttonous dose of posing tourists, that's pretty much what I got.
Something wasn't right though.
Something was missing.
Here before me lay the most iconic waterfall on the planet.
A sweeping horseshoe of turquoise plunging into a seething cloud of white mist; momentous, beautiful and lethal in equal measures.
Yet I didn't feel a thing.
Not a hint of excitement and a level of interest that could best be described as mild (unlike the freezing temperatures, which could best be described as vicious).
The problem, of course, was that there was no sense of discovery – the catalyst for any meaningful travel experience.
So when I overheard a young couple whispering something about going behind the falls, I did what any self-respecting journalist would do.
Niagara Falls
I eavesdropped.
Unfortunately, their conversation branched off into other unrelated matters soon afterwards, and that's all I wish to say about that.
My interest, however, was now primed.
New opportunities had emerged and I began to ponder the marvelous possibility that there was a secret passage known only to wise locals.
There was, as it turned out, except the passage wasn't secret and although the wise locals were probably aware of its existence, so was everyone else within a 10,000 mile radius.
None more so than the people running Niagara Parks, who wouldn't let me in until I'd handed them the best part of $15.
Still, not to worry, I got my discovery fix.
Observing the waterfall from the 'wrong' way was a peculiar experience.
A series of gloomy tunnels led off the main corridor at right-angles, and it was through these – at considerable distance – that the falls could be observed.
So not much to report on the visual front – imagine looking out an open window during a ferociously heavy downpour, and then multiply it several times – but it was the thunderous noise that grabbed me.
The kind of noise that's so loud you can feel it vibrating in your bones.
The kind of noise that seems to have metamorphosed into a physical being.
It was like the Four Horseman of the Apocalypse had paid their $15 entrance fees and were galloping about the place, or to use a more up to date analogy, like a Boeing 747 had lost its way disastrously on its descent into Toronto.
I felt satisfied leaving Niagara Falls.
Not because the trip behind the waterfall was particularly life affirming, but because it was unexpected.
So I suppose the overriding point I'd like to leave you with is this: do as little research as is humanely possible before going to a place.
Spectacular Niagara Falls Rooms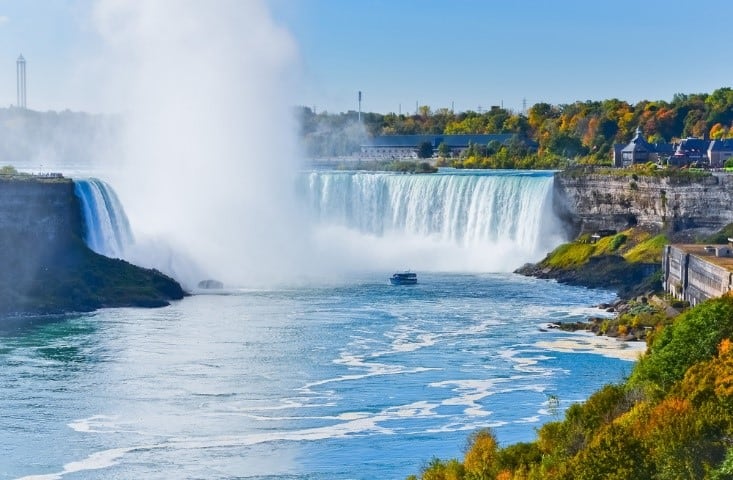 When it comes to accommodation you will be spoiled for choices. There is everything from tents to five-star luxury spa rooms to choose from.
But, our advice is to splash the cash. Visiting the waterfalls is a once in a lifetime experience, so it really is worth making it as special as possible.
If you can afford to book a room with a spectacular view of Niagara Falls, you really should do so.
Many of the Guest Rooms on the Falls provide spectacular views that take in both the Canadian and American Falls.
As an extra treat, choose one that includes a whirlpool tub in the price. It really is a great way to unwind.
Find the best Niagara Falls deals
The best way to get a good deal on your accommodation is to book as far in advance as you can. Check out the regular price, pick a few dates for next year and look for the deals.
If you do not see anything that is drastically cheaper it may be worth ringing the hotel and asking for a discount.
Sign up for Niagara Falls deals notification
It is also worth signing up for their website newsletter. That way you will be notified when special deals become available.
Some of the attractions in the area also notify people of special discounts via their newsletter. So, sign up for those too.
Buy your Niagara Falls attraction tickets in advance
If you already know which attractions you want to experience, book them in advance.
Doing this will save you money as well as enable you to skip the queues.
Look for family deals Niagara Falls
Traveling as a family can be expensive.
But, if you know where to look there are plenty of package deals available that offer things like free kids tickets.
Here is just one place you can find family deals.
Load up with Niagara Falls Apps
There are some great apps for Niagara Falls. They are exactly what you need to know to be able to find your way around quickly and make the most of your stay.
It is well worth taking a look and downloading the ones that are the most relevant to you.
For example, if you are planning to go hiking the Niagara Falls State Park Walking Tour app will prove invaluable.
Where do the locals eat Niagara Falls
When it is time to eat, go one or two street back from the attractions and look for restaurants there. The eateries that you will find there are more likely to be used by locals.
Usually, the food is good and a little cheaper. Great examples include Chatters and Fine Kettle-O-Fish, which are both located on Portage Rd.
The last word on Visiting Niagara Falls
Last but, by no means least, subscribe to our newsletter. Our guest writers regularly write about the most popular tourist destinations, including the Niagara Falls.
So, if you are looking for up to the minute information our website is a particularly good place to find it.
How to Find Luxury in Niagara Falls
How to Find Leisure and Luxury in Niagara Falls – Niagara Falls likes to brag that it receives more than 8 million visitors per year, making it one of the most popular vacation destinations in the world and preferred Great Lakes Destinations.
If you do the math, the average daily attendance of Niagara Falls Everything You Didn't Know You Could Do at Niagara Falls is over 21,000.
Which means when you are trying to get a good view of the majestic, thundering falls, you are jockeying with literal thousands of others who are trying to do the same.
To most leisure travelers, that doesn't sound like a good time.
Still, Niagara Falls is a wonder and why so may are visiting Niagara Falls yearly.
Among the largest waterfalls in the world — so it remains on many tourists' bucket lists.
Traveling to Canada in the Winter
The truth is that many Niagara Falls hotels do offer outstandingly luxurious amenities, so it isn't difficult to enjoy a relaxing and rewarding trip to Niagara Falls if you know where to look.
Here is a quick and easy guide to finding leisure in Niagara Falls, so you can see the famous and exhilarating falls yourself.
Top Hotels for a Relaxing Stay
Whenever you are planning a trip to Niagara Falls, you have an important decision to make: the American side or the Canadian side?
While you can travel back and forth across the border (assuming you have the proper paperwork) the trip takes time that might better be spent on other activities around the falls.
Generally, you should choose a side and stick to it, and the side you choose should be selected based on the kind of Niagara vacation you seek.
The American side of the falls is primarily filled with national forestland, meaning there aren't many amenities to make your stay feel luxurious.
While the American side is worth visiting if you want a outdoors-focused, camping adventure trip, this time around you should set your sights on the Canadian side.
Your luxury Niagara Falls hotel Canada options are far from limited.
There are an abundance of hotels and resorts that combine high-class accommodations with shopping, dining and entertainment opportunities.
For example, Falls Avenue Resort offers rooms with stunning views of Niagara Falls from four different hotels: Clifton Victoria Inn at the Falls, Crowne Plaza Fallsview, Sheraton on the Falls and the Skyline Hotel.
As well as on-premises access to the Fallsview Indoor Waterpark, the Christienne Fallsview Spa, Clifton Hill and convenient shuttles to Casino Niagara.
Why bother staying somewhere less convenient when you are after a leisurely trip?
Queen Victoria Park is a Secret Niagara Falls Viewing Spots
Queen Victoria Park is a must-visit viewing spot for the world-famous waterfalls.
Just a few steps from most hotels on the Canadian side, the park provides sweeping views of both Horseshoe Falls and American and Bridal Falls on the U.S. side.
However, Queen Victoria Park is also devastatingly crowded for most of the year; not only is it a common place for tourists to linger, taking pictures and whatnot, but it is also a popular event space for the occasional festival.
For instance, at the end of the year, Queen Victoria Park is the location for the annual New Year's Eve concert.
Thus, it is wise to get your pics in Queen Victoria Park and head elsewhere for lingering views.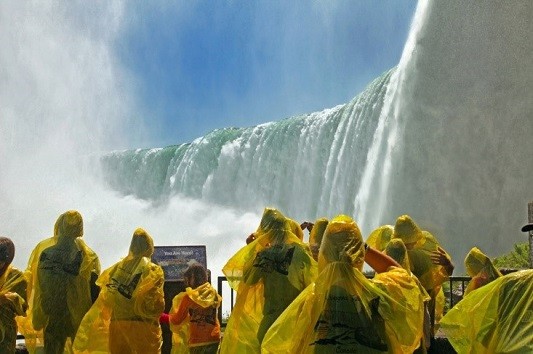 Some spots with a slower pace and greater personal space include:
Oakes Garden Theatre
Located at the base of Clifton Hill, this theatre allows you to step into its open pavilions, where you can catch panoramic views of all three waterfalls.
Niagara Skywheel
For a small entry fee, you can ride Canada's largest observation wheel to gain birds-eye views of the falls and surrounding countryside.
Hornblower Funicular
This incline railway has been resurrected to help transport visitors up and down the gorge, providing unique views of the falls the entire trip.
Niagara Valley Best Wine Tasting Experiences
Perhaps the most leisurely and luxurious activity to participate in during a trip to Niagara Falls is a wine tasting tour.
Niagara Valley has a soil not unlike that of France; the soil is rich and fertile, the weather relatively temperate thanks to the surrounding lakes, and the grapes grow as if by magic, producing fantastic vintages.
Several vineyards and wineries in the area have won international awards, drawing critical attention and praise to the Niagara wine country.
There are roughly 400 winemakers spread around the Niagara Valley.
Much too many for you to try them all during one trip.
You might consider consulting your hotel's concierge for advice on convenient and quality wine adventures; most resorts offer discounts on tickets with certain tours, and you might even gain behind-the-scenes access to some vineyards thanks to your association with your accommodations.
There are ways to see and experience Niagara Falls without fighting against crowds of eager tourists.
By planning ahead and choosing options that take you away from the hustle and bustle, you can enjoy a quiet and relaxing trip to the falls.