Best Time to Visit Tibet – It is a new year which means new travel goals.
When you are deciding where in the world to visit, it's fun to learn about new places in the process.
No matter your travel goals, it's worth considering a trip to visit Tibet.
As the highest region anywhere in the world, Tibet lives up to its nickname as the "roof of the world."
Being the average elevation is 4,900 meters (16,000 feet) it's important to know the best month to visit Tibet.
Best Time to Visit Tibet
Every country and every place has a certain best time to go — a time when everything is ideal and optimal.
You may think July is the best time to visit, given it's the warmest month on Mt Everest.
However, considering all factors, including temperature, attractions entry, travel cost, and weather, April is one of the best months to visit Tibet.
While Tibet is a region where each season and every type of weather highlights a different face and beauty of the region, April is the best month to go.
In addition, there are additional reasons why April is the best month to travel to Tibet and the Lhasa Buddhist Temples.
Since it's getting a bit warmer, the tourism season is just starting in the late March.
Typically, there are discounts. During this time — from February to April — there is no entrance ticket policy.
The tour and package promotions are in full swing during these months.
As Tibet is an expensive place for travel, it is best to make use of discounts during the month of April.
Hotels often give discounts for early bookings during the month of April.
You need to be wary of very inexpensive-sounding packages and tours.
Some are decent so it's important to do your homework and research when you are looking for the cheapest Tibet tour.
Weather for Everest Tour from Lhasa
The weather during April suited for a variety of activities.
April and March are months very well-suited for climbing Mount Everest and for hiking to or exploring Everest Base Camp.
A one week trip from Lhasa to Everest Base Camp — which includes visiting attractions in Lhasa and Shigatse — is one of the most popular trips during April.
Many Mt Everest climbing packages are available in the month of April.
The skies are clear and so the views are also clearer.
You can hike freely in your own pace in the month of April.
With proper prior training and exercises for climbing the Everest, the experience is favorable, pleasant, and hassle-free if you climb the Everest in April.
You will need the appropriate gear and clothing as the weather will be cold given the elevation.
There is also a package that includes EBC and Lake Namtso along with Lhasa.
Depending on what you want to see and do, there are many different itineraries to suit your needs.
Itinerary for 8- day Everest Base Camp trip during April:
Day 1: Lhasa
Day 2: Lhasa Tour- Potala Palace, Jokhang Temple, Barkhor Street
Day 3: Lhasa Tour- Drepung Monastery, Sera Monastery
Day 4- Lhasa to Gyanste to Shigatse
Day 5: Shigatse to Everest Base Camp
Day 6: Everest Base Camp to Shigatse
Day 7: Shigatse to Lhasa
Day 8: Departure from Lhasa
Many package options can be customized to your needs.
For sure, discuss it with your tour operators to know more details to find out what makes the most sense logistically.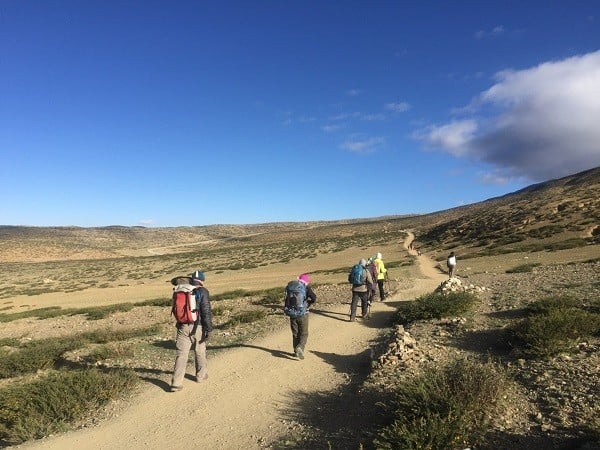 Perfect Time for Tibet Trekking like Mt. Kailash Kora
April is a good month for trekking in Tibet.
Mt Kailash Kora
One of the most popular trekking destinations that tourists and pilgrims do is the Mt. Kailash Kora.
Mt. Kailash is considered as a holy mountain by people of Buddhist, Bon, Jain, and Hindu faiths.
Kora is act of circumambulation around a holy place.
Thousands of pilgrims travel to Tibet to perform Kora around Mt. Kailash.
Lake Mansarover
Trekking around Mt. Kailash and visiting the nearby, holy Lake Mansarover are some of the most popular activities.
It is said that taking a dip in Lake Mansarover absolves a person of their sins from previous and current life.
April and May are the best months to do this as summer showers start in June.
Saga Dawa Festival
Another reason to visit Mt. Kailash during April is the Saga Dawa Festival.
This festival falls in the middle of April and thousands of locals flock to Mt. Kailash to celebrate this.
They erect a huge pole with a lot of prayer flags tied to it.
Tourists can also trek around Mt. Kailash for adventure and for a religious experience.
There are also five monasteries surrounding the mountain which give a great insight into religion and culture.
More than a challenging and adventurous experience, trekking around Mt. Kailash will be an authentic experience that shows you the religious side of Tibet.
Popular Kailash Mansarover itinerary:
Day 1: Arrival at Lhasa
Day 2: Exploring Lhasa- Potala Palace, Jokhang Temple, Barkhor Street
Day 3: Exploring Lhasa- Sera Monastery and Drepung Monastery
Day 4: Lhasa to Shigatse via Gyantse
Day 5: Shigatse- Tashilunpo- Saga
Day 6: Saga- Lake Mansarover
Day 7: Mansarover- Zanda Valley (Guge Kingdom)
Day 8: Guge- Tsabrang
Day 9: Transfer to Darchen
Day 10: Kora first day (4,920m)
Day 11: Kora second day (5,600m- 4,800m)
Day 12: Kora third day (4,500m) (rest in Paryang)
Day 13: Paryang- Tingri
Day 14: Tingri- Everest Base Camp and Rongbuk Monastery
Day 15: Rongbuk- Shigatse
Day 16: Shigatse- Lhasa
Early April for Nyingchi Peach Blossom Festival
Peach blossoms bloom all around Tibet from mid- March to mid- April.
Since 2002, local Tibetans and tourists have celebrated this beauty of nature to acknowledge the stunning views and promote local region and culture.
The flowering phases slightly change depending upon the different region it grows in.
While travelling in Nyingchi, you will see peach blossom festival celebrated in following regions:
Bome County
Zayu County
Bayi District
Mainling County
Nang County
Gongbo'gyamda County
In some regions, they bloom until the end of April and in some region only until mid-April.
Activities at the peach festival
Some of the popular activities during the festival are:
Photography contests
Exploring ancient Tibetan villages
Seeing roads lined up with pastel beauties in bloom
Enjoying the hot springs
Enjoying the competitions, including archery, horse racing
Cruising the Niyang River
Sampling the delicious local foods
One of the more important Tibet traveling hacks to note is that Tibet is not open to international tourists during the month of March, so travelling to Tibet during early April is the best time to catch the Nyingchi Peach Blossom Festival.
From its vantage point, the best month to visit Tibet is April.
It's the month when the weather starts getting warm, the sun starts staying out a little longer, and leaves turn into a new color.
The cold weather and snow starts wearing off in the lower regions of the valley and wind is dry.
April is the month that is perfect for doing pretty much everything, be it trekking, hiking, cycling, or over-landing.
Visit Tibet during April to experience the best of everything.
Traveling to Tibet – How To Prepare For Tibet
Traveling to Tibet is on many travelers' bucket lists.
Over the years, Tibet has become popular not only for its spiritual tourism but also for adventurous and offbeat tourism it offers.
Tibet's secluded locality, high altitude (popularly called as the 'Roof of the World'), warm hosts, and old world charm make Tibet a must visit.
You'll enjoy serene spiritual vibes, religious monasteries and sacred relics, majestic mountains, breathtaking views and pristine lakes.
And Tibet's challenging roads for driving and cycling are something to experience.
Here are some awesome hacks and tips to help you prepare for first time trip to Tibet.
Use a Tibetan Travel Agency
Find a reliable and responsible local Tibet travel agency
Tourists cannot travel solo in Tibet.
Their government does not allow doing so for safety reasons.
Whether you are travelling alone or in a group, you have to go through a certified Tibetan travel agency.
Tibet tours are expensive, and there are agencies that offer cheap packages.
Don't book through agencies just because it is cheap; they compromise on safety and comfortable travelling.
Book with a reliable agency like Tibet Vista.
Tibet Vista has been arranging tours in Tibet for more than three decades and is one of the largest travel agencies in China.
Tibet Vista thrives to provide travelers with a safe, enjoyable, and thoughtful experience.
With a promise of arranging tours with no hassles, decades of experience, and a hard working team, it's easily the best agency to book your trip with.
Tibet Vista not only provides standard package tours, you can also customize your trip with them.
The staff and guides are well versed in English which makes communication easier.
Customize Your Tibet Trip
Work with your travel consultant to customize your Tibet tour, keeping in mind Tibet has so many things to offer.
You can go on any type of trip:
Fully adventurous trip filled with mountain climbing and over landing
Full-scale cycling trip
Fully spiritual tour which involves exploring many monasteries and old Tibet
Trip that provides you a bit of both — adventure and spirituality
There are so many attractions in Tibet, do a quick research of what Tibet has to offer before booking a tour.
Decide also if you want to arrive to Tibet by flight or train.
Consider if you want to do an overland or cycling trip or will you travel by car.
Once you decide what kind of trip you are looking for, you can choose any existing packages or customize your itinerary.
You can customize your own itinerary depending on budget, time available, attractions you want to visit, and the month you are traveling to Tibet.
You can plan your ideal trip, the way you want, with help of travel consultants in the travel agency.
Tibet Travel Permit
What do you need to travel to Tibet?
E-mail your travel documents to apply for Tibet permit to China.
You need certain documents to enter Tibet.
Along with your Chinese visa, you need a Tibet Travel Permit (TTP) to enter Tibet.
You can obtain your Tibet Travel Permit through your travel agency.
You will have to email them copies of your passport and Chinese visa to the agency at least 20 days before your date of travel.
The permit can be obtained within 5-7 working days.
This permit is checked and asked for in airports, hotels, and at the entry of some attractions.
It is important to have them with you at all times.
If you want to travel out of Lhasa and other remote areas you have to obtain Aliens Travel Permit and Military Area Entry Permit.
These two permits can be obtained after entering Tibet, but you need TTP to enter Tibet.
Book your Tibetan flight, train tickets, and hotel
It is important and advisable to book travel tickets and accommodation in advance.
Especially during peak tourism season, the flights, trains, and rooms get booked fast. Sometimes even the hostels get fully booked.
The Tibet tourism season is in peak from May to October…we like Tibet in April
The later you book, the more expensive gets the cost of stay and travel.
Train tickets have to be booked at least 4-5 weeks in advance as hundreds of people travel to Tibet by train, including the locals.
In case of hotel accommodations, if you want to stay comfortably in 3-star and budget hotels, you need to book at least a month in advance.
Sometimes even the youth hostels and home stays get fully booked by climbers or backpackers.
When you look for accommodation in the last minute, you might not get the room you want and might end up paying a lot for a room with very basic facilities.
Also, plane tickets are cheaper when you book at least a month in advance.
The travel and accommodation costs reduce by half during winter and off-season months, as the inflow of tourists are very low during those times.
Traveling to Tibet Packing
Double check your packing list before travelling
Tibet, the roof of the world, is located at an average elevation of 4,000 m.
You'll experience even higher altitude in some places as you traverse mountains and various Tibetan attractions.
It is important to bring appropriate clothing and other necessary items.
Traveling to Tibet
Your Tibetan packing list should have the following items:
Travel permits, passport, other travel documents
Cotton t-shirts, thermal wear, down jacket, waterproof jacket, woolen gloves, socks, warm pants, sweaters, UV protected sun shades, hat
Sunscreen, lip balms, hand sanitizer
Emergency aid kit
Energy bars, dry fruits, energy drinks, water bottle with filter or LifeStraw
Small bag to carry your essentials
Comfortable walking shoes; appropriate shoes for hiking if appropriate
Hiking poles and sleeping bags if you are trekking
Small waist pouch to carry money and permits
Extra batteries, portable chargers for phones and laptops
The most important thing of all is the medication.
Most of the travelers irrespective of age, gender, and health condition, experience symptoms of altitude sickness like mild headaches and loss of appetite.
This is normal and the tourists are advised to visit their physician before the trip.
Get medicines for altitude sickness before the trip.
You can easily find small oxygen tanks to buy in Tibet in case of shortness of breath due to less oxygen in the air.
In case you forget to bring anything, you can find most easily in Lhasa.
Buddhist Temples and Attractions
Buddhist Temples are a must see in Lhasa, the capital city of Tibet.
Lhasa has many names — Roof of the World, City of Sunshine, and Land of Gods to name a few.
It is called 'Roof of the World' as it is one of the highest, habitable cities in the world.
It is called the 'City of Sunshine' as it receives a lot of sunshine compared to other places in Tibet.
Also, it is known as the 'Land of Gods' as Lhasa is the spiritual center of Tibet.
Lhasa has some of the most important palaces and monasteries within Tibet.
These palaces and monasteries are of cultural and religious significance.
For hundreds of years, people have protected, maintained, and rebuilt them.
Here are some of the top Buddhist attractions you must visit in Lhasa to start your Tibet tour.
It is necessary to know more about their religion, culture, and way of life.
Jokhang Temple
Jokhang is one of the important Buddhist temples in Tibet.
Many consider it to be the spiritual center of Lhasa.
Jokhang Temple is more than 1,000 years old and is located in the center of the city.
You can see many roads and paths diverging from the temple.
Since its conception, restorers have renovated the temple a number of times to preserve and safeguard it against the modern development.
What to see at Jokhang Temple
The temple is also famous for its architecture which is said to be influenced by Indian, Nepalese, and Tibetan style.
Jokhang Temple is the best place to get a peek into the religious lives of Buddhists.
One of the things that make this temple an important spiritual center is the life-size image of 12-year-old Jowa Sakyamuni.
It is about 1.5 m high. It is a revered treasure of the temple.
Inside the temple you can many paintings depicting the ancient times in Tibet.
From the golden roof of the temple you can see the full view of the beautiful Potala Palace.
You will further see prayer halls and chapels throughout the temple.
Local pilgrims visit this temple every day.
Surrounding the temple is the Barkhor Street which has many old shops lined up.
It also serves as a kora path for the pilgrims; it takes about 30 minutes to circumambulate the temple in Barkhor Street.
Potala Palace
This UNESCO World Heritage site is the star attraction of Lhasa.
Potala Palace looms over Lhasa so graciously and magnanimously.
This palace was constructed by 5th Dalai Lama in the year 1645.
Sitting at an altitude of 3,700 m on top of the Marpo Hill, this palace symbolizes Tibetan Buddhism.
Potala Palace is one of the highest ancient palaces in the world.
This palace is 13 stories high with more than a 1,000 rooms and spans over an area of 13 hectares.
Potala Palace is famed for its architecture, artworks, murals and ancient religious treasures.
This was once the winter palace of Dalai Lama.
Today it is a religious place, tourist attraction, and a museum.
The palace is built in woods and natural stones like granite.
The fortress-like walls surrounding the palace will leave you with a lasting impression.
There are beautiful carvings and paintings that tell us about the glorious days of Tibet.
Main parts of the Potala Palace
There are two main parts in the palace: the Red Palace and the White Palace.
The Red Palace is in the center and consists of Buddhist halls, libraries, prayer halls, golden stupas, and chapels.
It houses ornate golden chortens of previous Dalai Lamas.
The White Palace was where Dalai Lama used to stay while visiting.
It was the office for handling political and religious matters.
There are statues of many important people who contributed to Buddhism.
They only allow a limited number of people inside the palace every day.
Therefore, it is important for you to book the tickets in advance to witness the inside of this beauty.
To get a full picture of the palace, go to:
Chakpori Hill
Zongjiao Lukang Park
Potala Palace Square
During the nights, the palace looks lit up with all the lights lining every edge and corner of the palace.
Great three Gelugpa Monasteries
Gelugpa is a sect that follows the latest school of thought in Tibetan Buddhism.
Also, known as the Yellow Hats Sect, it was founded by Tsongkhapa in 15th century.
Around 17th century, this school of thought spread widely and many practice it today.
People built many monasteries following Gelugpa school of thought all around Tibet.
In Lhasa, the three most important Gelugpa monasteries are a popular attraction for those who want to know more about the religion and culture of people who follow Buddhism.
3 monasteries are:
Ganden Monastery
Sera Monastery
Drepung Monastery
The devoted followers and students of Tsongkhapa built these monasteries.
Ganden Monastery
Standing at an elevation of 3,800 m on the side of Wangbur Mountain, Ganden Monastery was built in 15th century.
It is a large monastery with more than 50 buildings inside it.
The main attraction is the Tsochin Hall with 100 massive pillars.
The monastery has pagodas, chambers, prayer halls, shrines, and assembly halls.
With beautiful scenery surrounding the monastery, you can hike around with the pilgrims performing Kora.
You can also trek from Ganden Monastery to Samya Monastery where you be hiking across small valleys, temples, lakes, and ancient villages.
Sera Monastery
Built in the year 1419, Sera Monastery is located in an area where wild roses bloom every year.
This monastery houses three colleges of which Sera Je College is the most popular.
Visitors can tour this college and see the many spectacular Buddha statues and stupas.
The main attraction of this monastery is the debating sessions that happen at 3:00 pm.
Except Sundays, monks gather in the courtyard at 3:00 pm to debate.
Visitors can witness the debate but cannot take pictures of them.
You will see junior and senior monks clapping loudly and debating vigorously to make their point.
Drepung Monastery
Located at the foothills of Gambo Utse Mountain, this monastery looks like a white heap of rice.
It is respected as the Mother Monastery of Dalai Lamas' owing to the fact that many Dalai Lamas have studied here.
At one point of history, Drepung Monastery was the largest monastery in Tibet and housed as many as 10,000 monks in the monastery.
Today there are only around 700 monks.
There are four academies in the monastery.
In the forests surrounding the monastery, there are many courtyards.
One of the main highlights in the monastery is the 15 m high Maitreya Buddha statue.
Visiting Lhasa Buddhist temples and monasteries
Remember, Tibet is a place where people's way of life and religion are closely intertwined.
The holy sites of Tibet carry history and stories of the past which the devout locals still preserve.
Visiting the Buddhist attractions (Tibet in April) will be an enriching experience.
Best Time to Visit Tibet
When traveling to Tibet you'll discover for yourself what a wonderful place it is to visit.
There's some beautiful views, Lhasa Buddhist Attractions and unwinding experiences in store for you.
Prepare yourself by researching in advance so you will have an easy time traveling in Tibet.