Best Time to Visit Maine – Tucked away in the Northeastern United States, Maine doesn't often receive much hype as far as US tourism is concerned. We think that's a shame, because there's so much to see and do in this beautiful State. From stunning coastlines to expansive National Parks to quaint towns and cities, we're here to give you the ultimate guide to planning your Maine vacation.
Best Time to Visit Maine
Maine features a distinct high and low season for tourism that is mainly defined by the weather. Let's take a closer look at both variables:
Maine Tourist Season
Most of Maine's tourist activity takes place during the summer, thanks to its warm temperatures which are sometimes outright hot. Summer in Maine also usually experiences less precipitation than the rest of the year. However, because of the tourist activity, Maine can become quite crowded in the summer months, with lodging prices at tourist hot-spots shooting to year-round highs.
For this reason, we think the best time to visit Maine is during the shoulder seasons. Both spring and fall have comfortable temperatures ranging from warm to cool. Fall is a great time to take in the changing leaves, and spring is a great time to watch the flowers bloom, and lodging in Maine is much more affordable.
Winters are a lull in tourist activity, but some tourists flock to Maine for the snowy landscapes, and also for the downhill skiing.
Maine Weather
Maine is divided into three climatological zones which see slightly different temperatures, and generally get warmer as you reach the Southern coast. That being said, throughout Maine you'll experience cold winters, moderate shoulder seasons, and hot summers. Precipitation patterns are also affected by geography, with more rain and snow occurring in the interior.
Summers in Maine see daytime highs around 72-78F, and lows around 53-60F. During should seasons, highs are around 55-70F, with lows around 30-45F. Winters are cold, with highs around 30-35F, and lows around 13-20F.
As mentioned, precipitation varies depending where you are in Maine, but most of Maine sees consistent precipitation year-round, with slightly less during summer. Maine also gets a good amount of snow during winter, and the potential of a "Nor'easter" can bring significant snowfall in short periods. As you can see, there are clear reasons why more tourists flock to Maine during summer!
What to do in Maine?
Now that we've covered Maine's temperature and climate, let's get to the fun stuff, what should you do in Maine? Maine is a big State with varied landscape – meaning there's lots to see and do! In this section, we'll take you through our favorite things to do in Maine, so you can plan your ultimate Maine vacation.
Best Time to Visit Portland Maine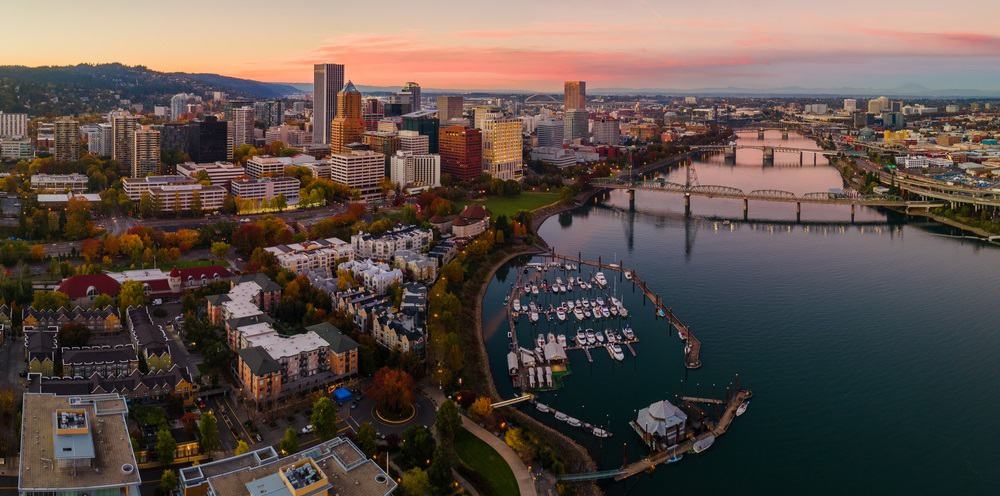 Maine's largest city, Portland is located on Maine's coastline on the southern end of Casco Bay. It's a quaint, Oceanside town rich in marine culture and history. If you're picturing a typical East Coast marine vacation, Portland is probably what you're imagining. Lighthouses, cliffs, coastline, seafood, and much more. Portland is packed with shops, restaurants, and bars to choose from.
Definitely check out Old Port, Portland's historic district. Lined with cobblestone streets and historic architecture, you'll get a sense of the deep history of this region. Portland is also quite a lively town, with plenty of local breweries, live music, and hip vendors. Being a relatively small place, it's very walkable, and you'll have a great time exploring the coast and the town itself.
Best Time to Visit Acadia National Park
Acadia National Park is Maine's most-visited National Parks, and also one of the most-visited in America. It's located midway down the coastline on Mount Desert Island, southwest of Bar Harbor (more on that next). Acadia is famous for its gorgeous scenery, with dense foliage, deep forests, flowing rock faces, serene lakes, and ocean views.
There's lots to do in Acadia's 47,000 acres of natural land. You can book a tour, or take to one of the area's popular hiking trails. There are spots to swim, climb, kayak, and everything in between. For some of the best views in the park (and all of Maine), take the hiking route up Cadillac Mountain, where you'll be rewarded with a magnificent gaze onto the Atlantic Ocean.
Best Time to Visit Bar Harbor
Bar Harbor is the "gateway" town to Acadia National Park, and the town is well worth seeing on its own right. Situated to the east of Acadia National Park on the eastern coast of Mount Desert Island, Bar Harbor is a quaint marine town that is dripping with character and history. Walk the main-street for plenty of restaurants, shops, and bars, and to soak in the historic architecture. Seafood is the definite specialty here, fresh from the Atlantic.
Of course, Bar Harbor's proximity to Acadia National Park makes it a great home-base to see the natural attractions in the surrounding regions. Whether it's day-trips into Acadia, walks along the shore, or stunning hikes, there's something for everyone. The area is also popular for whale-watching, with many tours departing from Bar Harbor.
Best Time to Visit Old Orchard Beach
Old Orchard Beach is a coastal town roughly 20 miles south of Portland, and is a major attraction for beach-goers. Most notable is the 7-mile stretch of sandy beach that runs along the town's coast. It's a beach town through-and-through, with plenty of shops, restaurants, cafes, and vacation properties lining the shores.
Old Orchard Beach is definitely a summer destination, as you'll want to be able to soak up the beach life. Also check out the main pier, which is lined with several tourist-y shops and restaurants.
Best Time to Visit Baxter State Park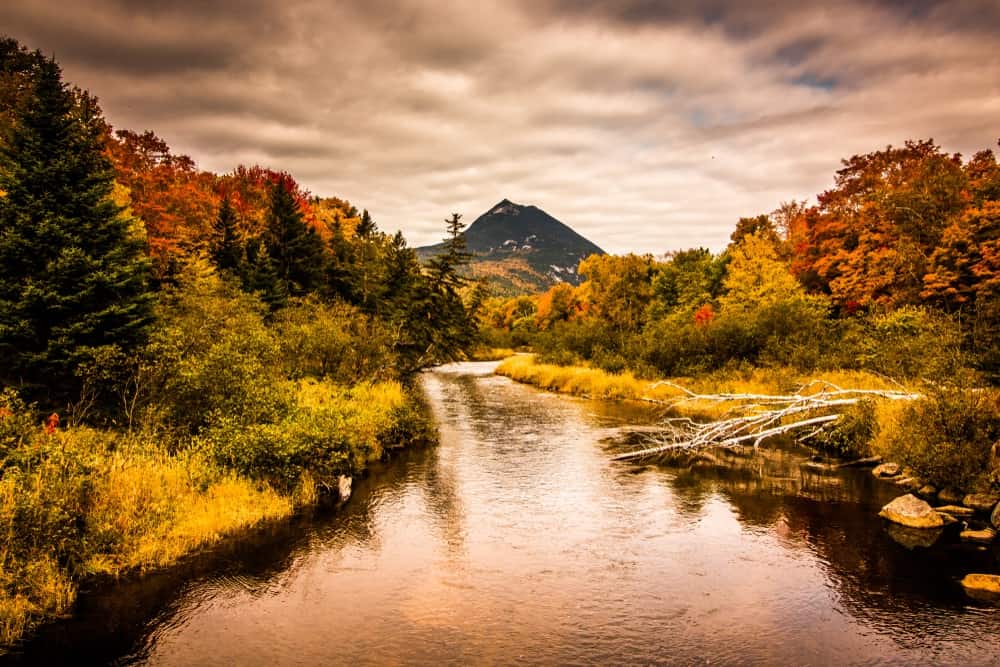 Baxter State Park is another of Maine's most popular natural attractions. It offers the serene beauty of Maine's natural interior without the hustle & bustle of Acadia. Baxter is a massive natural area with over 200,000 acres of space. It's also home to Maine's highest peak, Mount Katahdin.
There are tons of natural area to explore in Baxter. The area represents a true sense of seclusion, and not just because it's so distanced from Maine's more-popular coast. There are many campsites on offers, with plenty of marked hiking trails. The natural area is full of lakes, dense forests, rolling hills and mountains, and more.
The area is particularly popular for fall colors, and offers one of the best autumn experiences in all of Maine.
Best Time to Visit Mount Katahdin
Mentioned above, Mount Katahdin is located within Baxter State Park, and is the area's tallest peak. As such, it presents a challenging hike for visitors to the region, but the views from the top are worth it. Mount Katahdin covers over 5000 feet of elevation. Hiking Mount Katahdin is a popular activity, but not recommended for inexperienced hikers. The hike itself will vary based on your skill-level, but good hikers do it in about 10 hours.
This means you'll have to wake up early so you don't run out of daylight. It's more of a hike than a climb, but the rocky section toward the end is particularly challenging. You'll pass through a number of different regions before reaching the top, which makes the hike just as attractive for its views along the way as its views from the top.
Best Time to Visit Casco Bay
Casco Bay is situated toward the center of Maine's coastline. As mentioned above, Portland is situated toward the south of Casco Bay, but it's far from the only location worth seeing in the Bay. There's so much worth seeing in Casco Bay, and you'll get the full East Coast oceanside experience. From walking its shores, to visiting some of its smaller towns, to fresh lobster, to all sorts of water activities.
Casco Bay is also home to a number of popular islands which are accessible by ferry. Peaks Island is a popular island just southeast of Portland, and makes for a fantastic daytrip to check out its quiet beauty. A bike-ride around the circumference of Peaks is a great way to spend an afternoon.
Best Time to Visit Allagash Waterway
If you're looking to check out the most remote parts of Maine, then you might want to check out the Allagash Waterway. The Allagash Waterway is a nearly 100 mile stretch of water in northern Maine. It's truly removed from civilization, offering tranquil beauty and absolute quiet.
It's popular as a canoe or kayak trip, with some travellers opting to paddle the entire length of the Allagash (takes about 10 days). It goes without saying that the Allagash is meant for experienced paddlers and experienced campers. You'll see groups, solo travelers, and more. But if you want a real taste of Maine's untouched beauty, there's not anywhere we would recommend more.
Best Time to Visit Gulf Hagas
Gulf Hagas is a neat gorge situated in the Maine interior. It's a canyon with impressive waterfalls, streams, and lakes. It's just as cool to visit this area for its quiet beauty, and, like the Allagash above, it gives you a real taste of the ecological diversity in Maine. If you're planning a visit to the interior, Gulf Hagas is a cool natural landmark to check out along the way, and a great spot to spend an afternoon.
Best Time to Visit Rockland
If you haven't yet had your fill of quaint marine towns along the Maine coast, then Rockland should be the next stop on your list. This seaside town is packed with character, from its rocky shores to its bustling Main Street. Much of the activity is concentrated toward the coast, with many seaside restaurants and bars, some of which are built on piers. We don't need to tell you that this is a great spot to grab some seafood!
Rockland is also home to the Farnsworth Art Museum, one of Maine's most renowned museums, which celebrates Maine's impact on the American art medium. And though Maine isn't necessarily known for its museums, this one is worth your time.
Best Time to Ski in Maine
Maine has a number of world-class downhill skiing resorts. The most popular resorts are Sugarloaf and Sunday River, which are both located in the northwest corner of Maine. Both ski resorts offer impressive elevation, with plenty of skiable terrain. Sugarloaf has its own quaint mountain village, with lodging, restaurants, bars, and more.
If you're visiting Maine during winter, it's good to find some worthwhile outdoor activities, and downhill skiing certainly fits the bill.
Festivals and Events in Maine
We'll finish our guide with some of our top festivals & events in Maine. If you're lucky enough to visit Maine during one of these festivals, we highly recommend attending. Here are our top events:
Portland Wine Week: Taking place annually in June, wine week is a celebration of the fantastic wine and food in the region. You'll find plenty celebrations at restaurants about town, with many restaurants adopting special menus to pair with wine. You'll also find classes and seminars dedicated to wine if you want to learn more about the subject.
North Atlantic Blues Festival: The North Atlantic Blues Festival takes place in Rockland, Maine, and bills itself as the "most prestigious Blues festival on the East Coast". We can't verify this claim, but we can say that it's a fantastic festival, full of talent from across America and beyond. It takes place annually in July as a two-day music festival, with a mainstage overlooking the Rockford Harbor. On Saturday night, Main Street on Rockford is shut down and attendees can enter any of the street's bars and clubs with their wrist band. You'll also find vendors and local bands lining the streets.
Christmas Sparkle Celebration: The wintry weather makes Maine a fantastic place to visit during the Christmas season. The Christmas Sparkle Celebration in Freeport (north of Portland on Casco Bay) is a great way to enjoy some classic Christmas lights, as the entire town lights up in a magical display. It kicks off early December, when Santa visits the town to bring Freeport's talking Christmas tree to life. You'll find events & parades throughout the week, and local attractions participate in the festive fun all month.
Guide to Maine
Thanks for reading our guide to Maine. Maine is far too often overlooked for its tourist potential, and we hope we've convinced you of Maine's potential for your next vacation destination. Use our guide above to pick the Maine vacation that best suits your preferences.
FAQs
How Many Days Do You Need in Maine?
It really depends what you want to see and do. Maine is a very big State with a long coastline and plenty of natural scenery in the interior. If you just want to spend time in a coastal town (Portland, Old Orchard Beach, etc.), then you'll only need a few days. If you want to see more of Maine, including its towns/cities, coast, and National Parks, we'd recommend closer to a week.
How to Pack for Summer Vacation in Maine?
It depends where you're staying! That being said, you'll probably want to bring gear for swimming, hiking, walking, and lounging. Bring a sweater in case the temperatures dip slightly at night, especially if it's early or late summer. Definitely don't forget sunscreen if you'll be outdoors for extended periods. If you're visiting the beach, a beach towel is a must.