Updated:
Best Places In Europe – The South – we get many emails from people asking us where we think the best places in Europe are, where we would recommend them to go and why.
Deciding where to go is one of the most important parts in planning a trip, and for someone who has never been to Europe, it's a very difficult decision to make.
However comparing north, south, west and east is almost impossible – so we decided to break them up into different articles – this first one will feature the 4 best places in Europe to visit in the south.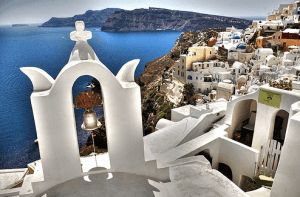 Best Places In Europe – The South
Greece – Greek Islands
The thing with Greece is that we wouldn't recommend one single island, but rather doing some island hopping between a couple of them.
Each island in Greece has their own charm, their own atmosphere and are famous for their own thing.
If you want to experience a bit of everything, then take Mediterranean cruises around the Greek islands and explore the best of each island.
Exploring the ancient sites in Crete, the white and blue houses and sunset views in Santorini, the nightlife in Mykonos, and the quiet villages and delicious food in Samos – would be some of my suggestions.
Either arrange the trip beforehand or wing it and look for some cruise deals when arriving in one of the port towns.
Spain – Barcelona
For someone visiting Spain for the first time, the city of Barcelona is the given choice – there is simply no other city like it.
The architecture, the streets and alleyways, the long list of attractions – these are just a few of the reasons why Barcelona is one of the best places in Europe to visit.
If you're looking for a good combo of beach and city, however, we would instead suggest San Sebastian, which has a beautiful old town full of pinxtos bars, and the best in-city beach in the country (where you can even go surfing!).
Portugal – Porto
While Lisbon is a great city, and we spent several days there, the place that actually made the biggest impression on us in Portugal, and is the reason we're going back there later this year, is Porto.
There is something about this city that just makes you love it.
Maybe it's the rough tiled buildings, the narrow, steep streets, the incredible views – whatever it is, we're going back there for more.
It's also a great place to sample the famous Port wine (while visiting the wine cellars, or even taking a cruise on the river to see the vineyards), and soak up some true Portuguese atmosphere.
But yes, Lisbon is a close second, so if you have time make sure you visit both!
Italy – Venice
Italy is perhaps the country in Europe which has the most places that are simply incomparable; there is no city like Rome, there is no city like Venice, and there is no coast like Cinque Terre.
We haven't seen enough of Italy yet, in fact it's a country we would love to explore from top to bottom and coast to coast this year.
Visiting Venice last summer was a dream come true for us, and so far it's our favorite place in Italy.
When visiting Venice, we would recommend staying in nearby Padua, another pretty town with cheaper accommodation, beautiful streets and squares, and a great way to soak up some local Italian culture.
That way you get to experience two great places with different vibes and atmosphere.
Lanzarote, Canary Islands
If you want to go somewhere warm, Lanzarote is a good place to go – it's an island which belongs to the Canary Islands, which are often referred to as the islands of eternal spring.
The weather there is always mild, with winter days at a comfortable 15 degrees.
People go on Lanzarote holidays all throughout the year, and while the climate is the one thing that attracts most tourists, there are many other reasons to go there – one especially being the beautiful black beaches contrasting the bright blue water.
Barcelona, Spain
The best time to visit Barcelona to get the best experience is when the tourist crowds have thinned out.
The clubs might not be as crazy as in the summer, but there are always a few local hangouts where you can experience a different pace of the city, and you will finally be able to enjoy the famous museums in peace and quiet.
Many people take Barcelona city breaks in summers, but I would say that the best time to do it is outside of the high-season.
During the summers the streets of Barcelona can get really hot, but now that winter is here you can walk around for a lot longer, and when your hands and nose get cold, pop into a cafe or tapas restaurant and warm up with some local food and hot beverage.
Bergamo, Italy – Romantic Atmosphere
Bergamo is an adorable city in northern Italy that offers a true romantic Italian experience on an intimate level – the city has a long history dating back over 2000 years, and in Citta Alta (the old part of town) you will be enchanted by its medieval charm.
The city has really preserved the small town feel with its narrow cobbled streets,small boutiques, cafes and bars around every corner.
Beautiful churches, Venetian architecture and amazing art is in abundance, which is one of the reasons Bergamo has been nicknamed "the city of art".
Bed and Breakfast places are cheap and the budget airline Ryan Air flies to the nearby Bergamo airport (that they call Milan, although it actually is in Bergamo) from many destinations around Europe.
Which other places in southern Europe would you recommend first-time travelers to visit?
Lanzarote – Guilt-Free Holiday Guide
A 'UNESCO Biosphere' – doesn't exactly say sun, sand and sea does it?
You're thinking earnest types in sturdy shoes with sensible hats and possibly those stick things that make sure everyone knows they're walking, just in case the one foot in front of another action wasn't enough of a hint.
Welcome to Lanzarote, the little Biosphere that chose sun, sand, sea and sustainability, gave rash over-development a miss and became a guilt-free island mecca for responsible travelers who want to play too.
Lanzarote – Guilt-Free Holiday Guide
As far as natural advantages go it's fair to say that Lanzarote has lucked out. The fourth largest and most eastern of Spain's Canary Islands,
Lanzarote is also the oldest and the flattest. So the wind, rain and humidity that affect its neighbors leave Lanzarote relatively unscathed.
The weather is warm and sunny most of the year with very hot summers (it's only 100km from the Sahara) and, with the exception of some of the island's west coast, the Atlantic is stunningly well behaved – for the Atlantic.
This is all good news if you can't have a holiday without a beach.
All in all, Lanzarote has 85 of them, ranging from the lava strewn shores and world class surf in the west to the popular resort beaches on the island's greener east coast.
But if you take our advice you'll make a picnic, stock up on water, pack a sun umbrella and head south to spend the 'Beach Bit' of your holiday among the coves, cliffs and sand dunes of Papagayo.
Back in the heady days of the 60s when all was peace, love and self-discovery unhindered by the practicalities of sun screen and personal hygiene, Papagayo was Hippy Heaven.
The patchwork tents are long gone, but the beach remains, sheltered, unspoiled and far less busy than its suburban counterparts (probably something to do with the lack of cafés, bars or surf shops).
Papagayo is ideal for small children because it's not big and crowded and the sea is paddle perfect.
Older children can spend hours exploring and climbing and swimming safely – it's never too early for the next generation to discover great beaches don't all come with theme parks attached.
Not that Lanzarote doesn't do theme parks, it just doesn't do them in quite the same way as the rest of the world. Instead, the island goes with what comes naturally.
And since Lanzarote is lucky enough to have a history of real-life volcanic activity to fall back on we don't think a lack of Smurfs or the like will disappoint you too much.
Lanzarote's volcanic activity is fairly recent – 1730 to 1736 – and there's evidence of it everywhere from the Playa Quemada to the island's vineyards and farmland.
But nowhere on Lanzarote says 'vast and unknowable universe' quite as clearly as Timanfaya National Park.
Covering 50km² in the west of the island, Timanfaya is strange and bleakly beautiful, a landscape of devastation punctuated by huge craters, walls of petrified lava, volcanic ash, enormous boulders, geysers and endless plains.
Regular bus tours are one way to see the park (understandably you're not allowed to wander about on your own).
But, you can also explore Timanfaya as part of a Camel Train and this we highly recommend – it takes about five minutes to get used to the way camels walk and the fact that even the happy ones look like they might bite you.
In Timanfaya, and all over Lanzarote, you quickly become aware of a common thread; the vast influence of one man, César Manrique.
Architect, artist and conservationist, Manrique is considered by many to be the creator of contemporary Lanzarote, the keeper of its heritage and a driving force behind the successful balance of environment, culture and community that makes the island so unique.
Jameos del Agua, on Lanzarote's gentler, greener east coast is Manrique's masterpiece and a complete contrast to Timanfaya.
Built out of the partially collapsed remains of the world's longest volcanic tube, Jameos del Agua is all sparkling pools, waterfalls, caves, lagoons and gardens.
It's also the only natural habitat of Munidopsis Polymorpha, Lanzarote's tiny, blind albino crabs and, fittingly, home to the César Manrique Foundation.
Bikes are big on Lanzarote and getting more popular all the time.
So even if you don't want to give up driving altogether consider taking to two wheels at least some of the time.
Not only are the island's roads relatively quiet, they're well surfaced and cyclists are pretty much the norm so there's more respect than you're probably used to back home.
And bikes come in handy for exploring Lanzarote's less beaten paths, finding your own favorite beaches and exploring tiny towns and villages that aren't writ large on all the visitor info.
While the restaurants and farmers' markets of the world translated 'fresh, local and organic' into 'pricy and pretentious', Lanzarote must have looked on in amazement.
Because here, when it comes to food, the rules are simple; if you can't grow it, catch it, rear it or make it, you don't eat it.
Happily the island grows just about everything; fresh fish are line caught all along the coast, Lanzarote chicken is famously good and don't get us started on the local Malvasia wine and the island's fig and cheese options.
Almost every town and village has a morning produce market at least one day a week.
If you want someone else to do the cooking there are plenty of Canarian restaurants only too happy to help.
You can go total island and take to a Telebar for tapas and vino pata (the everyday local wine).
And you have to try Lanzarote's 'Fish, Chips and Sauce': grilled Dorada, Papas Arrugadas and Green Mojo.
Iconic whitewashed houses, vineyards scalloped with stone windbreaks, a solitary cone shaped mountain breaking the horizon, white sand beaches and clear seas, rich fields, quiet roads, huge night skies, a line of camels on a black ash ridge…
Lanzarote is easy on the eye and totally alive; a perfect Biosphere and committed to keeping it that way.
Balearic Islands Spain
Spain has a lot of islands, scattered all over the world, many of them extremely popular holiday destinations.
But few islands beat the Balearic Islands when it comes to showing tourists a good time.
But which island should you pick?
They all have their own perks and advantages, and depending on what you're looking for on your holiday different islands will suit your needs best. Lanzarote Guilt-Free Holiday Guide
Mallorca
Mallorca is the largest of this group of islands, and it's also the most popular – especially for families.
The beautiful island is perfect for both explorers as well as families looking for a relaxing vacation, as it offers a lot to see and do.
Most people go to Mallorca for the golden beaches, but they tend to get overcrowded by sun worshipers – so if you want secluded beaches, you will have to dig deeper.
For those venturing off on day trips, there is plenty to offer, from mountains to olive fields to caves.
The caves are especially beautiful, with stalagmites and stalactites in incredible formations.
Menorca
Thanks to its unspoiled beauty, Menorca is the most adventurous of the Balearic islands.
Unlike some of the other islands, it's less overrun with tourists, and despite its small size you can find as many beaches here as you can on Mallorca and Ibiza combined!
One of the popular ways to explore the island is horse back riding.
Formentera
Formentera is quieter than Ibiza, but during July and August it gets very busy.
The serene beaches are the biggest draw to the island, and snorkeling and sailing is very popular.
The island is also perfect for Cycling and walking, and if you go outside of the peak season you'll find it very laid back.
Ibiza
Ibiza is the party island, well known for its summer club parties and electronic music.
People generally party all night long, and then crash in one of the sun chairs by the beach and sleep for a couple of hours.
But lately the government have been focusing on making this into a family friendly destination as well, and as there are many interesting places to explore and things to do than just partying, it was a good idea.

Ibiza's Most Popular Party Resort
The two words I am about to utter will conjure a picture of extreme partying: San Antonio.
Without a doubt Ibiza's most popular resort, this large town is clubbing central, perfectly placed for a week or two's party action.
In clubbing season, there are plentiful flights to Ibiza, with many bargains to be had.
Pre-book airport parking prior to travelling and you'll find one less thing to worry about, free to think about letting your hair down.
I rarely travel without airport parking, for convenience and cost, with a handy shuttle to the terminal door.
Check out Manchester airport parking and see how much you could save, and make sure they have that free shuttle to the airport so you won't have to worry about getting to the airport with a hang-over.
But Ibiza isn't all about clubbing; there are many beautiful sights on the island, and the sunsets are legendary, however I'd be lying if I said you could avoid the clubbing scene entirely.
San Antonio is pretty much geared up for clubbers, with two of the main clubs in town, Eden and Es Paradis.
Sunset Strip is the famous run of chill-out bars, dripping in style and fashion.
If I say the words 'Cafe del Mar', you'll get my drift. I'd highly recommend a drink or two here, watching the sun go down in a huge red blaze – remember your camera!
For a trip out of town, I'd recommend jumping on the bus and heading to Ibiza Town for a day's shopping – something I love to do, and a walk around the picturesque Old Town.
Alternatively, the famous hippy market takes place on Wednesdays at Es Cana, and in my opinion, this is a must do.
Another must do is a boat-trip. Planning Sailing Holiday on the Greek Coast
One of my favorite days out, for a day's floating around the coastline, taking in the breathtaking scenery and fast-tracking the tan.
Please heed my advice and remember sun-cream and a hat – the sun is extremely strong at sea, and sunburn is not attractive!
Speaking of sun-soaking, you won't generally find much life in the resort before lunch-time at least, with party-goers sleeping off the previous night's excesses, so if you're not one of them, I'd suggest heading down just before lunch to grab a prime sunbathing spot.
The beach in San Antonio is adequate, but not sparkling, and in my opinion there are much better ones a little further down the coast. Jump on a bus and explore.
I think it goes without saying that San Antonio's night-life is loud.
For quieter night-life, head to nearby Santa Eulalia, however if you've booked a holiday in San Antonio, I would expect that clubbing is on the agenda.
I wouldn't recommend a break in San Antonio for families or those wanting to chill-out, because the noise will probably put you off.
However, if you're into clubbing, then the resort's two clubs will do for a start, with the disco bus transporting you to the rest – Pacha, Bora Bora, Space … Do I need to go on?!
Sparkling in the sunshine, San Antonio is a clubber's dream, with a beautiful backdrop that often gets overlooked in favour of the world-famous nightlife.
There is more than meets the eye to this Balearic resort, it's just a matter of getting out of bed long enough to explore it!
Cut the cost of your holiday with all-important airport extras, such as airport parking, meaning one less worry before you go away.
Try airport parking if flying out of the capital.
Sunshine?
Check.
Night-life?
Check.
A fantastic summer blow-out?
Check.
Sound good to you?
Book your break to San Antonio this summer!
Most Popular Beaches in Spain
With more than 5000 miles of coastline, Spain truly is the home of beautiful beaches.
Think pristine waters, rocky coastlines and soft white sands, and you'll be picturing the beaches of Spain.
While Spain has a number of other qualities that attract thousands of tourists each year, you won't leave Spain without being captivated by the picturesque Mediterranean Sea.
With such a vast array of different beaches, it's difficult to narrow it down to just the 5 most popular, but these are the ones that you simply cannot leave without seeing.
Magalluf
One of the most popular beaches in Spain, this is where the party goers play during the day.
While the clubs and bars control the nightlife in Magalluf, the glistening sun brings thousands of tourists out to the white sands of Magalluf Beach and Isla de Sa Porrasa during the day.
Holiday specials can often be found on accommodation and hotel transfers in Magalluf, due to its incredible popularity among holiday makers.
Cala Tarida
Located in the world famous Ibiza, Cala Tarida is a secluded bay, providing travelers with the perfect place to escape the crowds.
The rugged coastline of Ibiza stretches out into the ocean throughout areas of Cala Tarida, providing an abundance of secret coves and shaded getaways.
Ibiza is more commonly thought of for its nightlife and never ending party scene, but by day you'll find a number of isolated beaches, perfect for sunbathing and relaxing.
Salou
While many of the beaches are surrounded by rocky coastlines, the beaches of Salou are covered in golden white sands.
If you're travelling with a family, the calm tides and shallow waters create the perfect swimming conditions for younger family members.
Llevant Beach and Platja dels Capellans are just two of the must see beaches, when visiting Salou.
Playa del Ingles
Surrounded by a number of resorts and hotels, Playa del Ingles has everything a traveller could possibly want.
You'll find a mixed culture at Playa del Ingles, attracting honeymooners, families, party goers and backpackers.
Due to the variation of people, accommodation can be found to suit nearly nay budget.
Pristine beaches and affordable accommodation; what more could you want?
San Sebastian
Last, but by no means least, San Sebastian is a must visit beach in Spain.
Located in Cantabria, unlike many other Spain beaches, San Sebastian is set amongst a city backdrop.
They always say that if the locals love it, it must be good – and in this case, that is most definitely the truth.
Playa de la Concha beach in San Sebastian is a popular site, just a 10 minute stroll from the city.
If you're planning the perfect coastal escape, head straight for the beaches of San Sebastian!
(photo credit: 1)
Learn Spanish Before Visiting Spain
For travelers, it is common to seek to learn at least the basics of a foreign language before setting off on a trip – when seeking to learn Italian, London students understand how knowledge of at least the basics of Italian will enhance their travel experience.
There are many reasons why you may know the language spoken by natives at the place you're about to travel.
Experience the Local Culture
You may choose to travel as a tourist who only goes to touristic places, and talks to hotel clerks who are able to speak in your language and miss the real local experience, or to do so as a traveler who really gets in the skin of the place he's visiting to live is in flesh and bones – a language and a culture go hand in hand; they are never, ever isolated.
In fact, there are theories that support that it's the language what builds up reality, and not the other way around.
In other words, you won't be able to truly experience the local life when travelling, unless you're willing to learn the language spoken there.
There are cultural nuances that cannot be conveyed in translations, but only in their original forms.
Meet Natives
Socializing is part of our nature as human beings. However, in order to socialize, a certain degree of empathy is needed, and even more if you're in a country other than the one you live in.
When taking Spanish courses, London students believe that their interest for the Spanish language and culture will result attractive to Spaniards, as naturally, it can be considered a sign of respect. Besides, only locals will tell you where to go and how to experience the life of a true Spaniard.
Prevent Problems
Only when you understand a language do you get a good grasp of the culture that underlies it.
Some cultures may be significantly different from that of our own, to the point that we run the risk of doing or saying something that we consider common and perfectly acceptable, while others regard it as rude or even atrocious.
For example, while you may think that finishing everything up on your plate is a sign that you enjoyed the meal, in China it's considered rude: according to them, it could mean that you didn't get enough food and you're still hungry.
The etiquette of each country is one thing you need to be aware of before travelling.
Your Guide To Fuerteventura
If you're looking for information on Fuerteventura, it's likely that you've already booked a holiday there or are planning one – so it's most likely that you already know that its star attraction for tourists from all around the world is its beaches.
With over 150 beaches, more than 125 miles of stunning coastline and year round warm weather and sunshine, it's definitely a place for sun seekers.
And there are beaches for everyone, from the more family orientated ones like Caleta de Fuste to the quieter south coast beaches like Costa Calma.
Due to the weather hardly ever dropping below 20C, even in the winter, Fuerteventura is the perfect destination for cheap holidays year round.
When the temperatures soar to the highest, around 27C in the high season, July and August, families and holidaymakers flock to the island. However you will always be kept cool by the 'strong winds', which is the literal meaning of the island's name.
Aside from the beautiful beaches, Fuerteventura has many things to see and do. The island is semi-arid with minor volcanic activity and strange ancient volcanic landscapes.
As a result of this, one of the most popular tourist activities on the island is a visit to one of the caves formed in these eruptions. The Cueva de los Verdes is around 3000 years old and was once used by the original inhabitants to shelter from Pirates.
It includes one of the longest volcanic tunnels in the world with a part of it running under the sea bed.
Even more famous than Fuerteventura's volcanic caves and tunnels are the huge sand dunes in the Corralejo National Park.
The area is over 11km long, and houses dunes up to 50m in height.
It is the perfect place to enjoy a quiet hour's relaxing in the sand or a spot of bird-watching among the shallows.
The more active among you might enjoy heading to the beaches not for the sunbathing, but for the many water sports that take place along the coastlines.
It is famed for its surfing and snorkeling in the warm shallow waters.
If you need something more exciting to fill your days, Fuerteventura is home to the Baku Water Park in Corralejo and the Oasis Park in La Lajita.
The younger ones in your family will particularly enjoy the latter with sea lion and bird shows put on daily, as well as the big botanical garden to wander.
On site, there are also four golf courses which are sure to keep dad happy once he's tired of looking at the animals.
Fuerteventura's cuisine is very Spanish in style, and includes a great deal of fish and sea food in a variety of sauces.
As well as the typical Spanish tapas, which you must try at least once, Fuerteventura has its own traditional dishes that stretch back centuries such as Gofio Amasado, a dough mixture with potatoes, honey and wine, and Pappas Arrugadas, a delectable mix of potatoes with a 'mojo' sauce.