Visit Tibet – It is a new year which means new travel goals.
When you are deciding where in the world to visit, it's fun to learn about new places in the process.
No matter your travel goals, it's worth considering a trip to visit Tibet.
As the highest region anywhere in the world, Tibet lives up to its nickname as the "roof of the world."
Being the average elevation is 4,900 meters (16,000 feet) it's important to know the best month to visit Tibet.
When to visit Tibet
Every country and every place has a certain best time to go — a time when everything is ideal and optimal.
You may think July is the best time to visit, given it's the warmest month on Mt Everest.
However, considering all factors, including temperature, attractions entry, travel cost, and weather, April is one of the best months to visit Tibet.
While Tibet is a region where each season and every type of weather highlights a different face and beauty of the region, April is the best month to go.
In addition, there are additional reasons why April is the best month to travel to Tibet and the Lhasa Buddhist Temples.
Since it's getting a bit warmer, the tourism season is just starting in the late March.
Typically, there are discounts. During this time — from February to April — there is no entrance ticket policy.
The tour and package promotions are in full swing during these months.
As Tibet is an expensive place for travel, it is best to make use of discounts during the month of April.
Hotels often give discounts for early bookings during the month of April.
You need to be wary of very inexpensive-sounding packages and tours.
Some are decent so it's important to do your homework and research when you are looking for the cheapest Tibet tour.
Weather for Everest Tour from Lhasa
The weather during April suited for a variety of activities.
April and March are months very well-suited for climbing Mount Everest and for hiking to or exploring Everest Base Camp.
A one week trip from Lhasa to Everest Base Camp — which includes visiting attractions in Lhasa and Shigatse — is one of the most popular trips during April.
Many Mt Everest climbing packages are available in the month of April.
The skies are clear and so the views are also clearer.
You can hike freely in your own pace in the month of April.
With proper prior training and exercises for climbing the Everest, the experience is favorable, pleasant, and hassle-free if you climb the Everest in April.
You will need the appropriate gear and clothing as the weather will be cold given the elevation.
There is also a package that includes EBC and Lake Namtso along with Lhasa.
Depending on what you want to see and do, there are many different itineraries to suit your needs.
Itinerary for 8- day Everest Base Camp trip during April:
Day 1: Lhasa
Day 2: Lhasa Tour- Potala Palace, Jokhang Temple, Barkhor Street
Day 3: Lhasa Tour- Drepung Monastery, Sera Monastery
Day 4- Lhasa to Gyanste to Shigatse
Day 5: Shigatse to Everest Base Camp
Day 6: Everest Base Camp to Shigatse
Day 7: Shigatse to Lhasa
Day 8: Departure from Lhasa
Many package options can be customized to your needs.
For sure, discuss it with your tour operators to know more details to find out what makes the most sense logistically.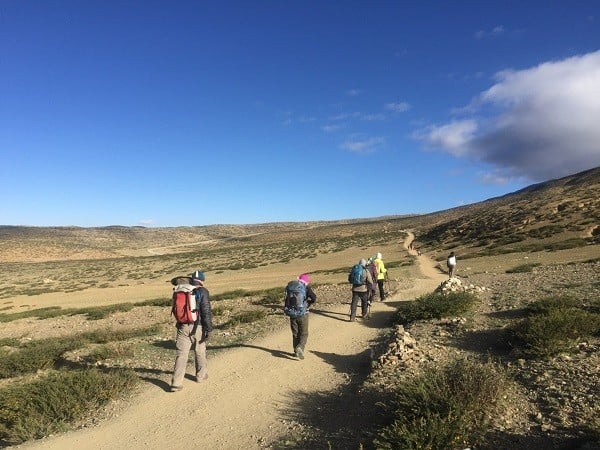 Perfect Time for Tibet Trekking like Mt. Kailash Kora
April is a good month for trekking in Tibet.
Mt Kailash Kora
One of the most popular trekking destinations that tourists and pilgrims do is the Mt. Kailash Kora.
Mt. Kailash is considered as a holy mountain by people of Buddhist, Bon, Jain, and Hindu faiths.
Kora is act of circumambulation around a holy place.
Thousands of pilgrims travel to Tibet to perform Kora around Mt. Kailash.
Lake Mansarover
Trekking around Mt. Kailash and visiting the nearby, holy Lake Mansarover are some of the most popular activities.
It is said that taking a dip in Lake Mansarover absolves a person of their sins from previous and current life.
April and May are the best months to do this as summer showers start in June.
Saga Dawa Festival
Another reason to visit Mt. Kailash during April is the Saga Dawa Festival.
This festival falls in the middle of April and thousands of locals flock to Mt. Kailash to celebrate this.
They erect a huge pole with a lot of prayer flags tied to it.
Tourists can also trek around Mt. Kailash for adventure and for a religious experience.
There are also five monasteries surrounding the mountain which give a great insight into religion and culture.
More than a challenging and adventurous experience, trekking around Mt. Kailash will be an authentic experience that shows you the religious side of Tibet.
Popular Kailash Mansarover itinerary:
Day 1: Arrival at Lhasa
Day 2: Exploring Lhasa- Potala Palace, Jokhang Temple, Barkhor Street
Day 3: Exploring Lhasa- Sera Monastery and Drepung Monastery
Day 4: Lhasa to Shigatse via Gyantse
Day 5: Shigatse- Tashilunpo- Saga
Day 6: Saga- Lake Mansarover
Day 7: Mansarover- Zanda Valley (Guge Kingdom)
Day 8: Guge- Tsabrang
Day 9: Transfer to Darchen
Day 10: Kora first day (4,920m)
Day 11: Kora second day (5,600m- 4,800m)
Day 12: Kora third day (4,500m) (rest in Paryang)
Day 13: Paryang- Tingri
Day 14: Tingri- Everest Base Camp and Rongbuk Monastery
Day 15: Rongbuk- Shigatse
Day 16: Shigatse- Lhasa
Early April for Nyingchi Peach Blossom Festival
Peach blossoms bloom all around Tibet from mid- March to mid- April.
Since 2002, local Tibetans and tourists have celebrated this beauty of nature to acknowledge the stunning views and promote local region and culture.
The flowering phases slightly change depending upon the different region it grows in.
While travelling in Nyingchi, you will see peach blossom festival celebrated in following regions:
Bome County
Zayu County
Bayi District
Mainling County
Nang County
Gongbo'gyamda County
In some regions, they bloom until the end of April and in some region only until mid-April.
Activities at the peach festival
Some of the popular activities during the festival are:
Photography contests
Exploring ancient Tibetan villages
Seeing roads lined up with pastel beauties in bloom
Enjoying the hot springs
Enjoying the competitions, including archery, horse racing
Cruising the Niyang River
Sampling the delicious local foods
One of the more important Tibet traveling hacks to note is that Tibet is not open to international tourists during the month of March, so travelling to Tibet during early April is the best time to catch the Nyingchi Peach Blossom Festival.
From its vantage point, the best month to visit Tibet is April.
It's the month when the weather starts getting warm, the sun starts staying out a little longer, and leaves turn into a new color.
The cold weather and snow starts wearing off in the lower regions of the valley and wind is dry.
April is the month that is perfect for doing pretty much everything, be it trekking, hiking, cycling, or over-landing.
Visit Tibet during April to experience the best of everything.