During our New Zealand Trip, the weather had been unsteady during the week, but when I woke up that morning the weather was incredible, blue skies and sunny – 'Let's go NOW!' I said as I eagerly shook Nathan to wake up – we were off to Akaroa.
20 minutes later the bus tickets were booked and we were on our way (Nathan took a bet that I wouldn't be able to get ready in that short amount of time, but what he didn't know about me is that I can be quick when I really want to be :P).
Akaroa is a French village, close to Christchurch in New Zealand and they had really kept their french culture. All the street names, shops and people had French names and the French flag was proudly flying above every house.
France tried to make New Zealand a French colony, but came slightly too late – they then tried to make the South Island a french colony, but when they finally arrived they were too late for that as well.
They were only 10 days behind the British, but since they came too late – they were only given the small town of Akaroa to settle in (still under the British rule) and since that day it has kept its French 'origins' – Nathan is from New Zealand, and I can't even imagine if he had come from a French background instead! :p
Dolphin Watching In Akaroa, New Zealand
We took a ferry around Akaroa Harbor, and we saw over 20 Hector dolphins, they are the smallest, rarest dolphin in the world, and usually you can only catch a glimpse of 4-10 of them – if you're lucky.
I guess we were very lucky to see so many, we also saw one tiny baby dolphin swimming with its mother, it was only a week old!
We managed to catch a glimpse of the world's smallest penguins, they were so small and looked kind of lost in the big sea, you just want to swim out and hug them.
Make sure you watch the video below, and see if you can spot the baby Dolphin!
Falling In Love With Surfing In New Zealand & Australia
We got stuck in the 'poor-man-mindset' for a while, and were discussing while in New Zealand & Australia last year, whether we would buy ourselves a full body board set (rash top, fins, board, board bag) or not – we really wanted to, but it was a lot of money and what would we do with everything once we left a few months later?
Luckily, we got over ourselves, bought the boards and fins (plus a mega huge board bag..!) and had the time of our lives.
Honestly, I was completely freaked out by the whole surfing thing at the start, and once Nathan showed me some 'real' waves my first thought was "Is this guy crazy?"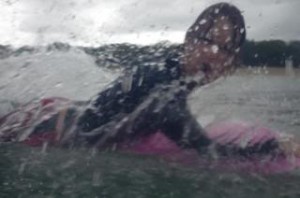 I couldn't understand how he could really think that I would willingly, let alone happily, throw myself out in THAT?
Only a person without any fear or brains would do that! With my legs shaking and my heart jumping I paddled out. And got wiped out.
Paddled again. Wiped out.
"It gets easier once you get past the waves!" Nathan yelled out.
After having swallowed half the ocean, I finally learned how to get passed the waves, and pretty soon I was even starting to enjoy it.
Nathan was like a fish in the water on his board, and from him I learned that surfing was more than just a sport – it's a state of mind.
The peace you experience in the early morning hours out there in the water is a feeling you can't describe other than that you feel like a free spirit.
You feel the connection with nature, you realize what life is really all about – you feel that freedom of life.
But before getting *out the back* – as they say… you have to get passed all the crashing waves.
It's just as much of a mental challenge as a physical one, and if you don't stay focused you'll give up.
Giving myself another month and I had fallen deeply in love with this *sport* – thanks to Nathan and the beautiful waves we experienced together.
Have you fallen in love with a sport on  your travels? Tell us about it! Here is a video of Nathan – well see if you can SPOT Nathan somewhere in all the big waves – a bit too scary for me!
Hot Water Beach, New Zealand
I'm sure you have heard of sand on the beach getting so hot from the sun that it's hard to walk on – but have you heard of sand becoming SO hot that is makes the salt water boil? 
The thought of digging your own pool on the beach, with hot water appearing from the ground as you dig would be something of a fantasy – only this is real… this is in New Zealand.
We sat there in the early hours  of the morning in our own hand-made spa here at Hot Water Beach which is located in the north island of New Zealand – such a crazy but completely amazing experience.
Hack #1:
You can only build these pools during low tide, so you can only do this twice a day.
The evenings are normally packed with people, so try and do what we did and get up early.
We had the whole beach to ourselves! 
At some places the sand and water was so hot your feet burned when standing there.
You can see where to dig as the steam rises from the ground. 
how does this all work?
read more here about Hot Water Beach via Wiki
Danger Sign On Hot Water Beach, New Zealand
This photo was taken while we were exploring Hot Water Beach in New Zealand.
There was such amazing light on that morning as the sun came up.
The reddish color from the sun, brought out by the volcanic rock – added so much more effect to that danger sign.
Hanmer Springs, New Zealand
First time we tried out our newly purchased tent
(check out: How We Survived Camping In A Broken Tent For 3 Months In New Zealand )
was a 6 days trip to Hanmer Springs and Kaikoura in the South Island of New Zealand.
We returned to Nathan's parents' home after 6 days, so happy to have survived for SUCH a long time.
If only we knew we were about to spend another 3 months in that tent… but that is another story.
There wasn't much to see in this little village, as Hanmer Springs is located on basically only one street, but it has  something pretty cool – natural hot springs.
When I heard about this I was amazed, but we were soon to discover (over the next 3 months) that hot springs are pretty much everywhere in New Zealand. "Not another f**kin one!" we would scream!
But this blog is about the happy days before we knew that, and at this magical place in Hamner Springs, these hot springs were the best thing in the world!
Don't ask me how it works but they have designed a series of natural-looking rock pools and rivers which are fueled by this natural hot water coming out of the ground.
Lying in these pools was one of the most relaxing and amazing feelings in the world.
Perhaps you usually don't enjoy swimming in the rain or snow, but when you have a dozen of small 40 degree outside pools to soak your tent-beaten body in – then it's perfect – even if it did have a rather odd smell of rotten eggs.
Attractions And Things To Do In Queenstown, New Zealand
Location: South West of New Zealand's South Island
Currency: NZD, New Zealand Dollars
Language: English
Short History: Before the Europeans settled in Queenstown, the Maori used to visit seasonally to hunt Moa (an extinct bird) and gather green stone.
When gold was discovered in the Arrow River in 1860, people came from across the world just to dig for gold.
Today it's known as the adventure capital of the world and draw thousands of tourists every year.
Queenstown Travel Guide
There is no better place where you can get the combination of adventure, nature and beauty than in Queenstown.
What used to be a small village has now turned into the bustling hub for nature-loving adventures.
Beautiful nature surrounds the town and you will find many adventure attractions:
Skydiving, skiing, mountain climbing, bungy jumping, mountain biking – you name they have it – but don't worry Queenstown isn't just about the fun, crazy adventures, there are also many beautiful things to see and fun things to do without added adrenaline.
Attractions – What To See & Do:
Most activities here include some type of outdoor adventure, and for the fearless this is pure paradise.
Queenstown itself is a very small town, and many of the things to see and do are within the wider Queenstown area, so be aware that you'll have to get yourself outside the actual city center to enjoy many of the activities and history.
Here are some great things to do and places to visit on your stay in Queenstown:
Queenstown Hill:
Queenstown hill is a great place to spend a day.
Take the gondola or hike up the Queenstown hill (it takes about 2 hours to walk the whole way up – yup we tested this!), enjoy the amazing scenery and take a few rides on the Luge.
If you dare you can also try bungy jumping over the trees, or paragliding from the hill.
Sheep Farm:
Take the 98 year old steam ship (coal-fired) TSS Ernslaw over Lake Wakatipu to visit Walter Peak High Country Farm.
At the farm you get an insight in what farmer life is like in New Zealand.
You get a tour around the farm, have 'afternoon tea' and watch a sheep shearing show.
Arrowtown:
Only 20 minutes away from Queenstown is Arrowtown, an old gold mining town.
Try your luck with gold panning, take a tour around historic buildings and the Chinese Miners Settlement where some houses are still intact.
This is a great place to buy gold jewelry and learn more about New Zealand gold mining history.
Adventure Sports:
Queenstown is the perfect location for adventure with its lake, rivers and mountains.
Here is a small list of thrills (with a link to each company) you can find in Queenstown:
Bungy jumping
Skiing
4wd Rally Driving
Paragliding
Getting There & Around Queenstown, New Zealand
You can get to Queenstown by car, bus and they also have an international airport.
Queenstown, New Zealand By Bus
Most major NZ bus companies operate routes to and from Queenstown.
Intercity, Naked Bus, Magic Bus are a few examples.
Queenstown By Air 
The airport is only 10 minutes away from town, and you can fly here with Qantas and Air New Zealand.
Domestically, there are several connections each day from main New Zealand centres.
Air New Zealand flies direct from Sydney and Melbourne year round with Qantas offering a winter services out of Sydney and Brisbane.
An airport to town center bus operates daily between 6:30am and 11pm.
Service to and from all major Hotels & Motels, Airport, Sunshine Bay, Fernhill, Frankton, Remarkables Park Shopping Centre & downtown Queenstown.
Bus shuttles cost 10 dollars (discounts when you're more than one person) and a bus 6 dollars.
Getting Around Queenstown
The city center is small enough to walk around, but if you want to really make the most out of the whole Queenstown district the best way is by having a car.
However, if you've booked a tour package for adventure activities the transport is usually included in the price.
Queenstown also has a small local bus operating system called connectabus, which runs in 3 routes.
The price depends on how many zones you travel through.
Where To Eat Queenstown
The cheapest option would be to buy food from the supermarket and cook it at the hostel, but if you want to eat out I really recommend Sombrero's Mexican Restaurant.
Cozy environment and great food that fills you up!
You can find the restaurant on the main street among many other pubs, restaurants and eateries.
Where To Stay Queenstown
A popular hostel with a young atmosphere is Nomads Queenstown Backpackers.
It's nice and clean, has a lounge area with a fire place, free breakfast and even a sauna!
It also has a really good location in town, which is always a big plus.
The Car Problems Now Solved! – Let's Start The New Zealand Road Trip!
Let's Start The New Zealand Road Trip!: Originally, I was offered a Toyota Previa 2.4L auto 'people mover' for the road trip.
These are great vehicles, but with a 2.4L engine and automatic transmission (and all the weight from the extra seats etc), this vehicle was going to be just a little too thirsty!
Then, I could buy a '94 Nissan Sentra 1.6L auto from my Dad's work for $1000, and if it still worked when I was finished with it, they would buy it back off me for $1000.
Great deal! Except the night before the vehicle was going to be delivered, it was crashed and written off by the owner's daughter…Plan C: I'm now able to borrow Penny's (my Dad's partner and soon to be wife! '92 Nissan stationwagon 1.6L manual (yay! )
Today I spent some time preparing the vehicle. I changed the air filter and spark plugs, re-filled the wiper fluid, filled the spare tyre, and adjusted the pressure in the other 4 tyres.
I'll load it up with a tent, mattress, gas cooker, water bottle, spare fuel canister, my belongings and myself, and begin the road trip tomorrow morning.
I can't quite remember how, but somehow we ended up at the most random camping ground in the middle of nowhere in the north island of New Zealand. 
We had heard the beaches were nice for surfing, but it turned out that the only way to reach the beach was by car.
Luckily we got to borrow an old truck from a farmer living nearby.
This is one of those times where you really love how open, and friendly the New Zealand people are.
The fact that someone lets a couple of strangers take his truck and use it as much as they like whenever they like (using his petrol) wanting nothing in return – is amazing!
When people trust each other and believes the best of others it gives me hope.
Besides, how could you possibly have the heart to let down someone who shows that trust in you?
That is why I took great care of that ol' truck, and treated it like fragile glass.
Yes, that's the reason I drove 15 km/hour along the road, not because I was shit scared to be driving on the 'wrong' side of the road… :p (After 5 minutes on the road we had a whole following of 6 cars driving behind us trying to get past)
New Zealand Road Trip – Day 4: Eltham – Mt. Damper Falls – Whakapapa – Taupo: 388km
Right now I'm sitting in the car at the top of Whakapapa ski field, where the winds are gusting well over 100km/h.
The car is shaking pretty violently but hasn't been blown away just yet!
Having said that, a huge gust just rocked the car so I'm heading down the mountain to keep writing this entry.
A bit further down the mountain now on the sheltered side, The weather has been rough today, with high winds and grey skies, making for some rather dreary tourist pics.
Earlier this week, over 15,000 lightning strikes were recorded over a 24 hour period in the North Island, which gives you an idea of the less-than-ideal Summer weather in this part of the country right now!
I don't mind the stormy conditions here though – in fact, I like this sort of wild and raw mountain weather (clouds have now enveloped the car and giant rain drops are pounding away at one side of the car in a good ol' horizontal deluge).
Mountain weather can change in an instant, especially with these winds, so I'm going to hole up here in the car for a while until the worst of the storm blows over.  (At least the car is getting a decent wash after the dirt roads through 'The forgotten highway' today! : ).
I've travelled down off the mountain now and am holed up on the shore of lake Taupo.
There are torrential downpours and the visibility is more or less zero.
A bridge further east of here was washed out, cutting of a small community, and well, it looks like this weather will be settling in for a while.
I managed to get a few pics and short panoramic videos recorded earlier on today though, before the weather took a turn for the worse.
NZ Road Trip / Day 3: Auckland – Raglan – Eltham: 576km
Leaving Auckland early this morning, I got stuck in the infamous Auckland rush hour and thought to myself "I am sooo grateful I don't have to do this every morning!"
There are plenty of sights in Auckland, and again, I'll attempt to take in a few on the way back north at the end of the trip.
From Auckland I stopped off at Bombay for a break and to make some phone calls, and then headed south to Ngaruawahia where I saw a sign for Raglan – a local surf beach, and took the road out to the west coast.
Raglan is a place I'd never been before, which is not surprising as it is a little off the beaten track.
However the trip out to the west coast was worth it, and the weather here today was very hot, sunny, and humid.
I planned to take a road around the coast from Raglan, but that had been closed.
So I doubled back and took a smaller road through some farmland – the road ended up turning into gravel, and then more or less a 4wd track, so I doubled back in favour of a more major inland road, eventually hitting the coast again before arriving in Eltham, where I met up with Jack Lauderdale, my trumpet teacher and mentor.
I'll be staying here in Eltham and catching up with Jack until the end of the week. I'll resume the blog entries (starting at Day 4) once I'm back on the road again.
NZ Road Trip – Day 5: Taupo – Huka Falls – Taupo – Vinegar Hill: 225kms
I left Taupo early this morning and headed south.
After about 10kms I realised I probably wouldn't be travelling north through this road on the way back up the country, and did a U-turn (after a breakfast and exercise stop) to head for the Huka falls, just a few kms north of Taupo.
After taking a few pics I headed south back through Taupo, and up onto the Desert road.
On a clear day, you'd be able to see the tops of the volcanoes, but as the weather has been rough, all that could be seen was a lot of cloud.
Mid afternoon I planned to head east to Dannevirke (settled by the Danes), but stopped off at a rest area near Vinegar Hill.
The sun has finally come out, and so has the humidity.
The water level on the river here is high and the colour of the water is muddy brown – sediment washed into the river by the torrential downpour last night no doubt.
Some of the major inland roads are also closed today due to slips and flooding – better avoid those ones for now.
So, I'll be sleeping here tonight, before heading on to Dannevirke and then south again to Wellington, where I may stay a couple of days.
NZ Road Trip – Day 6: Vinegar Hill – Dannevirke – around Wellington: 359kms
This morning I packed up at the Vinegar Hill campsite and headed for Dannevirke – a town founded by the Danes.
On the way to Dannevirke there was a spot of good weather, and I managed to get some pics at place overlooking some farmland.
Finally, the top of Mt. Ruapehu was in sight (2797m), and still with a little snow left as well.
On the radio I heard a short broadcast about the Christchurch tourist board.
They'd had some interesting questions in recently, such as "Can you drive to the top of Mt. Cook?" (A peak nearly 4000m high in the middle of the Southern Alps) and "What currency do they use in the North Island?"
I drove through 3 gorges today, the last of which was the Rimutaka ranges.
The road at the top was enshrouded in a thick layer of grey cloud, so no pics there sorry!
On the way down I stopped off at a park for a break.
The weather on this side of the ranges was great, so I went for a short walk down to the river (used in Fellowship of The Ring).
Then I saw a sign for Rivendell…without realising it, I'd stumbled across a section of forest used as the set for Rivendell in The Lord of The Rings films hehe.
After Rivendell, it was a short drive into the capital, Wellington. More about Wellington tomorrow…
Farmland with Mt. Ruapehu in the distance
The lookout
Yet another panorama
Gorge on the way to Dannevirke
Vikingarna i Nya Zeeland
Det ser inte ut som Danmark, nej, men Dannevirke var grundad av danskar sent i 1800-talet (tror jag)
Farvel
Rivendell from Lord of The Rings – Bush walk at Rivendell
NZ Road Trip – Day 7: Wellington – Kapiti Coast – Eltham: 320kms
The song goes, "You can't beat Wellington on a good day", and today is definitely a good day!
The weather is perfect for a day in the capital – sunny and warm with excellent visibility.
After staying the night in Johnsonville, I drove into town and headed straight for Kelburn to see some of my old flats.
Driving around the Wellington suburbs is amazing.
The first time I was here in 2001 I had a map – but paper maps are only in 2 dimensions, and this is definitely a 3 dimensional city!
So, due to the hills, there are roads and walkways in all directions, including up and down, and 2-D maps can only give you a rough idea of where things are.
The many tunnels and overbridges combined with narrow streets here make driving a challenge, but also a lot of fun.
Somehow, a mental map of Wellington came back into my mind here as soon as I arrived and I could navigate the labyrinth without any problems – a little different to my first few weeks here in 2001!
After seeing the flats, it was off up the Brooklyn hill, where Nathan and I had biked up one morning, before collapsing at the top haha From there, a steep climb (2nd gear almost all the way) up into Brooklyn itself, then up again to the wind turbine, where Nathan and I used to practise long notes early in the morning (there was no hail storm today though! )
Then back down the hill again and around the Wellington coastline.
This is an amazing drive with few places to stop, but again, I wasn't going to try to film it whilst driving hehe Lunch today was good ol' Lyall Bay takeaways – fish 'n' chips – first time for nearly 7 years!
My plan to travel around the South Island is going to have to wait until next time. It's been a pretty hectic road trip so far, and it would be better being able to spend a bit more time in each place.
From what I've already seen of the South Island, and from what I hear, it is a lot more scenic than the north, which means I'd probably want to spend a minimum of 2 weeks there to take it all in.
As I need to be in Kerikeri again in the last week of February with rehearsals in Auckland before that, as well as lectures to prepare for early March, a full South Island road trip isn't possible this time around.
Parking in Kelburn (great for practising parallel parking )
Kapiti Island New Zealand – from Pukerua Bay
NZ Road Trip – Day 8: Eltham – Paeroa: 380kms
Today was a 6 hour drive in hot and humid conditions through mostly farmland on the way from Eltham to Paeroa.
I've avoided the geothermal tourist trap that is Rotorua on this trip, but there are plenty of other areas with volcanic activity around the place. Te Aroha is one I stumbled across today.
Te Aroha Geyser Paeroa – World Famous In New Zealand 😉
NZ Road Trip – LAST DAY! Day 10 Auckland – Kerikeri: 244kms
Today marked the official final leg of the North Island road trip: 3819 trouble-free kms travelled in total.
It's been an amazing trip, although far too brief!
The time here in NZ has gone all too quickly, with only 2 weeks left…Next time I'll definitely allow for a couple of months extra!
As mentioned in the previous entry, work has been flowing in recently, and I'm now back in Kerikei and busy with final preparations.
I'll be heading back to Auckland on the weekend, with a workshop/lecture at Auckland University on the 1st of March, then conducting stints on the 2nd and 4th, and a final workshop/lecture and brass masterclass at Waikato University on the 5th of March, before heading back up to Kerikeri to drop the car off and board the first of my 4 flights back to Sweden on the 8th. More pics of this final leg of the road trip to come…
WWOOFing in New Zealand ~ (Travel Interview)
Things to do in Wellington
Often basking in the shadow cast by popularly celebrated Kiwi retreats such as Auckland and Queenstown, it is rather easy to forget that New Zealand's capital city Wellington also boasts wonders of her own with many things to do in Wellington.
New Zealand is best traveled by car so you can take in that world class panoramic views on isolated highways and for those embarking on self-drive tours of New Zealand's North Island; Wellington is approximately just over a seven hour ride away from Auckland with a total distance of 395.3 miles.
Sitting at the base of the North Island and ringed by mountains – notably Mount Victoria – the city exists in idyllic surroundings given her location on the Cook Strait where a splendid harbour and boutique eateries are never a million miles away from rural backwoods and hiking pursuits.
Here is our list of the top three things to do in Wellington.
Scale Mount Victoria
Already mentioned in our introduction, Mount Victoria is the perfect lookout spot over central Wellington and her surrounds.
Rising to 740ft, the peak allows travelers to complete a 360 degree turn at the top, witnessing Wellington Airport and the high rise CBD in the foreground while rolling mountains collide with typically rainy, yet marvelous looking clouds and the waters of Wellington Harbour and further afield, the Cook Strait.
This is definitely one for those fascinated by geography.
Wellington Cable Car
One of Wellington's most cherished treasures; you'll be fascinated to hear that the Wellington Cable Car has been running for as long as over 100 years with the attraction celebrating 110 years of service in 2012.
Running from Lambton Quay based in the city centre to the Kelburn Lookout – another great panoramic spot – the attraction is much more than a ride alone and at the latter terminus, the Carter Observatory and Cable Car Museum mean you can lose yourself for the best part of the day while marveling at two of the original cable cars that took to Wellington's hilly slopes way back when in yesteryear.
Te Papa Tongarewa
Wellington is home to New Zealand's national museum, or in Maori – Te Papa Tongarewa.
Situated right down by Oriental Bay on Cable Street, the museum reinforces and places emphasis on the importance of Kiwi culture and being.
Boasting six floors of exhibitions – with some carrying a small fee – general admission to the facility is free; meaning a great interactive, fun and intriguing day out can be had for next to nothing.
For more things to do in Wellington, New Zealand or holiday ideas, visit freedomnewzealand.co.uk.