During our New Zealand Trip, the weather had been unsteady during the week, but when I woke up that morning the weather was incredible, blue skies and sunny – 'Let's go NOW!' I said as I eagerly shook Nathan to wake up – we were off to Akaroa. 20 minutes later the bus tickets were booked and we were on our way (Nathan took a bet that I wouldn't be able to get ready in that short amount of time, but what he didn't know about me is that I can be quick when I really want to be :P). Akaroa is a French village, close to Christchurch in New Zealand and they had really kept their french culture. All the street names, shops and people had French names and the French flag was proudly flying above every house.
France tried to make New Zealand a French colony, but came slightly too late – they then tried to make the South Island a french colony, but when they finally arrived they were too late for that as well. They were only 10 days behind the British, but since they came too late – they were only given the small town of Akaroa to settle in (still under the British rule) and since that day it has kept its French 'origins' – Nathan is from New Zealand, and I can't even imagine if he had come from a French background instead! :p
Things To Do In Australia vs New Zealand
How We Survived Camping In A Broken Tent For 3 Months In New Zealand
Exploring The New Zealand Night Sky
Let's Start The New Zealand Road Trip!
Dolphin Watching In Akaroa, New Zealand
We took a ferry around Akaroa Harbor, and we saw over 20 Hector dolphins, they are the smallest, rarest dolphin in the world, and usually you can only catch a glimpse of 4-10 of them – if you're lucky.  I guess we were very lucky to see so many , we also saw one tiny baby dolphin swimming with its mother, it was only a week old! We managed to catch a glimpse of the world's smallest penguins, they were so small and looked kind of lost in the big sea, you just want to swim out and hug them. Make sure you watch the video below, and see if you can spot the baby Dolphin!
Falling In Love With Surfing In New Zealand & Australia
We got stuck in the 'poor-man-mindset' for a while, and were discussing while in New Zealand & Australia last year, whether we would buy ourselves a full body board set (rash top, fins, board, board bag) or not – we really wanted to, but it was a lot of money and what would we do with everything once we left a few months later? Luckily, we got over ourselves, bought the boards and fins (plus a mega huge board bag..!) and had the time of our lives. Honestly, I was completely freaked out by the whole surfing thing at the start, and once Nathan showed me some 'real' waves my first thought was "Is this guy crazy?"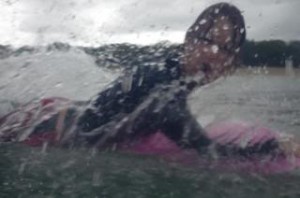 I couldn't understand how he could really think that I would willingly, let alone happily, throw myself out in THAT? Only a person without any fear or brains would do that! With my legs shaking and my heart jumping I paddled out. And got wiped out. Paddled again. Wiped out. "It gets easier once you get past the waves!" Nathan yelled out. After having swallowed half the ocean, I finally learned how to get passed the waves, and pretty soon I was even starting to enjoy it.
Nathan was like a fish in the water on his board, and from him I learned that surfing was more than just a sport – it's a state of mind. The peace you experience in the early morning hours out there in the water is a feeling you can't describe other than that you feel like a free spirit. You feel the connection with nature, you realize what life is really all about – you feel that freedom of life.
But before getting *out the back* – as they say… you have to get passed all the crashing waves. It's just as much of a mental challenge as a physical one, and if you don't stay focused you'll give up – giving myself another month and I had fallen deeply in love with this *sport* – thanks to Nathan and the beautiful waves we experienced together.
Have you fallen in love with a sport on  your travels? Tell us about it! Here is a video of Nathan – well see if you can SPOT Nathan somewhere in all the big waves – a bit too scary for me!
Hot Water Beach, New Zealand
I'm sure you have heard of sand on the beach getting so hot from the sun that it's hard to walk on – but have you heard of sand becoming SO hot that is makes the salt water boil? 
The thought of digging your own pool on the beach, with hot water appearing from the ground as you dig would be something of a fantasy – only this is real… this is in New Zealand. We sat there in the early hours  of the morning in our own hand-made spa here at Hot Water Beach which is located in the north island of New Zealand – such a crazy but completely amazing experience.
quick tip: you can only build these pools during low tide, so you can only do this twice a day – the evenings are normally packed with people, so try and do what we did and get up early – we had the whole beach to ourselves! At some places the sand and water was so hot your feet burned when standing there – you can see where to dig as the steam rises from the ground. how does this all work? read more here about Hot Water Beach via Wiki
Danger Sign On Hot Water Beach, New Zealand
This photo was taken while we were exploring Hot Water Beach in New Zealand – there was such amazing light on that morning as the sun came up – the reddish color from the sun, brought out by the volcanic rock – added so much more effect to that danger sign.
Hanmer Springs, New Zealand
First time we tried out our newly purchased tent (check out: How We Survived Camping In A Broken Tent For 3 Months In New Zealand ) was a 6 days trip to Hanmer Springs and Kaikoura in the South Island of New Zealand. We returned to Nathan's parents' home after 6 days, so happy to have survived for SUCH a long time – if only we knew we were about to spend another 3 months in that tent… but that is another story…There wasn't much to see in this little village, as Hanmer Springs is located on basically only one street, but it has  something pretty cool – natural hot springs. When I heard about this I was amazed, but we were soon to discover (over the next 3 months) that hot springs are pretty much everywhere in New Zealand. "Not another f**kin one!" we would scream! But this blog is about the happy days before we knew that, and at this magical place in Hamner Springs, these hot springs were the best thing in the world!
Don't ask me how it works but they have designed a series of natural-looking rock pools and rivers which are fueled by this natural hot water coming out of the ground. Lying in these pools was one of the most relaxing and amazing feelings in the world. Perhaps you usually don't enjoy swimming in the rain or snow, but when you have a dozen of small 40 degree outside pools to soak your tent-beaten body in – then it's perfect – even if it did have a rather odd smell of rotten eggs.
Attractions And Things To Do In Queenstown, New Zealand
Location: South West of New Zealand's South Island
Currency: NZD, New Zealand Dollars
Language: English
Short History: Before the Europeans settled in Queenstown, the Maori used to visit seasonally to hunt Moa (an extinct bird) and gather green stone. When gold was discovered in the Arrow River in 1860, people came from across the world just to dig for gold. Today it's known as the adventure capital of the world and draw thousands of tourists every year.
Queenstown Travel Guide
There is no better place where you can get the combination of adventure, nature and beauty than in Queenstown. What used to be a small village has now turned into the bustling hub for nature-loving adventures. Beautiful nature surrounds the town and you will find many adventure attractions:
Skydiving, skiing, mountain climbing, bungy jumping, mountain biking – you name they have it – but don't worry Queenstown isn't just about the fun, crazy adventures, there are also many beautiful things to see and fun things to do without added adrenaline.
Attractions – What To See & Do:
Most activities here include some type of outdoor adventure, and for the fearless this is pure paradise. Queenstown itself is a very small town, and many of the things to see and do are within the wider Queenstown area, so be aware that you'll have to get yourself outside the actual city center to enjoy many of the activities and history. Here are some great things to do and places to visit on your stay in Queenstown:
Queenstown Hill: Queenstown hill is a great place to spend a day. Take the gondola or hike up the Queenstown hill (it takes about 2 hours to walk the whole way up – yup we tested this!), enjoy the amazing scenery and take a few rides on the Luge. If you dare you can also try bungy jumping over the trees, or paragliding from the hill.
Sheep Farm: Take the 98 year old steam ship (coal-fired) TSS Ernslaw over Lake Wakatipu to visit Walter Peak High Country Farm. At the farm you get an insight in what farmer life is like in New Zealand. You get a tour around the farm, have 'afternoon tea' and watch a sheep shearing show.
Arrowtown: Only 20 minutes away from Queenstown is Arrowtown, an old gold mining town. Try your luck with gold panning, take a tour around historic buildings and the Chinese Miners Settlement where some houses are still intact. This is a great place to buy gold jewelery and learn more about New Zealand gold mining history.
Adventure Sports: Queenstown is the perfect location for adventure with its lake, rivers and mountains. Here is a small list of thrills (with a link to each company) you can find in Queenstown:
Bungy jumping
Skiing
4wd Rally Driving
Paragliding
Getting There & Around Town:
You can get to Queenstown by car, bus and they also have an international airport.
By Bus – Most major NZ bus companies operate routes to and from Queenstown. Intercity, Naked Bus, Magic Bus are a few examples.
By Air – The airport is only 10 minutes away from town, and you can fly here with Qantas and Air New Zealand. Domestically, there are several connections each day from main New Zealand centres. Air New Zealand flies direct from Sydney and Melbourne year round with Qantas offering a winter services out of Sydney and Brisbane. An airport to town center bus operates daily between 6:30am and 11pm. Service to and from all major Hotels & Motels, Airport, Sunshine Bay, Fernhill, Frankton, Remarkables Park Shopping Centre & downtown Queenstown. Bus shuttles cost 10 dollars (discounts when you're more than one person) and a bus 6 dollars.
Getting Around Town – The city center is small enough to walk around, but if you want to really make the most out of the whole Queenstown district the best way is by having a car. However, if you've booked a tour package for adventure activities the transport is usually included in the price. Queenstown also has a small local bus operating system called connectabus, which runs in 3 routes. The price depends on how many zones you travel through.
Where To Eat – The cheapest option would be to buy food from the supermarket and cook it at the hostel, but if you want to eat out I really recommend Sombrero's Mexican Restaurant. Cozy environment and great food that fills you up! You can find the restaurant on the main street among many other pubs, restaurants and eateries.
Where To Stay – A popular hostel with a young atmosphere is Nomads Queenstown Backpackers. It's nice and clean, has a lounge area with a fire place, free breakfast and even a sauna! It also has a really good location in town, which is always a big plus. Room rates start from 25 NZ dollars.