Luggage sets – Have you ever gotten to the airport and paid tons of extra money in luggage fees because of weight and size?
Or do you always turn heads because your suitcase is the noisiest one in the airport?
In 2017, traveling has become more easy and accessible than ever before.
But there is one thing that still makes trips more of a hassle for most travelers: Luggage.
You could end up with surprise fees and tacky luggage sets if you're not careful when choosing your travel gear.
We're here to make your travel easier and sleeker.
Here are 8 luggage sets that will have you traveling in style.
What To Look For In Your Luggage Sets
Before you start shopping for the perfect luggage set, be sure to get a checklist of some of the key qualities that are essential to making your travels smoother.
Lightweight for avoiding too many extra airport fees
Appropriate carry-on sizes
Spinning wheels with great mobility and noise reduction
Airport tested and approved materials
Quality construction for durability and endurance
And here are some great luggage extras to look for
Built-in locks
Water and damage durability
Divided interior for easy organizing
Lots of space for plenty of packing room

Monos Luggage
Monos Luggage perfectly straddles the space between function and sophistication with beautifully crafted pieces that make traveling inspired, fun and easy.
Until recently, there hasn't been a company that seamlessly melds the two together, but Monos products accomplish that goal and so much more.
Their products are stylish, functional, and beautifully crafted.
They are also made to last.
Monos suitcases are handsome and classically designed, deriving inspiration from natural elements.
They know that clean is always better than busy, and their color palettes are suitable for just about every traveler and travel style.
In addition to being gorgeous, these suitcases also have a generous amount of space, so you can pack everything you need without worrying about over stuffing or cramming too much.
With a hard exterior, Monos products are durable, so your precious cargo will not be compromised during transit.
How are they so sturdy?


Their shells are made out of state-of-the-art polycarbonate which is designed to stay put and never crack, even in extreme conditions.
The durable shell means that you will cherish your Mono products for years to come, and they will remain just as handsome as ever for the long haul.
In this way, Monos luggage is as much of an investment as it is a travel statement piece.
Unlike suitcases that fray, tear, rip, or crack, Monos products stay pristine.
Monos carry on luggage is lightweight and durable.
It fits easily in any airplane's bin area and is made out of the same beautiful polycarbonate that other Monos products are crafted from.
You won't need to worry about your carry on getting squeezed or compromised during travel.
The hard shell will keep everything where it is supposed to be.
Although the exterior of Monos products is durable, the inside is made out of silky, anti-microbial fabric and a compression pad.
Most Monos products come with a secure TSA compliant combination lock, so your precious cargo will never be compromised, whether it is in your carry on or stowed away in checked luggage.
Monos products are a cut above the rest.
It's lightweight, sturdy, and completely protects your personal items.
It's stylish enough to be considered a luxury product, but the price is right for those who just want a good, reliable set of suitcases that they can use for years.
If you want a product that is the perfect marriage of sophistication and functionality, Monos is for you.
Buy Monos Suitcases and Luggage
Merax 3-Piece Lightweight Luggage Set
This stylish Merax luggage set was made for fashion and functionality.
It includes three different size suitcases within the set.
The smallest one is usable for carry on travel, while the other two may be checked in.
The set is made with an ABS hard shell material for durability.
And it's lightweight with silent spinner wheels on each separate suitcase for smoother transitions during your trip.
These spacious suitcases come in 5 beautiful colors, including a lovely pink and minty green, and built in combination locks.
U.S. Traveler New Yorker 4-Piece Luggage Set
We know some travels are for business so you have to pack heavier and more strategic.
This luggage set is perfect for business travelling.
The U.S. Traveler New Yorker 4-piece set comes with variously sized suitcases.
This set gives you more space for your buck by including fully lined interiors that have built-in pockets and organizer and are expandable for up to 25% more packing capacity.
The retractable push-button handle system and inline skate wheels make for easy travel when you're on the go.
You can get this set sturdy, tear-resistant set in four classy, standard colors to keep a professional look.
Samaz 2-Piece Trolley Luggage Set
This adorably stylish luggage set from Samaz is the perfect carry-on suitcase set.
It includes a handbag sized cosmetic bad and a trolley suitcase on wheels.
Samaz 2-Piece Trolley Luggage Set nylon lined suitcase is light, sturdy and noiseless.
The luggage set has a waterproof hard shell that is durable enough to outlast wear-and-tear overtime and a combination lock for extra travel security.
This lovely little set features six eye-catching colors, including a royal purple and sunflower yellow.
CO-Z 2-Piece Vintage Trolley Luggage Set
Here's another great 2-piece trolley luggage set. But this one will make any vintage lover happy!
This trendy trolley set sports an old-fashioned look with some modern features for functionality, security, and mobility.
The CO-Z premium vintage set is equipped with spinning wheels with noise reduction and multi-directional capabilities.
There are also two TSA locks and a complimentary strap that allows you to attach the bag to the suitcase.
This elegant set is hand stitched using a heavy duty material to keep you traveling in style for a long time to come.
itLuggage World's Lightest Hats and Mustaches 4-Piece Travel Set
I'm sure you could have guessed why this luggage set is so amazing by the name.
ItLuggage brings to you the world's lightest suitcase set for quicker, easier traveling.
The bags are made of 100% polyester and are incredibly lightweight due to their innovative design.
The luggage is said to make a great companion for frequent travelers, especially for international travels where they are more strict on weight limits than in the US.
This luggage contains a user-friendly carry-on and stands the test of time for a reasonable price.
The set comes in three colors and classic Chaplin hats and mustaches print for an extra boost in trend.
Steve Madden Tribal Print 4-Piece Luggage Set
Steve Madden is not only good for making shoes stylish.
They also make fantastic luggage sets too!
Madden has selected a fashionable tribal print to take traveling in style to the next level.
The luggage handle is made with aircraft approved aluminum specialized for durability.
And to save their users time and money, Steve Madden has tested their carry-on suitcases to ensure that they fit most airlines overhead compartment requirements.
Heys America 2-Piece Marvel Set
This set is for the superhero loving traveler.
Heys America has designed an amazing luggage set for the Marvel fan in all of us.
Travel like a hero with this affordable, quality luggage set.
The set includes a carry-on bag and a more spacious one for check-in.
The features the ability to increase packing space up to 20% through a zipper release expansion system.
It also has 360 spinner wheels and a divider organized interior.
The endurance and durability are just as reliable as super as the heroes printed on this set.
Kensie 3-Piece Luggage Set
This luggage set provides you with a luxurious look for traveling while not breaking your pockets.
The Kensie set is made with a polycarbonate and ABS shell.
Kensie 3-piece luggage set designed this elegant line with a chic collection for the modern traveling woman.
Each suitcase can expand packing capacity of up to 25% and are equipped with TSA 3-digit lock systems.
Kensie's brand brings a contemporary style to successfully combine the worlds of travel and fashion.
These trendy bags come in feminine colors, including a glamorous rose gold.
Cute Carry On Luggage
Roller Bag vs Backpack
Portable Travel Digital Luggage Scale
Travel Handbags and Anti Theft Handbags
Travel The World With No Check-In Luggage
Start Traveling in Style
Take some tips from the luggage sets above to find the perfect set for your traveling needs.
Whether you're traveling alone or taking a family vacation, be sure to find suitcases that will last you for many trips while showcasing your own personal fashion styles.
The world is too big not to travel in style!
Affordable Luggage Sets You Should Travel With
Affordable Luggage Sets – From hotel stays to flights, vacationers may have to juggle myriad costs when planning a trip.
It comes as no surprise, then, that an average 64% of women and 41% of men cite spending money as their top guilt when it comes to planning some time off.
The good news is that you don't have to feel bad when you invest in high-quality luggage that's functional, fashionable, and best of all — affordable.
Today, there are many options on the market that allow you to travel in style on a budget.
Now, you don't have to sacrifice incredible memories to keep your finances in check. 10 Cute Carry On Luggage You'll Want for Your Next Trip
Today, we're taking a closer look at some of the affordable luggage selections that make it easy.
Ready to learn more?
Let's get started!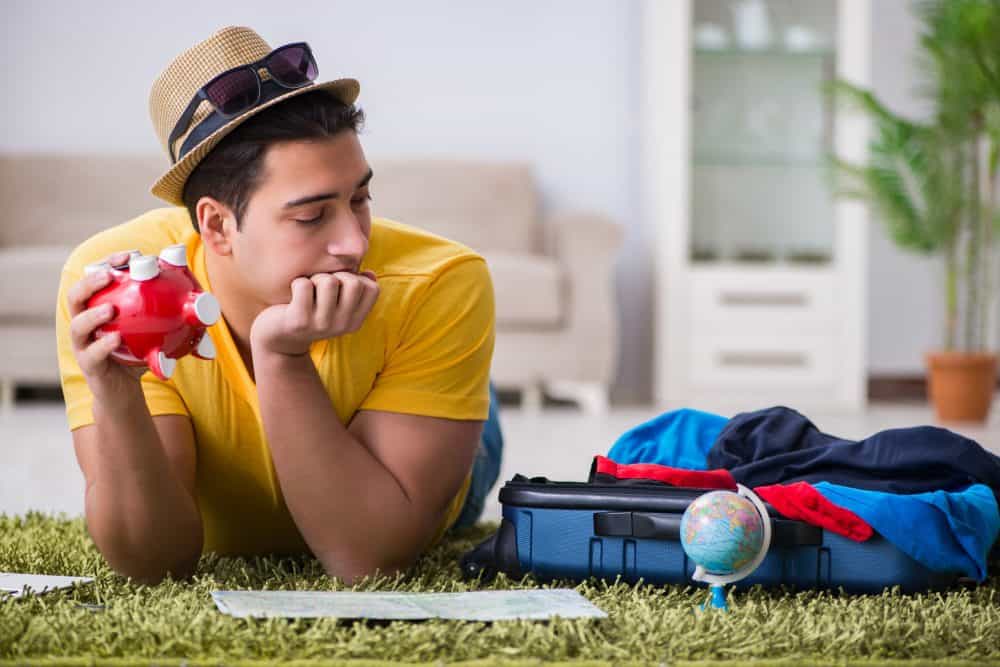 5 Affordable Luggage Sets You Should Travel With
Places You Should Plan Your Next Vacation
American Tourister Fieldbrook II Set
American Tourister is a brand synonymous with high-class, low-cost luggage, and this four-piece set doesn't disappoint.
American Tourister Fieldbrook II Set is Featuring a 25-inch upright, 21-inch upright, duffel bag (with wheels!), and boarding bag, this package starts at around $50, adjustable according to your color preference.
Whether you're packing for a short road trip or are planning a long-distance flight, there's a piece for every occasion.
Now, you don't have to invest in a bank-breaking set, even if you're planning to travel internationally.
One of the best parts?
Made with 100% polyester and featuring reinforced corners, they wipe down with ease and stand up to even the most frequent traveler's wear and tear.
Each piece also comes equipped with exterior and interior pockets to keep your items neat and organized.
Other features, such as inline skate wheels and retractable, mono-tube handles, enhance mobility and durability.
Whether you're looking for affordable luggage for your whole family, or simply want a few, differently sized options to pick from as you travel solo, purchasing a set is a wise investment — and at this price, it's one you can feel good about.
Travelpro Maxlite 4 Expandable Rollaboard
Looking for a lightweight, no-fuss carry-on?
The Travelpro Maxlite 4 Expandable Rollaboard expandable 22-inch beauty will quickly become your favorite piece of affordable luggage for a short business trip or family vacation.
Designed with the brand's signature "Rollaboard" functionality, this luggage features recessed, ball-bearing inline wheels and four-point stability.
This allows travelers to navigate even the most uneven terrain (think cobblestone sidewalks) with ease.
Coming in at just over eight pounds with a telescoping handle, it's a truly lightweight and user-friendly option.
It even features crash guard housings on the wheels and a skid guard, ensuring that even if you do put it through harsh conditions, it'll stand up to the test.
Thinking about picking up a few souvenirs while you're away?
The Maxlite 4 offers two inches of expansion, allowing for flexible packing, so shop away!
Starting at around $83, you'll be able to afford a few more mementos to stow.
Samsonite Winfield 2 Fashion Spinner
Prefer the aesthetic and durability of a hard-shelled exterior?
If so, the Samsonite Winfield 2 Fashion Spinner lightweight fashion spinner is a budget-friendly favorite.
Constructed of polycarbonate, this suitcase is designed to flex if impacted.
Then, it will bounce right back to its original shape, making it ideal for years of use.
Yet, this affordable luggage isn't just sturdy — it's also sleek.
Its brushed charcoal design works perfectly to hide any scratches or scuff marks you may pick up on your travels.
A side-mounted TSA lock and conveniently compartmentalized interior keep your items secure, while four, multi-directional "spinner" wheels keep you moving through the airport with ease.
Even its over-sized zippers are designed for usability, helping you access your pockets quickly.
Starting at around $106, this luggage is an easy investment that will last for years into the future.
Rockland Rio 2-Piece Set
Traveling with kids who would love to stroll their own luggage alongside the grown-ups?
Weighing just under eight pounds and standing 20-inches tall, this roller suitcase and matching tote are a perfect starter set.
Starting at around $35, this is one piece of affordable luggage that scores in both the price point and convenience categories.
Featuring some of the same design touches as other similar sets, including inline wheels, a retractable handle, and stability bars to prevent tipping, you can't go wrong with this option.
Another bonus?
The upright features two exterior pockets for your essential travel documents, making it easy to access them while on the go.
They're also perfect spots for stashing those kid-friendly travel games, coloring pages, and books!
You'll also have your pick from more than a dozen patterns and colors, so pick one that matches your family's style!
Merax Travelhouse 3-Piece Set
Get the whole family ready with this hard-shelled luggage sets, featuring 20-inch, 24-inch, and 28-inch uprights.
This affordable luggage is made from acrylonitrile-butadiene-styrene (ABS).
While this material is a little more lightweight than its poly carbonate cousin, it can also be slightly less durable, so keep that in mind when traveling in rougher environments.
With silent, multi-directional spinner wheels, each piece is designed to move seamlessly across most ground conditions.
They also come equipped with three-step telescoping handles for added comfort and stability.
A three-digit combination lock keeps the interior protected while the luggage's expandability features allow you to fit up to 25% more inside if required.
The manufacturer also took the time to test its new metal hand clamps 20,000 times via machine.
So now, you can rest assured that your items are as secure as possible throughout your journey.
Featuring PC Color Masterbatch, the luggage comes in an array of bold, bright colors, with options starting at around $120.
Cute Carry On Luggage
Roller Bag vs Backpack
Portable Travel Digital Luggage Scale
Travel Handbags and Anti Theft Handbags
Travel The World With No Check-In Luggage
Luggage Sets You'll Want
Want to Travel? Pack Your Affordable Luggage and Go!
Are you interested in learning more about how to travel effectively, which spots to visit, and how to save money as you see the world?
If so, you've come to the right spot.
We're travel experts dedicated to sharing our knowledge on how to smartly navigate your journey on a dime.
We've even organized some of our best tips into a handy pre-travel guide that helps you set off on the right foot, no matter where you're starting from — or going to.
Contact us to learn more, and start planning your next adventure today!
Travel Gear for a Europe
Travel Gear for a European Vacation – When you travel to Europe, you want to maximize every second of your time in this incredible continent, soaking up all of the culture and history.
You certainly don't want to spend valuable hours searching shops for that one irreplaceable item that you left sitting on your kitchen table back home!
Make the best of your vacation by carefully planning the packing all of your essential travel gear, so you won't be left stranded.
Here is a list of ten critical items of travel gear you need to bring to have the best possible holiday in Europe.
Great Suitcase
European travelers often visit several countries in one trip, and take advantage of the continent's excellent public transportation system.
You may be hopping trains and even ferries in your adventures.
You certainly do not want to be laden down with a bunch of heavy bags.
If you have to invest in one essential piece of travel gear, buy a suitcase that is lightweight, rolls easily over cobbled streets, and can be lifted into overhead compartments with no problem.
For extra convenience, you can find hi-tech luggage sets options which allow you to track your bags once they are checked, charge your phone, or even convert into a scooter!
International Power Adapter
You will not be able to charge your American electronic devices like your phone, Kindle or tablet in a European outlet.
You are going to need an adapter.
Countries in Europe do not all use the same kind of electrical outlet (England and Ireland use different plugs than the rest of Europe), so purchasing a universal power adapter is your best bet.
Remember that voltage capacities are different as well.
In America, the standard is 110 volts, while in Europe it is 220.
High-end electronics like phones are built to operate on either voltage, but lower end items like hair dryers or razors may fry if you plug an American version into a European outlet!
Pouch for Your Valuables
Europeans may giggle at Americans with their "fanny packs," but the prevalence of pickpockets in highly traveled tourist spots makes this travel gear important.
You need to find a bag that keeps your passport and cash close to your body.
If you don't want to strap something around your waist, consider a flat passport pouch which can be hung around your neck and placed under your clothes.
When you are struggling with jet lag or a map, thieves can take advantage of your disorientation and snatch your bag in a second.
Make sure your valuables are secured to your person at all times in order to prevent your holiday from becoming a nightmare.
Noise Cancelling Headphones
Another key piece of travel gear you should bring with you to Europe is a set of noise canceling headphones.
You will use them to listen to music as you are exploring the sights.
You will also rely on them when you can't sleep because of the thin walls in your hotel, or when the companions in your train compartment want to chatter the night away.
Day Pack
Because you want to make the most of every day of your European travels, you will probably be out of the hotel for hours at a time.
Bring a day pack!
You will want to carry a snack and a water bottle, plus a map.
You may want to stash your sweater if the weather changes over the course of the day.
You may pick up a few souvenirs.
Choose a lightweight backpack that can double as your carry on for your flights.
Personalized Medical Kit
Make sure you pack enough medication to last your entire trip, with extra in case you lose something or extend your stay.
It may be difficult to fill your American prescriptions in a foreign country…travelers medical kit.
If you are prone to headaches or allergies, make sure you pack some of the over-the-counter medications that you prefer.
You may not be able to find your favorite brands in other countries, and it may be difficult to convey your needs to a non-English speaking pharmacist.
Band-aids, aspirin and muscle ointment may also be important if you plan on doing a lot of walking or other vigorous activities.
An Umbrella
Although it depends on the time of year you travel, it is likely that at some point during your European vacation you will have need of an umbrella.
Pack a small collapsible umbrella so you are prepared.
You will be able to buy one anywhere if necessary, but umbrellas sold at tourist attractions during a rain storm are likely to be significantly marked up in price.
Save yourself a few dollars/euros by packing one of your own.
Kindle or Nook
There's nothing like sitting at a Parisian cafe with a book, or diving into your favorite Dickens novel as you travel the British countryside.
However, lugging large bound volumes of literature around on your holiday may prove burdensome.
The invention of these convenient electronic devices to store books has revolutionized the idea of reading while traveling, where before Americans would have to search out English language bookstores in foreign cities.
But with a Kindle or a Nook you can access and find the information you need when you need it.
Upload as many books as you can before you take off.
Not only is it easier on your body, it will save you the money of trying to purchase reading material on the road.
Travel Toilet Paper
Americans are sometimes surprised that the amenities they take for granted at home are not always the same abroad.
Toilet paper varies from country to country in softness and pliability.
If comfort in the bathroom is high on your list of priorities, you should include toilet paper as an essential bit of travel gear to include your packing.
Flask
Alcohol in many European countries is highly taxed; you may be taken aback at the cost for a bottle of beer in Scandinavia, for example.
You also may not always be able to get a drink when you need it: in your hotel room at 2 in the morning when you are suffering from jet lag, for example.
A small hip flask can give you easy access to a shot of schnapps or whatever local liquor you prefer.
You can transform a soda into an adult beverage at half the price!
Smart Travel Gear Makes for Smart Travels
These ten tips for essential travel gear and luggage sets will help take the stress out of your journey and allow you to enjoy every moment.
For more tips on how to make the most of your European adventure, check out these luggage sets.