Updated:
Cities You Have to Visit This Year – Despite the fact that all those recommendations which started last year but the year flew by and is now over, we still can talk a bit about some places around the globe that actually are worth visiting this coming year.
And today, let's take some of your time and discuss at least six cities really worth visiting this year! Why?
Cities You Have to Visit
Many, if not all, of these cities and locations would be ideal, romantic and unique places with things to do for your anniversary.
See below for some unique Beatles Inspired places for your anniversary as well.
So, let's get to the list right away, and let's not forget those fantastic cities that will become real hotspots!
San Sebastian Spain
Let's begin with one of the most important cities in Europe, for the year 2016.
San Sebastian, which you can find in Spain, this year, is named to be the cultural capital of the whole continent.
So logically here you will get a chance to visit numerous cultural events all year long.
The city took this honor really responsibly – even built a brand new Tabakaleros modern cultural center, which is located in the former tobacco factory.
So you can understand that the whole town is really prepared to pamper everyone with real Spanish culture.
It is also worth remembering that in San Sebastian, the worldly famous film festival takes places, and in 2016 it will celebrate this 63 anniversary.
So, if you love cinema and culture, San Sebastian should definitely be your top priority in 2016!
Stratford upon Avon United Kingdom
This year, the whole United Kingdom is going to honor one of the most famous writers of all time – William Shakespeare, since in 2016, it will be exactly 400 years after his death.
To mark this occasions, all around the country will prepare many cultural events, so it is worth considering visiting the United Kingdom as well, especially if you are a huge fan of Shakespeare!
In Shakespeare's birthplace of Stratford, you will get a chance to attend probably the biggest number of cultural events, while in the last home of this amazing author – in New Place, you can attend tours which will focus on writer's life and death.
In Guildhall, where it is believed he attended school, the exhibition will be opened too.
And of course – in the Royal Shakespeare Theater you can enjoy many plays written by the maestro himself.
In fact, the whole April will be dedicated to Shakespeare alone, so start planning your trip around that time for sure!
Havana Cuba
The year 2016 is one of the best times because, with the beginning of this year, the new era in Cuba started as well.
This communist country actually decided to open up their borders and invite tourists to come.
So right now where won't be any better time to visit the beautiful capital city of Havana than ever!
It is said that the best time to visit Cuba is around March and April, when you won't meet tons of tourist around, the weather is not too hot or cold, and there is less chance for tropical storms to come.
Therefore, it is still some time left to plan your perfect trip to this fabulous country, seem-to-be stuck in time.
Kutaisi Georgia
If you have never been to one of the most amazing countries in the Europe, then you should definitely start with Georgia's city of Kutaisi, which is also the new administration center of the country as well.
Kutaisi is the second largest town in Georgia, and it can offer you a wide range of attractions all tourists will love.
Here you can find both excellent examples of traditional Georgian architecture and some of the modern one too.
Not to forget beautiful monasteries and temples, and the fact, that Georgia is very famous for its delicious wine.
So here you can also stop by at many wine yards and taste the best and the freshest wine straight from the hands that made it!
Rio de Janeiro Brazil
Of course, we can't forget to mention Rio – the city in which all worlds' best sportsmen will come to compete in Olympic Games!
It will start on August 5th and end up on August 21, so mark your calendars and definitely come by here to meet new people from all around the world, and see some real human's body achievements as well!
Let's also not forget about the traditional Rio carnival you can also attend! But you should really hurry up because it is set to begin on February 5th!
It is widely known how crazy, colorful and fun it is, so it is the experience of the lifetime to observe this incredible party live!
Nuuk Greenland
Greenland capital of Nuuk is one of the smallest capitals in the world.
And in March (6-11 days) here begins an international Arctic Winter Games, presented as the largest event of its kind.
So here you will see that the paddle is not only part of the vehicle, but it is also a sport!
If the games do not attract you, Greenland can offer you some alternatives.
Here you can also attend the music, food and dance festival, which will be fun to watch too!
It is recommended to go to Greenland from March to September, because of the better weather and the chance to see the Northern lights too!
Places To Visit Before It's Too Late
I wish I couldn't write about this topic of Places to Visit Before It's Too Late, but sadly enough it's not all that hard.
There are places that are reaching a point of destruction, and for different reasons they will soon be gone.
As I write this post, I feel split between paradoxes.
While I would really want to see these places, I would be contributing to the problem that made me go to an endangered site in the first place.
Global warming is our own fault, and that's a heartbreaking fact.
So while I feel inspired to go to these places, the fact that they might not be there for long because of our actions, makes me want to go there in an environmentally friendly way.
So as much as I hope to inspire to travel to these places, I hope to inspire to a greener way of getting there.
Some of the places here are a few places that scientists and key reports say are feeling the effects of global warming today — places to consider as you put together your travel plans.
The Dead Sea
Want to float on top of water like a cork in the Dead Sea?
Or maybe you would want to go there for the healing natural minerals in the water?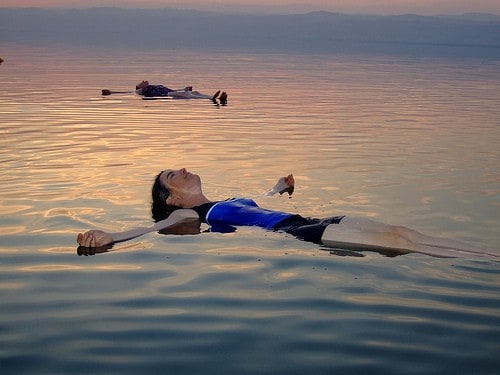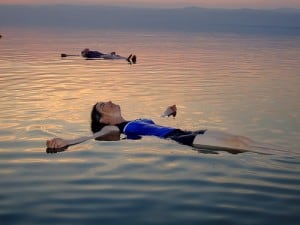 Well, hurry up because The Dead Sea is evaporating!
And it does this at an alarming rate.
As though the global warming wasn't enough, the problem is compounded by extraction and evaporation of water from the Dead Sea to extract the valuable mineral salts.
Belize Barrier Reef
Warmer oceans mean stressed coral, which results in bleaching and death. Corals are incredibly sensitive, but very important for the marine life to survive.
Coral is threatened by people breaking them, damaging them and using them for jewelry.
If you ever break a coral, they die.
Therefore, when you snorkel and dive you have to be very careful not to touch them.
Part of the reason why they're so fragile is because they only reproduce once every year, and few of the seeds ever get the chance to grow.
In Belize, more than half of the coral reefs in Caribbean are ALREADY gone.
Report revealed that the world's coral is dying at record rates because of pollution, disease and global warming.
In the Caribbean, eighty percent of corals have died over the past three decades.
Checkout our article on the Best Belize Beach and Belize Jungle Resorts
The Swiss Alps
The Swiss Alps are already less snowy, and they are forced to use artificial snow more and more.
The scenery will change drastically within the next few decades, the season will get shorter, and the glaciers there are already melting.
Although for us it was hard to see how it could be warmer than usual in -30 degrees last winter, the ski season arrived rather late.
There are many factors that cause the global warming and pollution, and although it might seem like the world wouldn't be better if you changed your ways of living, it would.
Those are a few of mine – which places would YOU like to visit before it becomes too late?
Best Cities To Celebrate Halloween
We've finally reached the month of October, and while over here in Europe the days turn darker and colder – we have one thing to look forward to: Halloween!
While many people think that Halloween is a rather new thing and a way for businesses to make money, it is actually a tradition dating back several hundred years.
Even the trick-or-treating tradition has been there since the Middle ages, although back then they were poor people who would receive food in return for prayers for the dead.
Halloween is celebrated in many parts of the world, and in many different ways, so here are a few great places to celebrate your next Halloween!
Edinburgh, Scotland – The Ghost Tours
Edinburgh, often referred to as the most haunted city in Europe, is the perfect place to celebrate Halloween and scare the hell out of yourself.
There are plenty of ghost tours to choose from, whether you want something more historically accurate or just creepy and scary stories.
Mary King's Close takes you underground to streets where people once used to live, and have special access to some very interesting underground vaults.
The city itself is quite special, with many closes leading off the main streets, old beautiful buildings and a castle perched on top of an extinct volcano.
In general, the old town is a dark place at night, and not at all as lit up as you would expect from a big city.
Prague, Czech Republic – The Creepy Atmosphere
Prague with its gothic architecture, cobble stoned streets and the old Jewish cemetery makes Prague the perfect Halloween destination.
The old Jewish cemetery is an eery plot of land – nobody knows exactly how many people have been buried they are buried in layers upon layers.
The grave stones are in all shapes and sizes, positioned in all directions, and about 12 000 are visible, but they estimate that 100, 000 people have been buried there.
Another reason to visit Czech Republic is to see the famous ossuary in Sedlec, one of the largest, spookiest oussaries in the world.
The estimated 70,000 human skeleton bones have been artistically arranged to decorate the church, both as furniture as well as an enormous chandelier (which contains at least one of every human bone in a body).
New York, USA – The Parade
New York's Village Halloween Parade is an annual parade presented every Halloween in New York City's Greenwich Village.
It's a huge parade, in fact the largest public Halloween event in United States, drawing 2 million spectators and 50 000 participants – best of all, anyone who is dressed up in costume is welcome to join!
With so many people crowding the city it will be impossible finding parking in town, but there are many LaGuardia airport parking options available so you could leave the car there, and go with a better option and take the bus, and just so you know, the parade is held on 6th avenue!
Oaxaca, Mexico – For A Different Halloween
In Mexico they have a celebration quite similar to our Halloween but with some very distinct differences.
It's called "The Day Of The Dead", and is celebrated every year on the 1st and 2nd of November.
During these celebrations, dead relatives are allowed to return the mortal world to visit their loved ones, and get to sample earthly treats like drinks and food.
Gravestones are decorated and families gather in the graveyards to pay respect and bring the deceased their favorite food.
This is the place I would most like to visit during Halloween – how about you?
What are your plans for Halloween this year?
BONUS LOCATIONS TO VISIT: Beatles Inspired Places Around The World
For all you hard-core Beatles fans out there it's probably not news, but this year the world celebrates the 50th anniversary of the Beatles, and in Liverpool the whole year will be packed with events to pay tribute to this band.
Obviously, The Beatles have played a huge role as inspiration for many musical artists, but they have also had an influence on many other things, from baby names to travel destinations.
We thought we would share some really cool places around the world that have taken their Beatles-influences to the next level…
Beatles Inspired Hotel Hard Days Night
Located at the heart of Liverpool's "Beatles Quarter" – the Hard Days Night hotel claims they were the world's first (but no longer the only) Beatles inspired hotel, with furnishings, paintings and artwork all inspired by the Beatles.
The location and the atmosphere of the hotel couldn't be a better way to relive the 60's – or for us younger people, to experience it for the first time.
Beatles Inspired Hotel Yellow Submarine
A brand new addition to all Beatles themed places, this floating old narrow boat has been renovated into a fully functioning 3-bedroom hotel in the looks of a Beatles-inspired yellow submarine!
Located in Liverpool's Albert Dock, this psychedelic Beatles hotel is full of memorabilia (plus a motorbike from the 1970's movie Quadrophenia), and serves as a good introduction to the Beatles hometown.
Beatles Inspired Clubs
The Beatles Revolution Lounge at Mirage in Las Vegas is a trippy place inspired by the Beatles and designed by Cirque du Soleil, very psychedelic but cool.
The Beatles Quarter in Liverpool has a number of bars that play Beatles songs a few nights a week, but no bar is as closely related to the band as The Cavern Bar, which in the 60's became the most publicized music venue in the world, and where Beatles popularity exploded.
The area is pretty rowdy at night, so once you're done partying and singing along to the Beatles cover bands it's better to stay the night at Jury's hotel in Liverpool slightly away from the noise.
Another bar, inspired by Beatles and even by the Cavern Bar, is Beatles Club "Cavern Club" in Tbilsi in Georgia.
Beatles Inspired Restaurants
When it comes to Beatlemania, perhaps no genre has as many Beatles influences as restaurants around the world, there is even a Beatles restaurant by the beach in Kovalam in India..!
RockFish Boardwalk Bar and Seagrill on Virginia Beach plays exclusively Beatles songs 24/7, the walls are full of Beatles photos, instruments and records.
Unlike many other Beatles themed restaurants, like the Rigby pub and Grill in Madison, is not completely inspired by Beatles songs, but you can still get an "all you need is love" catch of the day or "it's all too much" seafood platter, and wash it down with a "Yellow submarine".
(photo credit: 1 – jenorton – nattu – notsogoodphotography – jimwhiteheaducsc – jetske – 2 – 3 – 4)