Updated:
Crazy Airports From Around The World
Crazy Airports from around the world, I love that feeling in my stomach when the plane lifts off the ground and also when it lands again on the runway.
However, I'm not so sure how I would feel if I was ever to land on any of these airports…
Today I will be sharing some of the most crazy, and dangerous airports from around the world.
And Here you can checkout our Most Dangerous Roads
Gibraltar Airport, Gibraltar
This airport, 500 meters from the city center (!) has a landing stripe which begins already out in the ocean with water on both sides.
But what's really crazy about this airport is that the landing and departure runway intersects with the city's MAIN road where people and cars constantly use.
Whenever a plane lands or departs, the street has to be closed off.
Lukla Airport, Nepal
How about a mountain on one side of the runway and a thousand meter drop on the other?
Lukla is the place where most people start their trek to climb Mt Everest, so I guess the guys who land here aren't exactly afraid of heights or mountains…Top Things to Do in Nepal
Wellington, New Zealand
How about landing in "Windy Wellington"?
The airport is called "wild at heart" for a reason, which can be a little scary when landing on such a short landing runway and such strong winds..Crazy Airports!
Barra Airport, Scotland
Not so much crazy, as cool – this is one of the only airports in the world where planes actually land on a beach.
As the airport must be among the most "natural" in the world, it's "naturally" lit (by the sun) during the day and a few cars are parked on the parking lot with their lights on during night time to add some "extra" visibility, and the airport is literally washed away by the tide once a day.
Princess Juliana International Airport, Saint Martin
Like to sniff some jet exhaust and relax in your sunbed to the soothing sounds of airplanes landing and departing?
Here you will find people swimming, sunbathing and hanging out on the beach, watching airplanes land just a few meters over their heads – this one tops it as Crazy Airports for me!
Fun Things to Do When Stuck At Heathrow Airport
How To Get Through Airport Customs Problem-Free
Top Airports That Stand Out From The Rest
Airports have played a key part in people's travel plans for over 100 years – whether it's taking a last-minute package break to somewhere in Europe or jetting off on a multi-stop backpacking voyage – travelers around the world fly more than ever before, and while most of the time airports are places that don't leave any impression whatsoever, maybe these would…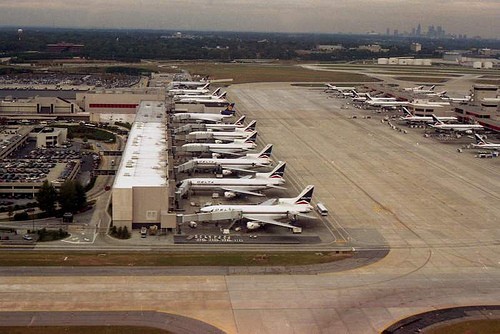 Top Airports – Hartsfield-Jackson Airport – The World's Busiest Airport
Hartsfield-Jackson Airport, situated in the US city of Atlanta, is known for being the world's busiest airport, not just in terms of arriving and departing flights but also in passenger numbers.
On average, more than 240,000 people pass through its gates every day (the equivalent of around 90 million every year), while its five runways handle approximately 2,700 flights each day!
The airport operates to 151 domestic cities and with 80 per cent of the country's population within a two-hour flight, and flights to more than 80 international airports in 52 countries.
Top Airports King Fahd Airport – The World's Largest Airport
The largest airport in the world is King Fahd International Airport in Saudi Arabia, at around 789 sq km in size, the hub has two parallel runways that are each 4,000 meters long.
The passenger terminal has six stories of which three are allocated for passenger processing.
The third level is for arrivals, the sixth level is for departures, and the fourth level is for boarding.
Juancho E Yrausquin – The World's Smallest Airport
On the opposite end of the scale, the Juancho E Yrausquin Airport on the Caribbean island of Saba is commonly regarded as the world's smallest airfield.
With the runway just 400 meters in length, aircraft are only permitted to use the airport upon obtaining a waiver from the Netherlands Antilles' Civil Aviation Authority.
College Park Airport – The World's Oldest Airport
For a truly historic airport, there is perhaps nowhere better than College Park Airport in Maryland.
Established in 1909, this facility is recognized as the world's oldest continually operated airport and saw Wilbur Wright (who along with his brother Orville invented and built the world's first working airplane) train two military officers to fly the US government's first aircraft.
Known as the 'Cradle of Aviation', the airport is the location for a number of historic flying achievements, including the spot where the first military mile-high flight by a powered aircraft took place in 1912, while the first controlled helicopter flight took place in 1924.
Yakutsk Airport – The World's Coldest Airport
Visiting Yakutsk Airport in Russia will allow you to experience what could be one of the chilliest travel hubs on the planet as the city is regarded as the coldest in the world.
With the average temperature in January standing at around -39C, upon making your way through the departure lounge after arriving from the likes of Moscow and St Petersburg you will soon start to experience the extremely cold conditions.
Kuwait Airport – The World's Hottest Airport
Kuwait International Airport is largely considered to be the world's hottest airport, and with average July temperatures reaching a high of 45.6C – it is not hard to see why..!
Visiting any of the above airports, whether you're arriving, departing or just on a connecting flight is sure to be a memorable part of your travel experience.
Fun Things to Do When Stuck At Heathrow Airport
How To Get Through Airport Customs Problem-Free
5 Crazy Airports From Around The World
Airport Security – Quick Tips to Help You Zoom Through
Crazy Animal Discoveries In Airport Customs
Have you ever watched those TV shows like "Customs" or "Border Security: Australia's Front Line"?
If so, you know that they make some pretty odd discoveries on people going through customs…
Animals and drugs remain two of the biggest threats to borderline security, and smugglers are constantly coming up with new ways to try and get through undetected.
Here are a few very creative smugglers who got caught, and who I know I wouldn't want to sit next to on a plane..!
Pythons In Your Socks Taped Onto Your Body?
A man was caught in Norway customs with 14 royal pythons and 10 albino leopard geckos hidden in old socks under his clothes.
The custom officers noticed that there were constantly wriggling movements under the man's shirt, so they searched him and found that he had put the geckos in boxes tied around his feet, and rolled up the pythons in socks taped to his chest.
Birds In Your Pants?
There have been quite a few discoveries in customs where people hide birds in their pants.
An Australian was busted bringing two Pigeons tied to his calves wrapped in news paper, and another guy from L.A brought 14 live song birds wrapped around his legs in cloths.
The officers noticed birds feathers on his clothes and saw birds' tails sticking out under his pants, and since he had left a suitcase with 18 birds at the airport a while earlier they decided to search him.
Hiding Fish Under Your Skirt?
During a routine search they heard flipping noises coming out of the woman's waist area, and discovered 51 live tropical endangered fishes, hidden under a purpose built apron under her skirt.
Reptiles In Your Underwear?
It seems like most people stick to smuggling their animals in their bags or around their legs, but some do take it one step further…
One example is a German man who was caught trying to leave New Zealand with 20 skinks and 23 geckos – hidden in his underwear.
Or to take it even further, there was a Swedish woman who was caught carrying 75 live snakes – in her bra!
The custom officials became suspicious when they noticed that the woman was constantly scratching and correcting her bra…
Strap 3 Crocodiles To Your Stomach?
Perhaps the craziest story of them all is the Palestinian woman who tried to get into Gaza city with three 20 inch long crocodiles strapped to her stomach.
The border guards became suspicious because she looked "strangely fat".
Can you blame that the border guard searching her screamed and ran away when he discovered what was underneath her robe?
Monkeys In Your Pants?
On several occasions women and men all over the world have been caught smuggling monkeys under their clothes; in their pants and under their shirts.
A man was caught in Mexico smuggling 18 little Titi monkeys in a belt under his shirt (2 of the endangered monkeys died during the trip).
Another woman tried to smuggle a monkey from Thailand into the US under her blouse, pretending she was pregnant.
Have you heard of any more strange discoveries in customs?
Or have you ever accidentally forgotten to declare something when flying?
Most Dangerous & Crazy Roads Around The World
Traveling equals a lot of time spent using different kinds of transport.
In New Zealand we spent 60 hours traveling around on buses.
The roads were pretty winding, but they were nothing compared to these ones – and I must admit that it's a mixture of horror and enthusiasm as I share these places with you – enjoy! :S
Checkout our Crazy Airports
The Death Road – Bolivia
Only the nickname of this draws in your attention, and the road surely lives up to its name.
North Yungas road in Bolivia is officially the world's most dangerous road.
A fatal accident happens here every week, and it's estimated that between 200-300 people die here every year..!
The road runs between La Paz and Coroico in the Boliovian Andes, and the 70 km long narrow road plunges at a 3 600 meters down.
Luckily there is now (since 2006) a newer and much safer road, between these cities, so a lot fewer people driver here – it's mostly used by adventure bikers these days – with such an amazing view I can see why.
Lena Highway – Russia
Believe it or not, but this muddy off-road looking path is actually a highway between Moscow and Yakutsk.
So why isn't it paved?
The reason is simply because it's so darn cold!
They can't put asphalt because of the permafrost (Yakutsk is one of the coldest cities on earth).
But it's not actually the ice, snow and reduced visibility that is a problem, but when the summer comes and it rains…
This makes the road so muddy that they're completely impassable.
Lysebotn Road – Norway
There are many crazy and amazing roads in Norway, but this must be the one that tops them all.
It's more a roller coaster than an actual road, with 27 switchbacks, amazing views and a long tunnel with three turns inside.
This road is said to be one of the most beautiful areas in Europe, and the most fun to drive for skilled drivers.
Hiking Trail, Mt Huashan – China
This hike simply isn't for everyone.
The views are stunning, but I'm not sure if anyone really dares to lift their head up and look.
The trail leads to sacred shrines and you pass several temples along the way.
Pilgrims and monks still walk the path, as well as many travelers these days.
To reach some of the places you have to climb cliffs where the only thing keeping you from falling down thousands of meters is a chain link hammered into the stone.
But I must admit that it looks a little tempting…
Have you been to any of these places, or have you been to another crazy road you would like to share with us?
5 Amazing Streets Around The World
Walking the streets of a new city is one of my favorite things to do, and they have a lot of influence on the way I experience each place.
The narrow, steep streets of Lisbon and Porto with its tiled buildings made me fall in love with both cities, and the streets of Tallinn made me feel like I had taken a step back in time.
So I thought I'd put together a list of some amazing streets around the world that stand out from the rest. By visiting these streets you have experienced something special…
The Most Romantic Street – Lower Slaughter, England
Lower Slaughter, a picturesque village famous for its beautiful Cotswolds cottages, now have something else to be equally proud of:
Last year a street in the city called Copse Hill Road, was voted the most romantic street in Britain by voters on the Google Street View award.
Perhaps the perfect street for a romantic stroll on the upcoming Valentine's day?
The Steepest Street – Dunedin, New Zealand
Many of the cities in New Zealand were designed by British town planners who had never even been to the country, let alone knew what the areas really looked like.
They simply overlaid a grid pattern on the map, having no idea how ridiculous and impossible the designs would turn out.
In some places, like in Christchurch, this worked – in others, like Wellington and Dunedin – it didn't…
This resulted in streets like Baldwin street, which at 35% grade is one of the steepest streets in the world.
The Narrowest Street – Exeter, England
Parliament Street in Exeter is a 50 meter long street dating back to 1300's, known as the narrowest street in the world.
If you're wider than 0,64 m (25") you would probably get stuck at its narrowest point, that's how narrow it is..!
The Crookedest Street – San Francisco, United States
With eight bizarre hair-pin turns, also called switchbacks, Lombard street in San Francisco is known as the crookedest street in the world.
Unlike Dunedin, they realized that without the turns the street would be too steep for most vehicles, and today it is a one way street to make it safer.
There are a number of luxury villas and five star hotels jotted along this famous street if you want to stay close.
The Shortest Street – Wick, Scotland
This is my favorite, and how they can call this a street I don't know – but in 1887, the Ebenezer Place was officially declared a street.
Measuring at 2.06 meters (6.9 ft), Ebenezer Place in Wick is the shortest street in the world.
There is just one house on the street, which today serves as a hotel, and the owner was instructed to paint a street name on the house.
Have you visited a crazy, beautiful or amazing street you would like to share?
(photo credit: 1 – 2 – 1)