Bizarre Beaches From Around The World – If you've traveled for a long time to many places with countless paradise beaches you know what I mean, when I say after a while all the beaches start to look and feel the same.
Well, if you want to experience something different from the typical beach, I suggest you check out these bizarre beaches below…
Bizarre Beaches From Around The World
Glass Beach – Fort Bragg, California
Could you have imagined that a "town dump" would become one of the world's most beautiful man-made beaches?
Neither would I, but after various clean-up programs this garbage area has turned in to a beautiful beach, since the waves have done a fantastic job wearing down and smoothing the glass bits into tiny smooth pebbles.
Today the glass pebbles cover the whole beach – bizarre, but beautiful.
Another proof of how nature can turn the ugliest things around into something good…Bizarre Beaches
Punaluu Black Sand Beach – Big Island, Hawaii
While black sand beaches exist in many places around the world, the photos I've seen of those in Hawaii are simply some of the darkest shades of black I've seen.
Together with the green jungle, cold blue water and white surf – this volcanic beach just stands out of the crowd, and it's also a great place to watch the Hawaiian Green Sea Turtles.
Hot Water Beach – New Zealand
This is the only one on the list that I have actually been to, and let me tell you – it's a really cool experience!
We got the tip from a family we met in New Zealand who had arranged one of those New Zealand holiday packages, and decided to check it out ourselves.
The sand is boiling – literally…
Early in the morning, when the tide is low, the sand in the beach is burning hot in some places from hot water coming from a volcanic underground reservoir..
The hot water (which contains a huge amount of salt) is easily found when you dig in the sand and make little ponds to hang out in.
In some places the sand is so hot it burns when you step on it, but in other places you could dig out your own spa bath and warm up as the sun rises over the ocean.
Ocean Dome – Miyazaki, Japan
Imagine a perfectly white beach where the sun always shines, the weather and water is always warm and the surf is perfect.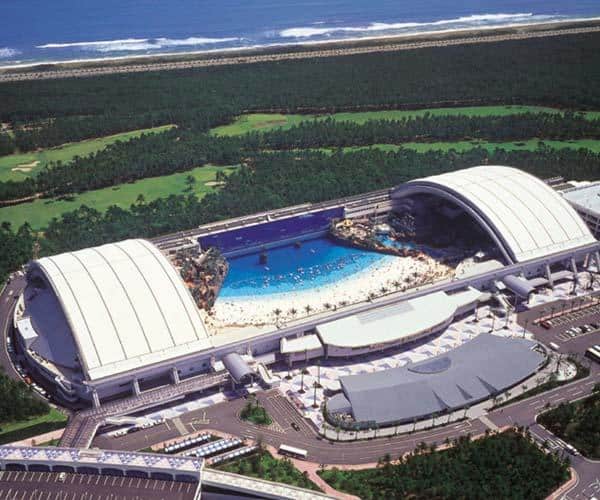 Is there such a place in Japan? Well, now there is…
If this massive (actually, the world's largest) 300 meter long and 100 meter wide indoor pool wasn't bizarre enough, there is a fake volcano "erupting" every hour, after which waves are created which you can surf on.
Another thing advertised with this place is that you avoid swimming in polluted water, which makes you think:
– is this really the best way to fix the problem with polluted waters? To just built an artificial beach, and let the water stay polluted?
Chilling out at this crushed white marble sand beach would be a pretty crazy day out, and perhaps will make you think about what the future holds.
Green Sand Beach – South Point, Big Island, Hawaii
The fact that two of the most bizarre and awesome beaches I've heard of are in Hawaii is good enough reason for me (and you) to buy a ticket there right away.
This beach has GREEN sand!
The reason for the green color are the crystals of Olivine in the sand, minerals locally known as "Hawaiian Diamond".
Rumors say that some people have found Olivine crystals big enough to sell as gems on this beach.
The crystals come from the eroding headland, and sadly, eventually the supply will run out and the beach will look like any other…
Which of these beaches have you been to?
Also if you know of any other bizarre beaches around the world – please share!
Best of Cuba Beaches
Rum, Fidel Castro, the Cha-Cha-Cha dance and the birthplace of Salsa.
Cuba is famous for many things, and every year over 2 million travelers visit the country to explore its many treasures.
From the historical streets of Havana and world heritage sites to a vibrant music scene there is a lot to experience in Cuba, but few things beat the beautiful beaches, historic cars and fragrant Cuban cigars.
Incredible Cuba Beaches
With its crystal clear, turquoise water and white sandy beaches, Cuba has some of the most beautiful beaches in the Caribbean islands.
There are different beaches for different tastes, from the more developed Varadero to less developed beaches like Playa Paraíso and Playa Sirena where you can't find much else than a simple beach side restaurant.
Cayo Sabinal is a beautiful secluded beach protected by coral reefs, and a great place to spend some time in if you're interested in eco tourism.
If you're interested in more developed beaches Varadero is the most popular beach-resort destination for Cuba all inclusive holidays, but Guaralavaca (another popular destination) is prettier, less busy and no way near as massively commercialized.
Historic Cars
In Cuba you will see the coolest 1950's cars everywhere, some in brand-new condition, others on the verge of collapse.
The funky retro Fords, Pontiac's and Buick's cars parked next to bright colorful buildings make for some amazing photo opportunities – however this might not last much longer.
The reason why there are so many cars from the 1950's is because for almost half a century there was a law prohibiting Cubans to freely sell and buy any cars made after Fidel Castro's 1959 Revolution.
The only cars they were allowed to freely buy and sell were cars that were on the road before 1959, but since year 2011, this 50-year ban is now dropped.
This is great for the citizens, but who knows how many of these awesome cars will still be on the road in a few years?
Cuban Cigars
The one thing that Cuba is perhaps most famous for are its cigars – and unless people stop smoking cigars altogether, they will remain synonymous with Cuba.
Pinar del Rio is the capital of the cigar industry, but the best place to actually spend time in is the little city of Vinales and the surrounding valley, a 20 minute bus ride away.
It's considered to have the richest soil for growing tobacco in the world, and some of the most respected farms are located in the valley – huge uniquely shaped limestone hills and caves are scattered over the valley between large fruit and tobacco fields.
Horses are as much a part of Cuba as tobacco is, and the best way to get around the valley is on horseback ride along the tobacco field paths.
Cuba:
Land of rum, fat cigars, vintage cars and Latin music – if you want to experience a completely unique culture with a raw yet delicious flavor, there is no better place to go than this sun drenched Caribbean island where wit, storytelling and skill seem infinitely more valuable than wealth.
Holidays to Cuba give you an action-packed itinerary and the opportunity to see all of the country's highlights.
If you're unsure about going it alone and would like some help from local experts, a multi-destination holiday like this could be the perfect option.
Havana
Cuba's vibrant capital gives the impression of a place where time has settled down to retire, causing everything to slow down.
It's no wonder, then, that visitors get the feeling of having been transported back to a bygone era.
Soft guitar music drifts through open doorways in the old town, classic fifties cars fill the streets, and faded colonial architecture stands proud. Havana
Hemmingway
One of Havana's most famous residents was American writer Ernest Hemmingway, and visitors to the city won't go long without discovering some reference to him.
For the ultimate Hemingway experience visit the Floridita bar in Havana where he whiled away the house sipping on mojitos.
It was during his residence that he wrote some of his most famous works including The Old Man and the Sea, and you can find traces of Cuba in much of his writing.
To learn more about Hemmingway's life visit his former home, Finca Vigia, which has been preserved as a fascinating museum.
Rum and Cigars
Cuba's most celebrated exports can be enjoyed and explored throughout the island.
For an insight into the cigar making process visit Partagas Cigar Factory where you can take a tour and watch the experienced staff drying, rolling and boxing cigars as the rich smell of tobacco fills the air.
You can, of course, purchase your own and sample the goods with the accompaniment of a quality measure of rum.
Continue your education by taking a look at the rum making process on a visit to a factory in the Pinar del Rio province.
The whole area is a joy to explore with natural pools for swimming, coffee plantations and verdant valleys.
Cienfuegos
This enchanting city known as 'The Pearl of the South' is like something from an old fable. Pastel colored palaces and mansions stand between swaying palm trees before the turquoise lure of the Caribbean Sea.
Of course there are the unavoidable signs of development and industry, but on a boat tour around the Bahia de Cienfuegos the hustle and bustle of modern day living can seem a world away.
The city, like Havana, has earned UNESCO world heritage status – it is no wonder that so many, like Hemmingway, fall in love with this charming island and its unique ambiance, causing them to return time and again.
World Class Beach Destinations
Whether you're someone who loves dedicating entire holidays to lounging around on the sand or you simply enjoy taking the odd stroll along the coast, I think it's pretty safe to say that when it comes to holidays, decent beaches are something the vast majority of us look for.
So, I've decided to spend this post talking about what I think are the world's very best beach destinations.
Fingers crossed this list will give you a few ideas for booking your next break…
Phi Phi Islands (Thailand)
I don't know about you, but whenever I think of idyllic beaches, I imagine aquamarine water, soft white sand and streaming sunshine – so exactly the kind of beaches found on the Phi Phi Islands in Thailand.
Part of the Krabi Province, these isles are most famous for their starring role in the film adaptation of Alex Garland's stunning novel, The Beach.
It's well worth visiting the particular island featured in the movie – especially if you have the image of that secluded beach lodged firmly in your mind – which is Phi Phi Ley.
Maya Bay is the iconic stretch of sand from the film and is famous for being unbelievably scenic and surrounded by colossal limestone cliffs.
Whether you're planning to make a beeline for Maya Bay or you're happy to soak up the sun on any of Koh Phi Phi's beaches, the best time to come here is between November and April, since during this period, there tends to be less rain

Menorca (Balearic Islands, Spain)
Next on my list are the Bizarre Beaches in Menorca, which is one of the Balearic Islands.
A UNESCO Biosphere Reserve, this island is celebrated for its incredible coastline and lush inland areas, which make it a real joy to explore.
Of course, you're bound to be more interested in its beaches, so I'll focus on those!
There are more than 100 beaches to choose from in Menorca, which is one of the reasons I think this is such a great destination for a seaside holiday (by the way, you can book hotels near the water through companies like Sovereign Holidays).
But sheer volume of bays doesn't cut it – it is the quality of the beaches here that really makes this location stand out from the crowd.
Not only do they all share glorious crystal-clear water, but there is also plenty of variety in terms of the type of beaches on offer – including tiny secluded coves and broad sandy stretches.
Among the best is the shell-shaped Cala Galdana, which has golden sand and wonderfully calm waters.
Playa de Binigaus in Migjorn Gran, meanwhile, has white sand and is surrounded by lush vegetation.
As a quick warning, the latter is a favorite among nudists, so if you come here be prepared to see some skin!
Bizarre Beaches Skiathos (Greece)
Last up we have Skiathos, which is one of the Sporades Islands.
While Greece as a whole enjoys a great reputation for its beaches, Skiathos is often said to possess the very best in the country.
There are around 60 beaches to choose from on this cosmopolitan island, but wherever you go you can expect a combination of white sand and beautifully clear water.
Among the top places to head to is Koukounaries Beach on the south-west of the isle, which is known for the lush pine forest that reaches up to the water.
If you're happy to make a little effort to get to your World Class Beach Destinations, meanwhile, Lalaria is a real highlight.
You can only get here via boat from the port in Skiathos (and that's reliant on the weather), but the trip is well worth it.
You see, Lalaria has unusual white rock formations that make it an especially scenic and charming destination, not to mention a particularly memorable place to relax.