Updated:
Things to Do in Anaheim – When planning a trip to Anaheim, Disneyland has become the first spot for any tourist.
It is, after all, the happiest place on earth!
While that famed amusement park can easily take a day or 2 (or more!) to fully explore, there are other places in this area that can make your trip even more worthwhile and fun, even for families and kids of all ages.
Anaheim has so much to offer, and there are a lot of options for not only amusement parks, but interesting, unique activities as well. Here are a couple of recommended things to do in Anaheim.
The Walt Disney World Resort spans over an area that is bigger than the island of Manhattan, as such, it serves as the main attraction for tourists to come to Anaheim.
While many visitors never venture beyond the six theme and water parks, there's really a lot more that you can do in Anaheim. Disneyland Paris vs Walt Disney World Orlando – Which Is Better?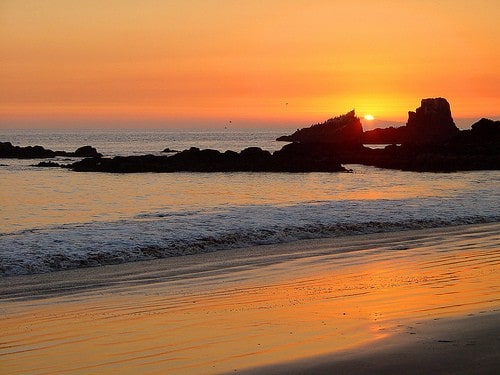 Things to Do in Anaheim – Besides Disneyland
Enjoy The Orange County Beaches
Orange County comes with over 42 miles of beautiful coastline. During your stay in Anaheim, you can take a drive to any of the lively beach towns.
Whether you're on a family vacation or on a romantic getaway with that special someone, the warm California sun is an ideal place to relax.
Take surf lessons during the day, and have a bonfire cookout at night, there's always something to do.
Hit the ballpark at Angel Stadium of Anaheim
Sometimes' a good ol' ball game is really what you need to make your weekend extra exciting.
Catch the Major League Baseballs' Los Angeles Angels of Anaheim, as well as Rally Monkey, their famous mascot who is well loved by the kids.
The stadium offers deals that can make it cheaper for you to bring the entire family on a game.
Angel Stadium is one of the older stadiums, but it is well maintained and beautiful.
It even has a waterfall in the center field, and fireworks displays on selected occasions.
The stadium is also known for their extensive selection of meals and alcohol, which delights everyone.
They sell several kinds of alcohol, from craft beer, to gluten-free beer and cider, and tastefully selected imported beers.
Bring the little ones to Adventure City
If you didn't get enough of Disneyland, or you would like to seek for alternatives for amusement parks for children, Adventure City is worth considering.
It's a wholesome, interactive children's museum that has 12 attractions, an arcade hall, a petting zoo, and a pizza party hall.
While this place is quite small (the whole area can be explored within 30 minutes or so), it's a great place for younger children as the rides here are for the younger set.
There are a lot of things to keep the kids occupied for a fun day out.
The Thomas the Train play area and Rescue 911 are a must.
Adventure City is affordable, and at around $17 only per person, it's a great place to bring the whole family without spending more than a hundred dollars.
Food and drinks are fairly priced, unlike a lot of the concessionaires in most amusement parks that have inflated prices.
Savor Some Wine In Temecula
If you enjoy wine tasting, the Temecula Valley is the place to go. It is considered the heart of California's South Coast wine region, and just an hour drive from Anaheim.
Here, you can take in the beautiful landscape – rolling hills covered with vineyards, – and taste wine at over 30 world-class wineries.
There's special events related to wine and food held year-round, too.
Spend some time with nature at Yorba Park
Located along the Santa Ana River, this park is a great place to spend a relaxing day in nature.
There are beautiful walkways, picnic grounds and trees, and ponds to kick back and unwind in on a sunny day.
This is also the perfect venue for having picnics and barbecues (they have barbecue pits in the park).
Yorba Park has an expansive selection of play areas, too, which the whole family will surely enjoy, and perfect for active kids.
Since the area has trails, you can rent a bike and ride over a mile long of paths.
For sports and recreational activities, there are baseball fields, volleyball courts, playgrounds and horseshoe pits.
You can also spend some time on the river, as they have paddle boat rentals and model sail boating.
You can also bring your dogs as well!
Get a dose of local culture at Muzeo
Anaheim is home to numerous museums, including the MUZEO, which regularly features eclectic art.
It has had exhibits on topics such as "Rome" or "Chocolate."
Interactive programs always accompany each exhibit so that the art comes to life.
Ideal for art lovers and families alike.
On the other side of the fun-filled Anaheim is its cultural side that's worth checking out if you'd like to balance out all the amusement park adrenaline with a quiet, introspective visit at Muzeo.
This is an accessible place for tourists, that's great to add to your itinerary and give your trip some variety.
Muzeo showcases art and culture, and is a regular venue for such kinds of events that range from educational to artistic (travelling exhibitions).
If you'd like to delve deeper into history, they have a Heritage Center. Admission fee is at $10 for adults, and $6 for children.
Soak up on local sights and sounds at Art Crawl Experience
Held only four times a year, this quarterly gathering takes place at Anaheim Boulevard, Harbor Boulevard, and Center Street Promenade, and gathers the community of artists and foodies.
If you are travelling to Anaheim, it's best to schedule it during the dates of the Art Crawl if you'd like to do something different from amusement park hopping and baseball games.
Artists showcase their work in public through pop up galleries, as well as crafters and indie makers who run pop up shops where you can purchase unique creations.
It is also an event for foodies, as food trucks are aplenty, providing a variety tasty meals and drinks all throughout the event.
There are also local performers to keep things alive and buzzing.
Race Some Italian Carts
At K1 Speed, you can experience the thrill of wheel-to-wheel racing in high-performance Italian karts.
It's the largest indoor karting facility on the west coast, spanning over 100,000 square feet with over 3,000 feet of racing excitement.
So get ready for an adrenaline kick.
Step on the pedal at Speedzone
This 10-acre activity park is a large entertainment center that has a lot to offer in terms of excitement.
First off, you get to race several types of cars across several racetrack.
Imagine an advanced bump cars game, where you can actually speed off and feel the wind in your hair whilst competing with your family and friends.
There are Go Kart races suitable for small children as well.
Aside from car racing, they also have mini golf for those who would like to relax a bit.
They have 18-hole miniature golf courses, an activity suitable for groups.
Lastly, they have a bowling alley for a classic, fun and competitive experience with no age restrictions.
They don't require special shoes, and the ball sizes are just one, so they've made the bowling experience less fussy.
Lastly, they also have an arcade, perfect for killing some time in between races and mini golf.
Fly a jet at Flightdeck Air Combat Center
If you are really looking for something quite extraordinary to do in Anaheim, where you'd find difficulty finding the same experience elsewhere, then Flightdeck Air Combat Center will be for you.
Perfect not only for those who are enthusiasts of military combat and warfare, but also for the genuinely curious and adventurous enough to try an authentic military flight simulator.
The graphics and simulation, as well as special effects, go hand in hand in providing a unique and unforgettable flying experience.
You'll learn how to fly a jet from start to finish, and even engage in air combat with other jets.
You can also try the Boeing 737 simulator if you'd like to experience flying a commercial airliner.
It is also said that real pilots also go here for practice when they're assigned to fly other types of planes.
While this might sound complicated, there's no experience or skilled required.
There will be short training sessions beforehand, so you are sure to get the thrilling experience you are hoping for.
This place is highly recommended for the big boys, too!
Take a wild ride at Knott's Berry Farm
Located at Buena Park, Knott's Berry Farm is one of the quintessential amusement parks in Anaheim, aside from Disneyland.
This place has grown a long way, from what used to be a family berry plantation, to know a place that will guarantee an all-out amusement park experience.
They have 10 roller coasters, and the most notable one is the Silver Bullet.
They have a couple of thrill rides such as La Revolucion, Supreme Scream, and Rip Tide, to name the most popular ones.
This is great for thrill seekers both young and old.
This place also features high-class family rides.
Step back in time and experience the Calico Gold Mines and the Calico Railroad, or you can also opt for water log rides, and even 4D interactive games.
Lastly, they do have a water park, too!
What's great about Knott's Berry is the variety of fun things you can do here.
Stroll around Anaheim Garden Walk
For a leisurely time, Anaheim Garden Walk is a great place to unwind, catch up with friends, and a great destination for a romantic date.
Restaurants are aplenty and nightlife is vibrant here.
It is also a convenient place to do some shopping for travelers and tourists situated in the Anaheim Resort District.
As for activities, there are cinemas, children's playgrounds, and bowling alleys.
Jump high at Sky Zone Trampoline Park
For highly active folks, this trampoline park is a must-see destination that's sure to keep your energy high.
It is actually the world's first indoor trampoline park, and it's equipped with quality trampolines.
This park is guaranteed to give you that insatiable high from jumping and bouncing around high up in the air and then landing on foam cubes.
And, did you know that jumping around in trampolines can actually be healthy?
It improves circulation, and boosts your cardiovascular health!
While this destination is generally heaven for people who like to stay active, there is a wide range of things to do at Anaheim that will suit every tourist.
It's a great idea to mix up your activities with not only the many amusement parks here, but also add some culture, nightlife, and nature to your trip.
If you are heading to Disney World, Orlando is a great southern towns as well.
How To Find The Best All Inclusive Vacations
Free Things To Do In Los Angeles – When we think of Los Angeles, we generally see long stretches of beach meeting urban sprawl, sunny skies, famous people and a big Hollywood sign.
The city is full of a great sites and attractions, restaurants with all types of cuisine, and it is the world capital of film entertainment.
Cheap LA hotels and hostels can be found spread across the city.
Despite a reputation of being expensive, there are lots of things you can do for free – check out the stuff below for some ideas…5 Free Things To Do In Los Angeles
Free Things To Do In Los Angeles
Hollywood Walk of Fame
One of the most popular things to do in LA is to visit Hollywood's walk of fame.
15 city blocks make up the black sidewalk within which the pinkish stars are embedded.
This is the best way to appreciate the talents that have brought us film, television and music for many decades.
Some 10 million people visit the Walk of Fame a year, not counting the locals who walk over the stars daily.
You will find some 2,400 stars, many of which have names you might not recognize.
But don't worry; there are tons that you will recognize, from Frank Sinatra and Charles Chaplin to Matt Damon, Mickey Mouse and Michael Jackson.
Griffith Observatory
Located atop the hill park of the same name, the observatory is a great place to check out for all ages, but especially for kids. Inside you'll not only find a free astronomy museum, but also a giant telescope.
The telescope is called Zeiss, and in the evenings they offer the option to look through the telescope.
There's really nothing like seeing the stars through some of the thickest smog in the country!
California Science Center
If the observatory sparked your interest, head over to the California Science Center, another superb place for people of all ages.
The place is very interactive, which makes it popular for families with small kids, but adults who are not afraid of letting their inner child come out will have a good time as well.
It's one of the best science museums in the United States, and the exhibits change regularly to provide fresh reasons to return.
There is also a large 7-story IMAX theatre inside, though you'll have to pay to enter.
Venice Beach
Finally, and without further ado, the Venice Beach boardwalk is a must-see and free attraction.
The vibe the neighborhood gives is comfortable and different, and the roller-skating bathing suited bodies make for a distinctly Southern California atmosphere.
You simply can't see LA without checking out Venice Beach.
The Getty Center
If fine art is your cup of tea, then head to one of the most involved galleries in the world, The Getty Center.
The building itself is beautiful to look at, and inside you'll find plenty of priceless works of art.
The collection is quite impressive, with works from Van Gogh and Monet, and the gardens are wonderful to stroll around in.
This place also has concerts on some nights, so if you plan to visit it's always worth checking out if there is any event happening.
Another good reason to visit is the spectacular view you get from there, overlooking LA and the ocean.
On a side note, another way to get a good view is to hike to the Hollywood sign, which might take a bit more effort, but it's also free, and totally worth it.
What's your favorite things to do in Los Angeles for free?
Why Working Remotely is Harder than You Think
Best Apps for Traveling
How Do I Get Internet While Traveling?
Using My Cell Phone While Traveling to Europe
Best Mobile Hotspot for Traveling to Europe and Overseas
Top Beaches To Visit In Los Angeles
Los Angeles has many beaches – in fact, if you have to choose, there are almost too many to choose from.
If you are planning to visit and don't know where to get started – here are five beaches to check out:
Point Dume State Beach
Have you seen Planet of the Apes or The Big Lebowski?
Well, both of them were filmed here at Point Dume State Beach.
It is uniquely sheltered between sand dunes and the ocean, and from the top of the sand, you can enjoy some great views.
In fact, the first piece of land directly south of its tip is Antartica.
Especially if you like swimming, scuba diving, tide pooling, rock climbing or whale-watching (from December to March), you will find delight at Point Dume State Beach – it's a good destination for all of them.
The fact that it is further out from the LA metro area also means that it is usually less crowded than many of the other Malibu beaches.
Paradise Cove
This beach is what its name already says it is: a paradise cove.
A private beach in the 28,000 block of the Pacific Coast Highway, Paradise Cove charges you $25 to park and $5 per person if you walk in.
If you dine at the Paradise Cove Restaurant, you automatically get validated for four hours.
But all this exclusivity doesn't mean that it doesn't get crowded; quite the contrary, be sure to arrive before noon on weekends because it fills up fast.

The Strand, Manhattan Beach
If your time is limited, head to The Strand.
It's an easy drive from the city and its strip comes with some serious real estate.
When you stay at one of these impressive homes, you can stare out into the Pacific (while thinking about Keanu Reeves in the surf board-buying scene from Point Break, which was shot nearby).
The paved pathway is also an ideal place to walk, run, jog, rollerblade or bike.

Heavens Beach
Another beach that is what its name entails.
It is uniquely situated in Leo Carrillo State Park.
Here, you can grill a relaxing BBQ after a day of surfing, the waves are pretty consistent and great for all levels.
All of this against a stunning backdrop; giant sycamores shade the main campgrounds throughout the park and there's plenty of tide pools, coastal caves and reefs for exploring, too.

Best Wineries a Short Drive from San Francisco
Santa Monica Beach
With 3.5 miles of Southern California beaches and over 300 days of sunshine, the Santa Monica Beach is a prime piece of California coastline and a welcome retreat for vacationers and locals alike.
There are countless activities you can pursue here year-round, including swimming, surfing, fishing, volleyball and biking.
Those who enjoy people-watching, can catch some of the finest views here, too.
The beach is considered a natural asset, and the city cleans and rakes the sand every day – lifeguard stations are also staffed 24-hours a day.