Updated:
Barcelona Spain City Guide – Barcelona is one of the most iconic and lovely cities in Spain, and there are plenty of things to do that are off the beaten path.
If you're wondering what to explore in Barcelona Spain, this list is a great jumping off point.
Barcelona, a city where culture and partying go hand in hand, where football is on everybody's mind, and the Catalan pride flows through everything.
Barcelona Spain City Guide Why You Must Visit VIDEO
Barcelona is for most people THE PLACE to visit – shopping, sun, partying – Barcelona really has everything.
We both have been there before, and it was great to come back and see everything from a different perspective a few years later.
If you are traveling to Barcelona Spain see our video and Barcelona Spain City Guide.
Spending 24 hours in this city is intense, but you really get the best of all worlds.
In many Barcelona Spain city guide books list toppPicks for a day out Barcelona, Exploring Barcelona by Car – Barcelona Day Trips or to spend a fun weekend.
Barcelona Spain City Guide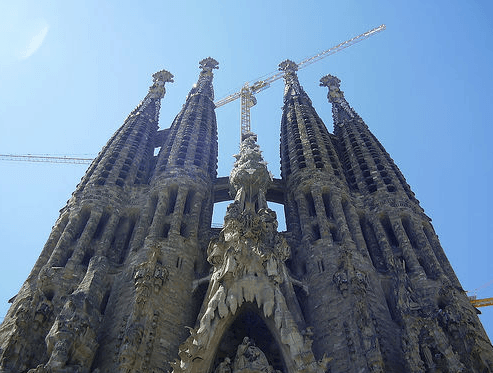 Barcelona Beautiful Sites in Europe
Barcelona is one city where urban life meets beach culture.
You will feel alive as you take tapas and sangria in the late hours of the evening only to salsa dance till morning comes up.
Barcelona is not just for experiencing Spanish culture, but it is full of amazing architecture from the famed artist Gaudi.
You can visit many of his monuments across the city from the vast Park Guell to the immense Casa Barllo.
However, neither of these two things have anything on La Sagrada Familia.
This cathedral was started by Gaudi and to this day it is still not finished.
However, it is still one of the most impressive and modern churches in all of Europe.
The Biblical images etched into the stone of the church are incredible.
You can even climb to the towers of the church and over-look all of Barcelona.
Start The Day With Barcelona's "Favorite"
A good start of the day is visiting the masterpiece of Gaudí, La Sagrada Família.
The catholic church has been under construction since 1882, and is currently scheduled to finish in 2026.
What's interesting about the church is the variety of design.
So many different architects with completely different thoughts.
The present design is based on reconstructed versions of the lost plans as well as on modern adaptations.
Seeing this is something you wouldn't want to miss, and the best time to see it is in the morning around 8.30, when you will find the morning light giving you the opportunity for the best photos! 😉
Gaze at Gucci and Gaudí
Admire the amazing architecture along Passeig de Grácia.
This is also the major shopping street, so if you can afford some shopping you'll find some awesome shops.
But as a backpacker, you do best in just doing some window shopping 😛 – it's actually quite nice as the shops are designed really cool with modern designs, ponds and aquariums inside.
On this street you can also see Casa Batlló by Antonio Gaudí, which is my favorite house.
Being built over a century ago (1877) it's still modern and "before" today designers.
Another building by him is Casa Milá, one of the few buildings open for the public!
Barcelona Coffee and News Papers
Have a cake and "cafe con leche" at Café d El´Opera, a café with history dating back to the 18th century.
You get that old musky feeling sitting at this café which is a favorite by locals, but lately talked about more in Barcelona Spain city guide books as well.
Find it in the middle of La Rambla.
Wander Through Las Ramblas
Las Ramblas is one of the most popular districts in Barcelona.
Wander through the winding roads and enjoy some of the best people watching in all of Spain.
Have a ball, but remember to watch out for pickpockets.
Rumble down La Rambla
Stroll down La Rambla and watch the human statues and amateur artists.
Drop by the mercato La Boqueria on the way and buy some fruits and stuff for a picnic by the harbor later in the day.
Here you can find the freshest food, and melt in with the locals who come here to shop their groceries, or enjoy a coffee.
Go The Fundacio Joan Miro
If you love to climb, you can't miss the Fundacio Joan Miro.
This hill is right near the middle of the city and is chock full of amazing art.
You can easily spend the entire day marveling at the art that you will find here.
See An Iconic Architectural Monument
The Santa Maria del Mar is one of the most beautiful structures in all of Barcelona.
It's an architectural miracle full of impressive design and plenty of stained glass.
Visit this wonder and you get a glimpse of some very masterful stone craftsmanship and some incredible glass work.
Check Out Some Amazing Art
You will not run into any shortage of art in Barcelona, but one place that you don't want to miss is the Museu Nacional D'Art de Catalunya, which is known for its galleries of Romanesque art and some of the rarest masterpieces in the world.
It is truly not to be missed on your trip to Barcelona.
Pickup a Barcelona Spain city guide book so you don't miss anything.
Peek on Picasso Paintings
Visit the Picasso museum, the most popular museum in Barcelona, and for a good reason.
It is the most extensive collection of Pablo Picasso, and the museum is beautifully put in 5 medieval palaces.
You find over 3, 500 works, and it includes all from old school books his "blue period".
Visit Barcelona's Beaches
Barcelona has some of the most amazing beaches in the world because they are full of life and fun.
Enjoy the sun and surf, and then head to the local beach side restaurants for some amazing Spanish cuisine.
Siesta in the Sun
This will not be in many Barcelona Spain city guide books.
Walk along the harbor with a gelato, sit down by one of the benches or at the beach and have the lunch you bought from the market.
If you have brought your swim wear along then you can go for a quick dip – but don't put your head under the water, you can get bad eye infections from it… trust me I know 🙁
Wander around the Old Barrio
Check out Barri Gótic, the old part of town, and do some shopping in the boutiques.
Many of the building date back from medieval times and all the way to Roman settlement.
Wander along these winding streets and soak up the feeling of old Barcelona.
If you haven't had enough of churches you can have a look into the Cathedral of Santa Eualia.
Bow Tie Bartenders and Cocktail Expertise
Have a cocktail at Barcelona's oldest bar "Boadas" (since 1933), a hang out place for famous people like Hemingway and Juan Miró.
The bar is just off la rambla (Carrer del Tallers 1), but could be quite tricky to find since it's very discreet with its red little door, showing no sign of being a place where the bartenders wear bow ties…
They don't have a menu, and don't expect a website any time soon under this century…
Tapas Time

Time for some dinner.
Have some tapas at La esquinica, a favorite by the locals with good quality for a good price.
Be there before 9pm if you want to avoid standing in a long line waiting for a table.
It's quite a bit away from La Ramblas, but you can get there with metro, get off at Vilapicina or Virrei Amat.
The restaurant is in the middle of Fabra I Puig street.
Price range between 10 – 20 Euro.
Get lost in Wonderland
Sip on a sangría when wandering through the rooms in "El Bosc de les Fades", a pub design from fairy tale.
It's part of the Wax Museum, and inside there are big sleepy hollow trees, caves, waterfalls and fairy figures.
I really liked the place since it was pretty special, and the atmosphere is great.
You find it in the south end of La rambla, Passatge de la Banca, 5, next to the Wax Museum.
Bar hop in Barri Gotic and El Born
Time to check out some more bars.
There are so many bars to choose between in Barcelona, and you will probably end up in a completely different bar than planned, but hanging around in Barri Gotic and El Born areas are probably the best.
It Ain't Over Till The Fat Lady Sings
The bars are lined up one next to the other down by the harbor and beach., and you can party all night long until the morning.


In the shopping center Maremagnum there are quite a few bars and dancing, it doesn't give you a very authentic feeling but is a lot of fun.
Maremagnum is half a shopping center and half a nightclub center, and there is everything form Techno to Salsa dancing in the clubs and pubs lined up next to each other in the mall – other fun clubs are Catwalk and Baja beach club.
Catwalk has two floors, R&B upstairs and techno downstairs.
The vibes are totally different between the two stories, and so are the people on the floors.
Downstairs they have robotic go go dancers and the place looks more hip, while you can find that Latin vibe on the second floor.
Baja beach club is a fun club for backpackers and single people.
The location is awesome, right on the beach, and it's not very sophisticated with topless bartenders and relaxed dress codes.
If you like dancing to the good old hits that everyone sings along with the lyrics, this is the place for you.
Another bar where travelers and backpackers meet up is Travel Bar.
This is the meeting point for those who have arranged barhopping, which is a pretty hectic drunken party group wobbling from pub to pub during the night.
If you have a spare day in Barcelona
In case you have a spare day, make sure to check out one of the two hills surrounding the city – Tibidabo and Montjuic.
Tibidabo
A hill with the best view over Barcelona, with restaurants and a quite special theme park.
The fun park is the oldest in Barcelona, and is a lot of fun since many of the attractions go over the steep hill.
Like when sitting in those spinning chair, it goes over the edge!
The theme park retains most of the original rides, some of which date to the early 1900's.
Montjuic
Check out the view when swimming in the Olympic pool.
Remember to bring some food and towels along!
After a dip in the pool visit the fortress or a café and enjoy some more of the view.
However, the most fun is probably the ride up there in the cable car.
Barcelona vs. Madrid – Which Do You Prefer?
Barcelona Spain City Guide INFOGRAPHIC
Barcelona Spain is a fabulous destination for tourist's European Trip seeking a cosmopolitan experience.
Its long history united with the many diverse cultures that shaped its growth make it a fascinating place to explore.
Wandering through its ancient, winding streets, it's easy to speculate that perhaps mythical Hercules really did found the city.
Kudos to him if he did.
Barcelona sits on a particularly lovely piece of real estate overlooking the Mediterranean.



In every niche, Barcelona Spain skillfully balances the traditional with the cutting edge.
You'll still find the 13 white geese in a cloister at the Barcelona Cathedral, but you can also dance the night away at the Antilla BCN Latin Club.
If your salsa and merengue aren't up to snuff, be sure to hit the Antilla on a night when they're giving dance lessons.
Barcelona Spain boasts a fabulous Metro underground train system, but it's a wonderful city for walking too.
Perhaps the best walking experiences happen along Las Ramblas. Start at one end at the Plaça Portal de la Pau, which features a monument to Columbus, and make your way to the Plaça de Catalunya, which is widely considered to be the city's heart.
As you ramble, take in the portrait painters, the flower sellers and the fabulous cafes with mouthwatering menus.
Eat and drink to your heart's content.
Recommendations from Barcelona Spain city guide books
You'll need the strength to give the shopping in nearby Portal de l'Àngel the attention it deserves.
As you stroll, you'll see incredible examples of gothic architecture mixed with stunning examples of the modernism movement.
Choose between masterworks by three of Barcelona's most celebrated architects who were locked in bitter rivalry for years.
Piled up one after the other, you'll view all three in the Manzana de la Discordia before casting your vote for which facade is the most impressive.
One of the architects, Antoni Gaudi, is usually thought to have won this particular fight.
The battle between innovative architects was not the first nor the last war Barcelona has witnessed.
Modern tourists may experience some of the area's dark history by visiting Refugi 307.
In the late 1930s, Franco's army began a series of air raids against the city.
The terrified public rallied to protect themselves, building extensive shelters underground.
Refugi 307 is one of these.
It's part of the larger Museu d'Història de Barcelona, a particularly impressive museum that seeks to encapsulate the city's more than 2,000 year history.
It's easy to spend hours wandering among the archaeological finds and royal palaces on the site.
Perhaps no other attraction in the city so beautifully captures Barcelona's complex past.
Of course, Barcelona Spain is also a wonderful place for relaxation.
While historians have said that the city existed for many centuries "with its back to the sea," that perspective has definitely changed today.
A visit to the glorious Harbor front is a highlight for many visitors.
Wander the boardwalks and take a dip in the Mediterranean under a faultlessly blue sky.
It's the perfect way to cap off a day in Barcelona.
Check out companies such as Apartments in Barcelona which offer rentals all over the city, not only near the main sights.
Barcelona vs. Madrid – Which Do You Prefer?
Top 4 Places to Satisfy your Sweet Tooth In Barcelona
The winter weather certainly leaves you seeking shelter in cafés and craving something warm and toasty!
Barcelona's winter months can be chilly but there's something you can do about it and Satisfy your Sweet Tooth
Find the narrow and curving street Carrer de Petritxol in the Barrio Gótico and let the fun begin.
Here you'll find many signs that read, "Xurros amb Xocolata" which at first is quite difficult to read.
In Catalan "X" is pronounced like "Ch", so you can read chocolate and churros and your day just got better.
What are Chocolate & Churros?
Churros are simply fried dough sprinkled with a heavy hand of white sugar.
The hot chocolate is provided for dunking these tasty sweets.


The hot chocolate is served in a mug, but it is not easily drinkable.
It's not a liquid consistency beverage like you may be used to.
Rather it's a thick chocolate as if they simply melted bars of chocolate into a mug with a splash of milk.
The traditional location of enjoying this afternoon snack is on Carrer de Petritxol in the barrio Gothic.
The first 3 recommendations are all located on this small street.
Dulcinea: Carrer de Petritxol 2
Dulcinea has been making hot and sugary churros with chocolate since 1941.
Dulcinea is named after the Don Quixote's lover in Miguel de Cervantes' novel.
Here the dunking chocolate could be described as a dark chocolate.
It is not overly sweet and closer to a liquid consistency similar to Hershey's syrup.
Granja la Pallaresa: Carrer de Petritxol, 11
Similarly Granja la Pallaresa has been serving customers since 1947.
The churros are bend in the shape of raindrops and are drenched in sugar.
This dipping chocolate is rather dark as well, but a bit sweeter.

Petrixtol-Xocoa: Calle Petritxol, 11
The final chocolate and churro choice on Carrer de Petritxol is called Petritxol.
It is new and skillfully creates a modern twist on this timeless classic.
Founded in 2010, it's a cute and cozy shop that bakes cakes and pies as well as the required classics.
Other than the cute décor, the chocolate makes this place irresistible.
When the mug of dipping chocolate is delivered to your table you will quickly notice a difference in color and consistency.
Here the chocolate is thicker and milkier.
This makes it much easier to scoop the chocolate with your churro, it makes less of a mess with dripping as well.

Sampaka: Consell de Cent 292
Up in the Example neighborhood there's a world famous chocolatier called Cacao Sampaka who makes a whole new sort of chocolate and churros.
This classy establishment is located just off of Rambla de Catalunya and is often quite crowded.
The chocolate they offer is called Aztec chocolate.
This is a spicy & runny version of dark dipping chocolate.
It has quite a kick, but if you're willing to be adventurous, try this chili powder specialty.
Barcelona – 6 Tips for a Non-Guidebook Experience as a Local
Las Ramblas, the Nou Camp, the Sagrada Familia… absolute classics in Barcelona, of course, but how many times can you really do them?
There comes a time when you just can't face being hurled and jostled among crowds of tourists anymore and when you seek something different, something fresh, something that other camera-clad-Joes don't know about.
For the curious traveler, the undiscovered side of a city is an exotic lure oozing with possibilities, and Barcelona is certainly a place where these curiosities can be fulfilled.
The true essence of Barcelona is far from sangria under the sun.
It has a real Catalan core, an undeniable artistic flair and local cuisine that's simply to die for.
So, say so-long to Gaudí, knock the Boqueria on the head, and get to know a Barcelona far from what you may have seen before!

A couple of blocks of goodness in Barcelona
First time visitors to Barcelona will more often than not head straight for Las Ramblas and when hunger strikes, to restaurants on said street or on those leading just off it.
Those in the know however, wouldn't dream of it, and instead of heading down from Plaça Catalunya will head directly up from it, into the swanky neighborhood of Eixample.
Here you can find a stretch of blocks lined with fabulous cafés and restaurants where locals while away a few hours over a glass of wine, some top notch tapas or a slap up meal!
Carrer d'Enriq Granados is one street in particular that's not to be missed for some great local dishes.
Live like a local in Barcelona
If you're really looking to immerse yourself in Barcelona's rich culture then you need to get in among its people.
And for those who want to live like a local during your stay in Barcelona, then there's really only one choice for your accommodation: renting an apartment.
Hostels are all well and good, but getting a real feel for Barcelona doesn't have to include sharing a bathroom with 10 other people.
Choose to stay in your own, comfortable, home-from-home and soak up the real-life atmosphere of neighborhoods like Barceloneta, Gràcia and Horta-Guinardó.
You can even stay in a 19th century building or simply enjoy the perks of stepping out onto the street and buying ingredients from the local market or taking a wander through reams of Catalan boutiques and quaint bars.

For a night of bohemian beverages
When the stars come up, those in search of a night out full of artistic fancy, bo-ho ambiance and a crowd of cool cats head to Carrer de Joaquin Costa in the riotous neighborhood of Raval.
Love it or hate it, the once red light district of the city has made of lot of effort to spruce itself up lately and is now home to some fantastic bars.
Quirky, colorful, unique, and perfect for those who'd rather gossip than boogie, this is the ideal place for a bit of nitty gritty Barcelona.
City cycling to the ins and outs
There are endless tours available around Barcelona these days, cycling tours being particularly popular at the moment.
But how about breaking free from the others and discovering the city by yourself.
There are some great companies such as Green Bikes, which offer rentals on an hourly, daily or even weekly basis for very reasonable prices.
You can hire yourself a pair of wheels and enjoy a leisurely tour of the Catalan capital's beautiful neighborhoods, pausing where and when you like and discovering Barcelona off the beaten track.
Cycle straight past the others and head into the unknown world of the wonderful, real Catalan capital.


If you'd rather have a guide to explain the sights, but are still looking for something a little bit different, companies such as Steel Donkey Bike Tours offer some really good trips around the lesser-known attractions of Barcelona.
They can tailor a tour to you, and often stop for snacks at some local hangouts, too.
This one's great for a true taste of the real Barcelona.
Chill out with a coffee in hipster-ville
Gràcia is perhaps Barcelona's 'coolest' area, with an endless supply of vintage and curiosity shops, quirky cafés and snazzy eateries.
Think smoothies, think carrot cake, think cute squares surrounded by unique bars and shops selling anything from yoga mats to trinkets and you have Gràcia sussed.
Full of young people, this pretty neighborhood has a lively atmosphere and a truly arty, cosmopolitan vibe.
Despite its proximity to the city center however, Gràcia is generally undiscovered by tourists and has a village-like, local feel to it, ideal for a wander and a wonder!

Barcelona A view to impress
Tibidabo and Montjuïc mountains are popular attractions with visitors to the Catalan capital thanks to their fantastic views over the city.
Few tourists, however, are savvy to the existence El Carmel bunker.
This secret remnant of the Spanish Civil War sits on top of one of the highest hills of the city and offers arguably the best (and calmest) views of Barcelona.
Forget hoards of tourists queuing for the best photo spot, and think locals with cheese, bread and plastic cups of red wine, watching the sun go down over their beloved home town.
So next time you hit Barcelona, why not walk in the opposite direction to every other visitor?
You'll sure be in for a whole new take on the vibrant capital of Catalonia!
Top things to do in Barcelona
Barcelona is a city that is close to my heart, I really adore it, have been there so many times, and think it has so much to offer during the summer and never gets boring.
Shopping in Barcelona
There are so many different types of shops and areas, all from the big shopping complex El Corte Inglés and fancy luxury shops to little boutiques in the street corners.
Shopping is great along the Passeig de Grácia, but I have to say that I enjoy the streets in Barri Gotic more:
Plaça de Sant Josep Oriol, Carrer de la Portaferrissa and Carrer de Ferran are my favorites, and should definitely be in the top list of things to do in Barcelona.
Wandering The Streets in Barcelona
Getting lost in the maze of alleyways is one of my favorite things to do in Barcelona, because you'll be guaranteed to stumble upon something special.
Barcelona is like candy for the eyes, it's a beautiful city with so many old amazing buildings and streets, just wandering these narrow little streets, admiring the architecture as well as visiting some churches is something you can spend a whole day doing.
The style is pretty but still rough and 'worn', and I really like that.
You'll also find that Barcelona has some of the most impressive architecture in Europe, with Casa Milá, Casa Battló and the world famous church Sagrada de familia, by the praised artist Antoni Gaudí.
Also make sure you visit Park Güell, a very special garden complex with architectural elements by the same artist.
Things To Do In Barcelona In Summer – Take a Day trip
Maybe this doesn't have much to do with things to do in Barcelona itself, but enjoying a day away from the hustle and bustle is always nice, and there are some really nice places just outside Barcelona, like Sant Pol for example, which is only about half an hour away from the city.


The train ride along the coast is also a beautiful trip.
Another day trip would be to spend a whole day at Mount Juic.
As visiting this place is one of the local's favorite things to do in Barcelona, it tends to get very busy in the weekends.
You can swim in the Olympic pool, have a picnic in the park and enjoy the view over the city.
If you stay until the evening the fountain Font Mágica puts up a light show.
Try Barcelona's Local Cuisine
One of the best things to do in Barcelona is try the local cuisine and sit by a cafe to do some people watching.
There are many restaurants offering what Barcelona is famous for Paella.
There are a lot of tourist traps, so the best way to avoid them are to steer away from the touristy streets.
5 good places that serve Paella:
Lombardo, on Rambla Catalunya 49
Pitarra, in the Barrio Gotic, on Calle Avinyo 56
Can Majo, in Barceloneta, on L'Almirall Aixada 23
Sete Portes, on Passeig Isabel II 1
Can Ros, also in Barceloneta, on L'Almirall Aixada 7
There are also a lot of cosy little cafes to visit, and during the sleepy siesta hours I love to spend a few hours relaxing at a small cafe with a coffee and good company.


I like the cafes in the old town especially, there are some very nice cafes in the old town square.
Party in Barcelona!
Barcelona is one of the best party cities I've ever been to, and the nightlife is something not to be left out on any list of things to do in Barcelona.
There are bars and clubs everywhere, and people are in party mood every day of the week.
Here are a few highlights for a wonderful weekend in Barcelona
A weekend in Barcelona will guarantee anyone to have a great time.
Barcelona has something for pretty much everyone, from incredible architecture; golden beaches; tasty tapas; world-famous night life; historic cobbled streets; top museums; and Spain's most successful football club – it really is a MUST-SEE place for everyone to visit.


Wrap all of this up in some warm Mediterranean rays and a good-time atmosphere and you start to get a picture of what Barcelona is all about.
Also the many low cost flights and cheap Barcelona hotels have really brought down the costs for a weekend in Barcelona, away in the Catalan capital, allowing more and more travelers to enjoy Spain's most exciting port city.
Explore the Old City of Barcelona
Barcelona's Ciutat Vella ("old city" in Catalan) incorporates all of the city's oldest neighborhoods, including the labyrinth of streets that make up beautiful Barri Gòtic, the Gothic Quarter.
This atmospheric neighbourhood boasts some of the most impressive Gothic architecture in Europe, with narrow lanes leading to fountains, pavement cafés and quaint squares.
Stroll down Las Ramblas

Barcelona's most famous thoroughfare is, of course, Las Ramblas.
It's the place most tourists gravitate towards first, and return to throughout their stay to get their bearings.
With the buzzing El Raval's nightclubs and cabarets on one side, and historic Barri Gòtic on the other, Las Ramblas is lined with tourist-oriented restaurants and offers a great, if expensive, spot for people-watching.
Laze on the beach

At the end of Las Ramblas, the Barceloneta ('Little Barcelona') neighborhood has been ;transformed over the past decade from its poor fisherman's roots into a huge entertainment area and yachting harbor.
It's home to Europe's second biggest aquarium; Olympic Port's famous ;nightclubs; and Parc de la Ciutadella, a city park with its own zoo and museums.
Nearby, you can catch some rays on the 1100-meter-long stretch of beach, or stroll along the boardwalk to find seafood restaurants and cool cafés.
A perfect place to spend a few hours on your weekend in Barcelona.
Admire Gaudi's striking architecture
Barcelona is famous for its impressive architecture old and new, but particularly for its collection of buildings by Antoni Gaudí (1852–1926), one of Spain's most famous architects.
The famously incomplete Sagrada Família is one of them: a huge Roman Catholic church which most people either love or loathe, but either way it leaves an impression.
The building's immense spires provide the city's most iconic landmark, and are best seen illuminated at night.
Another stop on the Gaudí trail is Palau Güell, a palace full of interesting architectural features right up to its impressive roof terrace topped with strange chimneys.
On Passieg De Gracia you can spot two Gaudí buildings: Casa Milà, with its bold, wavy facade; and Casa Batlló, with its distinctive skull-like balconies.
At Park Güell in Gràcia, the tell-tale bright sculptures, architectural features and colorful mosaics dotted about the park quickly give away the fact that it was designed by Gaudi; meander along the paths uphill and you'll also be rewarded with a panoramic view of the city.
Visit Barcelona's famous stadiums

Barcelona is a sporty city, having hosted the 1992 Summer Olympics and some of the 1982 FIFA World Cup, but it's best known for its football team: FC Barcelona.
Fans can't miss a visit to the club's home, Camp Nou, which is the largest stadium in Europe – remember often games are later in the evening so you can enjoy dinner beforehand!
And if you're more interested in seeing where the Olympics took place, head to the city's other big stadium: Estadi Olímpic Lluís Company's, perched on a hill overlooking Barcelona's harbor.
Hope you have an amazing weekend in Barcelona!
Barcelona Spain City Guide
We're in Barcelona now, and we're going to check into and explore Barcelona.
Ok we're up nice and early in Barcelona, and we're standing outside the Sagrada Familia.
It looks really cool.
Apparently this cathedral has no straight lines, just corners and Nothing is quite straight.
It's designed by Gaudí, and apparently he hated straight lines, so even the towers are sort of leaning.
You can see that in his other buildings as well.
He's got two or three other places around town which were built before the cathedral, and they're all curvy and wobbly.
Yeah, soft I think.
We're standing outside the cathedral, and we were thinking of going inside, but the line is just too long.
There's a line right around the whole road, the whole block here.
They say if you come to Barcelona, if there's one thing that you should see, it is this, but we've only got one day here so we can't spend that whole day waiting in line.
Plus he actually designed the cathedral to attract the people to come in so the most beautiful part of the cathedral apparently is the outside.
It is pretty cool.
I love these sculptures and these designs out front. But like we said, we haven't got time to wait in line all day long, and if it's this long line now It's just going to get worse.
So we're going to head off now to La Rambla is next.
Now we're on La Rambla, the main walking avenue in Barcelona.
There's a lot of things going on, I don't think Ok, it's pretty chaotic down here.
This is the main walking avenue in Barcelona, and they've got buskers, musicians, and guys trying to sell you squeaky stuff.
Let's walk down and see what other adventurous crazy things are going on the street.
We're outside La Boqueria Market.
They've got some great Spanish food here so we're going to go inside and try to find some lunch.
Ok, and it's potato with?
Garlic oil, cheese and ketchup.
So we're going to try these patatas bravas, a typical Spanish entrée.
You can eat it as part of a tapas, you have this, you have a little bit of other stuff as well, you make into a meal.
It's potatoes with garlic oil and cheese and then ketchup.
I don't know how you're going to eat these things.
It's really good, real cheesy.
It's a slice of potato, cheese sauce, cheese on top, tomato sauce.
Oily too.
Perfect.
Really good.

Why You Must Visit Barcelona Spain More Than Once
First, get a Barcelona Spain city guide books.
After Lisbon, we headed to Barcelona, one of the proudest cities in Europe – I say proud because its people ADORE it.
Many of them are very strict on separating themselves from the rest of Spain.
My uncle, who is born in Barcelona and has lived in Catalonia for all of his life – is one of them.
He, along with many many other Catalan people, want Catalonia to become independent from Spain.
I can understand why Barcelona's people love their city:
Set between two mountains where you can overlook the city, right by the ocean with its own beaches, it's a pretty unique place to live.
I have been there quite a few times before, so I was looking forward to going there again.
When we went there during our Europe Train Challenge, there was so much that I wanted to show you readers in our video.
But we only had 1 day, and while we were filming, the realization came stronger and stronger: it's hard to show Barcelona, because you really have to simply experience it!


Being in the Gothic quarter, walking along the Passeig de Grácia – there is something so beautiful here that really doesn't show in photos or video.
In the videos, the walls look dark and ugly, full of Graffiti – but when you're there you see the small balconies with flowerpots, laundry and how narrow the streets really are.
So I just had to face it – Barcelona is a place you simply have to visit to understand, and I find that to really experience it, you will just have to let Barcelona embrace you.
The best way to really get to know Barcelona would be to rent one of the many City Base Apartments and stay there for a bit longer, maybe we'll do that next time. 😉
While people line up for hours to go inside Sagrada Familia, the true Barcelona experience is around the corner in a small bar.


In the past, both me and Nathan have some crazy memories from this place, quite different from each other's.
A few years back Nathan arrived with a broken ATM card, no money and slept in a park which he later found out had many "horror stories" of what went on there during the night.
I didn't get much sleep either, because last time I was there I partied all night for two weeks straight.
Coming back I had a whole different experience of the city, one more sober and perhaps not so "amazed" by everything.


This time I appreciated different things than last time.
Last time I was there, the "friend of a friend" we stayed with really wanted to show us the magic fountain, but we never got around to see it, and were too busy shopping.
This time we went out of our way to see it, and it was just amazing.
The whole area around the Magic fountain was beautiful, and you could spend a long time enjoying the views from there.
This time I felt like my eyes and ears were wide open, taking it all in, learning and seeing Barcelona from a fresh perspective.
What I learned from our time there is that it's always worth returning to the places you visit to see how your impressions have changed since last time.
Trip To Barcelona Spain, need a Barcelona Spain city guide book
When planning a trip to Barcelona, the planning strategy is as important as the plans themselves – if you don't go about it the right way, for example when it comes to booking hotels in Barcelona, you risk turning your holiday into a nightmare.
Barcelona Spain City Guide to What To Do in Barcelona
Here are a few guidelines to help you plan your trip to Barcelona.
This is both the easiest and most difficult part of planning a trip to Barcelona – it is easy because there are simply so many things to see and do, but it is that very reason that also makes it so hard.
Many people tend to be over optimistic about their planning and squeeze too many attractions into a short time period, making their plans either exhausting to follow through with or downright impossible.
Barcelona is a huge city, and while the subway makes it easy to get around, you will want to spend more time above ground than stuck in the subway stations so a great option is to rent a car for the duration of your trip – just make sure your travel insurance covers it otherwise if you want dependable European breakdown cover.
Give yourself some space between the attractions to simply wander and explore the streets that aren't in the guide books, check out boutique shops and have a rest and order a drink in one of the many small bars.
What To Eat in Barcelona
In a city popular with tourists, it is easy to fall into tourist traps and eating over priced food in bad restaurants.
The number one rule to avoid this is to avoid the most touristic areas – you don't need to go very far from the tourist streets to find better value and good food, and it's so worth the extra effort.
Barcelona offers some really exciting food for food lovers, and a nice quick snack when you are out and about on your sightseeing is the patata omelette sandwich which is available pretty much anywhere.
The baguette is filled with a cold potato omelette which both fills you up, and gives you a taste of the Catalan cuisine.
Where To Stay in Barcelona
We've posted a fair amount of articles about Barcelona, and for a good reason – it is one of the most popular destinations in Europe, and it's also one of our personal favorites.
But what many people find difficult when planning their trip is to find any good accommodation, which is something we haven't focused on much in our previous articles.
Barcelona can be a tricky place when it comes to accommodation, and many who don't do any research and just pick the first best at the cheapest price available, risk ending up in a terrible hotel and ruin their holiday completely.
To avoid getting disappointed with your accommodation, choose something safe.
One of the most popular and reliable hotel chains is HCC Hotels, a hotel chain which offers high-quality accommodation in excellent locations in the city center.
By choosing a well known hotel and reading other peoples' reviews online from their experiences, you are more likely to find something you actually enjoy.
Hope you enjoy your trip to Barcelona!
Things To Do In Barcelona Attractions – Barcelona Spain City Guide
Among the cities that you must visit in Europe, Barcelona should be in the top five – situated in the northeast of Spain, in the region of Catalonia (Catalunya in the Catalan language), it is one of the most enchanting cities in Europe.
With a population of 1.6 million people, Barcelona is the second largest city in Spain, after Madrid.
It is the political, economical and cultural center of the region of Catalonia.
Depending on your starting point you can reach Barcelona by sea, air or land, but most tourists travel by plane, which is usually the best choice since there is an abundance of cheap international flights available to Barcelona from all over Europe.
For most people who visit Barcelona, the strongest impression is the beautiful architecture, designed by Antonio Gaudi (a famous architect), numerous museums, Catalan pride, and, last but not least, sport.
Visiting Sagrada Familia Church (Church of the Holy Family) is a must, when in Barcelona – it's one of the most beautiful churches in the country, a masterpiece which is still yet to be finished.
If the works by Gaudi fascinate you, make sure you also visit the nearby town of Figueres – a beautiful ancient town where the Salvador Dali Museum is located, 140 km to the northeast of Barcelona.
While there are some beaches in Barcelona, its neighboring beach towns (like Lloret del Mar, Cadaqués, Blanes and many others) on the Mediterranean coast of Costa Brava, are definitely worth a visit for beach bums, as the beaches there are much nicer.
Before leaving on any day trips however, make sure you walk down the most famous street in Barcelona, La Rambla.
It leads from Plaza de Catalunya (The Square of Catalonia) to the huge city beach and there are many attractions along the way – it's always fun to stop and watch the skilled street performers performing their act in front of big crowds along La Rambla.
If you get hungry, a good place to stop for a snack is Mercat de la Boqueria, a colorful and bustling market with a long and important history.
Barcelona is one of the most loved holiday destinations in Europe, and every year millions of visitors walk the streets of the city, visit the attractions and embrace the culture.
Barcelona is one of my favorite cities to visit, because it offers such a huge variety of things to see and do.
Here are some of my top things to do in Barcelona.
Go Shopping in Barcelona
Shopping in Barcelona is fun, because there is something for every taste there.
You have the huge compartment stores like El Corte Inglés and La Maquinista, to small boutiques, high-end shopping to markets, and different types of shopping in different areas.
My favorite for picturesque shopping area is the Gothic Quarter, with its narrow winding streets, small side streets with odd shops, and squares with street markets and painters selling their art.
On the other side of La Rambla you'll find El Raval, another wonderful shopping area with one-off boutiques I highly recommend.
Then for those wanting some more well known high-end shopping, you have Avinguda Diagonal, with Calvin Clein, Verecace, Gucci and Georgio Armani are located.
Architecture listed in Barcelona Spain City Guide Book
Barcelona has some of the most characteristic buildings in the world, the most famous being those designed by Antoni Gaudí.
His work can be recognized in different parts all across town, and they are all worth making the extra effort to visit.
Casa Batlló and Casa Mila are some very unique and interesting buildings that you will pass along Passeig De Gracia, the main avenue in Barcelona which you're likely to walk up and down quite a few times.
Some other places you must check out are La Sagrada Familia and Park Güell.
La Sagrada Familia is the famous "unfinished church" which has a truly unique and inspiring design.
This Unesco Heritage Site is as beautiful on the outside as it is on the inside, but prepare to que up for a few hours to get in..!
Barcelona Spain City Guide to Cuisine
The cuisine in Barcelona is very unique and specific to the region of Catalonia, and Paella is among the most popular traditional foods to try when you're in the city.
Other foods to sample are Arrós Negre (Squid or cuttlefish cooked in its own black ink) and Crema Catalana, a really tasty sweet dessert.

Barcelona is a fun, vibrant city full of life and culture.
There are enough Barcelona attractions to keep anyone busy for weeks, but if you only have a few days chances are you just have time to see the most popular and very best Barcelona attractions.
Here is a guide to the top 5 Barcelona attractions you must check out when visiting Barcelona…
La Sagrada Familia
The number one of all Barcelona attractions on peoples' lists and in many Barcelona Spain city guide books when visiting Spain is La Sagrada Familia, the unfinished masterpiece by Antoni Gaudi.
The construction of this world-famous church started over a hundred years ago, and slowly but surely a new part is completed year by year. In 2012 the splendid interior was completed and opened to the public.
They hope to finish the exterior in 2026 for the 100th anniversary of Gaudi's death in 1926.
Prepare for a long line waiting to get inside, but it's worth the wait.
La Rambla
Perhaps one of the most famous avenues in Europe, Barcelona wouldn't be the same without La Rambla.
Although it's just a street, it has still become part of the Barcelona attractions that people must visit when they're in Barcelona.
A long boulevard lined with trees, flower shops, cafes and street buskers, it's a busy street with lots going on.
During the summers this street can be very crowded, so hold on to your bags and watch out for pickpockets.
Staying close to La Rambla is very popular, but avoid staying right on it as it can be very noisy.
Barcelona has some great deals on accommodation in the city center that's worth checking out.
Magic Fountain
A free and fun event that goes on every evening of the week, the magic fountain at montjuic is a lovely way to finish a day in Barcelona and one of many popular Barcelona attractions for people of all ages.
Accompanied to classical music, the fountain puts on a show with lights and water moving in beautiful shapes to the music.
Picasso Museum – Barcelona Spain city guide
While there are many great museums in Barcelona, the Picasso museum is by far the most popular of the Barcelona attractions related to Picasso. Home to many of his sketches and early works, it is a place where you will find the more unknown of Picasso's paintings.
Park Güell
Finally, another beautiful artistic place to relax and rewind, Park Güell is a favorite among both locals and tourists.
Designed by Gaudi, this park which is now a UNESCO World Heritage Site, was actually planned to be a private and exclusive residential garden city with 60 houses on the grounds.
The plan failed due to lack of interest, and in 1923 it was donated to the council and became the public park we can now enjoy.
If you're looking for a Barcelona holiday rental there are many cozy ones to choose from in the area around Park Güell.
It's a popular area as the park is a nice breathing spot where you can go for your morning run or relax after a full day of sightseeing.
Barcelona Spain city guide
(photo credit: 1 1 1 – 1 – oscar alexander – Andrey Belenko – Pablasso – llamnudds, Harshil.Shah 1 2 3 4)